Fabien Baron and Stuart Vevers Find Beauty in the American Junkyard in Coach's Spring 2017 Campaign

BY SAWYER GAINES
Creative Director Fabien Baron and Stuart Vevers continue their revamping of the Coach brand with their Spring 2017 ad campaign lensed by Steven Meisel. The campaign is a direct continuation of the Spring 2017 ready-to-wear show, which featured the same aesthetic of cool leather biker and varsity jackets, set in front of an Americana style junkyard background, with Coach's home of New York City towering over it.
Since his induction as Executive Creative Director of Coach back in 2013 Stuart Vevers has been dedicated to leading a creative upheaval and modernization of the brand and it pays massive dividends in this successful campaign. The campaign is youthful and modern while also giving off a wonderful feeling of nostalgia for mid-western Americana. The heavy leather jackets are classic, but also styled in a way that feels very new and contemporary with their cut, patched up, bedazzled and all-around revamped looks.
Meisel puts his masterful eye to use on these images, which are both stark and sleek in their execution. The images draw attention to the leather goods featured in the campaign, while allowing the junkyard background and New York City skyline to create a gorgeous stage for the models to showcase their looks. The dim grays and rusted background colors really allow the clothes and accessories of the models to stand out and draw the eyes of viewers.
The cohesive campaigns and brand identity that Vevers has been spearheading for Coach and the way their runway shows and ad campaigns connect to one another is spot on. The Impression is excited to see what else they have in store and how they will continue to push this vision forward.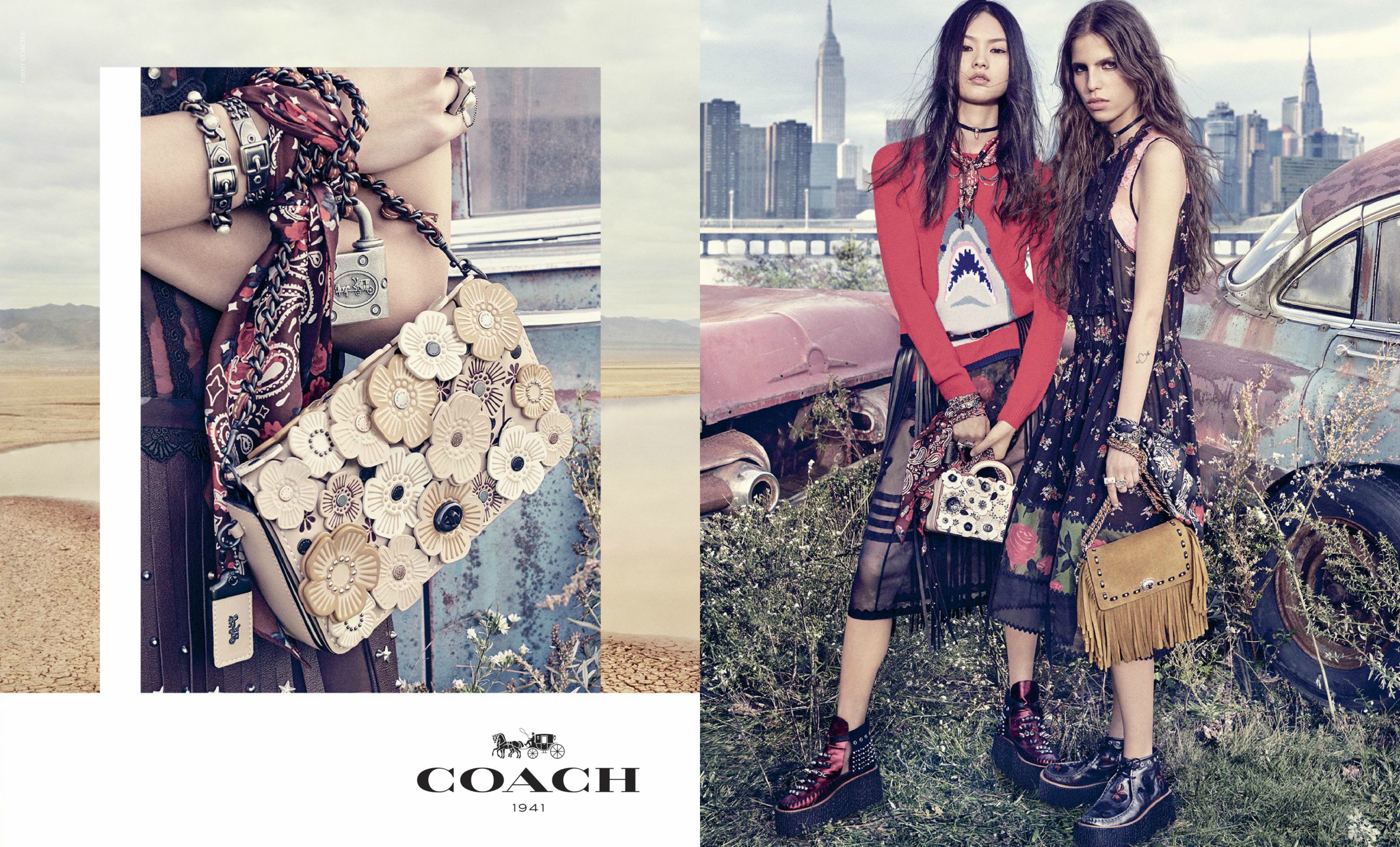 Agency | Baron & Baron
Creative Director | Fabien Baron
Photographer | Steven Meisel 
Models | Cara Taylor, Hayett McCarthy, He Cong, Lexi Boling, Wallette Watson, Erik van Gils, & Anders Donatelli
Stylist | Karl Templer
Casting Director | Ashley Brokaw
Hair | Guido Palau
Makeup | Pat McGrath