Review of Dsquared2 Pre-Fall 2021 Collection by Dsquared2 Creative Directors Dean & Dan Caten and Art Director Giovanni Bianco of agency GB65 with Tania Churbanova, Margherita Tondelli, Julia Banas, Lucas Berny, Kai Taylor, Loic Lavigne, & Danny Scott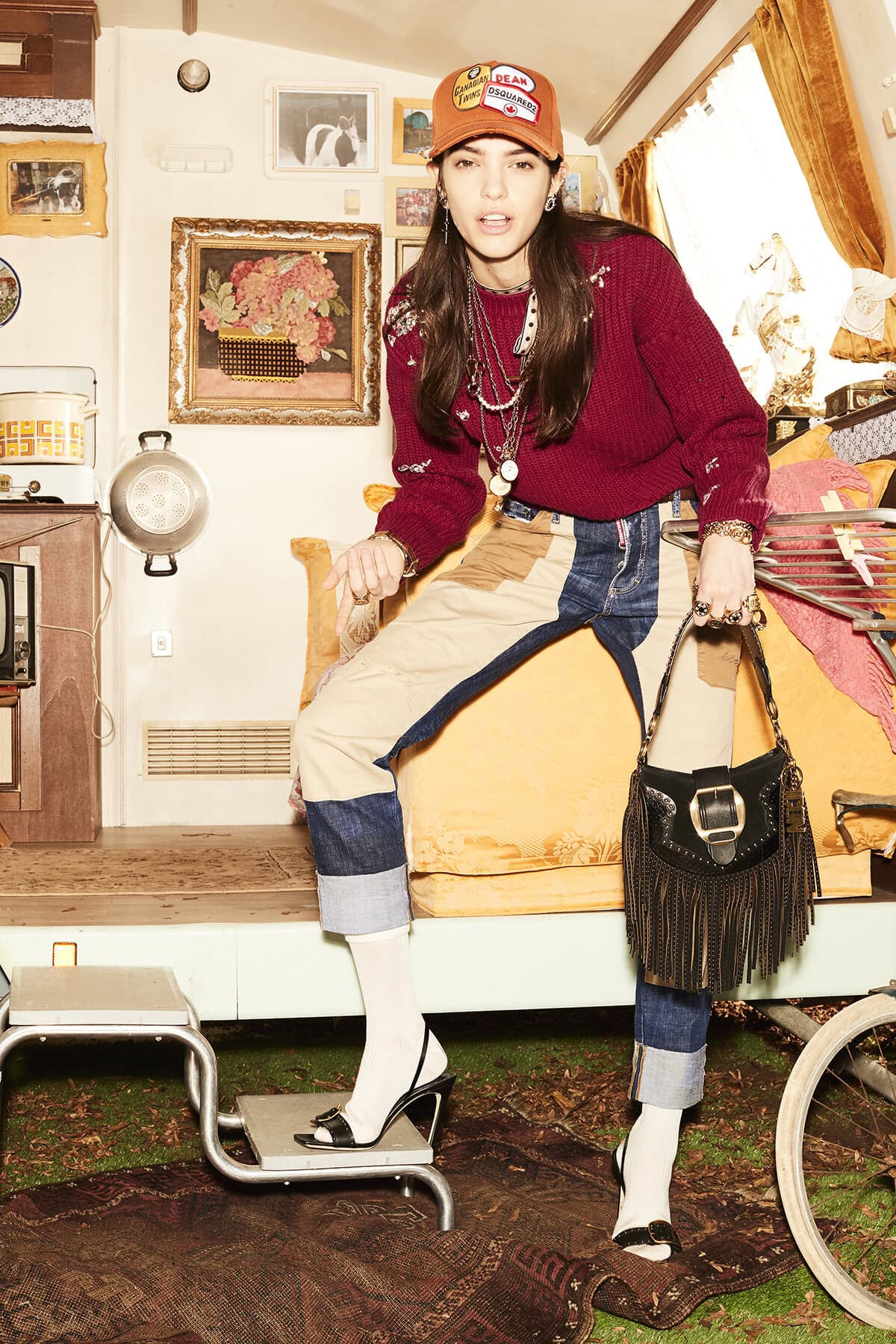 Dsquared2 presents its Pre-Fall 2021 collection with a series of photographs and videos that excellently develop the aesthetic and attitude of the collection. The collection and presentation form a constellation of flannel-clad Canadiana, trailer-park grunge, and rock-and-roll glam. It's the first time we've seen the creative director duo of the Caten twins lean so heavily and lovingly into their Canadian heritage, and the approach results in a project that playfully unites disparate elements into a singular identity that feels focused and fun.
The collection is primarily characterized by outerwear and layering. Trucker and military jackets are layered warmly over lumberjack flannels or western-style denim shirts.
As if the Catens raided the lost and found of an 80's ski lodge, bombastic polyester colorblocking makes its presence loudly felt on puffer jackets and wide-legged pants. Knit sweaters with maple leaves or Smokey the Bear lookalikes feel like the warm hug we need to get through winter in the Great White North.
In addition to the patched blue jeans, many of the pieces themselves form a literal patchwork, combining multiple fabrics like denim, flannel, and knits in one to create a garment that feels multifaceted, irreverent, and eclectic.
Certain pieces contain hints of well-tailored evening elegance but are forcibly combined with a more casual style as if the garment is rebelling against itself.
Woven throughout this aesthetic of wintry Canuck comfort is an undertone of edgy rock-and-roll excess. Sequined or velvet suit jackets add a strain of haughty glam, while an eclectic mix of purloined jewelry augments the sense of irreverent sparkle.
This hybrid aesthetic of hoser and haughty is specially developed throughout the women's collection, which casts its heroines as trailer-park rock-and-roll princesses. Drawing from pageant and ice-skating styles, evening glamor shimmers alongside rugged earthiness. Sheer fabric and lace make chic appearances on tops, skirts, and tights.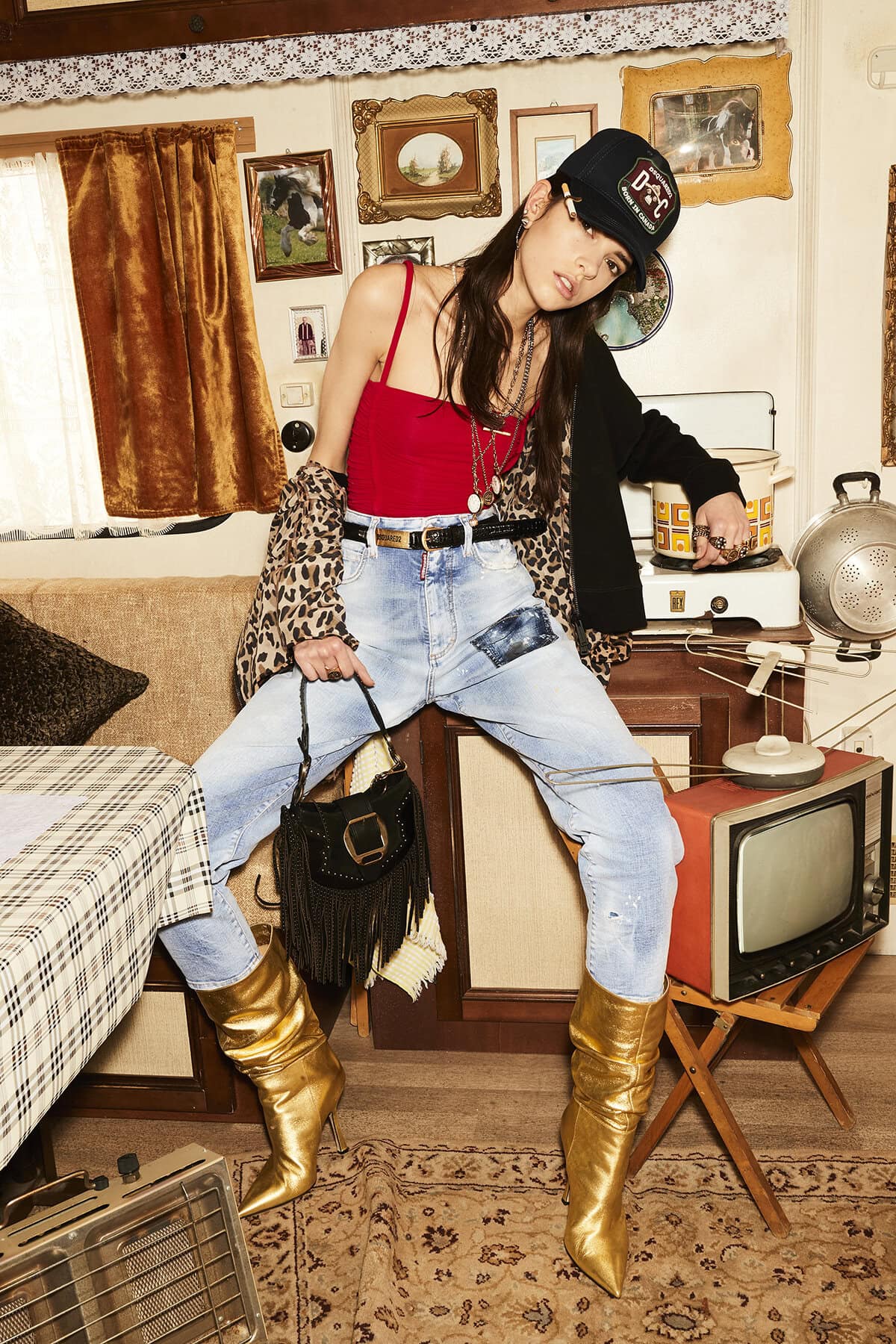 The spirit of the collection is excellently captured in a pair of short films by Giovanni Bianco. The men's and women's portions complement each other, taking a similar approach that uses excellent film editing to create a sense of deconstruction and decadent decay over time, as if they were stitched together from unearthed home movies. The smartly chosen set of a parked RV, seen in cross-section, is decorated in a style that feels lavishly camp, which makes the perfect atmosphere for the eclectic punk-rock confidence of our protagonists.
Both films take a similar approach to their soundtrack, combining samples from vintage country and jazz records with a hip-hop beat and a sampled spoken-word track. This latter element provides some fun tongue-in-cheek commentary on gender norms: the ladies get an old instruction video on how to cook pasta, while the fellas get soccer commentary. It's a small detail, but combined with the rebellious attitude and aesthetic of the rest of the film, it makes for a fun criticism of boring gender norms that feels classically Dsquared2.
We're all familiar with the concept of the Canadian Tuxedo: the all-over denim ensemble that works only as well as the person wearing it is confident. With this collection and campaign, Dsquared2 seems to have beautifully embodied this spirit. Though denim is only one of the many elements working together here, it is a kind of design and dressing that similarly combines humble elements with a bold personality to become a whole that is more than the sum of its parts. Elevating personal elements of the past by putting them in conversation with a contemporary technique and an independent attitude, Dsquared2 creates a fun celebration of self-expression, personality, and freedom.
Dsquared2 Creative Directors | Dean & Dan Caten
Agency | GB65
Creative Director | Giovanni Bianco
Models | Tania Churbanova, Margherita Tondelli, Julia Banas, Lucas Berny, Kai Taylor, Loic Lavigne, Danny Scott

---