Chris Trini, Photographer Interview – Fresh Perspective
We are an industry that thrives on freshness – fresh seasons, fresh collections, fresh designers, and fresh thinking. With that in mind The Impression looks to showcase fresh talent, those that have just taken some of their first steps in the business and are looking to share their own fresh perspective. Photographer Chris Trini shares with us his new editorial The Targeted and what inspires and influences him.
THE TARGETED

Evening Gown | CG by Chris Gelinas
From Left
Coat and Shirt | Thom Browne
Jumpsuit | CG by Chris Gelinas
From Left
Coat & Shirt | Thom Browne
From Left
Shirt | Thom Browne
Evening Gown | CG by Chris Gelinas
Tell us about your editorial "The Targeted" and what inspired you to come up with the concept and create it?
This year I wanted to start shooting my fashion editorial ideas, keeping a notebook and just writing random things down really opens your eyes to creative things. I really wanted to shoot something with some originality, so I was really keeping my eyes open to anything that might come my way. I was walking to work one day and I walked past a police gun store and saw these target posters on the window. I stopped and stared at it and it instantly came to me. The idea was, I wanted to shoot a small group of models of different ethnicities. Different faces that had a successful breakout fashion season representing some of "the targeted girls of the season" and within that, a narrative would be created with styling and the backdrop together.
Talking it over with my stylist Tamara, she mentioned about keeping the girls similarly dressed as if they were Secret Agents, a la James Bond. Each girl having her own back story, her own secret mission as to why she was here, whether catching a criminal mastermind in the Swiss Alps or seducing a devilishly handsome enemy, we would never know. We didn't want to do too much with the idea, and spell everything out. I wanted to leave it open to interpretation by each person looking at the photos to create their own narrative or back story to each girl as they look through the photos.
Photographer | Chris Trini
Models | Duckie Thot, Cleo Cwiek, Darya Kostenich, EZ,
Stylist | Tamara Barkley
Hair | Junya Nakashima
Makeup | Michelle Clark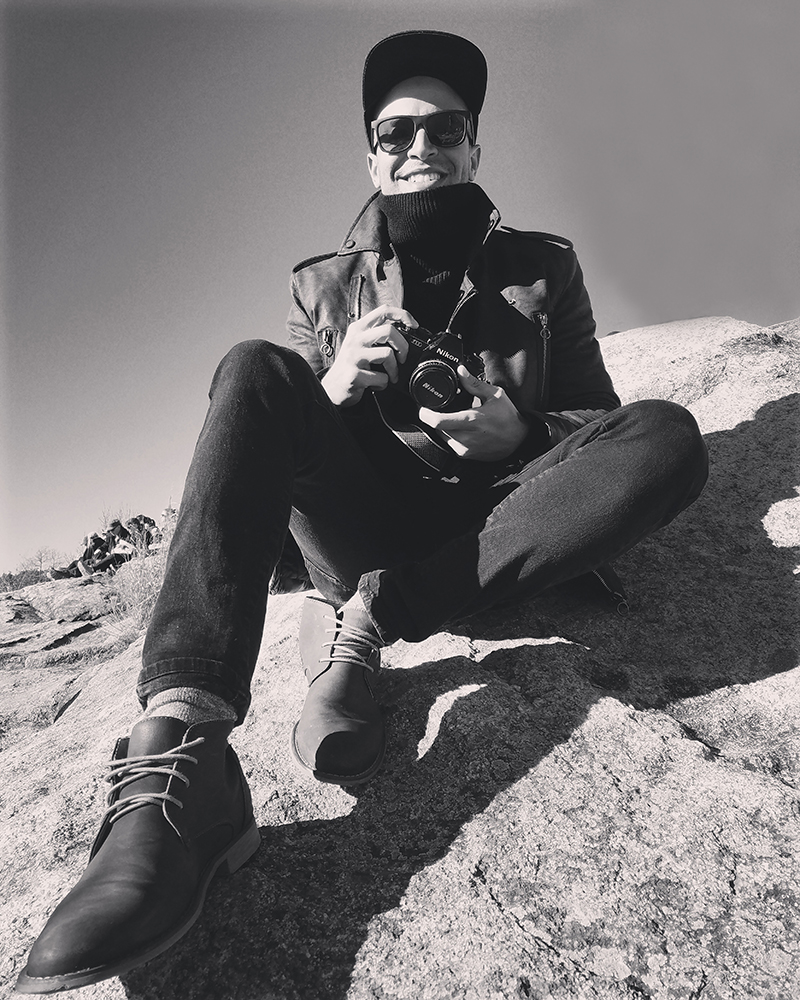 How and why did you get into fashion photography?
Photography was been embedded in me since childhood. Photography was a passionate hobby for my father. He shot street photography in New York; he took artistic photographs that showed a great deal of creativity and technicality and of course he took portraits of my mom. I had camera toys and every now and then my dad would let me play with his Nikon camera. I remember having his camera strapped around my neck, and how cool it was holding it. In fact, I still have that camera strap and use it on my camera today. As a kid I would just take photos of my toys and stuffed animals…of course there wasn't any film in it (too bad, could have had some great shots of my toy cars).
I didn't really get seriously into photography until college, where I was able to take a photography course using a 35mm film camera. Using the same camera I once played with as a kid, but this time with actual film in it!
I fell in love with the whole process of image making, rolling your film, developing the negatives, and then developing your prints in the dark room. I spent days in the dark room developing prints. It's really a forgotten art form.
I was immediately drawn to shooting portraits and from there that was pretty much the beginning of it. After graduating college, I knew I wanted to be a fashion photographer. I didn't know how I was going to do it, but I was going to figure it out somehow. I was secretly given the key to the photography building at my college and would go in late at night when classes were over and the building was closed to develop my prints. I cleaned bathrooms and floors at a prestigious photo studio, read fashion books, and when I was able to get a digital camera I interned at a modeling agency for a short time shooting model polaroid's and archiving all the model images and tear sheets from their work. It has been a journey over the last 7 years learning as I go, it hasn't been an easy road; but I love doing it and I'm just getting started.
What photographers from the past or present have influenced you the most?
The first photographer that really inspired me was Bruce Weber. Truly a master eye in photography. I even made it a goal of mine that one day, I would meet him. It was around 2014 that I got a phone call from the Director at Ford, who was friends with Bruce and told me his team needed an extra Production Assistant for his Vogue location editorial with Camilla Nickerson, and she had recommended me to his producer. Meeting Bruce on set was really an amazing dream come true. I remember standing holding an umbrella right next to him to provide him shade while he shot. Watching him direct and shoot, was an amazing learning experience. I also learned a lot from watching Camilla's styling, such an iconic duo. Peter Lindbergh, Hans Feurer, Richard Avedon, Steven Meisel, Ellen von Unwerth, Mario Testino; all great photographers that have influenced me, along with their muses.
How would you describe your work to someone who has never seen it?
I almost never like to talk about my own work haha, but if my work can reflect any or all these words now, or in the near future, I would be happy; Timeless, Natural, Honest, Intimate, Engaging, Creative, Beautiful, Inspiring.
What are the biggest challenges facing you now?
How do I become a better photographer? What do I need to do to improve? These are questions I ask and challenge myself with every day.
Finding originality and creating fresh and new content that sparks commentary. I think that's something that challenges every photographer and what every photographer strives for.
Overcoming the word "NO" and sticking with something you believe in, even if other people don't.
No doubt this is a very difficult industry. I would say 50 years ago there was a clear distinction of someone being a photographer as their profession. In today's world, anyone owning a cell phone is now a photographer in a sense. It has completely changed the way we live in society. It's a very powerful and beautiful tool, but also extremely challenging now for young photographers with a real strong passion for it like myself to breakthrough. So, finding the right opportunities, surrounding myself with the right teams, and meeting the right groups of people are all challenges I face.
Favorite Film
Man this is a tough one.. if I go back to my childhood in the 90s it has to be "Days of Thunder." If I wasn't a photographer, I would've loved to have been a NASCAR Driver.
What type of impression do you want to make?
Obviously, I want my impression to be a good one, a positive one on the industry, but also personally as an individual.
The last 50 years the fashion industry has become a global industry. There are still areas in the fashion industry that have a negative impression, but there are many parts that are changing, and to be a part of that new wave, making positive impact, and evolving the industry forward, and setting a new impression over the next 50 years, is something I hope to be a part of.