---
Review of Molly Goddard, Marques'Almeida, Daniel Crabtree, Halpern, Kaushik Velendra, Jordanluca, Roksanda, Dunhill, Daniel W. Fletcher, Simone Rocha, Fashion East – Jawara Alleyne Fall 2021 Fashion Shows
The Marvels, the Wonders, the Eccentrics, and the Commercials all Enlightened by Recycling and Repurposing
By Long Nguyen
"And there at the end, we see the light, and there at the end, we get to stand in what is right. Might not always pull the same crowd. It might not always be on the ground. Might not always be allowed. It might try to find a way to undress or decrown it. But this year, I think we found it. We know anywhere can be a runway if your mind has something to walk down it," the poet and activist Kai-Isaiah Jamal read out his last verse in the official opening clip for this London Fashion Week fall 2021 season.
At the end of this Fall 2021, all digital London Fashion Week, due to the recently enhanced lockdown measures in the UK, the young vanguards of British fashion stood up. They upheld the traditions of creativity in staging the London' shows' in their ways. They are the creative leaders now and in the foreseeable near-term future.
London's situation reflects a temporary adjustment to significant realities that hit the country all at once – the pandemic economic decline and the uncertain impact of the actual Brexit put into the daily routine of commerce. Yet, London remains the source of creativity and innovation and less a center for any fashion economy of scale.
This London digital day felt less like a centralized digital fashion platform than how the individual designers used the allotted time frame to benefit from highly creative projects that can surely live in the digital realm for some time. These young designers are connecting directly with their audiences no matter what platform they employ.
On this same closing day of the London fall season, the British Fashion Council announced that Priya Ahluwalia had received the Queen Elizabeth II Award for British Design presented by Her Royal Highness The Countess of Wessex. The award cites Ahluwalia's commitment to her community through the language of her men's clothes, combining her Nigerian, Indian and British heritage in unique designs with fashion as a platform for change. The young designer also contributes to pioneering responsible sourcing and manufacturing.
Missing, this time around, is the sustainable designer Bethany Williams. She took time off to work on a capsule collaboration with the store Selfridges making one-of-a-kind coats rather than her collection. Nevertheless, Williams brought Selfridge that same level of attention by sourcing blanket fabrics, principally organic and vintage, throughout the UK to make colorful patchwork bespoke coats unique.
Burberry staged its first standalone menswear show at its Regent Street flagship store. Tisci has to compete not in terms of scale but in terms of coolness with these yet-to-be household names like Bethany Williams, Eden Loweth at Art School, Matty Bovan, Bianca Saunders, Priya Ahluwalia, and Kaushik Velendra – the underground torchbearers of the avant-garde fashion. These young kids are each building their niche in this corner of British style, in the same way, that reminisced the early era in the 1990s of John Galliano and Alexander McQueen.
In London, as by tradition, there is always a brand new young designer launching the debut collection, the start of a fashion journey ahead. As a young American designer based in London and a 2020 Central Saint Martins graduate, Harris Reed's debut of seven looks encompass London's vanguard spirit in many ways.
Known more perhaps as the young designer who put the British singer Harry Styles in full dress, the designer presented a couture collection – more so than ready to wear. It is so precise in its Saville Row tailoring a black side buttoning double breast slim fitted pantsuit with a pleated train on one side or a thin black jacket with pair of pants cut out that morphed into a tie-dyed tulle mermaid skirt at the front. Then, there are the navy skirt-pants with billowing layers of tulle floating outward and a white and purple-dyed tulle' wedding dress' made from a repurposed vintage dress then transformed into a sideways panel with armholes.
For Reed, as for many of the young designers here, their clothes and their fashion point of view serve a far larger purpose. In Reed's case, it is about abolishing how gender clothes are seen on male and female bodies and about demolishing these strict boundaries by making powerful statements of men's clothes feminized and worn on a male body.
Here again, it is not genderless or gender fluidity – it is the crossing of the sartorial borders where forms, structures, and materials should no longer classify with gender.
Seeing Reed's work reminded me of the Jean-Paul Gaultier Fall 1996 men's show that the French designer staged in a hotel in Pigalle with the theme of 'Homme Couture.' In that show, Gaultier was the first designer to take the women's clothes techniques and materials and shapes and applied them to menswear in an haute couture manner. Corsets with satin trains and tailored suits draped with tulle underskirt were a few of the mélange Gaultier sent out to challenge the rules of fashion conventions, something the designer had done since the mid-1980s, especially with his men's collections.
Besides these vanguards, designers like Molly Goddard presented a collection of colorful tulle dresses that veered towards the commercial arena, and that's not necessarily a bad thing. Goddard reintroduced menswear like a tailored jacket and pattern jumper over a red tartan skirt.
Marta Marques and Paulo Almeida of Marques'Almeida worked with the Cape-Verdean-Portugues singer and rapper Nenny in making a film with the artist performing in different looks from a collection sourced locally with materials from Dyeing from Waste, denim from Upcycled Cotton, biodegradable fibers, fabrics from recycled ocean plastic waste and no petroleum-based materials of any kind. These tie-dyed cotton short dresses, denim jackets with puff sleeves, black cotton dresses with fringes, or light blue satin long dresses can be pre-ordered at the brand's website to reduce the waste of over-production.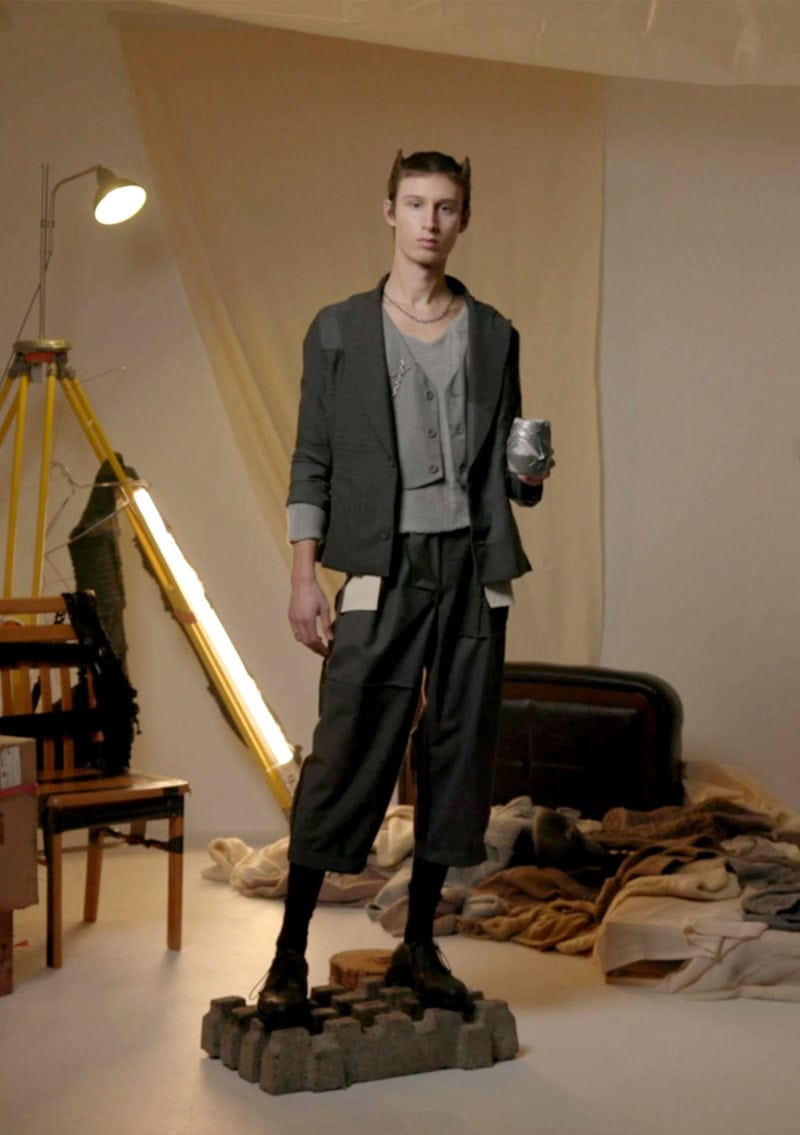 In his first presentation in London under the DiscoveryLAC sponsored by the hair brand TONI&GUY, the Central Saint Martins MA Fashion 2018 graduate Daniel Crabtree showed a short video around the theme of a disjointed day of a young man jostling about aimlessly.
Crabtree focused on the handcraft of repurposing and reclaiming pre-worn garments and recut them in a free manner into new clothes with unexpected fits and proportions with just eight looks. Crabtree altered the proportions of a grey wool jacket, cutting off part of the sleeves and length to shorten the shape paired with a pair of boxy trousers.
Similarly, Nicholas Palmer's psychedelic short video reflects his colorful and creative locally sourced vintage 1970s shirts and scarves that he made into patchwork novelties, shirting with the most inventive ways to make a basic shirt.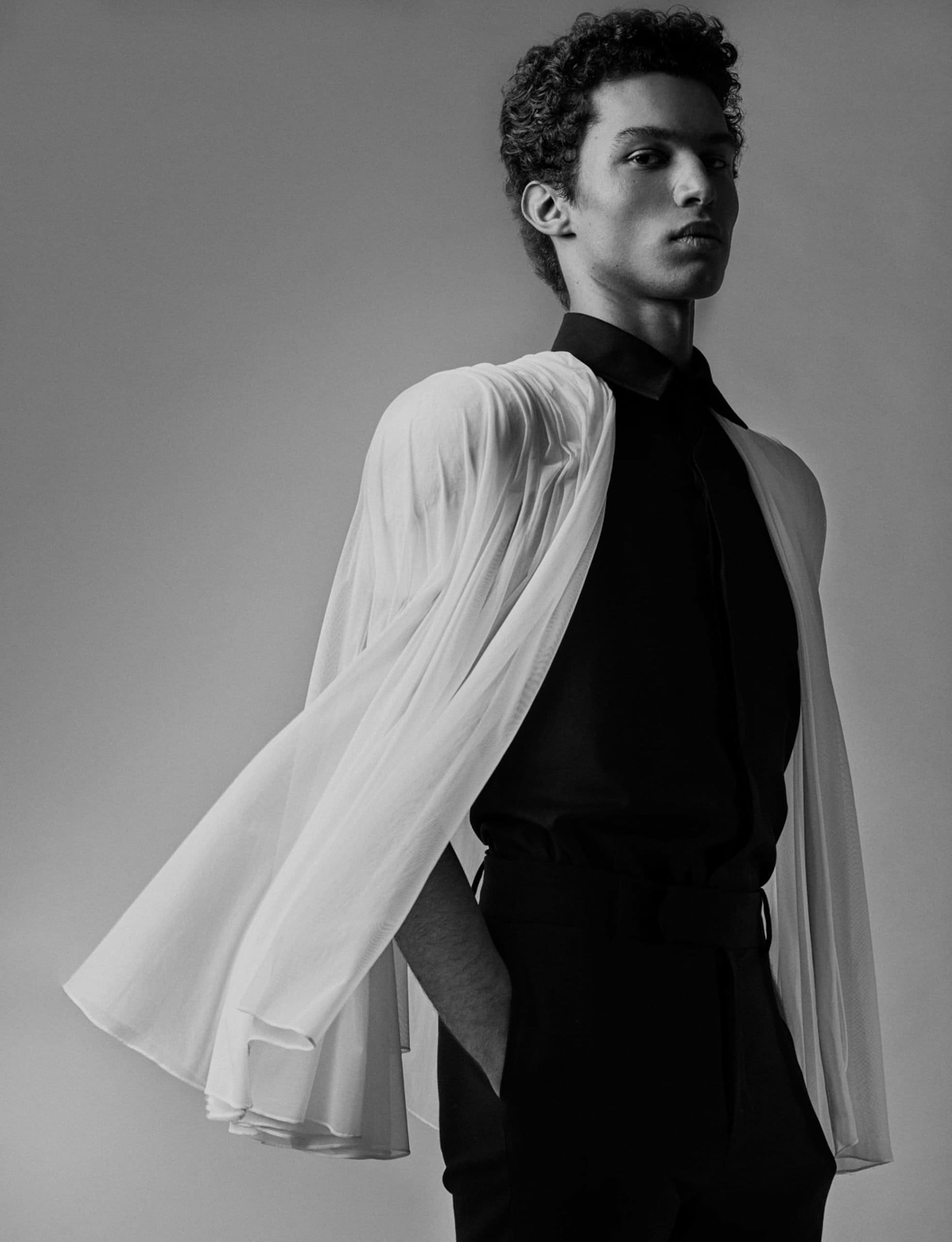 In a heartfelt inspirational and motivational video, the menswear designer Kaushik Velendra espoused the virtues and the possibilities of fashion as a power source for self-empowerments with a powerful video from activists from different worlds of art and fashion like the mother and actress Kelly Rutherford, the dancer and singer Layton Williams, the model and influencer Billy Langdon, and the artist and activist Daniel Lismore.
Of course, each is wearing the range of men's clothes that Velendra designed to break men's clothes' traditions. That meant a broad shoulder sheer 'jacket' that falls on the body or a sleeveless jacket cut like a vest. Velendra has a way of mixing different aspects of masculine and feminine sartorial elements into each of his garments made for men. His clothes are not genderless, even when a men's black wool sleeveless shirt has a white chiffon pleated cape attached to the shirt's shoulder, transforming a sporty garment into something a bit different.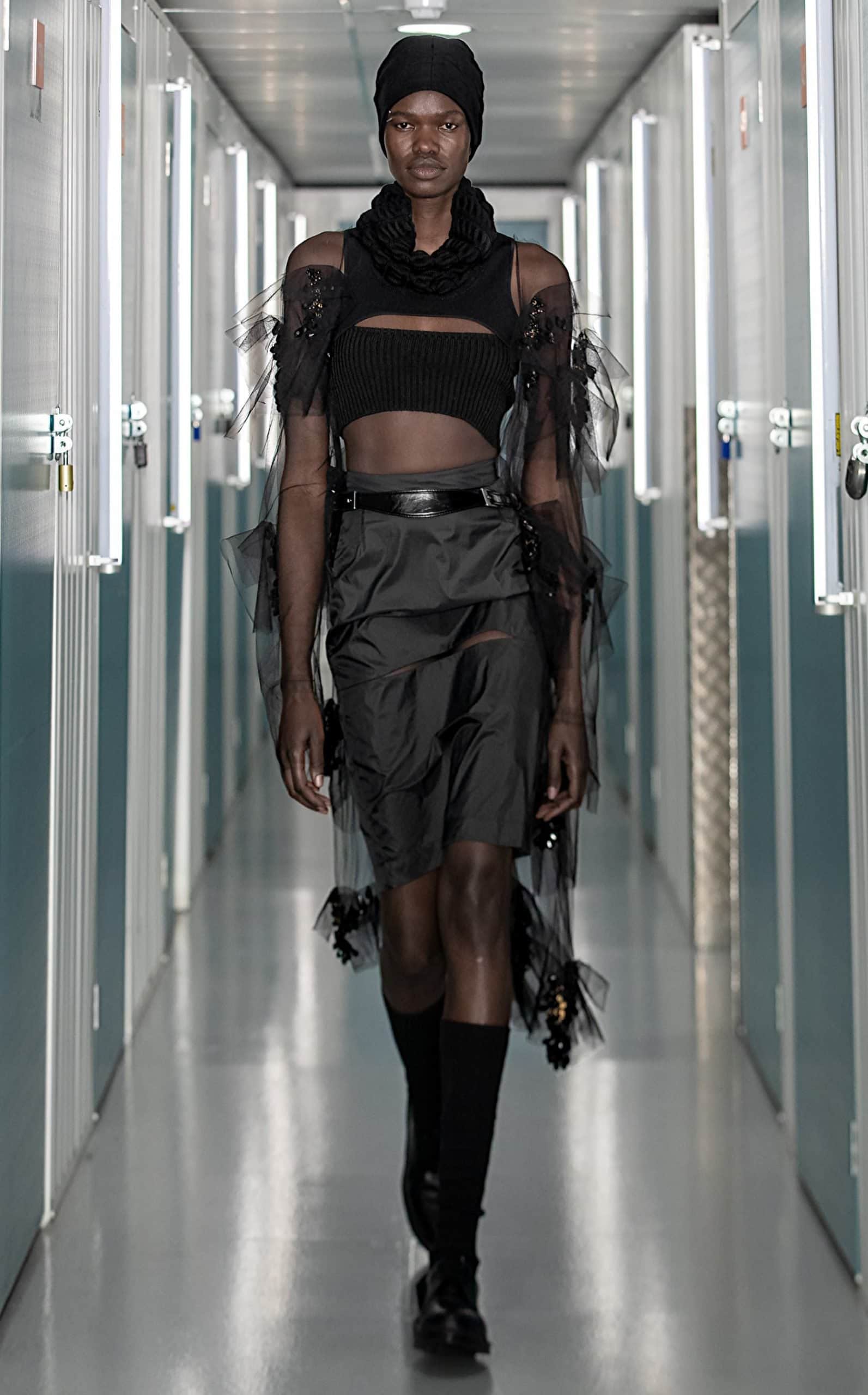 On the opposite end, Jordan Bowen and Luca Marchetto of the London-based Jordanluca brand was founded in 2018 with a mission of experimenting with tailoring and streetwear to alter the course of men's fashion and the outlook of masculinity with the embrace of the London youth cultures and subcultures.
"We didn't feel any desire to use bright colors. This wasn't our moment to shine through our clothes but for our clothes to serve us and our needs. Instead, we found a different kind of expression through black and muted colors. Our floral prints faded and almost disappeared on us. We had more time to go back to our passions, the construction of a garment," Bowen said of the mood and the prevailing clothes in the new fall collection that mixes dressy of a collarless black wool jacket or, for that matter, a nylon bomber jacket worn with a white shirt and black tie. But this being a forward-looking brand, there is always room for a shiny black rubber pant paired with a beaded leather patchwork blouson in an actual extensive collection for the brand.
Roksanda Illincic premiered a fantastic short movie titled Friday in February starring the three generations of the actress Vanessa Redgrave's family – her daughter Joely Richardson and granddaughter Daisy Bevan. Shot on iPhone at Richardson's country home in Surrey, the film portrays the family's intimacy that one Friday in February where they spend the winter lockdown.
Roksanda's purpose for the film was to bring joy and pleasure back to fashion in small ways. The film set against the reading of Shakespeare's Sonnet 73 provides – "The same touches and laughs, the knowing glances and frowns, the familiar love and friendship, the joy of closeness," Illincic said for the tender everyday moments in the film.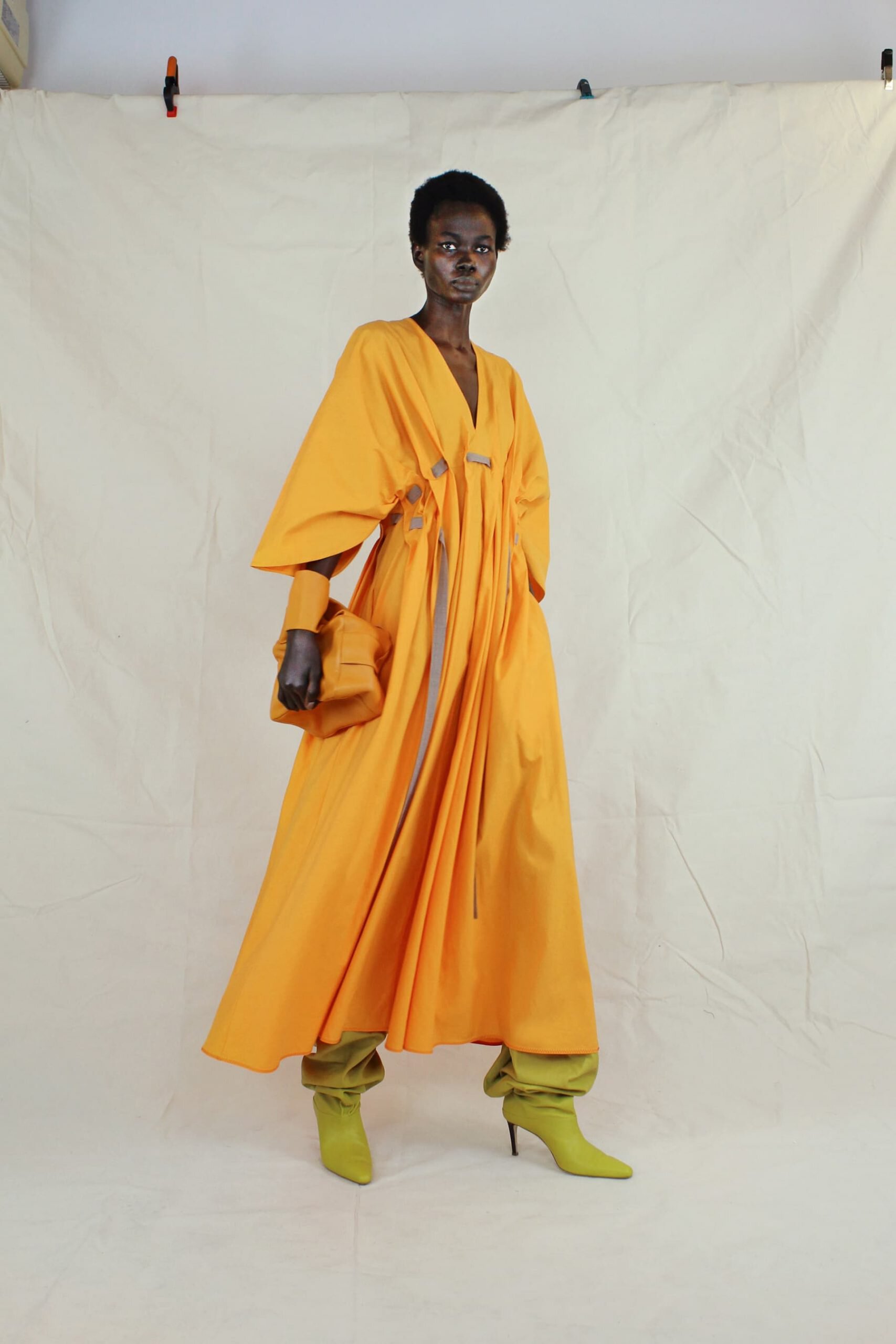 Roksanda's fall collection reflects this optimism in the very fluid and billowing shapes and in the mixtures of colors – orange front pleats long dress, a large red fold sleeve column dress, or a pink oversize puff wide-leg jumpsuit. Her tailoring mixes soft boxy shapes of a light green and mustard single breast suit to a slim cut-out sleeve black evening tuxedo and a slim fit navy long coat and wide cuffed pants.
"The idea of meeting once again reigns supreme. Through conversations with friends about what we are excited about for the future gave birth to a collection focused on optimism," Michael Halpern said of his fall collection via Instagram. Halpern could have also added his infatuation with the kind of clubwear prominence in the 1970s and 1980s with highly sophisticated leopard catsuits, colored sequins flare short dress and a range of black and white embroidered one-piece bra corset hippie pant combination.
Halpern's extravagant use of sequins, intarsia of graphic motifs, and satin silk trains is surely an anti-dote to the comfort and leisurewear currently in circulation. It is a devotion to fashion not just as fantasy-driven narrative but one where the clothes are a commitment of handiwork and hopefully to consumers who will cherish these fun clothes.
Taking a similar approach like Roksanda, not with a film but with actual clothes, Mark Weston, the creative director for Dunhill, said his focus is on the clothes, not any particular themes, "on individual garments and accessories and what they stand for in their own right."
When he said clothes that can stand on their own, Weston meant a black wool coat with color stripe knit or a similar jacket paired with a floral jacquard turtleneck and an oversize parka-plaid vest. It is all worn with the likes of a small black rectangular leather purse with gold hardware or a floral cross bodypack.
"There is an inquisitive exploration of the expertise of tailoring, but there is also the joyful intimacy of found objects as well as the domestic and homespun, personal and playful moments underpinned by the rigor of formality and utility," Weston explained.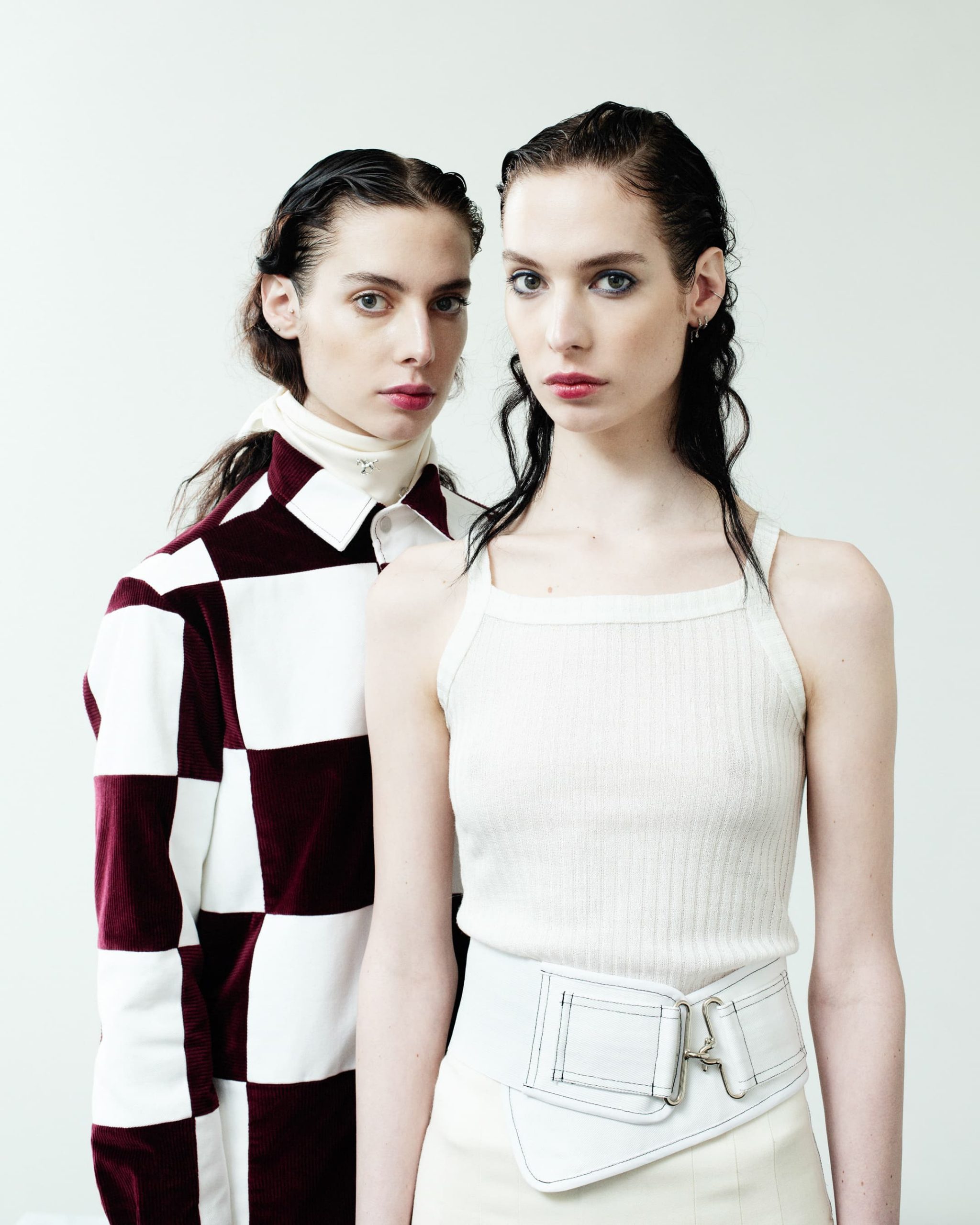 Another young designer who started in men's but ventured this season into launching womenswear due to clients' demand is Daniel w. Fletcher, a 2015 Central Saint Martins graduate when the store Opening Ceremony bought his entire graduate collection and produced a capsule for the Spring 2016 season. Fletcher focused his attention on deploying British craftsmanship with timeless workwear and practical garments, using available fabrics and local manufacturing.
Now passing its eight seasons, Fletcher debuted this eighteen fall looks in a separate womenswear collection. The women's clothes mirrored his men's staples, including black and white pattern sleeveless asymmetrical cut dress, black denim suit, slim tailored leather pants, and black pattern jumper or black fitted single breast suit. Fletcher used recycled fabrics in a patchwork of old textiles in a chess motif of burgundy and white jacket and skirt. It's another step forward for this young brand in the slow process of development.
Simone Rocha's powerful video presentation shot at a church titled The Winter Rose demonstrated how strong clothes might not require so much narrative and storytelling backdrops as the clothes themselves are rich in textures, shapes, and a bit of a combination of historical periods.
"Thinking of clothes protectively and practically, fragile rebels," Rocha said of her new fall collection unveiled in the closing hours of the London digital fashion week, a collection that meshed the structure of sculpted leathers with the softness of tulle, at times embellished with colorful pearls. The khaki floral long skirt shatters the strictness of a school uniform look of a white shirt with a black v-neck jumper.
By protection, Rocha meant the hard shell of black leather bikers with elevated shoulders paired with mini tulle black skirt. Or as black tulle overdress decorated with embroideries of hand-painted flowers over pearls worn over white cotton spread collar shirt, or as black wool layered ruffle jacket and tulle skirt. It can also mean a cropped puff short sleeve leather corset worn over a knee-length dress made from lost and found wallpaper prints fabrics cut up and reused into long sleeve dresses. The dark olive extreme ruching military parka coat with a black tulle skirt is an excellent version of this disorientation effect.
The shapes of many of the opening look reminded of Comme des Garçons collections. For her Spring 2005 collection, Rei Kawakubo merged a range of creatively crafted tough leather bikers with soft pink tulle as tutu skirts or pant leggings in the then classic biker ballerina show.
Fashion East, the platform that supports emerging talents, closed the London show by allowing young and emerging talents, most just out of fashion schools, with the resources to show their ideas.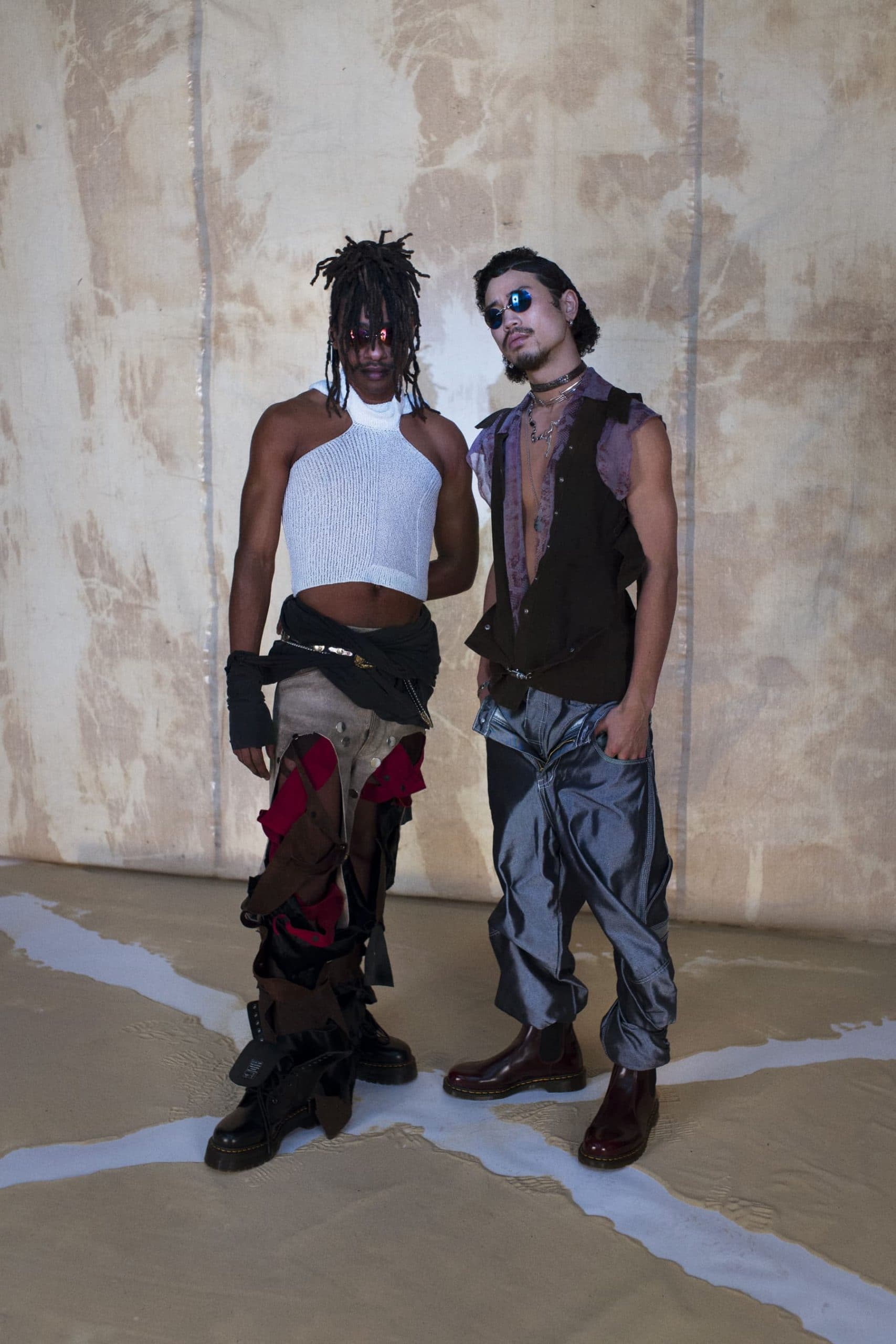 Jawara Alleyne is the standout in this season's Fashion East presentations. The work of the 2020 Central Saint Martins MA Fashion, whose graduation show last year, explored the idea of the performance and meaning of masculinity through clothes like cut outstretched fitted top over double layers pants or yellow satin blouse over open front jeans as a representation of the looks of pirates on ships.
The Jamaican-born Alleyne is apt to take any cultural givens and assumptions to put these accepted perceptions into question, thus undermining the presumptions. In clothes, he tears apart the rigidity of a pair of jeans, overlaying denim pants with blue satin pants on top to deconstruct the expectations of what the original denim jeans are always assumed to be. Alleyne reconfigures a new pair of layered pants, with handiwork-like asymmetrical ruches of a satin outer layer, worn here with a cropped white tank-turtleneck sleeveless top. A blue jacket has no sleeves but has draped green floral satin print ruffle panels over the arms. A black polka dots pattern pantsuit has a cut so that the coat transformed into a shirt tied at the waist.
Eliminating the rigid ways of cutting a men's jacket or pants or jacket, doused the garments with womenswear's draping techniques. The result is nothing short of breaking the sartorial barriers separating men's and women's clothes. Here as well, in the age of gender fluidity, the disruptive clothes Alleyne makes are for men.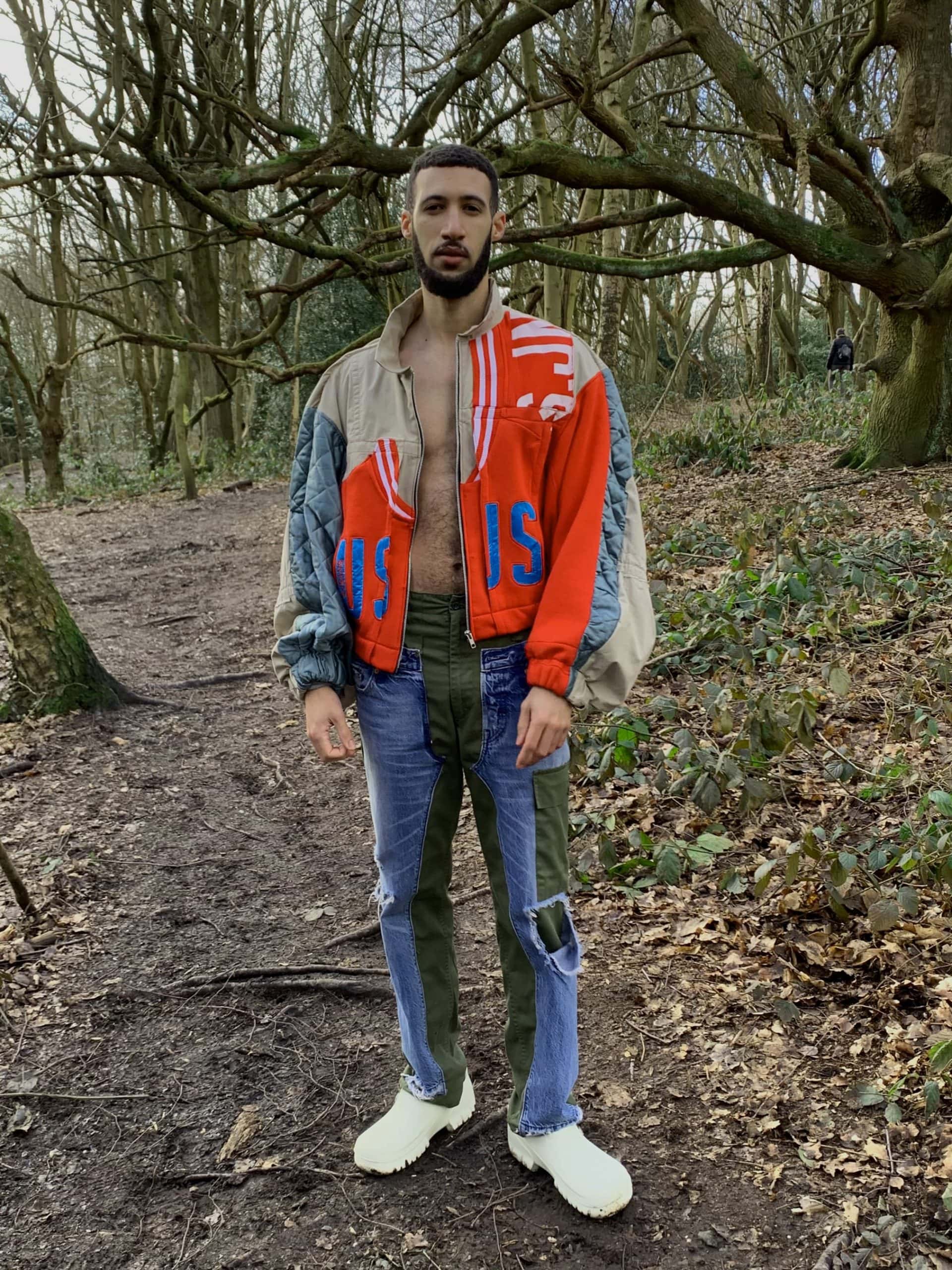 Another young talent who has passed through the Fashion East mill is the Swedish Per Götesson, the 2016 Royal College of Art MA Fashion graduate. Now part of the NEWGEN family, the London-based Götesson specializes in discarding and repurposing materials to create his clothes that embrace fragility. His cut-out tee-shirts cut into twisted long fringe worn under a patchwork parka or as a tee-shirt that combined different stripes of fabrics. In this designer's hands, clothes are still like raw materials being yet assembled into complete garments, giving the clothes shown in the film a stark unfinished quality.
The pair Yushan Li and Jun Zhou founded Pronounce in 2016 used a trip they made to Jingdezhen in Jiangxi province to explore traditional Chinese pottery that inspired their fall 2021 collection that narrates the story of porcelain from high-temperature creation to painting and glazing.
The Tang Dynasty Sancai glazed pottery surfaces now recreated through tri-color printing of a black broad shoulder double breast pantsuit with white cotton tie at the waist or in the colorful print shirts and geometric pattern embroideries on a black tailored suit. The slash on the sleeve and front body of a cotton mustard jacket and pants are like the cracks of the porcelain aged over time. The pair used ceramic hardware as artisan buttons on a few of their coats.
Li and Zhou, based in Shanghai and trained in Western fashion schools, are among the new generations of Chinese designers bridging the East-West divide in fashion.
Young talents making fearless clothes is what London fashion represents on the global fashion stage. And these kids are the future of London's fashion as their predecessors have been leaders in past decades.
---