---
Wrap-Up of Spring 2022 Men's Fashion Show Season
About Performances and Authenticities
By Long Nguyen
The Spring 2022 Men's collections season nearly ended last week with a stellar film show from Hedi Slimane for Celine, the latest men's presentation just before the European summer vacation season.
In Milano and Paris, this men's Spring 2022 season saw a partial and carefully calibrated return, albeit still in limited ways to live physical fashion shows and a host of studio presentations on appointments. This hybrid model signals the beginning stages towards the post-pandemic fashion schedule.
Many designers across the board contemplated what men's fashion should be for next year in what everyone hope would be a much different world than the past sixteen months or so that severely restricted much of life and, in particular, fashion life. Others brought culture and subculture into the mainstream.
Giorgio Armani, the first prominent designer to show his women's Fall 2020 collection without an audience in Milano in late February 2020, weeks before the lockdowns, staged a show in the gardens of his Borgonuovo home office. When the hard lockdown took hold in April 2020, the designer advocated a slow-down approach to fashion in penned a letter as a cautionary warning pleading for fewer seasons and fewer clothes.
Mr. Armani did not disappoint the small audience he had invited to witness his command of menswear fashion. Somehow, the designer has taken his notion of producing less style to strengthen his grasp on men's fashion. These Armani signatures, created in the 1980s, led to this new season's balance of proportions favoring slouchy unlined jackets and bikers blousons over light trousers. Fewer but more concise looks were the prime directive now.
It was a moment of glancing at one's history but not dwelling in the past. It was also a moment of being on familiar ground – physically at via Borgonuovo – but not within the mindset of repeating history. Dolce & Gabbana, the other big show in Milano, recast their 'heritage' but added new elements to entice their young fans while entrusting the fashion they created more than two decades ago to them.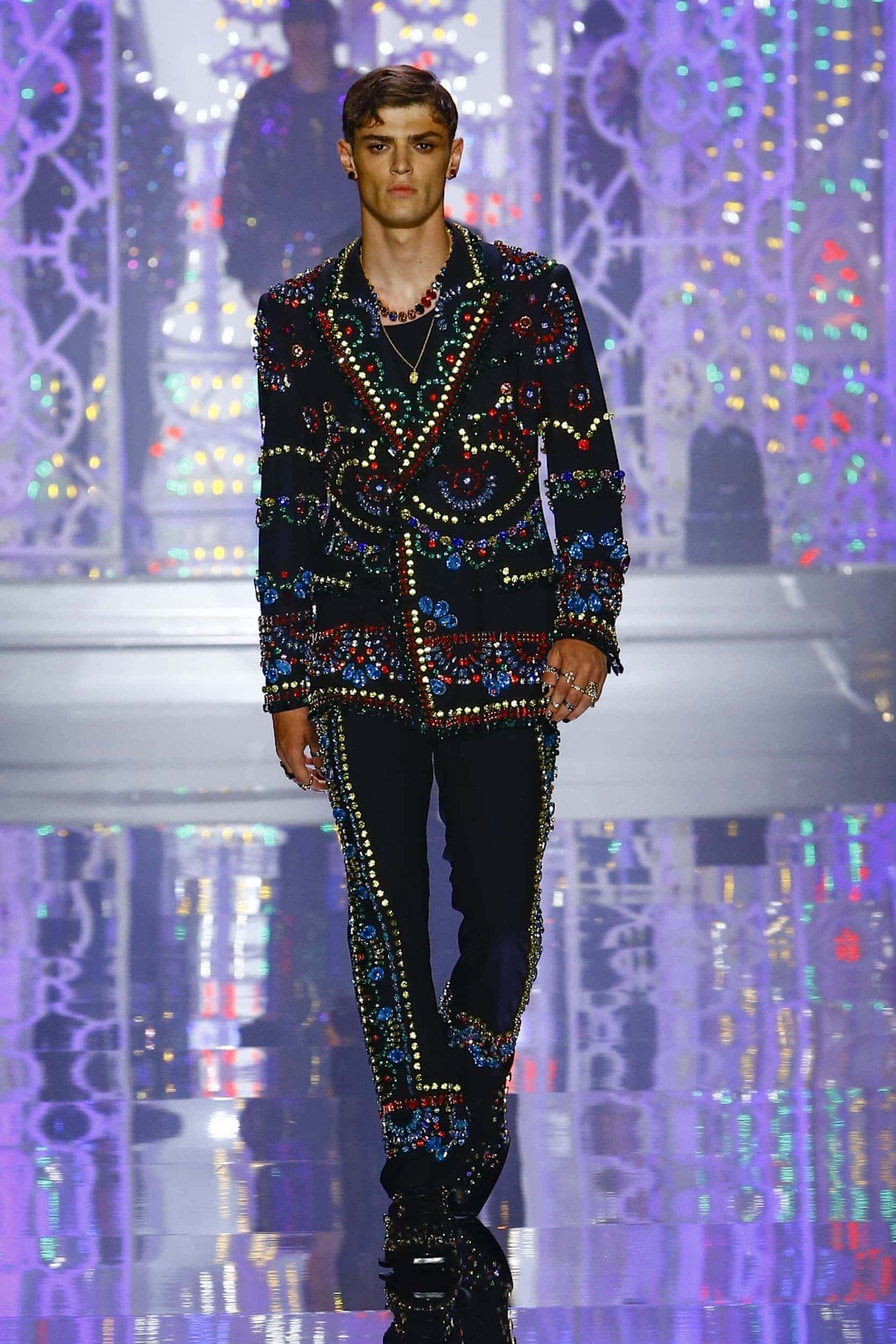 Looking at tailoring in different ways beyond the realm of formal wear into more unstructured silhouettes is one of this spring's season's most vital imperatives to move the men's fashion needle slightly forward. This process of unstructured tailoring isn't new. It was one of Giorgio Armani's inventions in the late 1980s when the rising Italian designer decided to pull out all of the paddings from his power suits – broad shoulder/nip waist – prominently featured in American Gigolo, the movie. The new soft and supple Armani jacket with its low gorge besom pockets and loose pants became the principal garment bridging the then casual/elegance divide in the early 1990s akin to the street/luxury boundary today.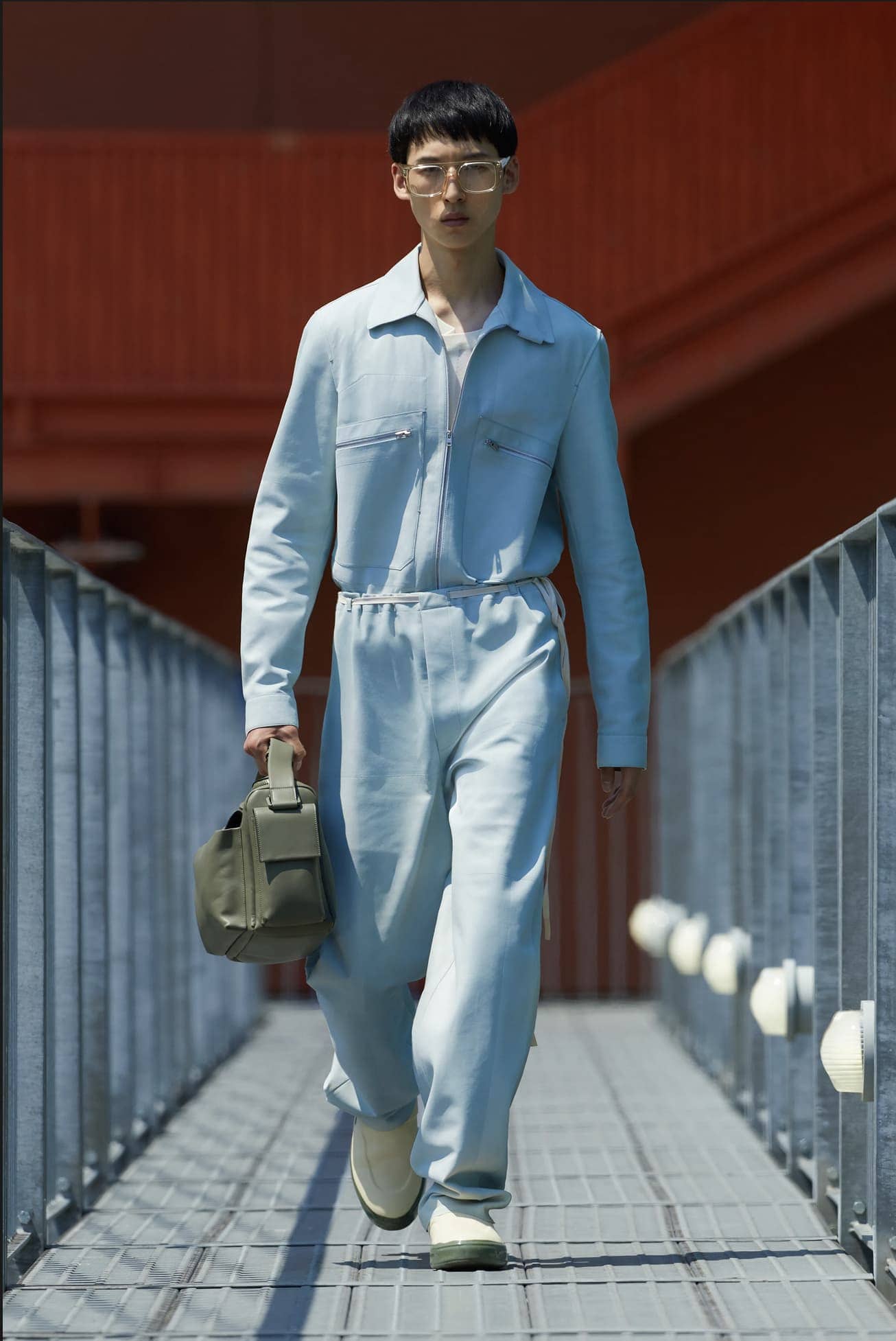 Alessandro Sartori, the artistic director at Ermenegildo Zegna, is confident that creating a new suit shape will surely be a game-winner for the stalwart and traditional Italian brand where formal tailoring and the pinnacle of handcraft has always been the backbone of the business. Sartori understands the extreme urgency that changing the aesthetic and tailoring shape remains critical to court and capture the crucial youth demographic endemic to luxury consumption.
The Italian designer faces this challenge head-on, providing barely noticed sartorial craft to relaxed and refined clothes with familiar shapes to young people. That's different and opposite from what Sarah Burton at Alexander McQueen suggested for her men's clothes, primarily borderline on the rigorous tailoring – a sharp cut jacket or fitted tailored coat – a concept steeped in traditions that Sartori is moving away quickly. Burton added ruffles as decorations in addition to William Blake's illustrations in a jacquard topcoat and even a sleeveless dyed tulle, organza, and chiffon fading fabrics.
McQueen men's spring has all the envelopments of art and the highest quality of tailoring available. Still, the collection felt more at a standstill rather than a dialogue leading menswear forward.
The question remains though in today's super streetwear casual environment – is the remaking of the tailored suit into a nonchalant deconstructed garment wrapped in the ideology of laid back attitudes sufficient to evolve this menswear essential into a staple fashion item for the younger generation of consumers?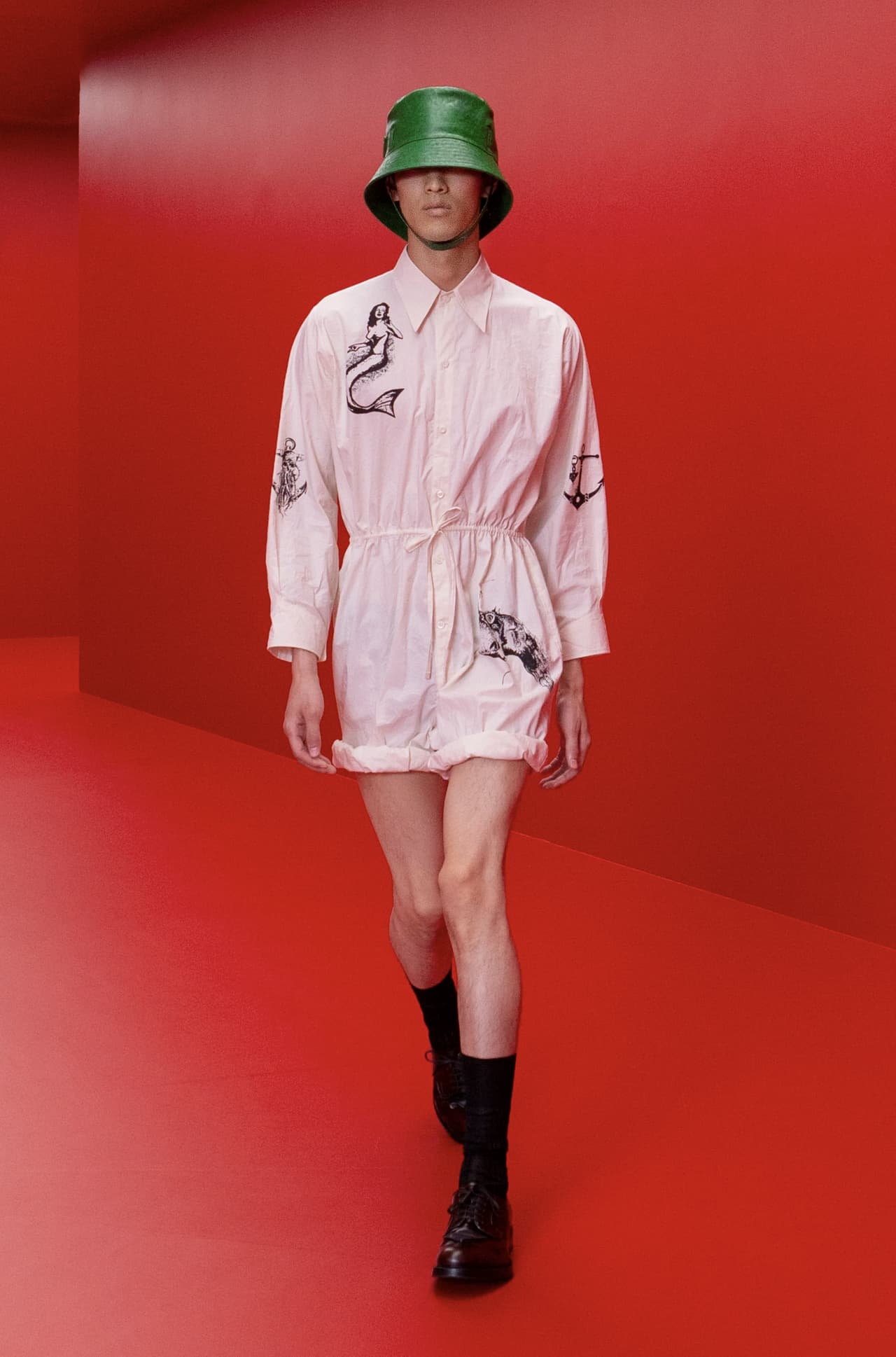 Miuccia Prada and Raf Simons moved entirely to a different level to posit their men's spring collection as an anchor for a fashion that isn't so much an intellectual endeavor as much as part of the pleasure principle. At least in the carefree context of a simplified way of dressing. That meant evoking the sense of joy in the concise single breast jacket or yellow leather bikers over hot shorts or shorts jumpsuits in white cotton with black graphic motifs. "Utopia" was the word used to describe a literal process of rebirth. Models in streamlined silhouettes pared down to the basics – jacket, hat, shorts, socks, leather shoes or sandals – and the new basics as in square-cut knit sleeveless tanks and knit short/skirt combo. The pleasures are in the clothes.
In Paris, this men's spring 2022 season saw a range of physical shows from Dior Men to Hermès.
Dior Men staged the biggest shows, erecting a standalone tent in front of the gold dome of the Hôtel des Invalides. The mega rapper Travis Scott's appearance was not a front-row guest but a de-facto co-designer who shared design credentials for the new collection.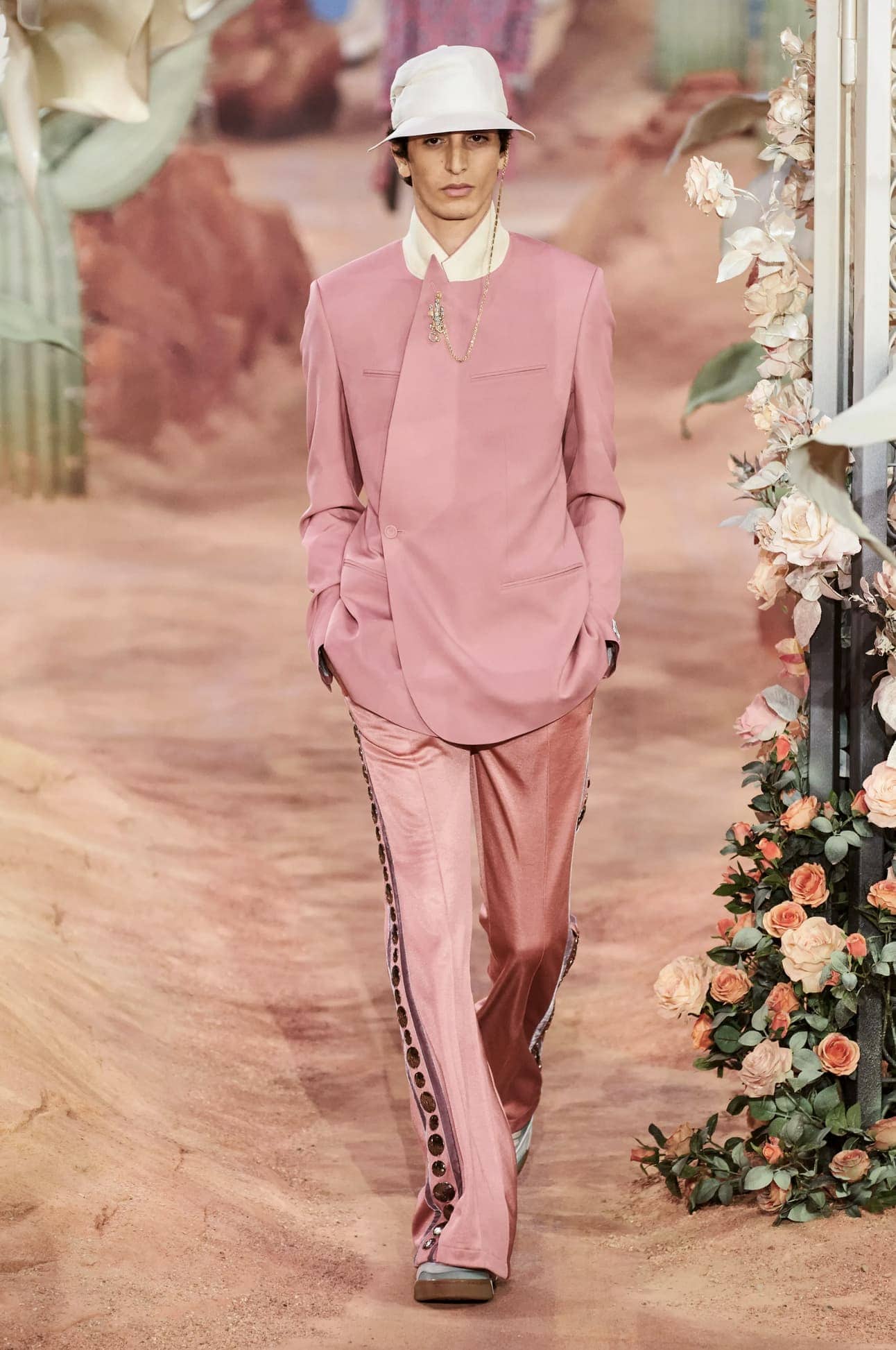 This Dior Men collection has plenty of smash-hit products at retail in less than six months. However, the clothes in the show feel staid and repetitive, very much like the sentiments of the faux desert decorations complete with Saguaro cactus, white roses, camel sand, and even a dried dead bull skull. Plenty of decorations, including hand-painted art jackets by the artist George Condo atop the cactus-filled toile de Jouy and embroideries along the outside seams of pants paired with slightly reworked one button cross body Oblique jackets.
Like the giant faux saguaro cacti with attached white roses at their tips or the giant mushrooms dotted the rusty fake dust plain and a longhorn skull strategically placed in front of faux piles of rocks, this collaboration between Dior and the rapper Travis Scott orchestrated by Kim Jones, the men's artistic director, felt at best inauthentic, much like the previous art collaborations, alignments with KAWS, Daniel Arsham, Raymond Pettibone, Peter Doig, Kenny Scharf, and Amoako Boafo serving to decorate garments not innovate fashion.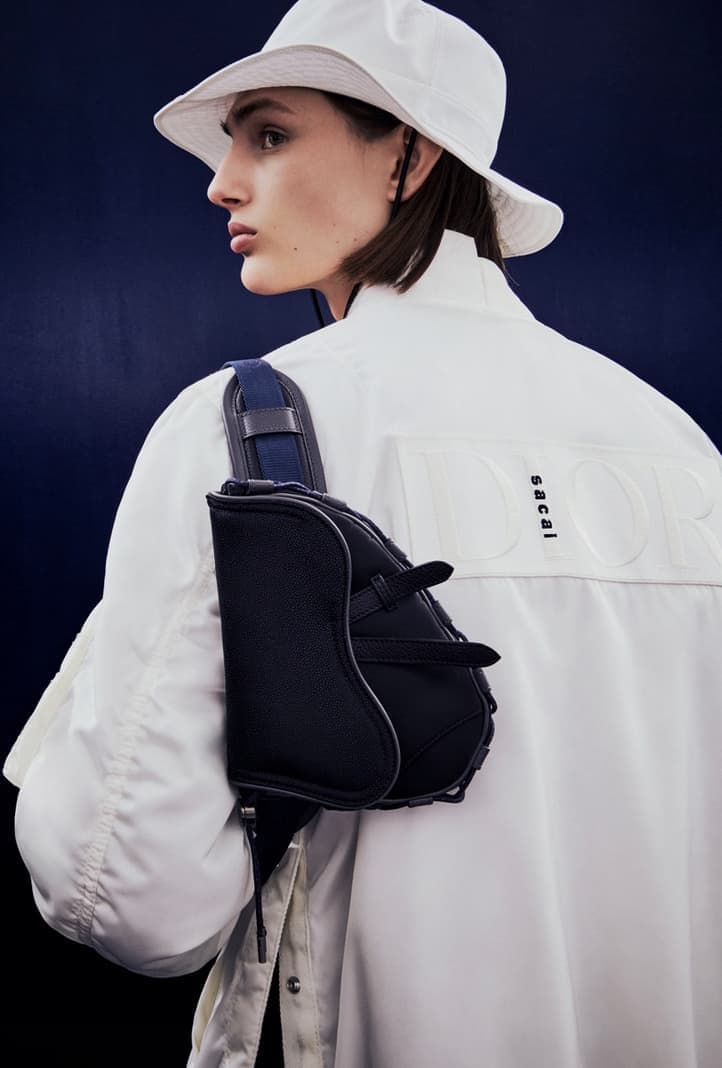 On the heels of this new mind melt with Scott is another collaboration in a virtual announcement just weeks before of a substantial capsule collection with the Japanese designer Chitose Abe of Sacai. The Dior x Sacai offerings slated for later this fall showed much Abe could exert her signature design work – her meticulous work in the patchwork of thoughtful and inventive reconstructions of clothes – in making the Dior Men x Sacai apparel. Abe's sporty in looser renditions of these garments are more recognizable as Sacai than Dior Men.
Fashion often follows not leads to societal and cultural changes.
The giants of the industry – Dior and Louis Vuitton – are busy collaborating, figuring out, and charting a correct course of culture engagements for their brands to catch up with already ongoing tremendous social-political-cultural transformation in global society at large. In these immense tasks of bridging brand and societal values, the big houses in Paris, namely Dior and Louis Vuitton, operated on this formula that has produced very successful commercial results globally.
Perhaps missing in the Dior and the Louis Vuitton cross-cultural ventures is the sense that while there is a sure merging of hip-hop and couture in merchandises, the real exchanges to change the luxury fashion brands to be more socially progressive.
While Virgil Abloh excels at crafting complicated narrative pulling strands of black cultural histories across eras, the clothes in his show collection made into an elaborate short movie have little to do with the intended storylines stated so loudly.
The collection's central premise of the clash of the hip-hop influence of tracksuits and sneakers with the menswear staple of the tailored suit isn't exactly an entirely new proposition. These over-designed spring clothes – such as the green and white checker jacket with a short pleated skirt and long panel wrap, a hybrid vest-jacket with long foam skirt, or a pink tie-dyed ball skirt and matching puffer coat – relied heavily upon sampled the signature works of Rei Kawakubo at Comme des Garçons, Rick Owens, and Thom Browne.
The intellectual backdrop is still grounded in highlighting the un-credited samplings and appropriations so rampant now in fashion culture. A phenomenon Abloh attempts to make ever more transparent. But, Alessandro Michele at Gucci and Demna Gvasalia at Balenciaga have made this discourse on source sharing pretty much a moot point with their joint 'hacking' project.
And talking about Balenciaga, Gvasalia drove the brand forward at high speed with an innovative and inventive computer-generated cloning of the model-artist Eliza Douglas as multiple representations in a short film as a new medium and platform showing his signature fashion. The 'hacking' project with Gucci also evolved into taking the classic Gucci bags shapes and replacing the GG logo with BB. That also included the traditional Gucci belt now adorned with the double BB. Indeed, this joint project takes the question of branding and appropriation to a different level, beyond the customary accusations of cultural larcenies.
How Gvasalia shaped his signature oversized silhouettes into the new Balenciaga fashion language, strengthened each season with slight twists, is this collection's design ingenuity. It takes time for unfamiliar shapes to become familiar as the eyes adjust to these new silhouette proportions.
The calibration of the high brow cultural approach isn't exactly a new phenomenon in fashion. Art and fashion have always mixed at different junctions in the last century of fashion history in multilayered ways. Yet Abloh's injection of underground culture into his Louis Vuitton endeavors is unique. The creative director primarily mined American black culture as building blocks for a new fashion vocabulary, hopefully linking the world's biggest luxury brand to the cool factor espoused by the kids outside of the fashion systems. There is, though, a divorce between the high ideals and the actual clothes shown.
Gender fluidity is now an imperative embrace in any fashion discourses. It is no wonder why big luxury brands like Louis Vuitton even waded into this swamp with too many ball gowns dresses, remaking Thom Browne's show looks in the last few years not making any new splash.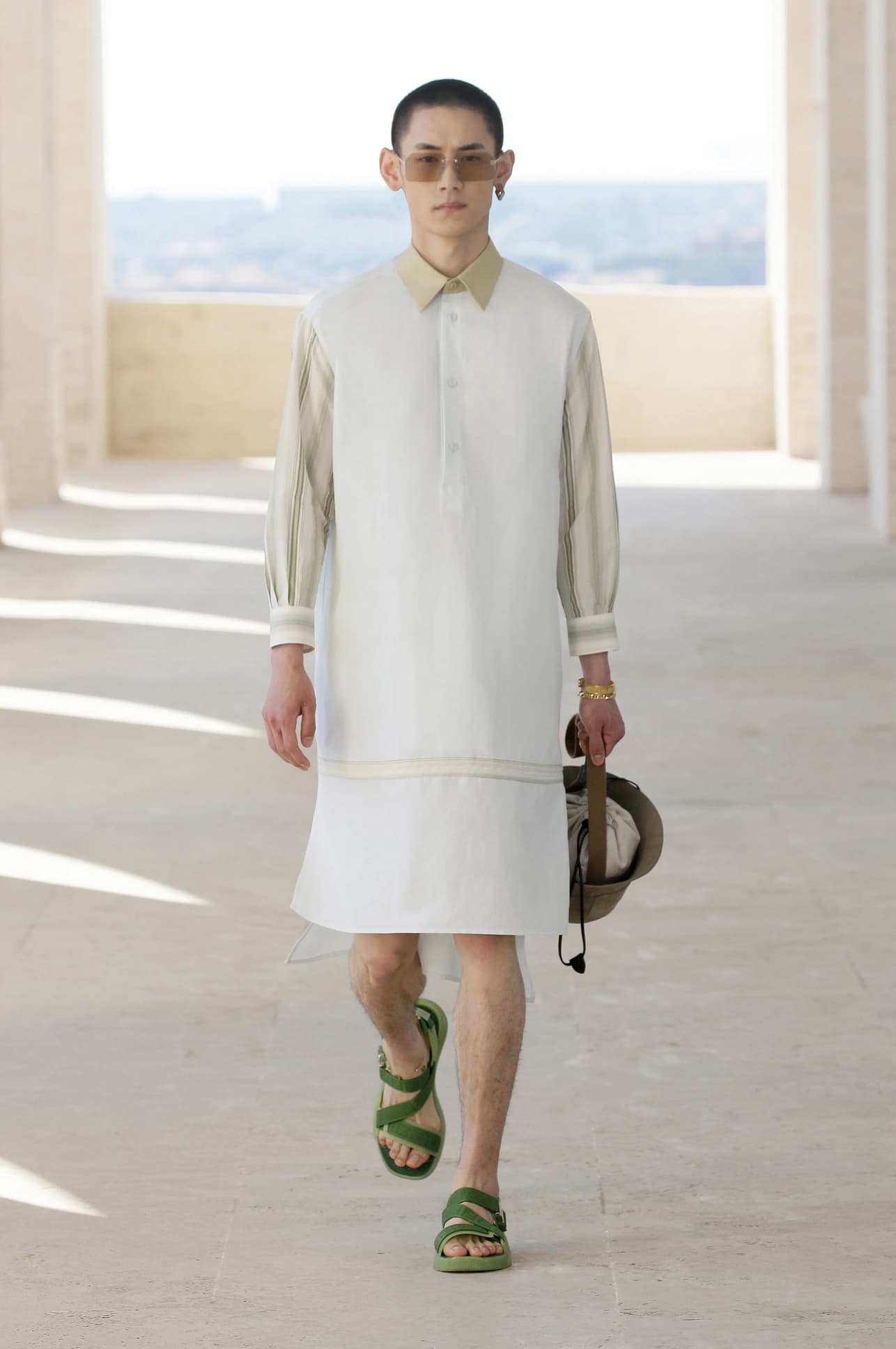 Worst is the sense that gender fluidity here is yet another performance without any real meaning, another sort of collaboration that will evaporate at the end of the next season. There was even a knee-length polo knit dress in the Fendi men's show, although it is hard to see this manifestation of fender fluidity as a message of sincerity and a note about inclusion.
But gender fluidity now customized to high luxury proportions is on the opposite end of authenticity. It is not unfathomable that the intended audience of youths would easily catch this kind of gamesmanships. The luxury brands won't compete on this level with inclusiveness and gender fluidity with young brands like Telfar or Gypsy Sport. These designers live daily within their communities' diversity and subculture, and their fashions reflect their lifestyles.
Young consumers are cajoling brands to do the right thing and impart their values to these fashion giants. Shifting the aesthetic focus first to espouse the more progressive values of young consumers is like essential prophylactics helping to sharpen luxury brand's broader societal and cultural values already in a state of flux.
What exactly was Anthony Vacarello's intention in showing his men's Saint Laurent collection within the confines of art – a commissioned Doug Aitken mirror sculpture against the current Venice Architecture Biennale? In a commercially focused collection moored by the brand's past heritages with poet blouses, long shirt-capes, and cropped jacket pantsuits, Vacarello's garments recalled the flamboyant an eccentric fashion espoused by London club kid youths in the early years of the 1980s. The clothes indeed will move at retail, but less so is moving the needle of men's fashion.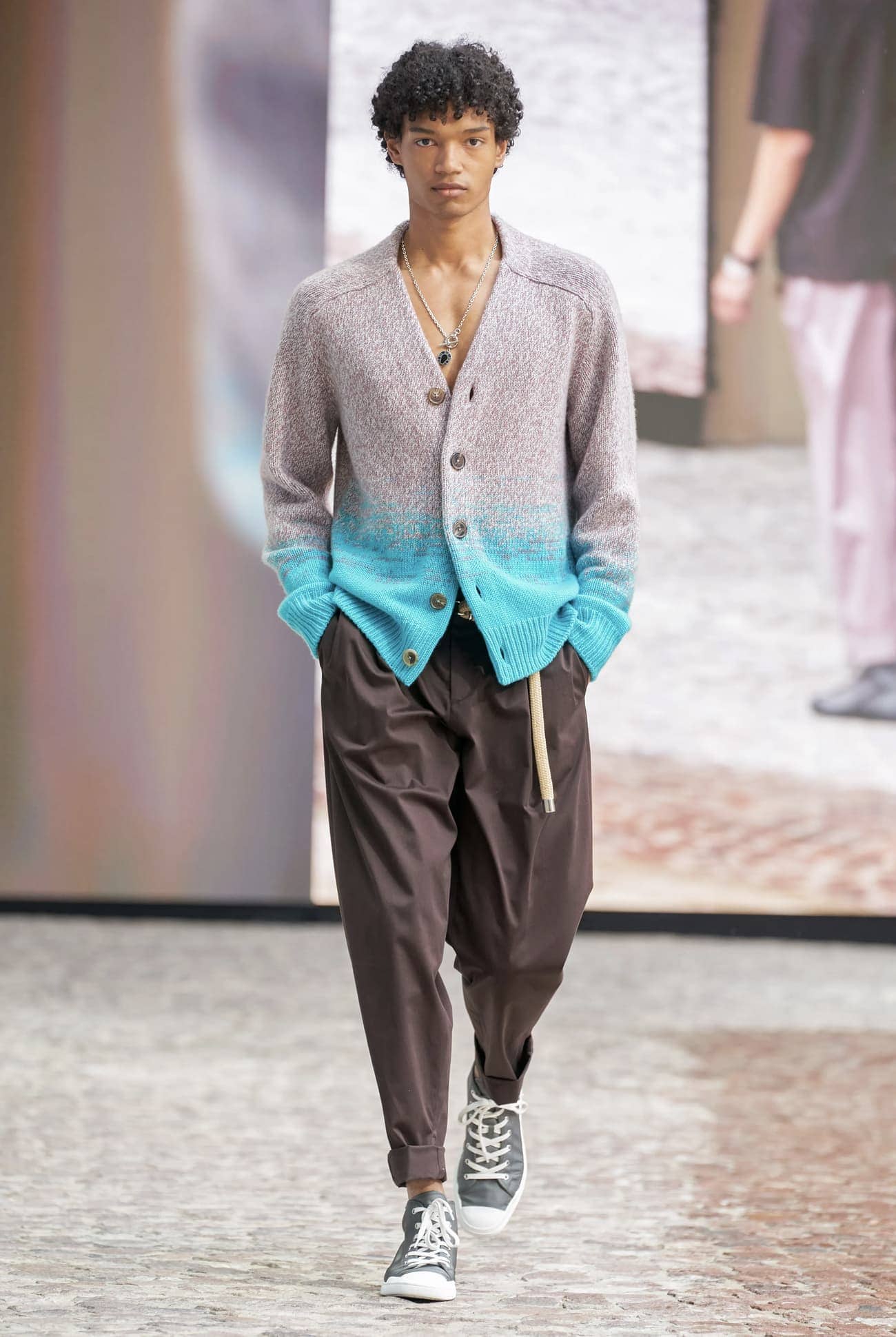 Only very few designers still start a new fashion collection looking at evolving how they design. At Hermès, there is never that oscillation between artisanal craft and innovation in style and fabrication processes. Each season, Véronique Nichanian, the men's artistic director, works diligently to innovate her fabrics and craft the clothes themselves.
Hedi Slimane seems to be one of the very few designers who grasp the idea that bonding authentically with today's youth is more than mere transactional acts. The French designer provided the accessible context for his immensely wearable Celine clothes without resorting to mining the subculture for its subsistence. The bell-bottom denim jeans, sleeveless leather bikers, and even a few black single breast jackets are doused with a few motor cross lifestyles away from the world of polished fashion.
Slimane understood that fashion is much less a marker of class now than perhaps a mark of culture. This Celine men's spring collection is a masterclass of spawning a subculture lifestyle around a great range of merchandise.
Taking a similar route, Riccardo Tisci at Burberry has gone back to the personal aesthetics he had developed at Givenchy and began with the Fall 2021 standalone men's collection. This time Tisci brought his innate sense of sensuality to clothes that speak to the emotions and how clothes should feel.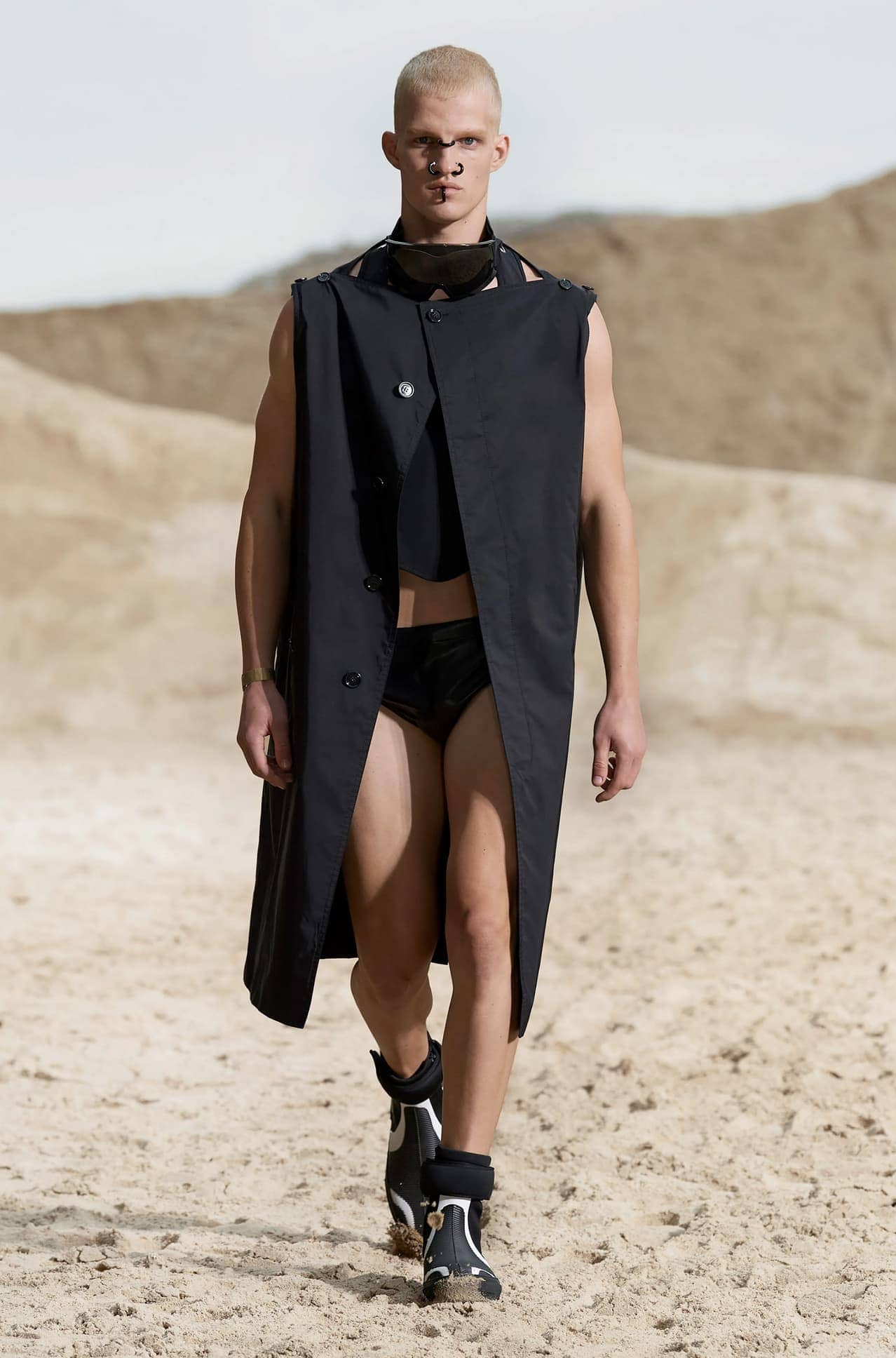 Brands lunge at every salient opportunity, but it takes an admirable perceptiveness to construct the narrative to relate to youth. Take, for example, the recent example of the ice cream maker Ben & Jerry's decision to stop selling ice cream in the occupied territories of the West Bank, where the international community and the United Nations deem illegal occupation. The decision, in line with the brand's inherent founding progressive values, drew fierce condemnations. But, the rallying words uttered against the ice cream maker fell flat as the brand's fundamental values.
Then, there are the emerging voices of young designers who craft their own stories and views into the clothes, giving their collection a primal personal perspective on men's fashion. Competing against the big brands this season, independent designers attempt to create narratives around their collections that make them more than just clothes.
Florentin Glémarec and Kévin Nompeix of Egonlab crafted a clever sporty play and tailoring using deadstock fabrics and local artisans. Archie Alled-Martinez moved beyond from his knit specialty onto jerseys and denim with a 1970s hustler vibe honoring cultural arbiters dead from AIDS. Thebe Magugu continued his way of exposing the violence and corruption of his native South Africa via the transformation of the male suit into localized garments with Masai checks and control cutting techniques. And in his first-ever men's collection, Nicolas di Felice at Courrèges is bringing trucker jackets, ribbed knits, and precisely cut coats into his clever way of taking the space age brand forward.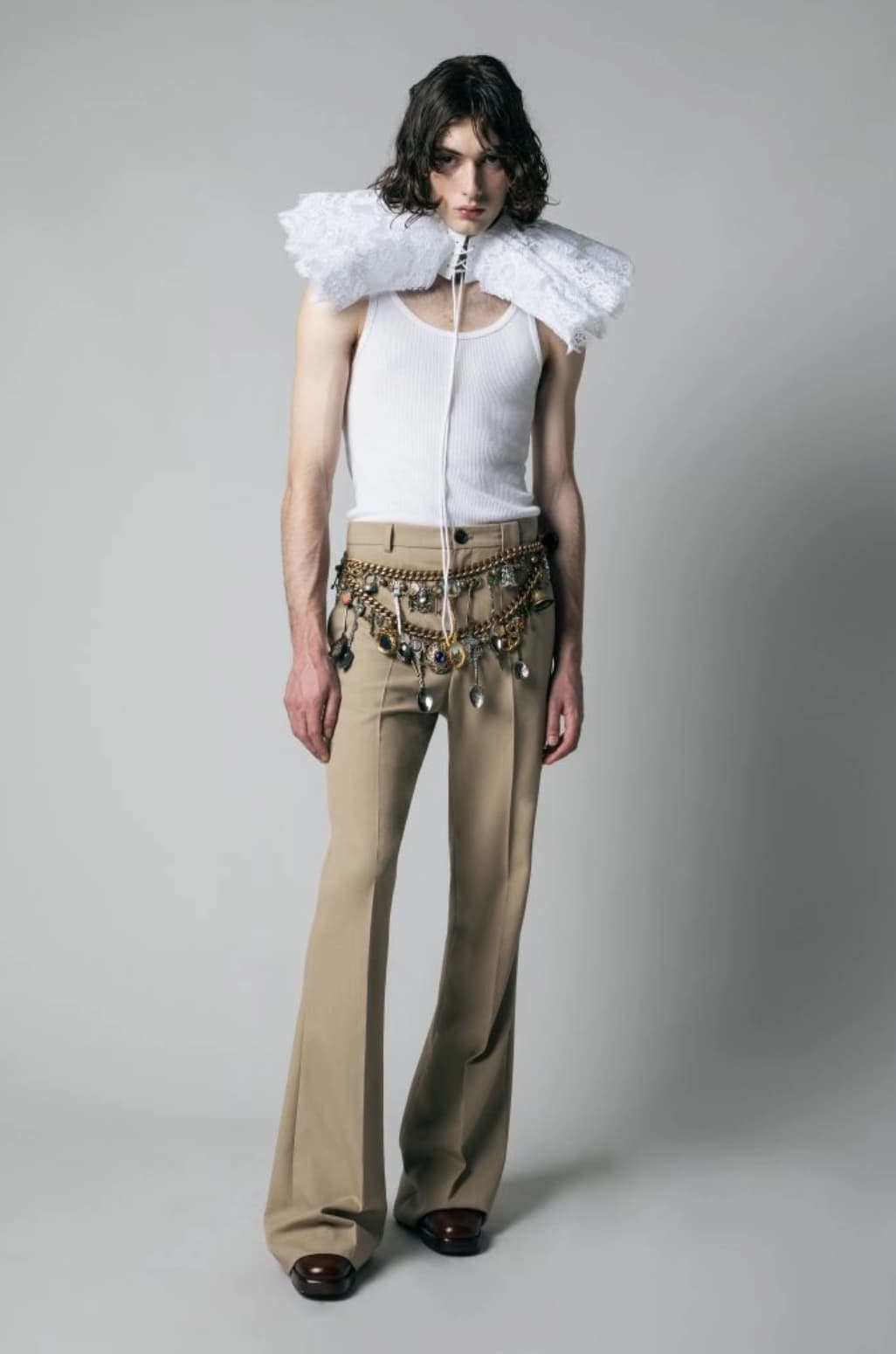 Now on a much bigger stage, both Glenn Martens at Y/Project and Serhat Isik and Benjamin Huseby at GmbH continued to refine the crafting of their clothes with a sharpened focus on innovative design to create new garments. Eschewing the kinds of art collaborations or subcultural context justifications, Martens, Isik, and Huseby build desire around their garments – an ecru fisherman sweater with multiple cord neckline and waist fold over denim jeans for Y/Project and denim single breast jacket with crossover v/boat necklines and grey sweatpants.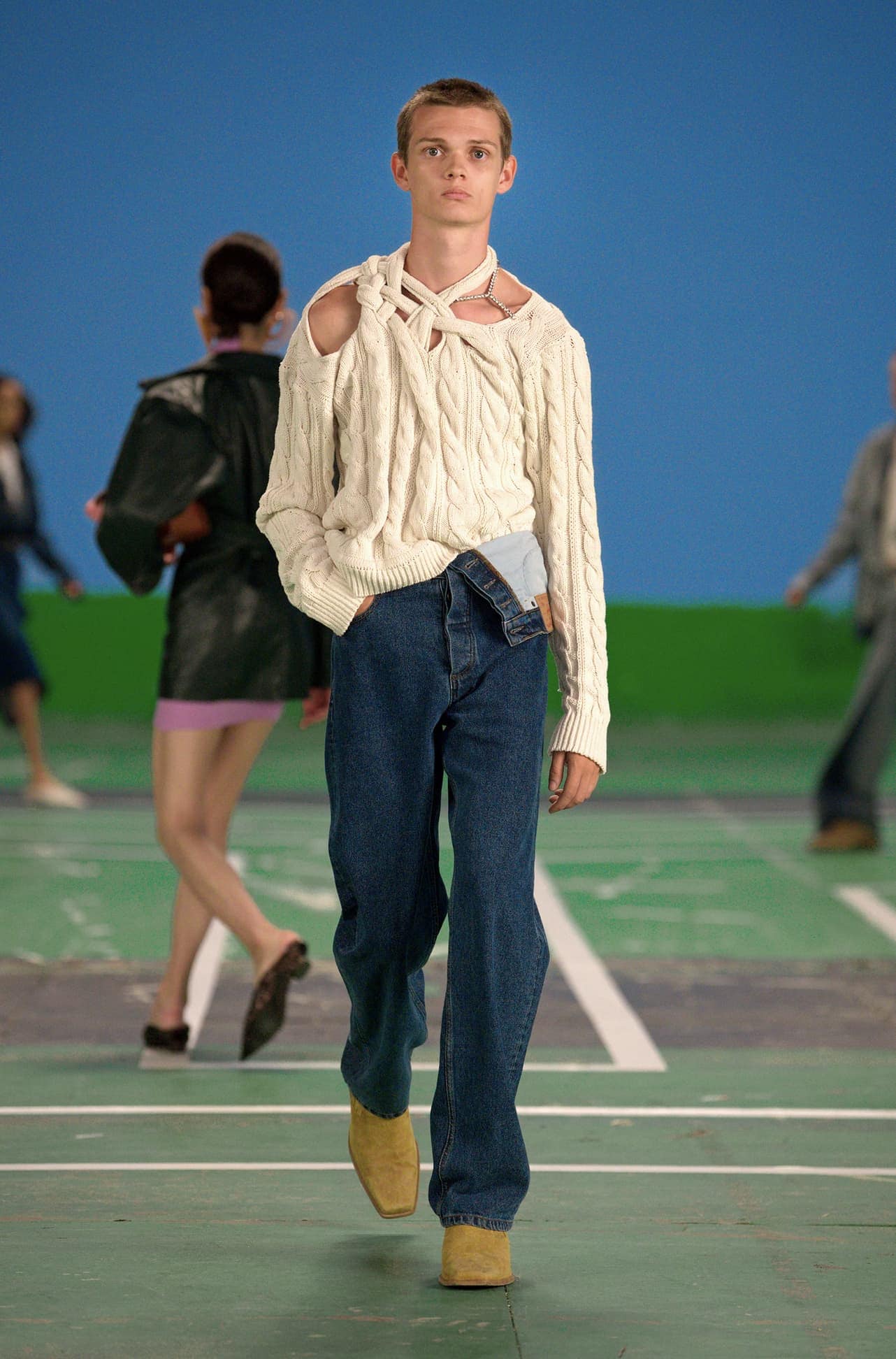 It is this same question about translating the sartorial craft of couture to entice the youths that the Turkish-German Serhat Isik and Norwegian-Pakistan Benjamin Huseby, the designers at the Berlin-based GmbH continued to ask this season in a follow up to their stellar Fall 2021 collection. The duo, deeply rooted in a bi0cultural outlook, has coopted the crafts of haute couture in their efforts to get their fans and consumers, aka their community and family – to embrace a different idea of elegant dressing, up or down clothes sourced from dead stocks.
Eli Russell Linnetz, a Venice Beach native, launched his CA-based brand ERL in January 2020 on the premise of displaying the virtuoso of the distinctive features of Americana style – collegiate, varsity sports, Stars, and Stripes, fraternity, cowboys – all remixed with a tinge of the retro 1970s. Linnetz surfed hitchhiking, prom, and football genres, adding Southern California touches to his spring wares. That included red floral knit turtleneck and patchwork jeans, super cropped red football jerseys and hot denim pants, and hairy furry camel chaps and stars boxers.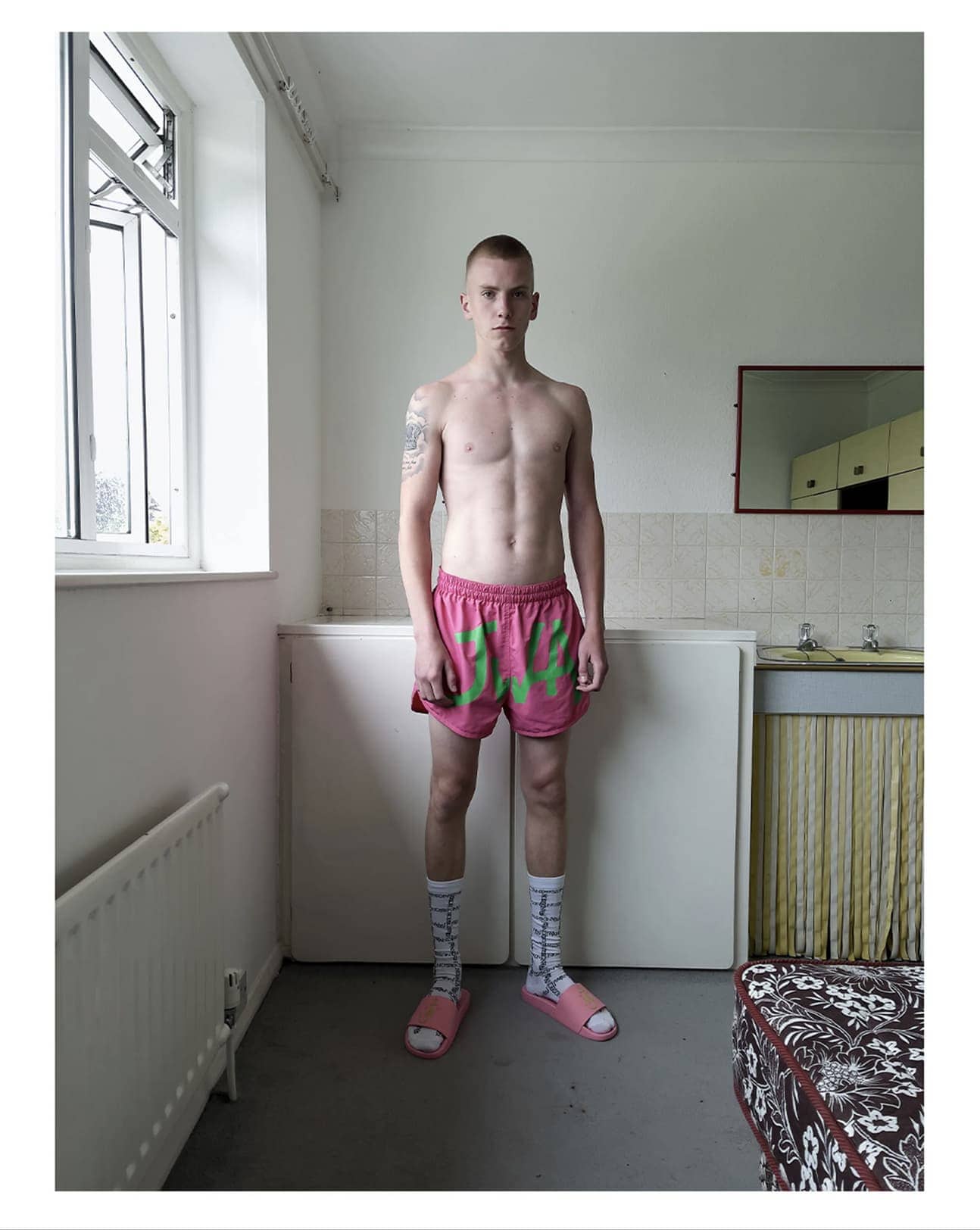 Here, there is no need for broad subcultural justifications and no needs to point the fingers at brands attempting to hegemony the subcultures. Instead, Linnetz provided in his low-key approach an idea about what and how fashion can be real excitements not just over excellent new products, but in merging a commonality of shared sentiments of nostalgia fomenting into a specific fashion aesthetic.
An old thrown-away mesh football jersey once represented an ideal and a drive for someone who had worn one on the field. Still, Linnetz's football jersey now was simply another garment devoid of the original meaning and association saved perhaps for the memory of what it might have represented. Worn with a pair of slightly damaged faded denim hot pants, suddenly this football jersey rose again in a reincarnation living a new life as a new iconography and a new idiom for kids to love fashion again.
This ERL collection isn't so radically different from Jonathan Anderson's work for his collection and Loewe. In both cases, Anderson revisited his childhood memories – recollections of the beaches and the nighttime discotheques that provided both collections with that notion of innocence lost in colorful sweaters and shorts or sparkling fringe pants.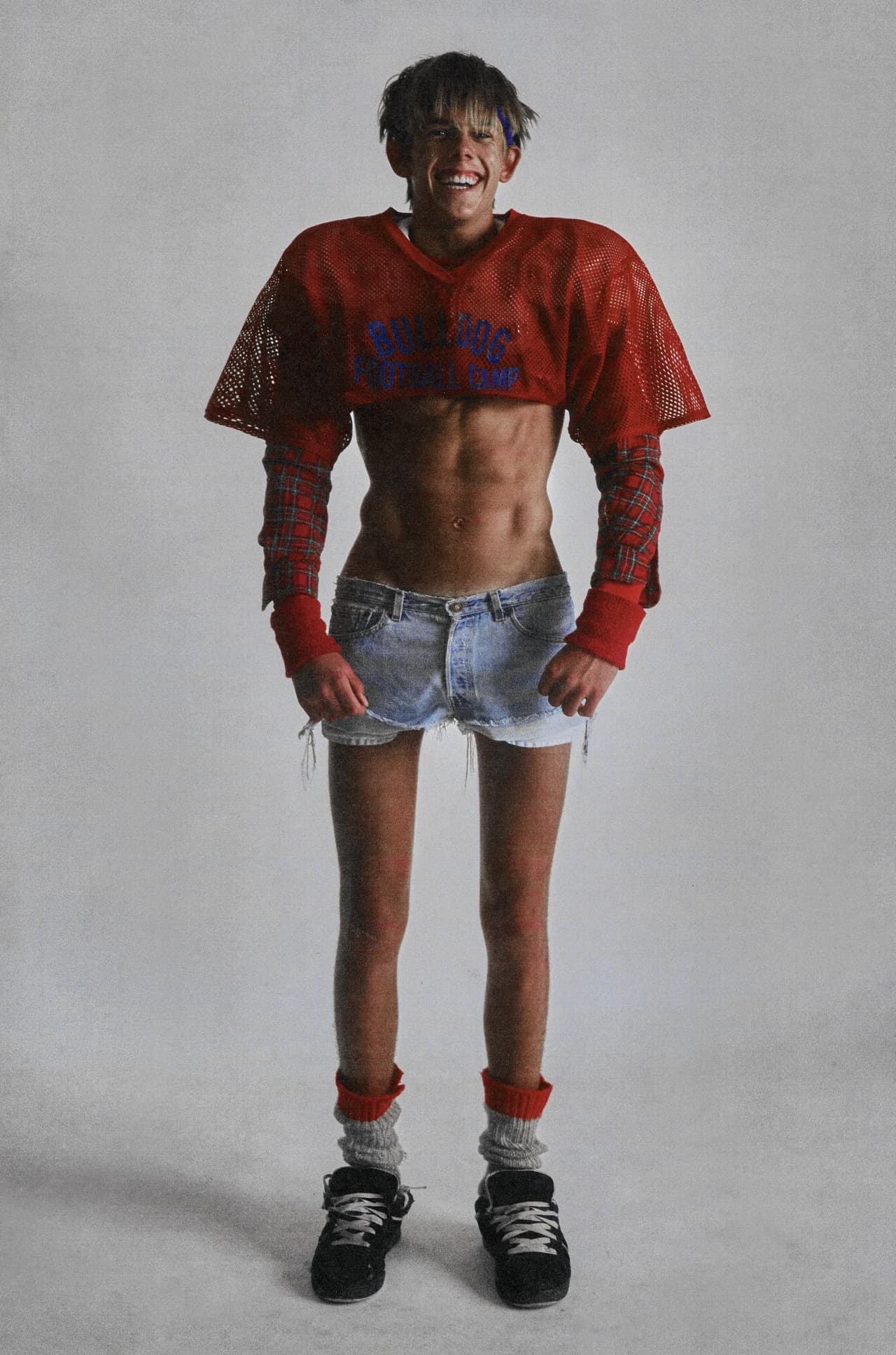 But far from the noises of dominant fashion, these are the fashion voices offering an array of authentic views in the way of expressions of personal resistance. From London, Bethany Williams and Ahluwalia are charting a new course for responsible fashion. In Paris, there is Boramy Viguier, then Colm Dillane at KidSuper in New York, and Josef Lazo and Andreas Schmidl for Lazoschmidl from Berlin-Stockholm. While the deep pockets of the giant luxury houses afford these big budgets cross-cultural exercises, these indie designers provide the juice pushing the different ideas of men's fashion ahead.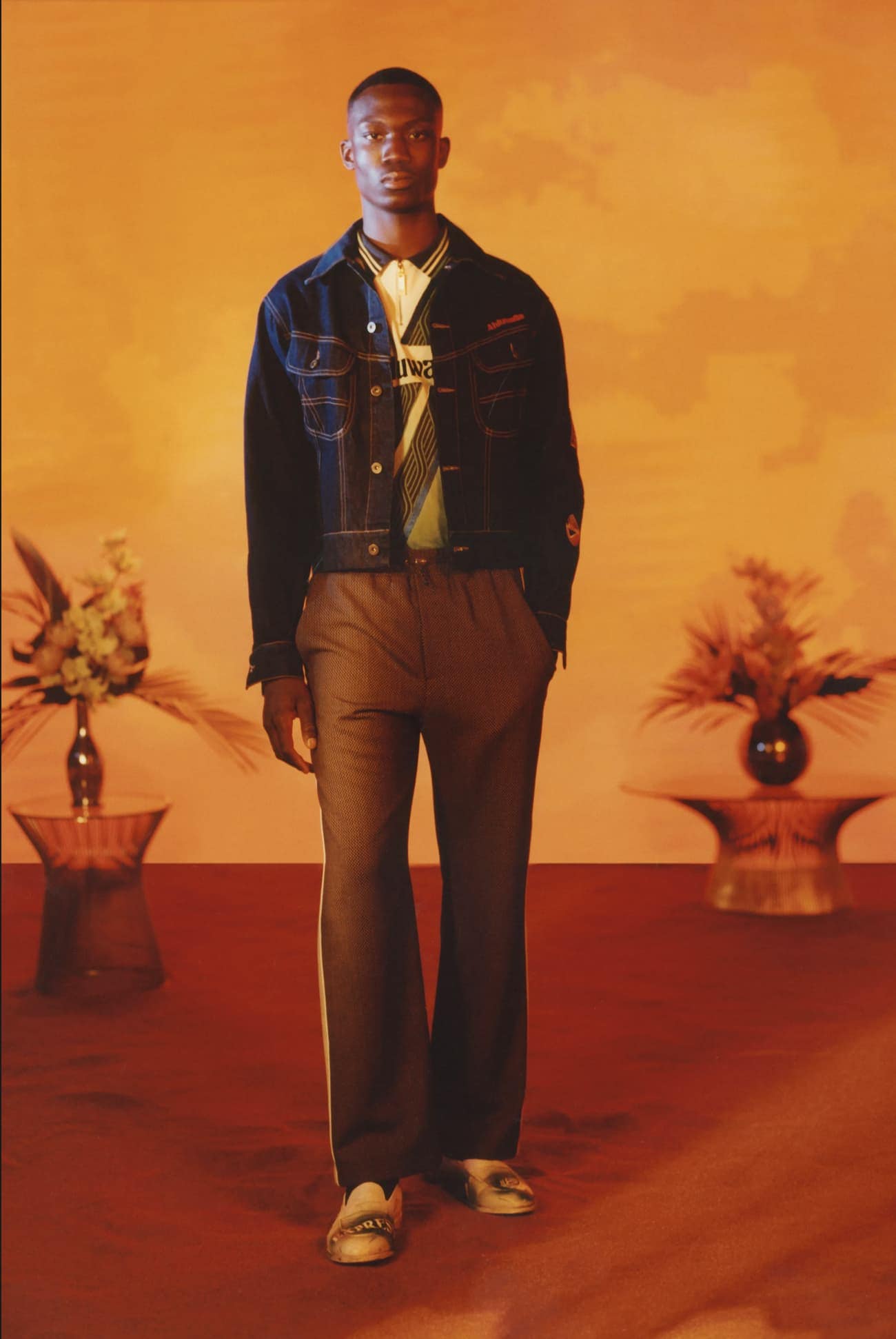 This season, missing in action in Paris again is the perennial slate of Japanese designers' highly creative and innovative work. They showed in the French capital – Comme des Garçons, Junya Watanabe, and Chitose Abe of Sacai. Separately and together, these designers provide new ideas about fashion rather than just more products sold at retail months from now. They are essentially the idea block, especially during the men's season. Without the trio, Paris seems more commercial this season than ever, with less fashion that dares.
Rei Kawakubo presented her mini shows as she had done in the past year at her Tokyo headquarter. Her enthusiasm and her sense of experimentation continued to guide her approach this season, adding colorful floral prints to highly innovative cuts on jackets and coats; some curves reflected the shape of floral petals. Chitose Abe at Sacai presented a convincing and brief men collection with suggestions of what a new suit would be like – a purple short sleeve technical shirt with matching pants or a green checkers knit tee shirt and matching shorts.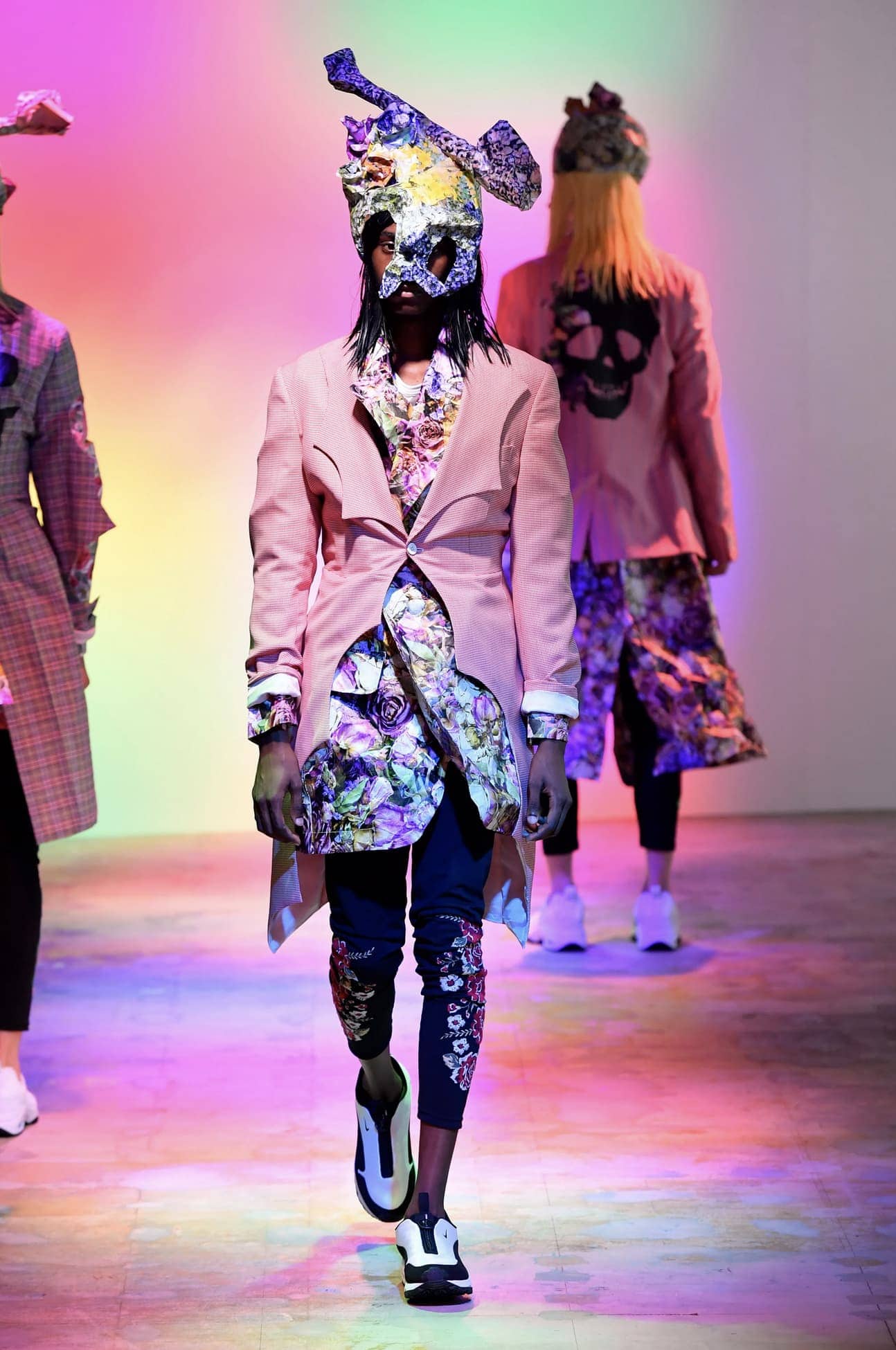 Rick Owens continued to make waves showing literally on the sands of the Lido beach in Venice with just a smoke machine stationed at one end to induce a bit of cloud drama. But even this tiny gesture of hoopla wasn't vital. The clothes at Owens spoke for themselves.
This time the clothes featured a mixture of baggy and sagging pants with ultra-thin eco-cotton bodysuits in shades of whites cut closer to the body's contours, even with the broad shoulder sleeveless long jackets. There was a cock feather evening feather coat just in case anyone would need something more excessive. The knee-length ecru jacket/coat with zipper trim lapel is an absolute stunner with a long cotton tank and cut-out denim shorts.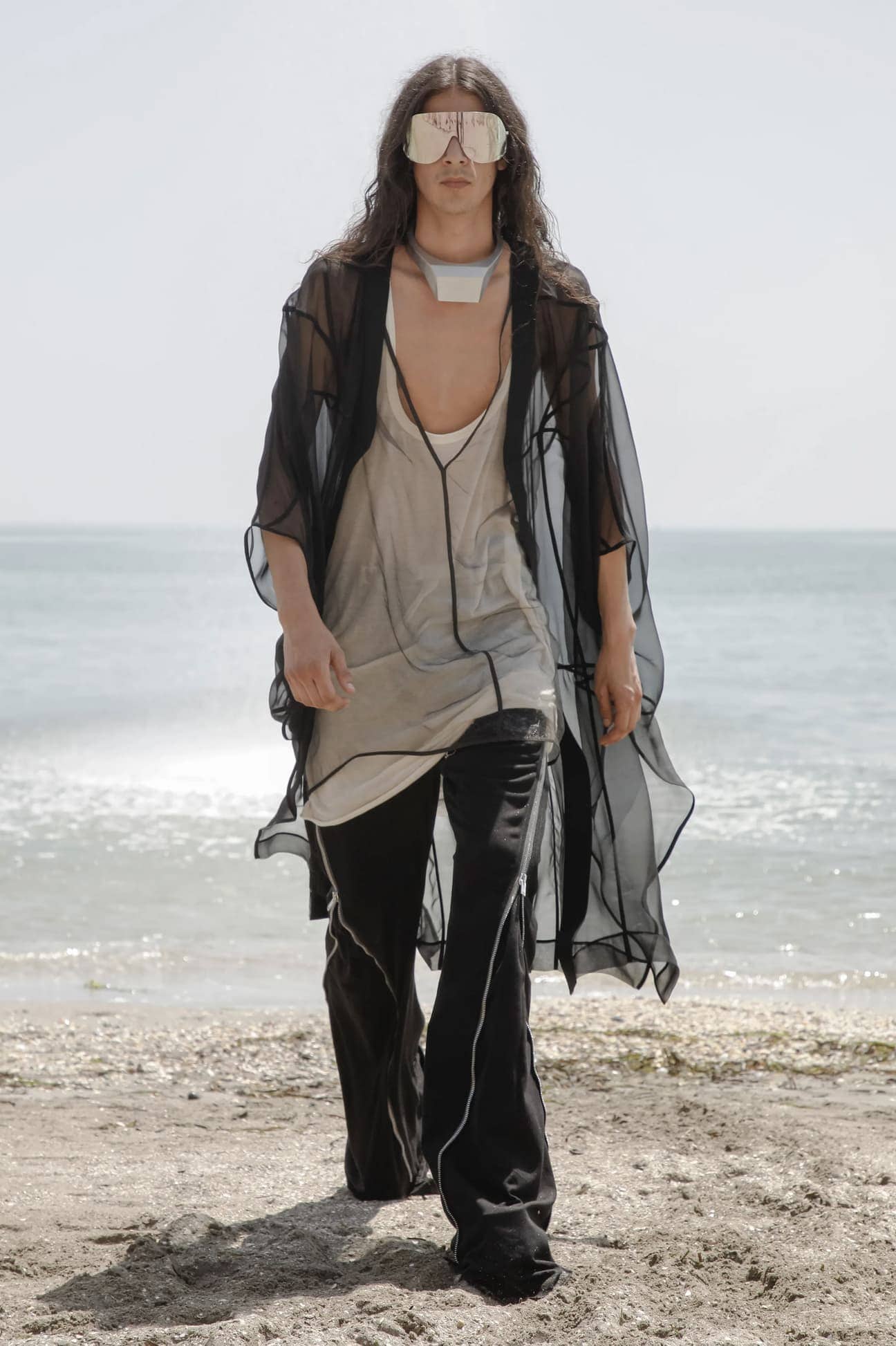 While most of these spring collections will surely be magical in moving merchandise and revenues early next year, most of these luxury clothes don't send the needle of men's fashion history forward. A vacuum of fashion ideas that can innovate the menswear landscape is a missing ingredient.
Brands are frantically aligning themselves with new values of the younger generation of audiences and consumers. It is not hard to see and feel where the heart is and isn't at these mega luxury brands. The emerging fashion narrative is still about connections to the past more than an eye forward in innovative designs and concepts.
Hype aside, what exactly is so genuine about the mountains of collaboration where neither party seemed to have brought the requisite ware to the table to create exceptional products with an inherent story that can last through several life shelves. Gimmicks don't contribute much to the longevity of fashion, or worse, this excess of collaborations will end up cheapening the luxury products rather than the real shake-off meant for the Gen Z audience.
At the end of the new season, the majors failed to dominate against the surging indie brands, with their narratives less dependent on the art collaboration bailouts. This sharp and noticeable difference is coming into focus now. The sharp divide between the high-budget performance theaters, whether in real-life shows or in a real short but complicated film, versus the homegrown visions from many young designers hoping to set the new conversations in menswear that divided this spring season is coming into focus now.
Viewed from a different angle with another lens, it is the difference between performing authenticity and just authenticity.
---