---
Review of Missoni Spring 2022 Fashion Show
When Clothes Went Awry
By Long Nguyen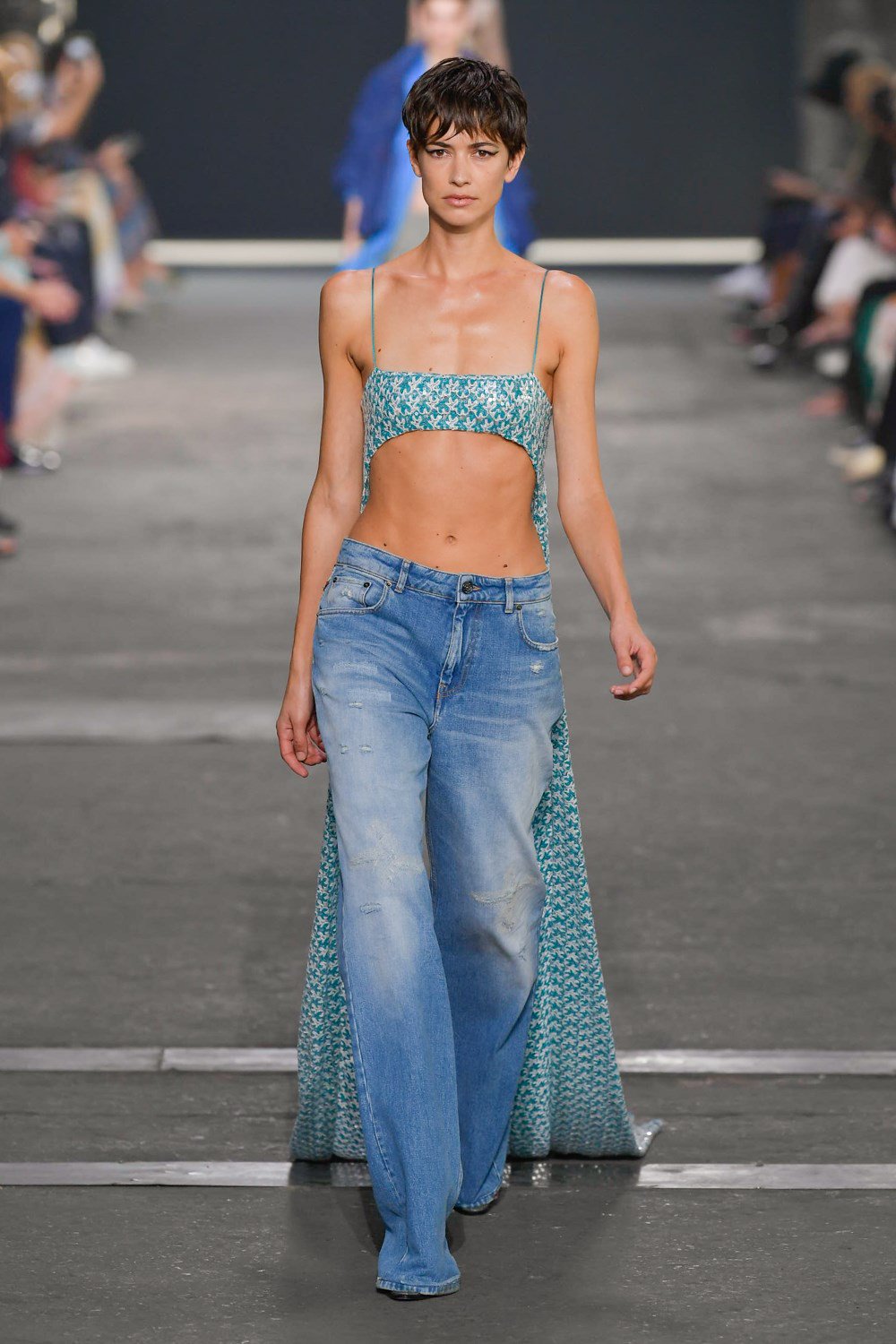 Angela Missoni, daughter of the Missoni founders Ottavio and Rosita Missoni and the brand creative director for the last twenty-four years, stepped down from that designer role in mid-May 2021 to retain just her administrative position as president of the company. She left in charge her right-hand lieutenant for many years and design director since 2009 – Alberto Caliri – as an interim creative director commencing with this Spring 2022 season.
The reorganization is part of an ongoing plan since 2018 set in motion by Fondo Strategico Italiano that has acquired a 41.2% stake in the company. The purpose is to reposition the Missoni brand and expand the audience and consumer base by introducing a more profound variation of products. More importantly, a fresh new style is considered critical as a baseline for all these new prospects.
During her tenure since 1997, Angela Missoni guided the preservation of the brand's heritage season after season, inventing new ways of making the colorful trademark knitwear relevant in fashion conversations and the minds of consumers. But the founders' daughter did manage to preserve the Missoni style without much of the development necessary to compete with more prominent and deeper pockets brands and other corporate owners.
Alberto Caliri's debut performance with a Spring 2022 show in Milano was nothing short of a disaster. There were a few recognizable Missoni dresses – an embroidered black/white zig-zag pattern strapless dress or a similar pattern as a long floor-length dress. Little in terms of a cohesive collection or an idea that conveyed a strong sense of creative direction.
Prominently lacking in this Missoni Spring 2022 collection was an aesthetics able to carry forward the renovation mission.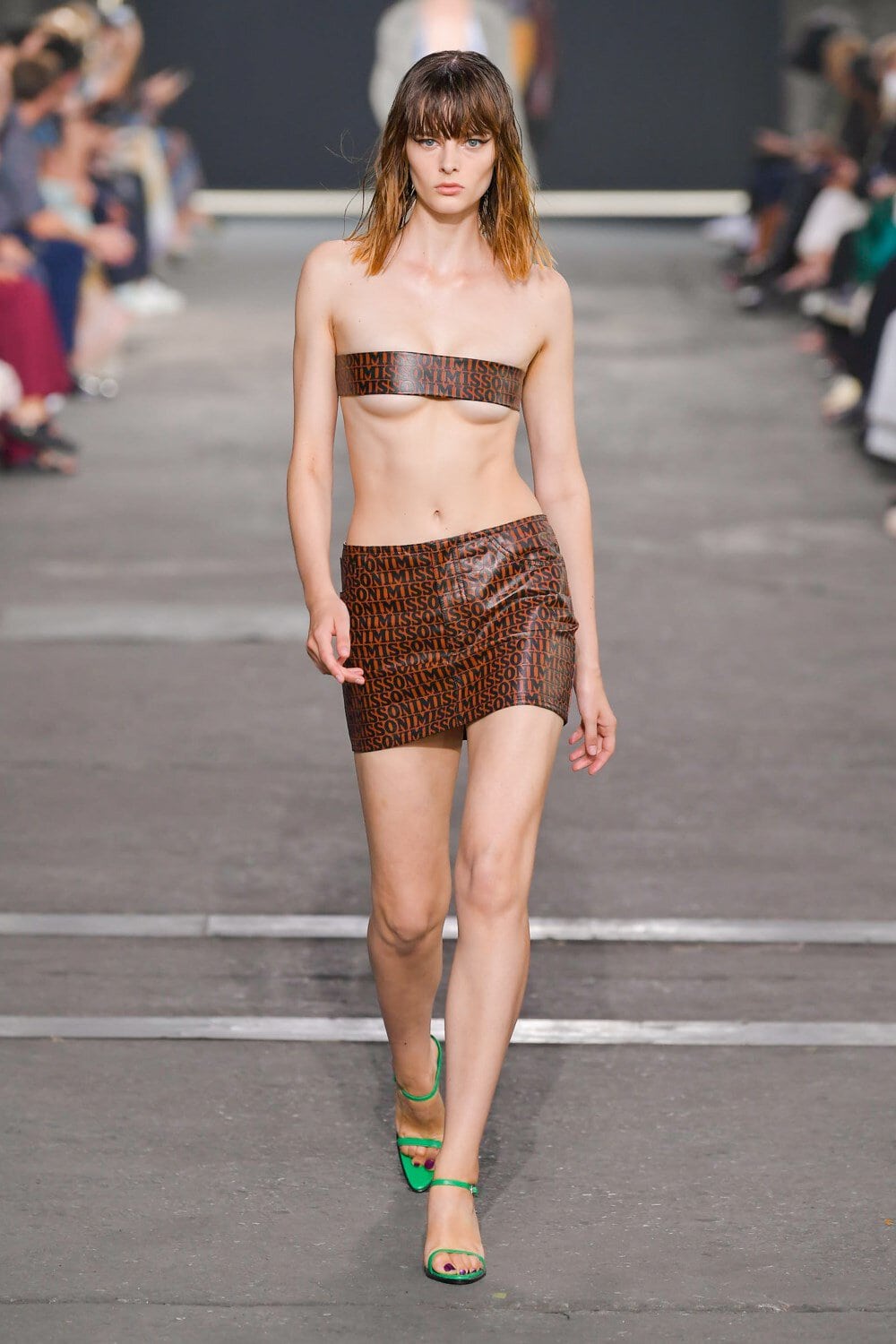 It did not take long in this show to see the oncoming disaster. The third look – a brown leather bra band barely covering the model's breasts and a matching micro skirt – was the indication of the creative direction of the show – ultra and overt sex clothes as well as the first sign of a boat sinking.
The rest of the collection verged around this design ethos making the late 1970s and the disco era look tame. The blue knit bra with train over-washed denim was the skimpiest of shiny silver two-piece bathing suit fortunately covered in parts by a brown trench, and a long white dress with half the front sliced out, revealing a grey bra underneath. (Just in case, there was an exact version in black and white tiger print!)
Why do fashion designers even want to portray women, especially young women, in such a crass manner today? There is nothing wrong with sexiness nor sensuality, but that isn't the same as bare skin and barely fitted bra bands and clothes that one saw on occasions by young designers perhaps two decades ago, and surely not now.
But among these disasters, there were a few dresses – a long sleeveless ice blue mock neck dress or a light violet knit long dress – that were perfectly fine and demonstrated the brand command for its trademark knit patterns and crafts.
This Missoni Spring 2022 collection also seemed dug in to the era of the late 1990s with its crude interpretations of hedonism. It is the wrong fashion message for today and wrong for the young audience. There are no values that young consumers can see in this collection, as was shown.
Creative corrective measures are in order urgently. And the thing with equity investment funds is that these business people have no patience for the results not turning around in a shorter time frame. Hopefully, this will lead to a consensus at the company that the creative direction needs to change.
---