---
Parisian Couture continues to reinvent itself both creatively and financially as couture has become both a commercially viable business for many independents, as well as a showcase to dive fragrance sales, think Jean Paul Gaultier or Viktor & Rolf.
For many a design house such as Christian Dior, Valentino, and Chanel, Couture offers their design talents the opportunity to explore their creatives vision, push the houses' technical prowess, and address cultural questions.
Dior's Maria Grazia Chiuri did just that by referencing a 1947 essay entitled 'Are Clothes Modern' by Austrian-American architect, curator, critic, exhibition designer, and fashion designer Bernard Rudofsky as an embroidered phrase which opened the Dior show. Her answer came as a resounding 'yes' in perhaps the designers strongest and most united collection to date done in a fashionable sea of black with touches of aubergine. The collection read like a dark and gothic fractured fair tale inviting the viewer to build their own dark story around the collection which in essence is few modern.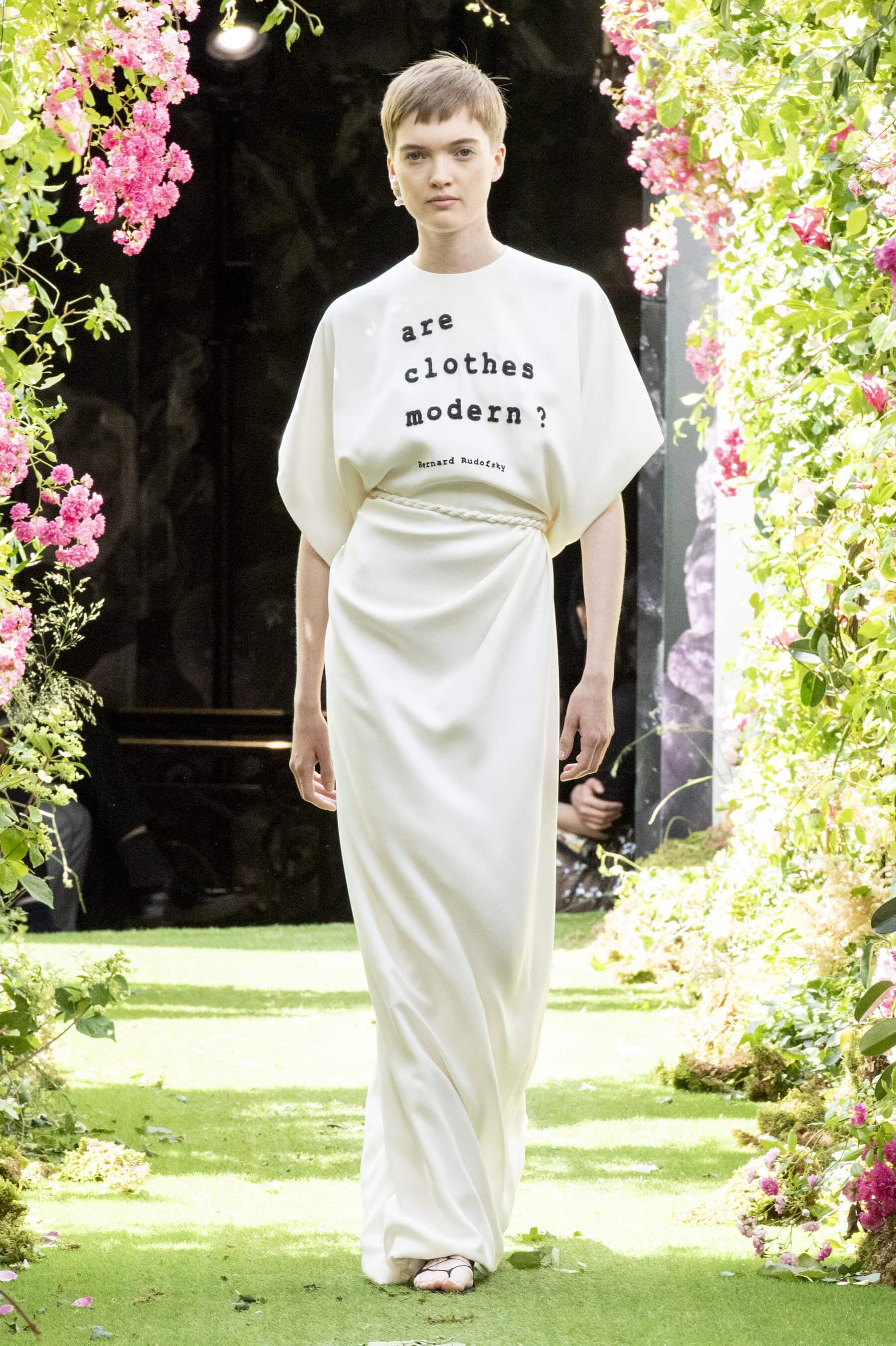 Pierpaolo Picciol at Valentino continues to push rightfully for inclusion in his model selection while embracing the decorative and colorful side of dressing. The collection was like a warm summer daydream filled with emotion, warmth, and the allure of color which is a gift in the hands of Picciol who know how to marry dynamic shades together with dynamic floral patterns.
Virginie Viard at Chanel played upon mentor's Karl Lagerfeld's obsession with books inviting her audience to a massively constructed library that Lagerfeld would fall in love with. The collection stuck to the house codes perhaps a tad too much for the editorial fashion flock, but right on point for the ride and true Chanel customers who have a fondness for tradition and a love of the classics.
At the other end of the spectrum was a crop of designers embracing a contemporary sexiness that couture often abandons or translates as clothes that look as though they were designed for life-size Barbies. Both designer Gabriele "Bebe" Moratti of Redemption and Alexandre Vauthier, in his eponymous collection, opted for a youthful look filled with leg, flourishes and clothes that were as comfortable on the red carpet as they were the Parisian club dance floor. Each brought there own answer to are clothes modern this season and the class is listening.
Be is old or new school, here are The Impression Top 10 Couture Paris fashion shows of Fall 2019 season as selected by our Chief Impressionist, Kenneth Richard.
10 – Alexandre Vauthier
9 – Redemption
8 – RVDK Ronald Van Der Kemp
7 – Iris Van Herpen
6 – Aganovich
5 – Maison Margiela
4 – Chanel
3 – Givenchy
2 – Valentino
1 – Christian Dior
---