BY IVANNIA MORTON
PLAIN GOODS is a hidden East Coast gem. Located in New Preston, Connecticut, it serves as a go-to destination for well-crafted, well-sourced, and well-worth items. The Impression spoke with owners Michael DePerno and Andrew Fry, who are in their second year of business; to learn how PLAIN GOODS began, their inspiration behind the store, and plans for future expansion.
What made you decide to open PLAIN GOODS?
Michael has had stores in the past — Hope & Wilder in SoHo, and Ren in LA. I have worked in corporate fashion for the duration of my career. The culmination of PLAIN GOODS was a perfect storm of Michael's years spent collecting, subsequent inventory (much of which was stored in the house and barn), and our shared desire to create a brand and vision of our own.
Why did you choose New Preston?
This region is exquisitely beautiful and New Preston has a wonderful mix of historical buildings and nature. There's a rolling lawn ending at the river, separating us from the other shops. It makes it a perfect setting for PLAIN GOODS. All of the shops in New Preston make it a destination that attracts sophisticated shoppers, which is unique for such a small town. We even found a sweet cottage around the corner from the central location of where we set up shop.
Has the area been a source of inspiration for you and your store?
Absolutely. The natural beauty of the landscape, the storied stone walls, and the beautiful antique homes gives us inspiration. In turn, it inspires the store.  There's a simplicity to the way things were built and how people lived, that lends an ongoing overview to the PLAIN GOODS story.
What kind of experience do you hope to create for your customers?
The shop offers both a strong visual and textural experience; coupled with our passion and knowledge of textiles, furniture, and clothing. Although the shop isn't very large, we always manage to create a layered look, which offers the feeling of discovery to our customers.  We encourage our customers to spend time exploring. Our product assortment is varied from a bespoke handmade Italian linen popover shirt, to our own organic conserves. We even have items like vintage brass belt buckles, or an antique Chippendale secretary. In addition to this, we strive to offer a detailed, educated, and personal customer experience.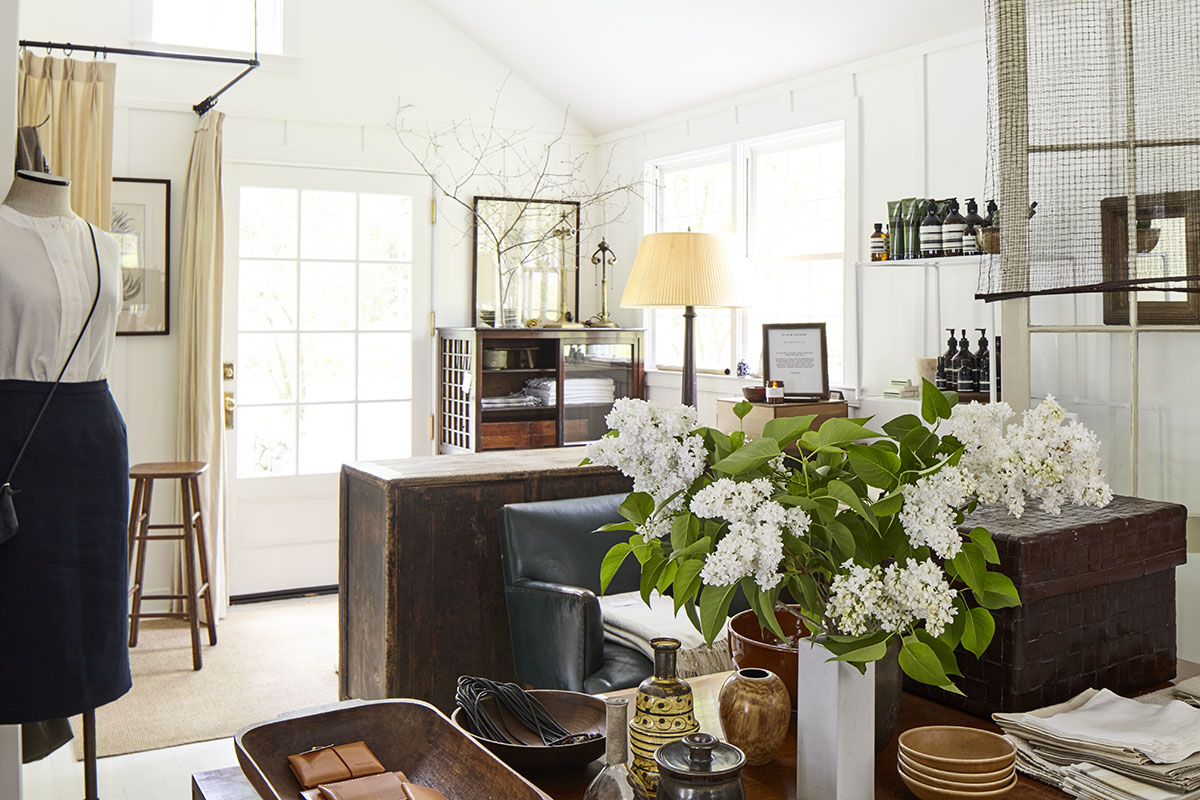 Does the PLAIN GOODS aesthetic carry into your personal style and/or lifestyle?
PLAIN GOODS is an extension of our lives, being that it's how we dress, and how we live. We have a tendency for liking simple, well-constructed things. Whether it is a piece of furniture or a custom loafer. We are less interested in trends and prefer timeless, well-made everything. Good fabrics are one of our favorite things. Our passion for textiles extends to all of our clothing selections, the fabrics we offer for upholstery, slipcovers, cushions, and curtains.
What's been your favorite find while curating items for the shop?
One favorite antique was a large English Chippendale bookcase made in elm, with all of its original wavy glass intact. Many of the vintage and antique items we've found have been our favorite additions to the shop, so it is difficult to narrow it down to one piece. Good antique and vintage items are more difficult to find, and is becoming increasingly challenging. We spend many hours scouring markets, estate sales, and auctions hand-picking these pieces. It is bittersweet seeing them sell, yet we're happy to see them find a new home. It's bittersweet in that we will no longer be able to appreciate their beauty.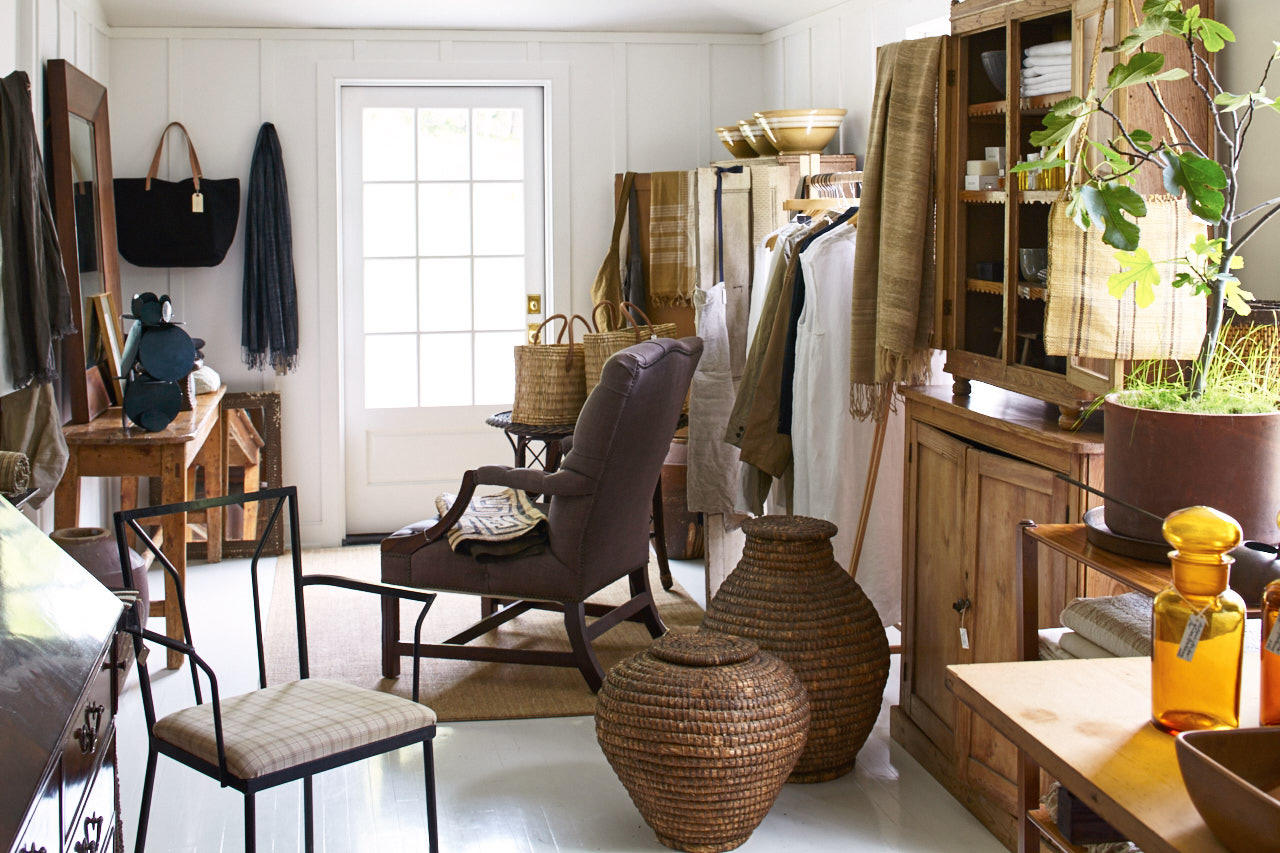 Are there any items exclusive to PLAIN GOODS?
Yes, we have several. We've collaborated to create a handmade women's slipper loafer, in butter soft leathers and suede that's made in Portugal. We then have our own PLAIN GOODS baseball caps, handmade in Italy; featuring cotton sateen lining trimmed with matte grosgrain. We also have several pieces of clothing that bear the PLAIN GOODS label including shirts, ballet slippers, and organic conserves.
What are your most popular items at the moment?
Our E. Porselli ballet flats are always popular. This summer, our handmade Italian hemp and straw hats are in demand.
Are there any plans of expansion?
Yes. In the past year and a half we have opened the Flagship store, and launched the website. Customers are always suggesting we open additional locations. We definitely plan on expansion in the near future. The newer store will lean more towards clothing, and carry a beautiful range of quality items.
Location
1 New Preston Hill Road
New Preston, CT 06777
Contact
+1 860 868 0280
info@plain-goods.com
Store Hours
Mon. – Fri. 11am – 5pm
Sat. – Sun. 11am- 5:30pm
Looks from PLAIN GOODS Lookbook
Photos | Laura Resen