---
Review of Private Policy Spring 2022 Fashion Show
A Bright Green Concept that Overshadows the Designs Themselves
By Mark Wittmer
In the early days of quarantine and lockdown, it seemed like everybody was getting into houseplants. While we couldn't go out and enjoy indoor spaces with friends, we could brighten up our interiors with beautiful greenery that brought joy and purity into our space, and only asked for a little bit of love in return. Unlike baking sourdough, caring for plants seems to have stuck around. As we emerge back into the exterior world, many of us have begun to take closer note of the plants who had been living in our urban spaces all along.
This art of noticing and communal cohabitation was on the mind of Private Policy creative directors Siyin Qu and Haoran Li as they worked on their Spring 2022 collection, which considers how humans and plants coexist within industrial cityscapes.
This season we wanted to look at how plants work in urban settings: how we as humans interact with them in this ultra-industrial concrete jungle. We see how therapeutic it is to have plants in one's apartment, to how amazingly plants can bring a community together when you grow a little garden; it's so precious however small it is. When we look to the future, we will see more of things like vertical gardens that don't require much soil. All of these considerations make us think how beautiful it is to incorporate plants into an urban lifestyle.

–Siying Qu, Private Policy Creative Director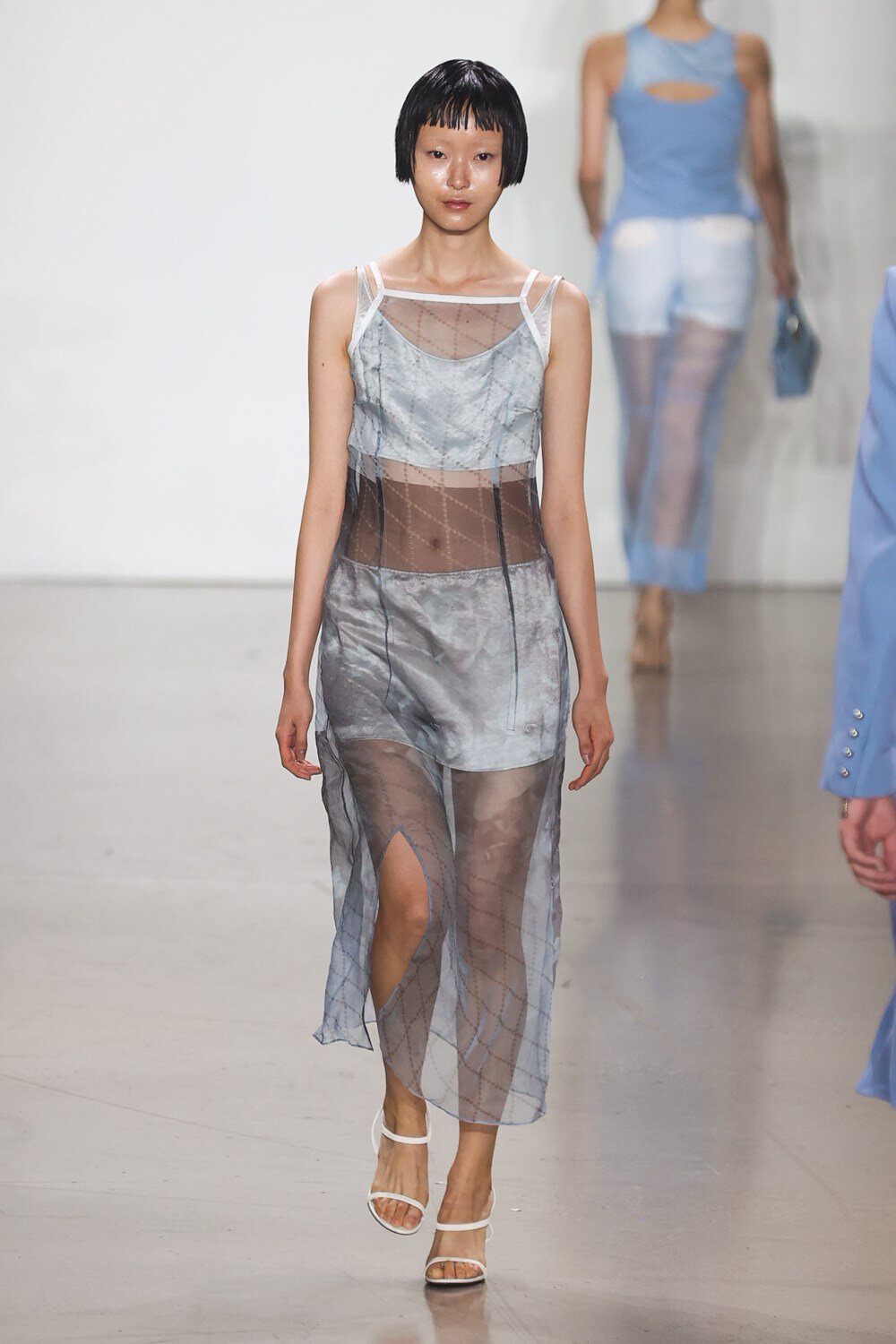 Considering the emotional significance and creative potential of these ideas, then, it's a bit of a letdown that the collection offered little in terms of conceptual growth for the brand. The runway set featured vertical farming lettuce grows, and its electronic soundtrack featured breath and voice, but the vitality of plant life was missing from much of the clothes. The aspect of the urban and industrial, a Private Policy staple, was certainly present in the goth-club-ready harnesses, bralettes, and hoodies paired with strapped-up pants, the metallic hardware of which also appeared across bomber jackets and handbags.
Some of these pants are deconstructed with sheer panels crafted from upcycled polyester, which is also used to create dresses, tops, and shirts.
Private Policy's signature angled checker pattern made a return across fitted tops, button-ups, pants, and skirts in silk and technical fabric, sometimes interwoven with monochrome flower prints. Other than the calm infusions of color in lavender, green, and blue, these few literal images of plant life were really the only signifiers of the plant concept we got – until the last three looks.
The final three looks were somewhat literal as well, but definite showstoppers. They also wholly embodied the conceptual spirit behind the collection: beaded chains were formed into a net woven with sculpted flowers, which hung over the models' otherwise bare torsos.
The flowers were made with upcycled plastic bottles which were candle-melted into their shape – a beautiful way to transform industrial waste into something that speaks to the beauty of nature.
The brand also deserves commendations for its genderless designs and gender-fluid styling, and for casting a number of trans models.
Most plants, after all, have both male and female reproductive structures, and we can stand to learn a thing or two from their sense of community and fluidity. While we hope to see the young brand continue to blossom into full maturity, they have helped us to glimpse for now the beauty of the green shoots rising up between city streets.
---