---
Reviews of Halpern, Hillier Bartle, Danshan, & 8ON8 Spring 2021 Fashion Shows
Into the Mire
BY LONG NGUYEN
Although considered as one of the four major fashion capitals, London has always struggled as a host city against the leader in Paris followed by Milano. That said, London did forge ahead with a genderless season less digital fashion week in June and established a portal platform by the British Fashion Council to centralize the access to shows that allowed public access before any other fashion federations.
For this spring season, London was the first capital to announce a mix of digital, physical, and appointments showing of the spring collection of designers in the British capital now under new more stringent government pandemic regulations at least forbidding gathering of more than six people in one place, a move that may have further dampened how the small physical events can move forward. Simone Rocha and Molly Goddard have now decided to host one-on-one appointments rather than their previously planned small salon live presentations.
That said, London has always had that image of super avant-garde designers after all it is the city that forged talents like John Galliano and Alexander McQueen, or at least that has been the mythology of London since forever. Is this still true?
The defection of Grace Wales Bonner, a rapidly rising designer with great intellect and skill, to Paris this time should be considered a great loss mirroring the foretold tale that when a designer made it bigger, the next move for success and expansion is moving to the French capital. While this may temporarily hurt London as still the place for nurturing young designers, nevertheless small independent fashion companies still dominate the British fashion landscape. There are no conglomerates like LVMH, Kering, or Richemont operating out of London and the specter of mass corporate operations isn't a threat to those who remain to maintain a thriving business.
Being small independent firms does have certain advantages – that of quick decision-making process and implementation of new policies in particular the rapid adoption of sustainability measures throughout the supply chain. For example, Christopher Raeburn initiated his route into recycling with a collection of outerwear refashioned from old military stock in 2009 after having been part of the BFC mentor program highlighting the needs for adopting diverse business approaches to the environmental crisis and climate change that younger fashion consumers deemed as part of their core value. Since then brands like Phoebe English, Dilara Findikoglu, and Richard Malone have taken sustainability as central to their designs and operations.
The excitement and energy of shows from creative designers like Richard Quinn, Simone Rocha, JW Anderson, Huishan Zhang, Chalayan, Erdem, or Marques Almeida simply cannot be replaced by any digital initiatives or even in these hybrids forms but never underestimate these English designers to front their creativity in face of obstacles beyond their control.
This should be an opportunity to shine as well for Supriya Lele, Bianca Saunders, Matty Bovan, 16Arlington, and Bettany Williams.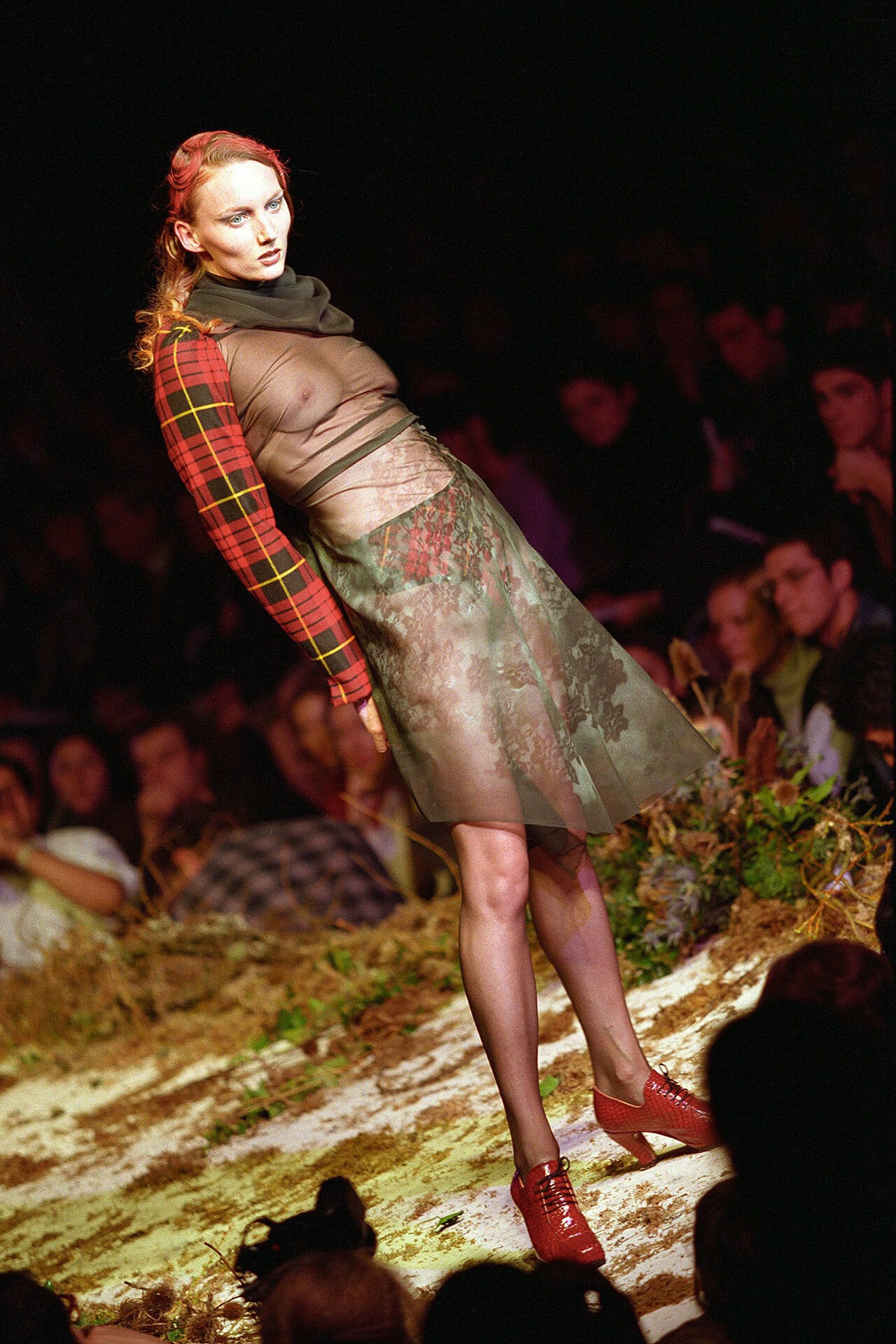 I remembered coming to London in February 1995 for that season's fall showing. I was lucky to see McQueen's Highland Rape show in the tents as well discovering talents like Hussein Chalayan or Rifat Ozbek first hand and learning the names of the graduates from Central Saint Martin's graduate show where the fresh pool of talents was entering the fashion world professionally for the first time. These young designers channeled their raw energy and their creative mind into their innovative clothes surrounded by powerful and often personal narratives. Lacking any kind of supports or budget, these young kids depended on the kindness and on the helping hands of friends and believers. At their shows staged in far-flung locations around the city, we all could feel the power of their fashion. Ask anyone who saw the Highland Rape show and surely everyone can recall vividly the show.
Let's see what these young Londoners today come up with this coming week in response to this new world. The lockdown isn't the same as how fashion was two decades ago. In situations where access to resources was limited with everything closed, the mind would have to step up to think and to find solutions.
Let's hope at least for a few surprises and perhaps a glimpse of a road map for the future for a lean and meaner fashion show weeks, please.
HALPERN
Michael Halpern's first runway show at LFW exactly three years ago in September 2017 was an instant success. The native New Yorker and London based graduate of Central Saint Martin Halpern wooed the audience with his maximalist, sexy, and ultra glamour couture-level mini dresses, open asymmetrical necklines, and of course tight fitted dresses, a few with enough sparkles that some say he might have cornered the sequin market that season.
Even Donatella Versace was impressed enough with his MA graduation thesis the year before to offer him a consulting gig for the Atelier couture line.
In a short time, Halpern has established a signature for his brand inspired by the glamour of the New York disco 70s scenes and by that idea of fearlessness and fierceness that has been lost in fashion.
In a heartfelt, emotional, and joyful video titled 'The Heroine of the Front Line', Halpern celebrated the work of the frontline workers by asking eight women from different public service sectors to reflect on their work during the hard lockdown – among them a train driver, a nurse, an intensive care ICU nurse, NHS administrator – to tell their stories wearing his new spring clothes in full hair and makeup and dancing joyfully inside a studio against a colorful hand-painted backdrop. Halpern created two looks for each of the women who were his muses for their individuality and courage.
"To me, times of re-emergence call for pure creation: the most uplifting feeling I can think of. I didn't design this collection with cocktail parties and ballrooms in mind, but purely from the desire to capture in dressmaking the individuality embodied by savoir-faire, and the joy it brings to those who wear it. This collection was created in celebration of the women on the frontline, and for anyone, it may inspire and uplift."

– Michael Halpern on his thoughts about this season
The clothes did not disappoint. Arianna, the senior staff nurse at Homerton Hospital, wore in gold leopard jacquard off-shoulder dress with pink feathers while Caroline, the volunteer organizer of PPE manufacturing, was smiling in a white and black all sequin suit with black large dots. Ghalia, the NHS Obgyn, had a pink and gold jacquard gigot-sleeve high/low cape back gown with tulle base and Latifah, the train operator, wore a micro sequin high neck bodice dress with leopard silk jacquard tapered skirt.
Aziza, night bus station controller, had on an emerald and black polka-dots silk draped-draped gown, Chevonese, a health care assistant at Kare Plus Groydon, was in a red wool tweed turtleneck dress, Odiri, the train manager, chose a shiny silk fan front dress and
Sarah, cleaning services NHS, wore in a red and fuschia zebra print cape kaftan with feather bows.
Halpern's clothes came alive only when worn on a body, preferably a moving body so that the garment can contour the person and that was precisely what the video showed.
With the excesses gone and seemingly a dinosaurs of the past, Halpern can now focus on developing and extending the range of clothes he makes with the strategy to expand his reach to new consumers. He did this here by having these real women and by extension potential real customers wearing his couture constructed clothes that enhance each of the women's beauty and strong personality.
"I am doing something helpful," said Latifah who drive the underground trains now in a pink and black plume circular orb dress that looked ridiculously fabulous on her.
HILLIER BARTLEY
Upon their return to London in 2015 following the closure of the Marc by Marc Jacobs brand where they were appointed creative directors two years earlier, Katie Hiller and Luella Bartley restarted their own brand Hillier Bartley as they have worked together since 1999 that specialized in clothes and accessories. "Luella and I have always worked together in different ways. Now we are finally putting all our experiences into making something that's a reflection of us, of what we want to wear. I'm really proud of what we've made – the craftsmanship, attention to detail and design," Hillier said at the time of the launch.
In lieu of presenting an actual snippet of any spring collection, Hillier and Bartley opted for an art video titled 'Keep it Together' directed by Joshua Church and Joseph Kreitern that featured a new version of their now icon paperclip earrings – Tuxedo Paperclip Earring – with a short story about a distant future where the paperclip earrings are outlawed and an agent was sent from the future into a suburbia home to retrieve the item from a secret facility only to find the real Paperclip lost in a piles of fakes.
"The year is 2021 – paperclips have been outlawed. We see a dystopian future – smoke, rubble, fire, loose paper blowing freely in the streets. The world is falling apart …" began the opening scene with typed graphics running across the screen as two guys seemed to send a plastic bag into a steel trash bin on fire. When a security guard sounded the alarm, the agent panicked and lost the real gold paperclips earring as it fell to the ground among a large pile of similar fake paperclip earrings.
If the video is a meditation on consumption and the value of goods, Hillier Bartley surely succeeded in an amusing manner.
It is not that the video makes fun of how much value people place on luxury goods but it is that the value of luxury goods are relative in a way – all the gold paperclips earrings on the floor are all the same and have this much value or none at all but one earring on a pedestal alone is worth something more.
8ON8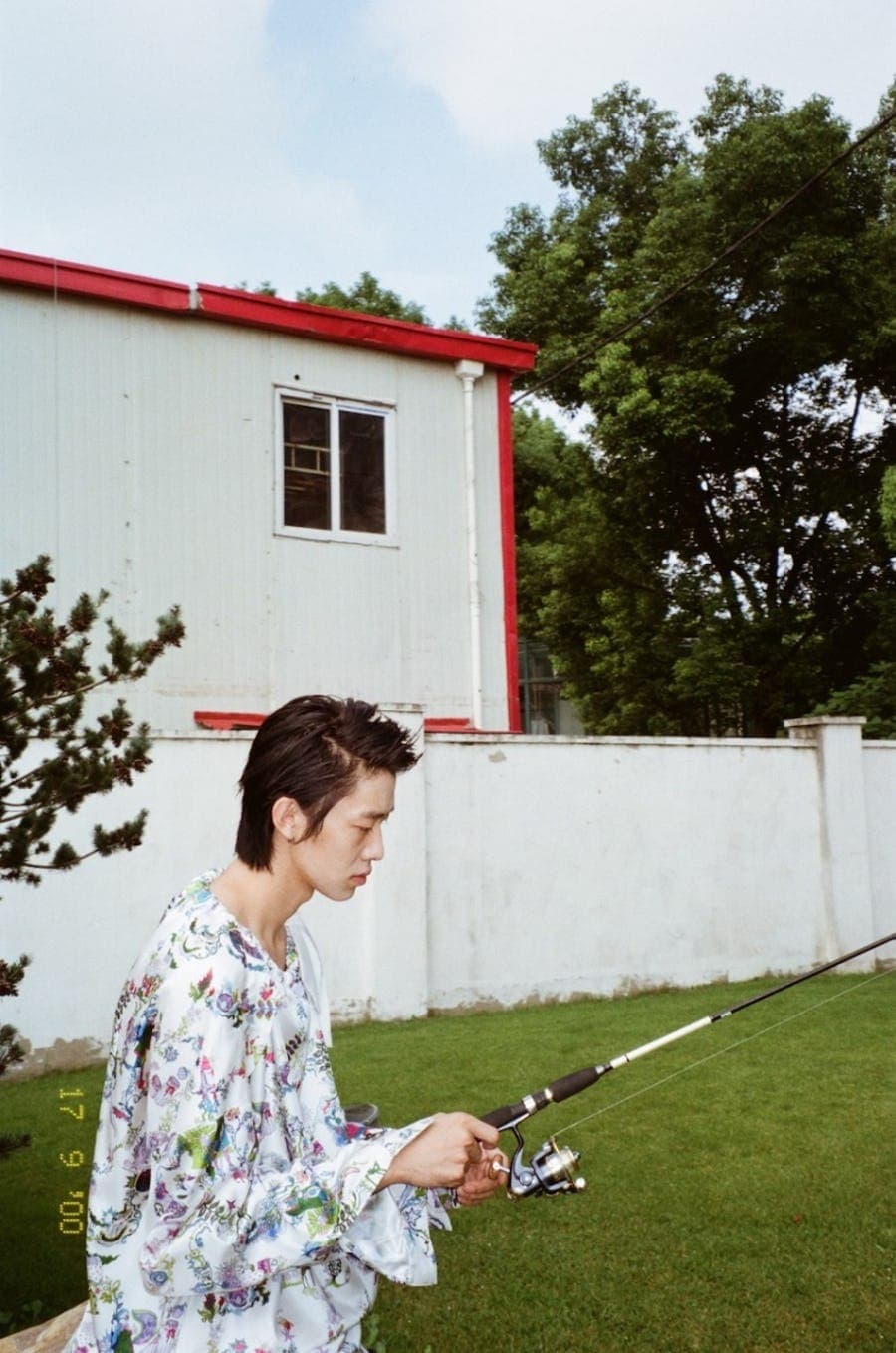 Li Gong graduated from Central Saint Martin MA fashion and founded his menswear label 8ON8 in 2017 with an aesthetic that focuses on bridging the traditional tailoring and cutting techniques with references to youth culture with clothes that confound the categories of casual street and dressed up suiting or 'retro futurism' as Gong called his sensibility.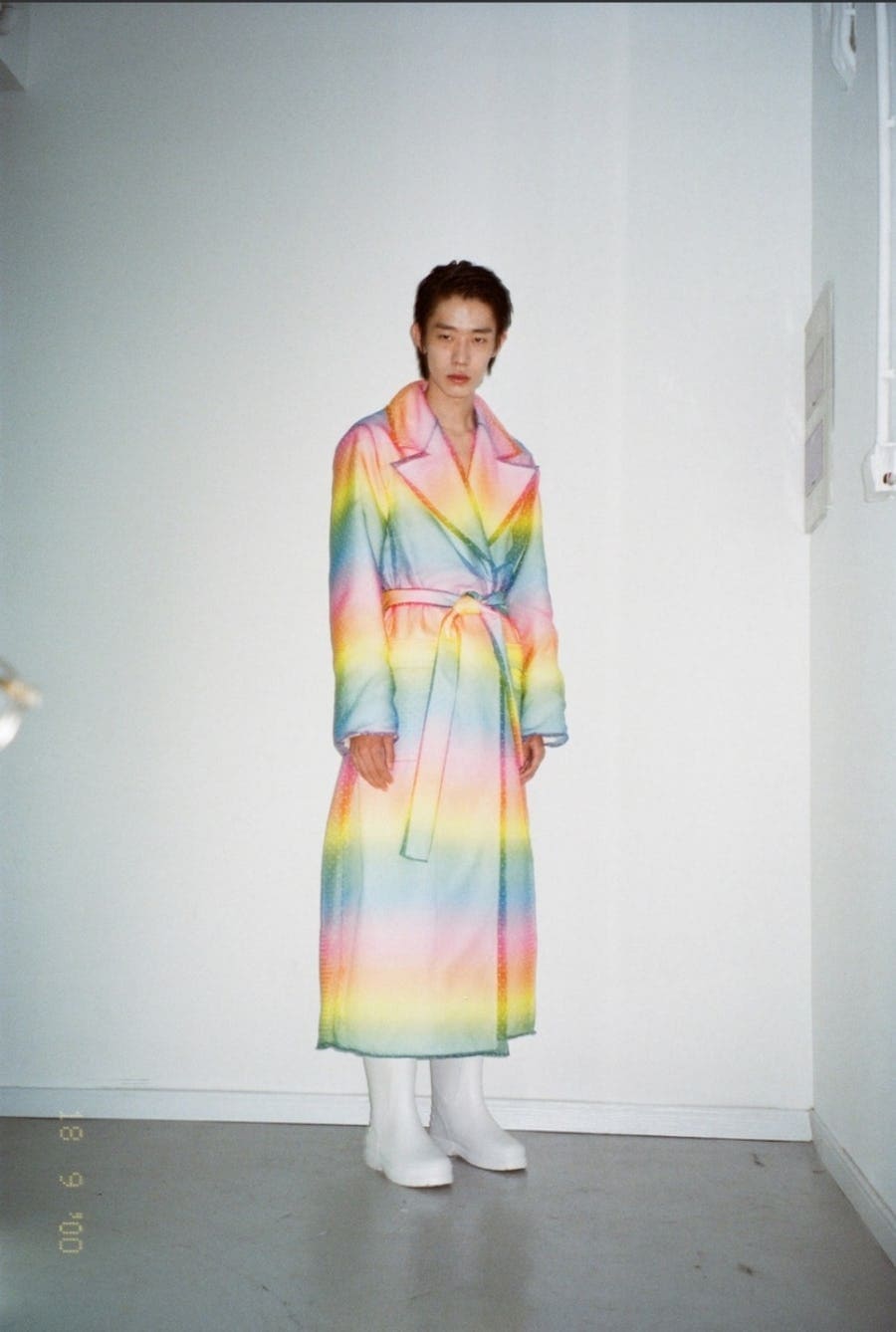 'Gala in the Pond!' is the video Gong made for his spring presentation with a model wondering in a lush green garden wearing a tie-dyed shirt and cotton flare pants carrying a short steel fishing pole. Finally, he settled on a rock wearing a print cotton shirt, with boat neck bow tie and grey knee-length pants. Ecru cotton denim jacket with attached jeans back cape, rainbow color trench, and polka dots pants, blue sheath long tunic shirt, and pink pants are among the clothes he wore in the various fishing scenes including one in the toilet bowl. But amidst the sportswear vibes was a fuschia wool slim small lapel jacket with flare shorts showed Gong's tailoring approach made for his younger customers.
In the video, the model had gone fishing in all the wrong places – garden, toilet, office, hallway – but you could not really fault him because at least he was wearing nice clothes.
DANSHAN
"Danshan explores the undervalue nuances of modern male life, examining how male body language develops and look for ways to make a masculine silhouette become effeminate without breaking the austere boundaries that define menswear," is how Danshan defines their brand officially.
Founded in 2016 by Danxia Liu and Shan Peng Wong, both Central Saint Martin graduates, Liu had grown up with her family in Guangzhou but she was raised instead as a boy during China's 'One-Child Policy' that the government abandoned in late 2015. Traditional Chinese culture also favors boys over girls for millennia. It is natural for her to disregard the rigidity of gender archetypes in designing Danshan's menswear staples, where the clothes can foster expressions of vulnerability, emotion, and sensitivity, are not exactly the kind of topics frequently espoused with men's clothes.
But the video titled 'Dissonance' made by Luke Farley showed blurry moving images of the clothes that lacked a good view of the details of the subtleties inherent in these garments – their cuts, their fabrics and the way they drape on the body. True to the brand's mission, Liu and Wong made the softest suits seen this far – black or navy single breasted satin pantsuits that seem like pajamas, high waist pant, a yellow satin blouson paired with black hood sweat suit, and a brown satin trench. The shapes are loose and allowed for movements as all the models in the video performed dance maneuvers and the garments follow the direction of their hands or feet.
Danshan is one of the brands that requires a live fashion show to communicate its fashion work.
THE LONG VIEW
Many of the digital presentations today are of contemporary focusing on commercial clothes rather than designer collections driven by some level of ideas about designs, ideas about fashion, and ideas about fashion in culture. These brands, mostly British, catered to a more mainstream market place and they have a sound business on the ground. However, they should not be part of the designer collections show week. In the heyday of shows, this was what most were complaining about – too many shows, too little content.
It was nice to see Temperly London model girl dancing at the beach side while changing multiple times, or Paul Costelloe fashion sketches coming to life, or Lupe 's model standing high in the Andes mountains in Chile wearing spring clothes while running in the snow, or the nice fancy print shirts, black floral ball gowns and grey suits from Edward Crutchley or for that matter the nice print dresses worn by a bunch of models on a boat down a river by Thornton Bregazzi for Preen – but none of these in any way change the fashion conversation.
This can be said of the Vivienne Westwood video presentation rooted in familiar products with touches of English tailoring and remnants from her Anglomania decades in the 1990s. That's all good for the brand to continue selling from its heritage – hey why not since every other brand with some history sells its history.
Kudos to Yi-Long Kuo and her 1X1 London brand for embracing hand made crafts and recycle fabrics – this is one of the greatest contributions of these London brands especially the young brand to firmly say no to waste and to do what they can to educate their peers and their consumers on how to consume more consciously.
---