---
Review of Solid Homme Fall 2022 Men's Fashion Show
A Quiet Focus Meets Music and Endless Motion
By Mark Wittmer
A precise and subtly inventive collection, smart set design, and a reconsideration of runway walks that balanced emotion and intellect made Solid Homme's Fall 2022 show from Paris a unique and resounding success.
Founded in 1988 by Korean designer Woo Youngmi – who also has lead her eponymous label since 2002 to great success in Korea and abroad – Solid Homme is finally getting the international attention, as well as production value, it rightfully deserves. The show featured art direction from inventive art director and photography duo Suzie & Leo, frequent collaborators of the brand who set the stage for a powerful show.
Supported by gleaming industrial beams and light fixtures, the runway was a long, boxed-in hallway the walls of which were made of two-way mirrors: the audience can see in, where the models are reflected ad infinitum, but the models cannot see out. It's a simple concept that opens up limitless visual possibilities.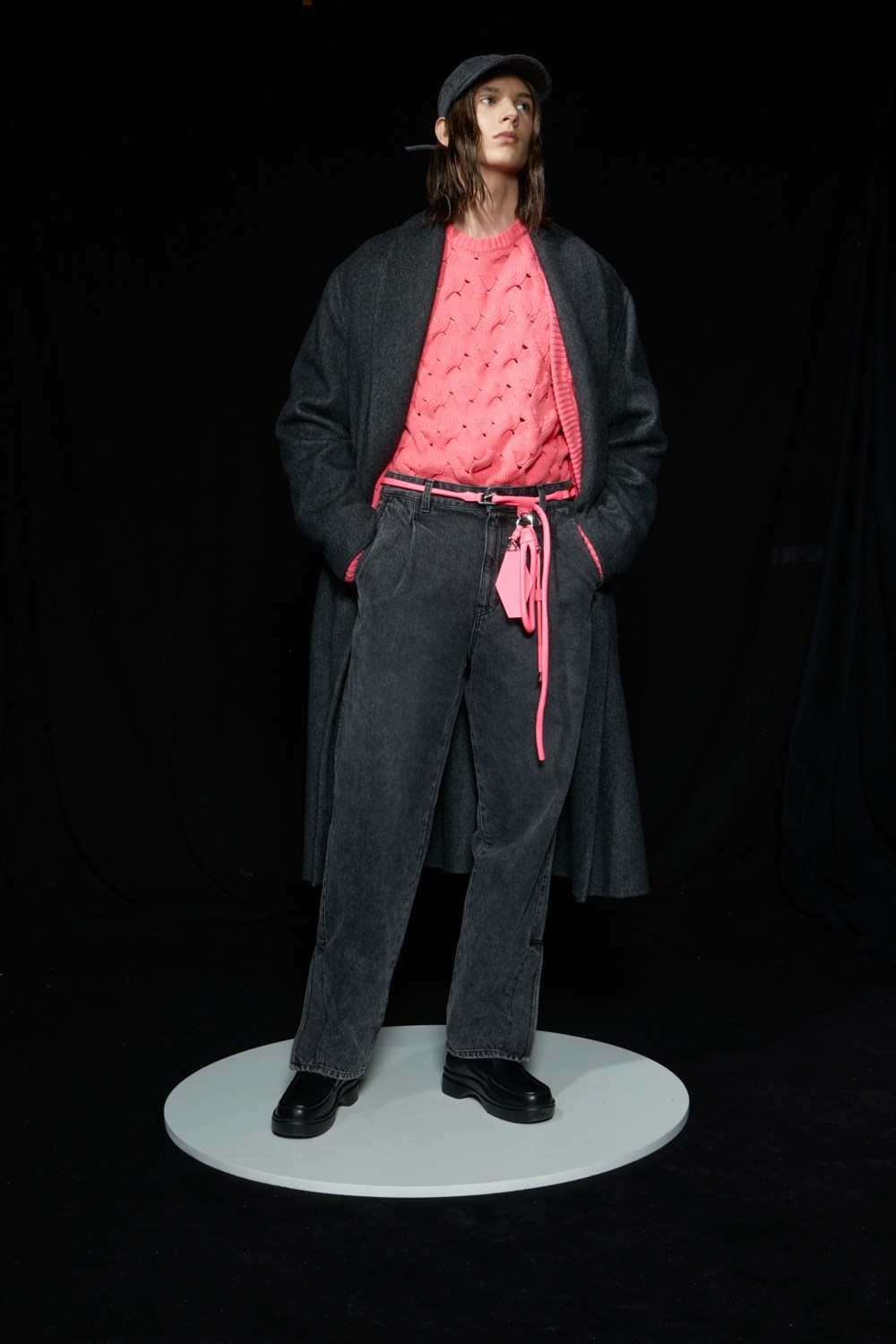 The minimal futurism of this space provided an apt setting for Woo's signature sense of refinement, detail, and subtlety. The collection once again was anchored by the designer's mastery of tailoring and knitwear, punctuated by focused details and a streetwise edge.
Sharp wool jackets and overcoats in neutral tones were illuminated by brightly colored turtlenecks from underneath. Relaxed pants descended over clogs. A smart quilted outerwear piece was cut to be worn either over or under a jacket, and looked great in either configuration.
While the collection was strong, the show's impact was firstly due to its choreography by Candela Capitán. After the first five or six walks, the next model to meet the runway broke into dance, the runway's shifting lights and electronic soundtrack scoring his emotional, contemporary expressions. Further dancers punctuated the traditionally walking models, each with a distinct style, sometimes interacting with each other and sometimes alone. The construction of the set especially came to life in these moments, infinitely multiplying the moving bodies.
Emotional and atmospheric, the performance emphasized the forward-thinking nature of the brand and its interdisciplinary intersection with other art forms like dance and architecture, as well as the excellent construction and consideration for detail and movement built into the collection.
Subtle by today's menswear standards, Solid Homme is a design house that deserves to be noticed, but does not demand to be – and that's a strong position to be in. As the brand continues to rise on the international stage, an imaginative show such as this offers an excellent way to express its vision with confidence, emotion, and style, demonstrating that sometimes thoughtful, quiet details speak the loudest.
---