Beauty may be in the eye of the beholder but let's face it, some beauty ads are simply more stunning than others and 2016 had it's fair share of them.
There was an increased presence of digital in ads and we saw an increase in hashtags and native apps to increase fluidity and a seamless path to purchase for beauty brands. Here are THE IMPRESSION'S TOP 10 BEAUTY ADS OF 2016.
[hr align="center" weight="thick" style="line"]
BY J MIKEL SACHER

10

MAC Viva Glam



[hr align="center" style="line"]
9

Lancome

The Sonia Rykiel x Lancôme collection is very clever smart and adaptable and came in two collections – one in stripe packaging (Parisian Spirit) and one with fun graphic images (Saint-Germain). The dual ended lip pencils give the needed play with texture between matte intensity and the sheer balm end help diffuse the color.  The blush is a cushion and gives a lovely dewy finish.
Makeup Artist | Lisa Eldridge
Models | Alma Luna Jodorowsky & Daria Werbowy
[hr align="center" style="line"]
8

Maybelline "Make it Happen"

The Maybelline global "Make it Happen Campaign" proved empowered attitudes need to be complimented by bold makeup that works on all women.
Makeup | Erin Parson
Director | Joseph Kahn
Models | Adriana Lima, Gigi Hadid, Jourdan Dunn, Molly Fletcher
[hr align="center" style="line"]
7

Urban Decay

The latest and largest lip launch by Urban Decay was promoted with Ruby Rose, who brings her edginess and classic beauty to prove we can all play with color in the campaign for Vice. The cheeky tagline "Too Much Vice is Never Enough" with a collection of 100 shades in 6 finishes – we're inclined to take them seriously. The line launched with an Vice Lipstick App to help beauty junkies experiment with the shades.
Makeup | Wende Zomnir
Model | Ruby Rose
[hr align="center" style="line"]
6

Covergirl Katy Kat Collection

Covergirl made it's easy breezy lifestyle super playful with their long standing partnership with Katy Perry's new collection, Katy Kat. With fun shades in Katy Kat Matte that are purrfectly on point. Covergirl hits all the social media stops with its app CoverGirl Beauty U displayed and Shizam tour of Kity Kat House, which brings new memories to our old Barbie townhouses.
Makeup | Pat McGrath
Model | Katy Perry
[hr align="center" style="line"]
5

Benefit Brow Collection

Benefit had a lot of fun with their advertising and gave us their femme bot model embellishes with fur from her Gorilla costar to give us gals transforming brows. This team has spent time really curating brows as they did lashes and have signature brow wav services at their studios. No trend can live without it's own siren like hashtag and benefit takes ownership of brows with: #Benefitbrows
Makeup | Hannah Malott
[hr align="center" style="line"]
4

Marc Jacobs Beauty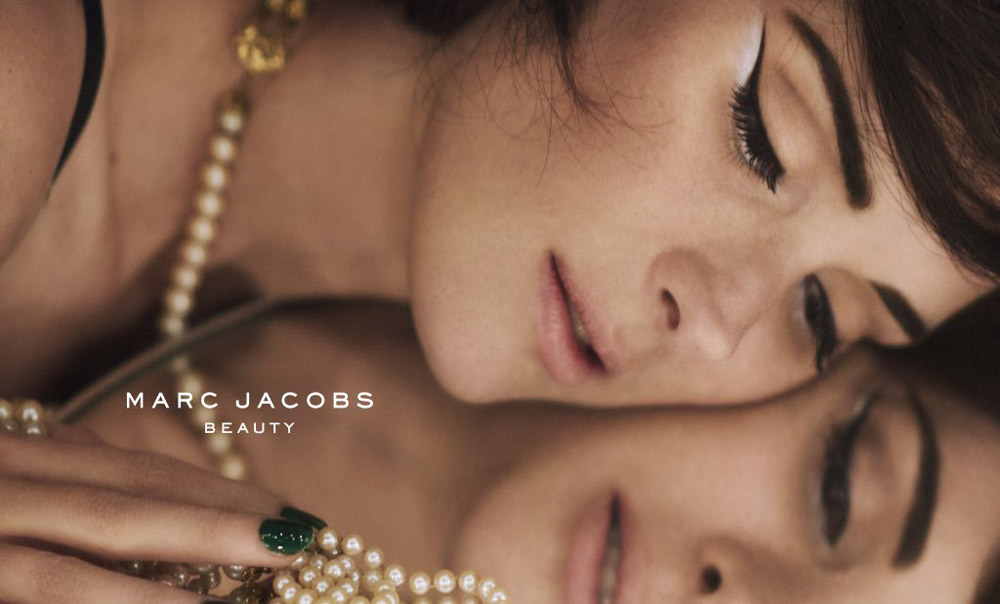 Marc Jacobs Beauty showcases a classic look for his newest muse Winona Ryder. Ryder evokes femininity with strong winged liner pointed to a bold brow that is embraced with an excess of his Velvet Noir Major Volume Mascara. Her eyes stand out on a clean dewy complexion with pale lips and bedazzled green glitter nails, clutching her pearls with haute couture gold clasps, as if to channel Elizabeth Taylor and Coco Chanel through the resurrection of Winona Ryder in his Spring Summer 2016 Beauty Ad Campaign.
Makeup | Diane Kendel
Photographer | David Sims
Models | Winona Ryder
[hr align="center" style="line"]
3

Chanel Rouge Collection N1

Kristen Stuart pops on the glossy red background of the new Automne 2016 Le Rouge Collection N1. This is the first collection by Chanel's new global creative makeup artist Lucia Pica and she really plays up the importance of the color red in her debut collection for Chanel.  Red is the color that Lucia identifies with as the pillar color for Chanel and speaks fondly of Coco Chanel frequently exclaiming "Put On Your Red Lipstick and Attack"
Photographer | Mario Testino
Makeup | Lucia Pica
Model | Kristen Stewart
[hr align="center" style="line"]
2

YSL Beauty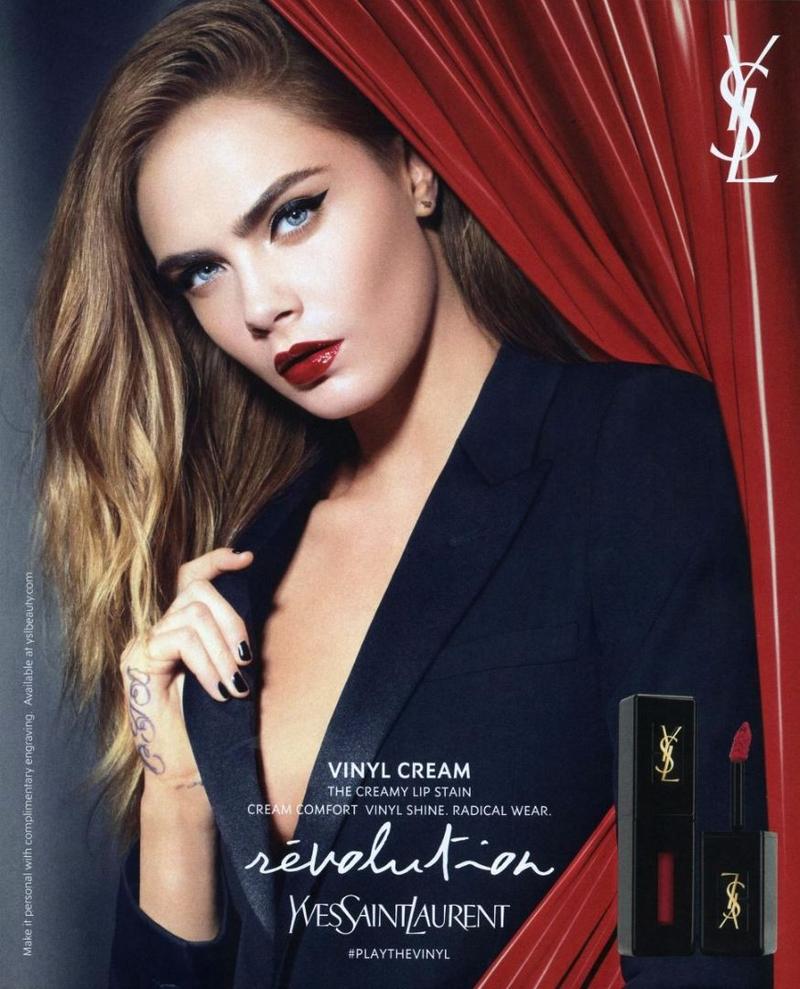 The YSL Beauty ads turn up the volume with Vinyl Cream Lip Stain. The imagery is animated and the color spins strongly and turns classic vinyl to vibrant red. The video and print ad follows the intelligence of blending mediums with the hashtag #PLAYTHEVINYL, just as we are seeing other brands use hashtags to increase consumer engagement.
Makeup | Lloyd Simmonds
Model | Cara Delevigne
[hr align="center" style="line"]
1

Dior
Strong Elegance and Joie de Vivre … the Rouge Dior collection with Natalie Portman. The print and video delight the beauty lover into the realm of boldness from satin to luminous mattes with a myriad of berry.
Makeup | Peter Philips
Photographer | David Sims
Director | Gordon von Steiner
Model | Natalie PortmanStylist | Kate Young
Hair | Stephane Lancien
[hr align="center" style="line"]