---
Appropriately enough for the title that helped to define the biannual fashion journal template – and usually weighs in at roughly the size of a city-wide phone directory – the latest release from Arena Homme+ isn't a magazine but a book. And, true to form, it's a monster. Edited and designed by art director Ben Kelway and subtitled 'All Killer, No Filler' – a popular mantra of editor-in-chief-turned-publisher Ashley Heath, 25 Years of Arena Homme+ celebrates a quarter of a century of inspired editorial across 600 (count 'em) pages, without letting the notoriously high quality control slip.
For magazine obsessives, Arena Homme+ serves as a high-water benchmark. While it's seen countless glossy imitators come and go over its time (it has even outlived its own brother title, Arena, which folded in 2009), Arena Homme+ has always understood that there is more to putting a magazine together than handing over your pages to high-profile contributors to create glorified portfolios.
Interviewed in another book, Paul Gorman's The Story of The Face: The Magazine That Changed Culture, Heath remarked that 'Every month I'd pick up a copy [of The Face] and understand two things, but come across two hundred more which I would investigate and then join the dots between them'. Having cut his teeth as Fashion Editor of The Face, Heath applied that same approach to Arena Homme+ when he took over the reigns from founding editor Kathryn Flett in late 1995. (It should be noted that there have been other editors since Heath's tenure too, all of whom have added to its reputation – Jo-Ann Furniss, Fabien Baron and current editor Max Permain.) Beyond the contributions from a list of creative talent that reads like a Who's Who – Juergen Teller, Wolfgang Tillmans, Elaine Constantine, Alasdair McLellan, Alister Mackie, David Sims, Nick Knight, Simon Foxton, Katie Grand – the magazine has always prided itself in uncovering the unknown, hidden heroes of culture.
Cue in-depth interviews with Chico Chandler – the greatest Celtic footballer who never was – or DJ Milo, the man who helped form Bristol's Wild Bunch collective before disappearing to Tokyo while his fellow band members – the various members of Massive Attack, super-producer Nellee Hooper, Tricky et al – went on to become household names.
For someone seldom backward in coming forward, Heath is noticeably humble when The Impression caught up with him to discuss his magazine's legacy. (Let's not forget, this is the man who famously announced the magazine to the fashion world by barging into conversations in Milan and Paris, pressing the flesh with Armani, Versace etc and cockily announcing himself as the editor of 'the best magazine in the world'.)
Asked what sets the best magazine in the world apart from the other fashion glossies on the newsstand, he demurs: 'We're kind of all friends, despite rivalries and often differing perspectives… A maverick male club that cares?'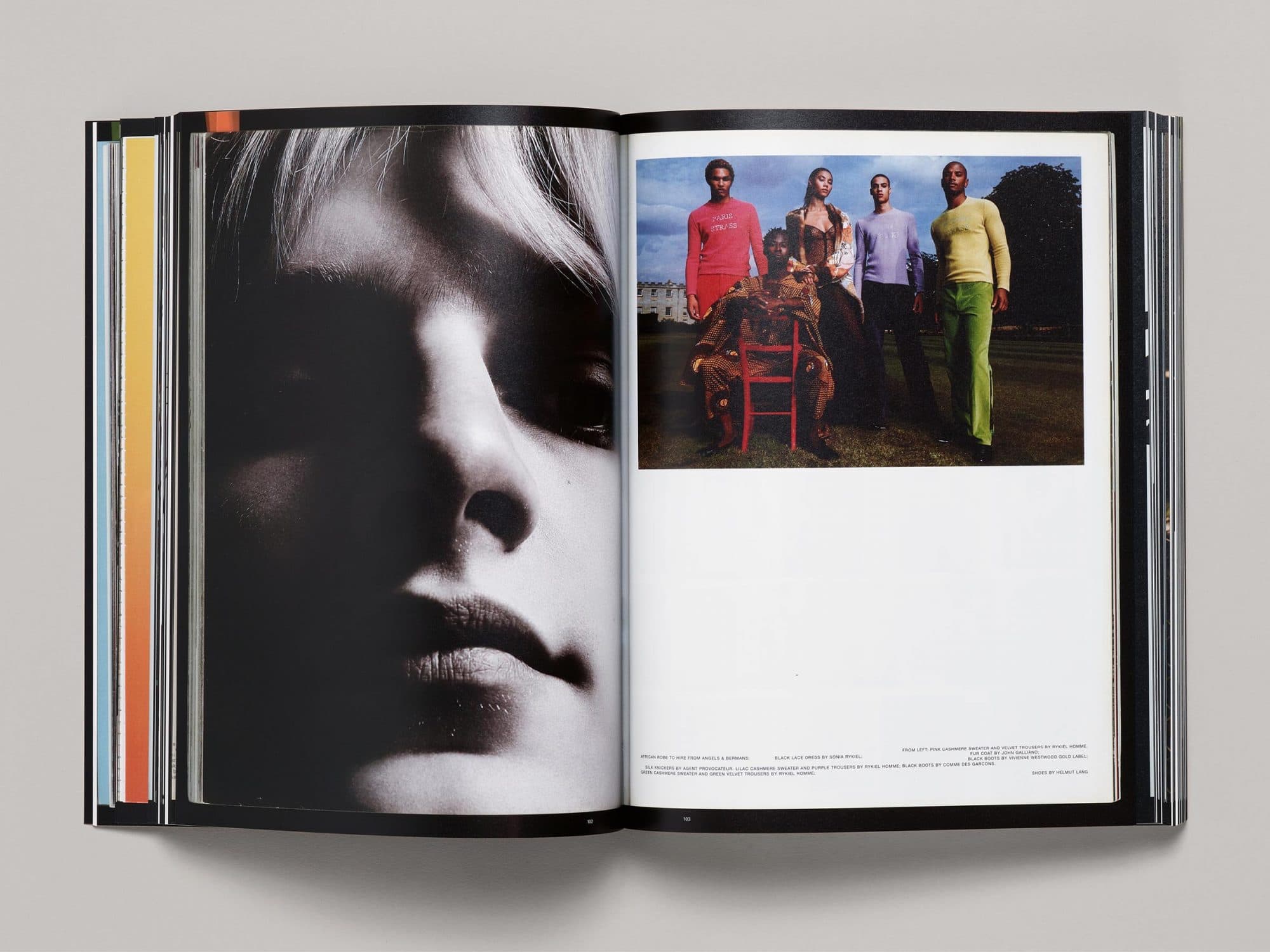 Ben Kelway, the current – and longest-serving – art director is a little less reticent. 'I would say it's the broad scope of how men are represented,' he says. 'The magazine was able to bridge, say gay / straight audiences by exploring a certain spirit through all the content. There was often some very homoerotic material in there – and the mag really pushed that boundary – but for me that content never excluded the mag's straight audience. I'm not gay and I don't fancy David Beckham but I was really excited to see him portrayed in a subversive, progressive way. And that's not something you'd see anywhere else at that time. For me, Arena Homme+ has always had a certain spirit running through it.'
Heath is back to his bullish best on how the landscape has changed in the 25 years since Arena Homme+ first announced itself to the world: 'Fashion got more global and powerful. Publishing bottled it,' he says.
The one thing you can never accuse Heath of doing is bottling it. Arena Homme+ continues to succeed on paper because it does things that can only be done in print. Yes, fashion photography looks better when it is indulged with generous pagination and beautiful printing – but that's only half the story. The magazine has consistently pushed the envelope when it comes to production, experimenting with different paper stocks and crops to highlight the physicality of the medium. Take the fashion story depicting members of the magazine's staff (including legendary owner Nick Logan and advertising director Rod Sopp) drawn in pencil as FBI shooting range targets, complete with bullet holes stamped through the pages.
Heath's willingness to take creative risks has sometimes come back to bite him. Witness the infamous Justin Timberlake cover story by Steven Klein, with burn marks on the pages and images of the former boy-band star leering, bloodied and bruised, in front of the Stars and Stripes. The fact that the issue's cover date – Autumn/Winter 2001 – coincided with the 9/11 attacks (which occurred shortly after going to press) meant that the first print run had to be pulped and replaced with an alternative portrait. (The few surviving original issues now change hands for hundreds of dollars on eBay.)

So what is it about physical magazines that stands them apart? 'You know the answer to this,' says Heath, conspiratorially. 'Everyone is website / mobile fooling themselves!' (Incidentally, the @thehommeplusmag account on Instagram proudly proclaims 'Bit rubbish at social since 1993'.)
'Publishing obviously has seen a huge shift,' says Kelway. 'Of course everyone started saying mags were dead but then no one was really able to come up with a viable online version. It's a case in point that when people talk about i-D or even Vogue now, they're still talking about the print magazine. I feel people still like flicking through a mag and seeing two fashion pictures opposite each other…'
Heath says the highlights over the past 25 years are 'Too many to mention' (hence the 600-page book, designed by Kelway). With detailed interviews by Lucy Kumara Moore with many of its world-famous imagemakers, it certainly feels exhaustive.
'There's a nice, constant ambience… It's the balance of things that counts,' Heath summarizes – talking like a true editor…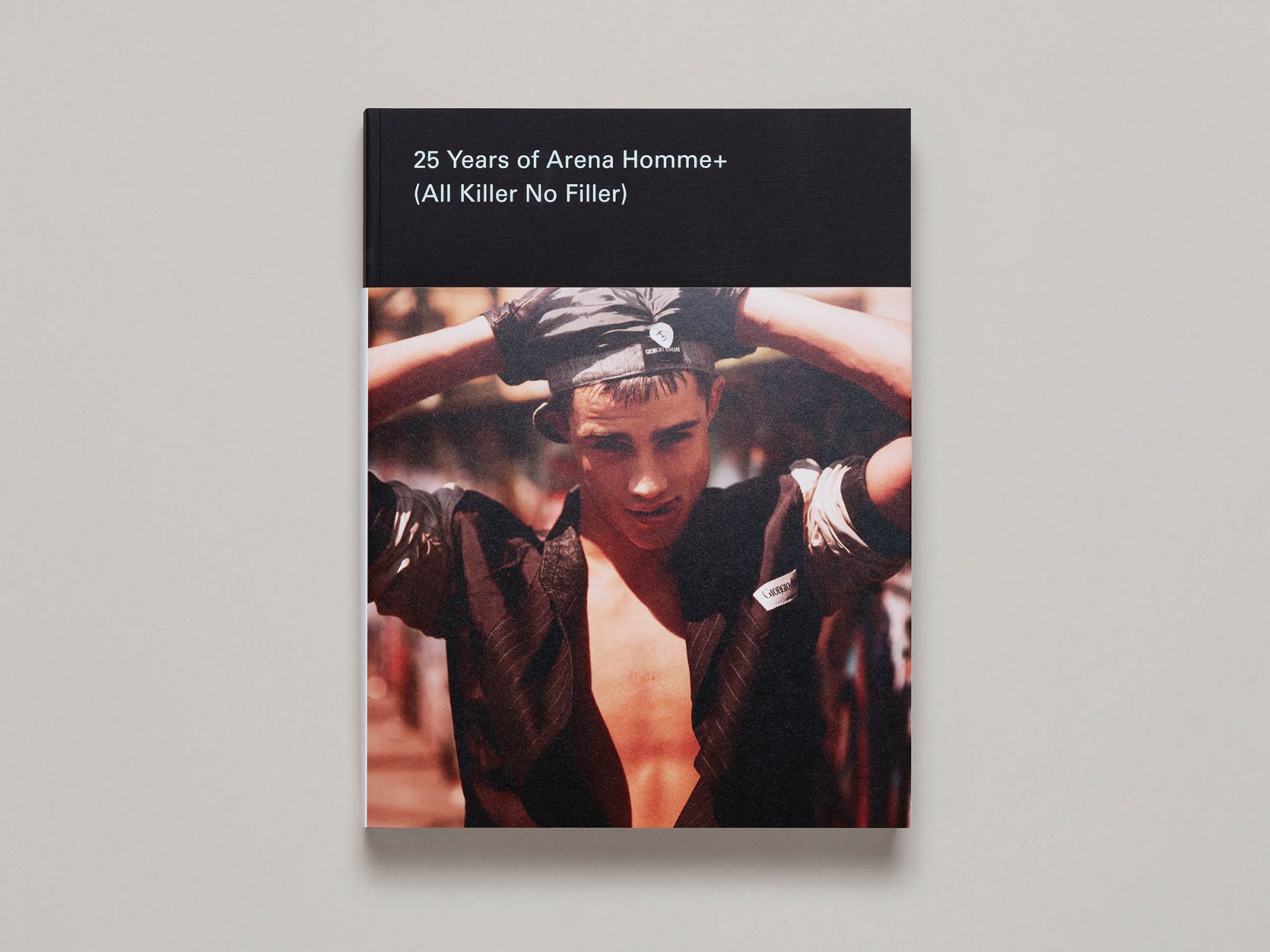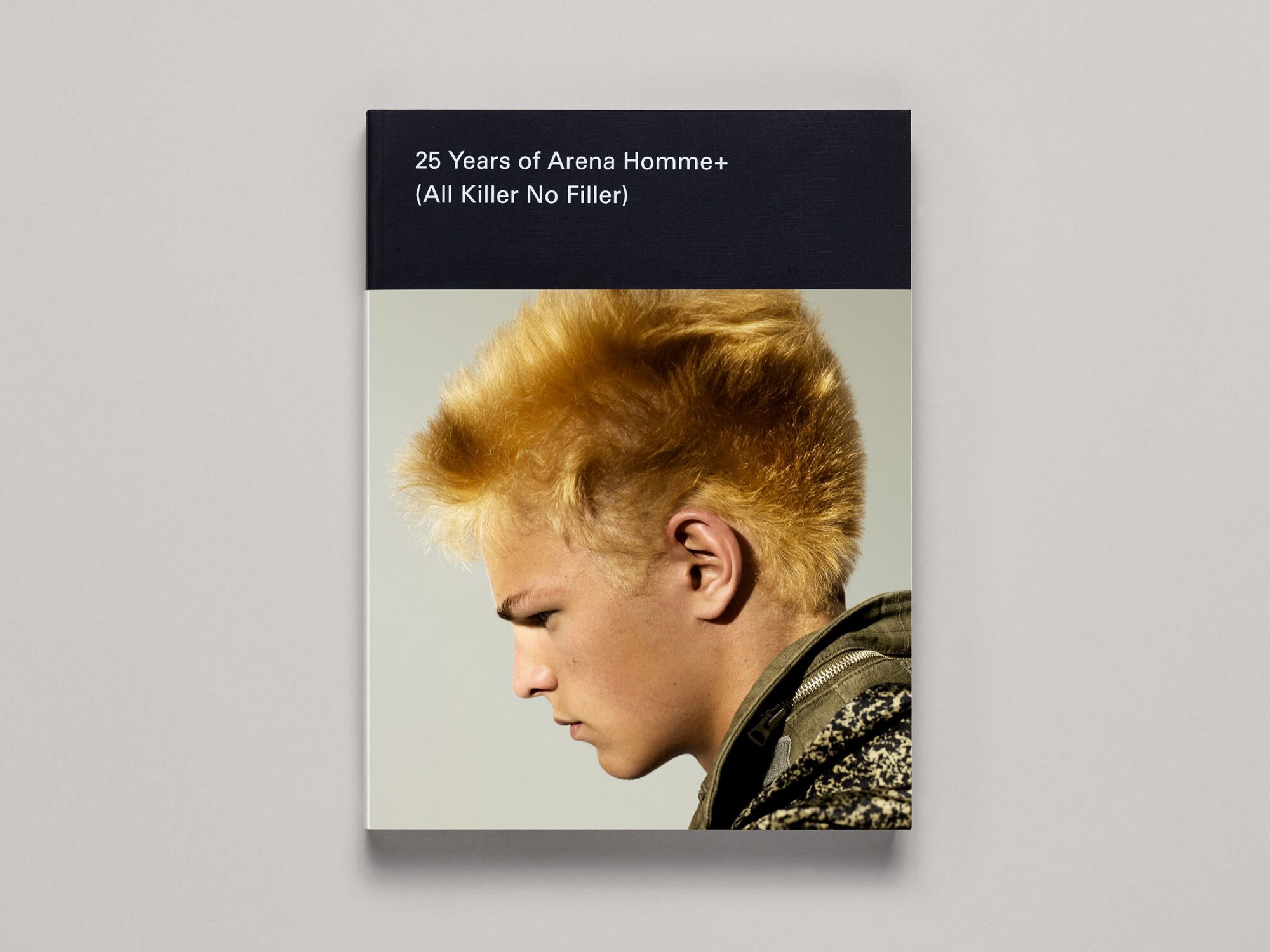 ---