---
Review of A-COLD-WALL* Fall 2021 Men's Fashion Show
Nice Clothes, But Is There Anything More?
By Long Nguyen
"Portal Structure Saturate Mediate Open Retreat Forum Plural Omnist Reach," are the words that the London designer Samuel Ross ascribed to his fall men's 2021 A-COLD-WALL* collection. A set of abstract words that he would like the audience to interpret their meanings openly and how his new clothes fit within these boundaries' parameters.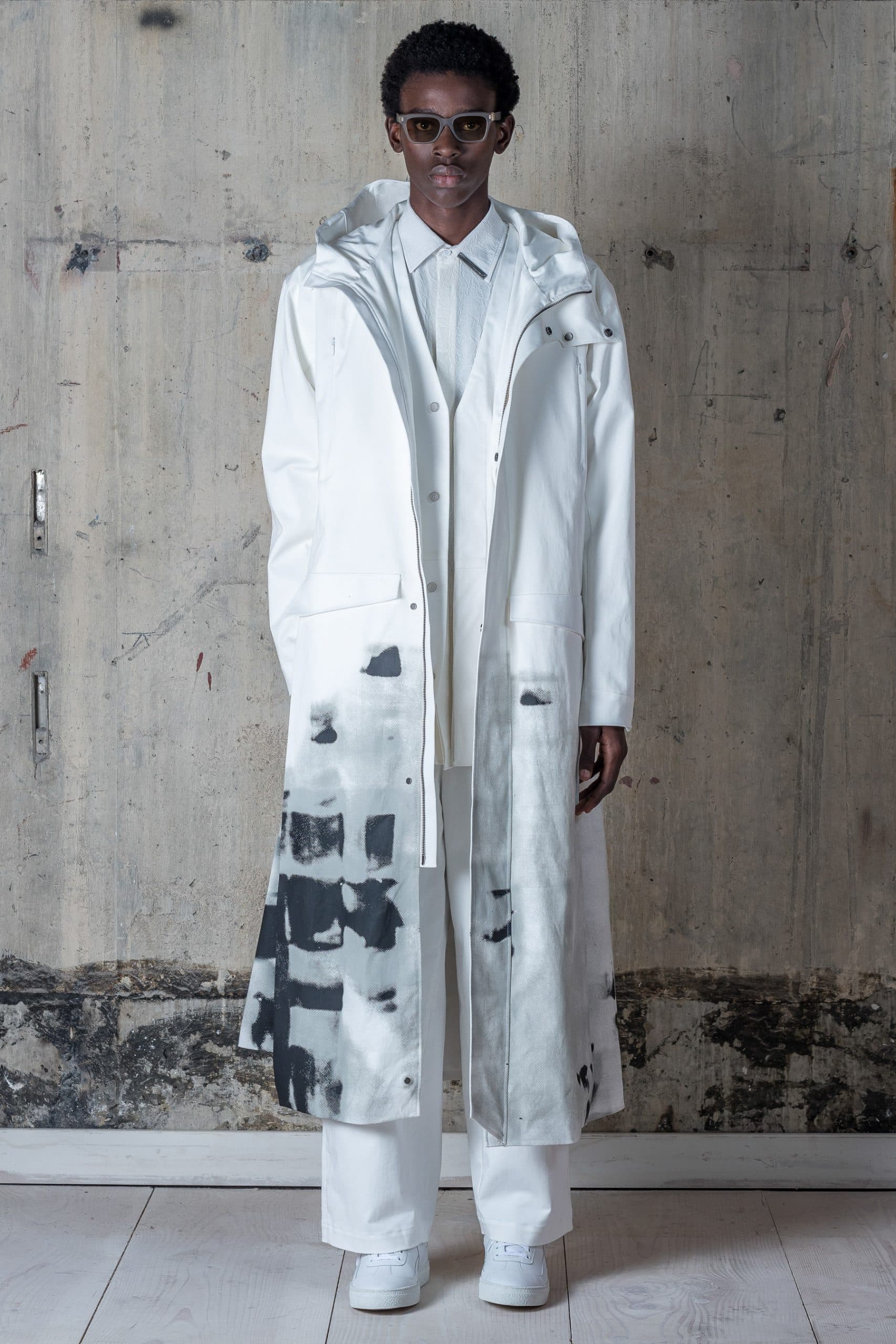 The video featured models walking around a yellow tent made from transparent parachute materials with several patches of rocks and faux grass interspersed on a concrete floor in artful cinematography with close-ups in color, black and white x-ray shots of the fall clothes in the 'Untitled' eight minutes long moody film.
The range of technical and durable industrial textiles combined with streamlined design resulted in a range of contemporary high street garments.
Basic English working-class clothes – white anoraks with hand printing, white nylon puffer zippered blouson, one pocket cargo pants, nylon hooded raincoat, blue hunter jacket, plaid puffer coat – are now transformed them into desirable utilitarian fashion products seen in this fall lineup destined young kids today. These clothes, though, are what should be the kind of staples from Ross' label since its launch in 2015. He operates at a crossroad of the luxury, street, and outerwear garments made with great care as to the provenance of materials that catered to and reflect youth culture in the range of clothes that are more common in a working-class environment than that of high fashion.
This fall collection sees the collaboration with Mackintosh, and the Scottish outwear brand with a signature waterproof raincoat first made in 1824, here in light transparent nylon hooded parkas and footwear with Dr. Martens and eyewear with Retrosuperfuture.
Also, this time, there are a few more tailored pieces, including a boxy white long coat, a blue 'couture' long raincoat, and a brown slim fit pantsuit. An ecru ribbed mandarin collar long sleeve knit with matching drawstring pants can be considered a new 'suit' pictured with a black leather clutch. Ross' graphic design and illustration background shine through in the various elements of patchwork fabrics of different color blocks, shirts, pants, and graphic white tee shirts.
As it's called, this PDF magazine goes to the heart of A Cold Wall's philosophy, which states its focus as 'offering insight into design thinking and exploring narratives around material and silhouette' according to a statement on the brand's website. It is the reason for the film to have a great deal of super close up shots of the clothes featuring the surfaces of the different layers of fabrics, the precise laser cutting, and the added details like a metallic rectangular piece for the brand's logo.
Accompanying the video release for the last day of Milano digital men's week is an art booklet in a PDF format with extremely detailed pictures of the fall collection's fabrics materials with side labeling of an inside label of clothes denoting the composition of the garment – Art. 5673-S000 Woven in Italy 100% Viscose FSC Certified Yarn Piece dyed Plain weave with a crinkle finish. Thus, a red knit sleeveless crew neck vest seen the midway in the film presentation is labeled as Art. 2180-99 Woven in China 100% Nylon Plain weave with crinkle finish 145gm.
There is an inkling in looking at these excellent clothes with exquisite attention to details whether there is still any message, whether culturally or social-political, from this forward-thinking brand. Maybe that's not the purpose of a fashion brand, but it's worth wondering though.
---