---
Review of Alberta Ferretti Spring 2022 Fashion Show
Ferretti's butterfly collection emerges from its chrysalis for a newfound freedom
By Lizzy Bowring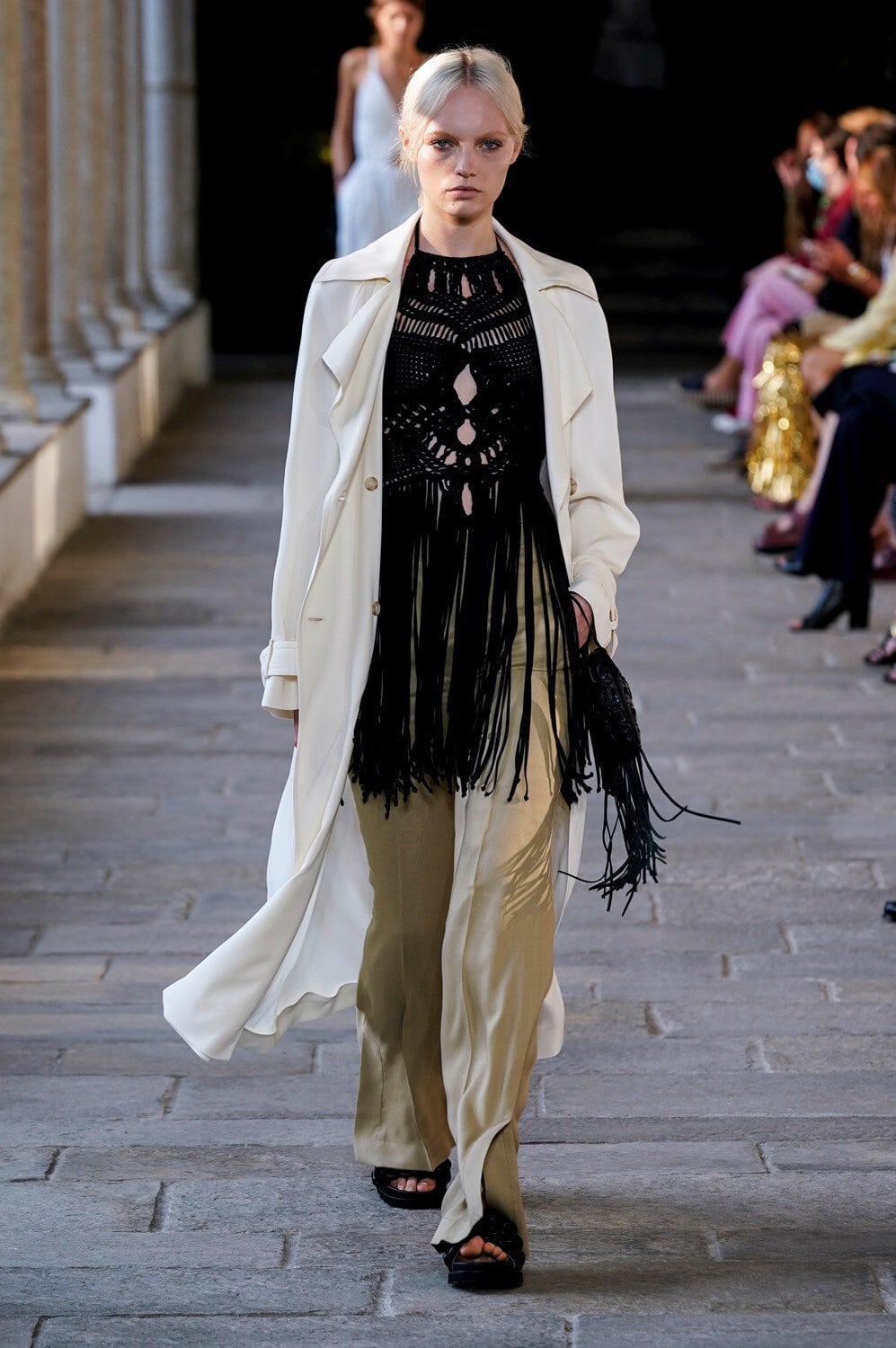 The large cloister of The Basilica of San Simpliciano is one of the oldest in Milan, and its construction dates back to between 374 and 397. The cloisters were built over centuries, starting with the first in the fifteenth century, with a ground porch on columns resting on a continuous plinth. It was here that Alberta Ferretti presented her S/S 22 collection.
I grew up with Alberta Ferretti clothes, and the store in London's fashionable Sloane Street was my first port of call on a buying trip.
However, Ferretti's handwriting has changed of late, erring more towards a classic sportswear look. Although exquisitely crafted, I missed the Alberta Ferretti of yore but then, today. Ferretti's presentation took me back; it was as if the chrysalis had emerged finally into the butterfly it was to become, spreading her glorious wings as she reached for newfound freedom.
It's not hard to fathom why this beautiful insect translates as a parallel for liberty, with various interpretations turning up in several collections.
The first silhouette gracefully walked through the cloisters in a fluid trench coat and macrame fringed tunic. The white dress that followed came with an embroidered iteration of a butterfly. If Italians do one thing well, and that is the attention to fine artisanal craftsmanship.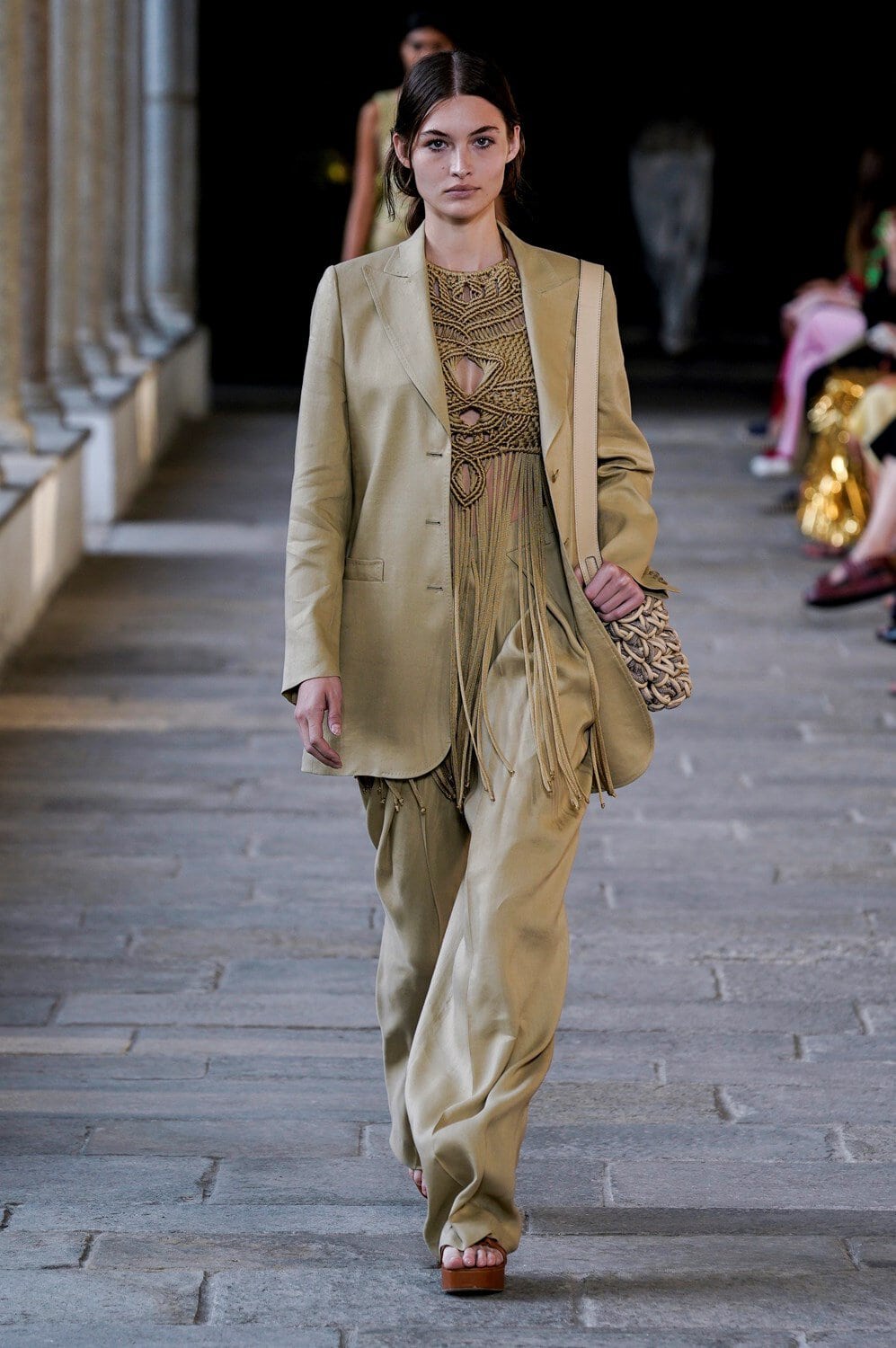 The colour palette of black, white, and straw are just the right eye-catching hues to open a presentation and currently, in Milan, it is the key trending story. Next, a little black gossamer-light dress reminded me of the sweet little dresses Ferretti made in the 70s, just as the adorable sundress with macrame fringing worn over the lightest of fluid trousers.
I particularly liked the black pants worn with the macrame tunic; here, long tendrils of fringe playfully danced around the model's legs, and the cropped top, again crafted in macrame, came sensually placed like delicate wings caressing bare shoulders. Fluidity continued in soft tailoring, with long tunics constructed in macrame, the perfect textural finish to complete the look.
The soft tailoring resumed in a wrap white skirt paired with a straw silk blouse – understated and discreetly sexy.
Eveningwear is high on the agenda with Milanese designers, and Ferretti is a dab hand at creating some of the most feminine pieces. A wearable straw silk dress, nonchalantly worn over long trousers, was just the perfect attire for after sundown in Italy's Vernazza, Cinque Terre.
Again, the colour palette was key to the designer's raison d'etre. A column dress with a cascading butterfly print picked up the breathtaking colours of a blue Morpho butterfly in hues of turquoise, sea green, and purple. Long column evening gowns appeared nipped in at the waist, while on another, Ferretti used sparkling sequins to outline the delicate pattern of wings.

This collection was typically Ferretti of the past, faultless and covetable. As if with gossamer wings, her butterfly collection emerges from its chrysalis with a feminine sensitivity.
---