---
Review of AMI Alexandre Mattiussi Spring 2021 Ad Campaign by Creative Director Julien Gallico & Photographer Michael Bailey-Gates
AMI Alexandre Mattiussi explores the murky waters of isolation and friendship in a new Spring 2021 campaign. With creative direction by Julien Gallico and photography by Michael Bailey-Gates, the series of portraits is an understated and beautiful study of emotional space.
Through an impressive feat of set design, Baily-Gates has transformed his studio into a sea: a rippling and reflective pool of water forms the "ground" of each image. Sparse set pieces are introduced, giving our protagonists different ways and levels to interact with the surface of the water. They stand on chairs as if narrowly avoiding a recent flood; they float on planks as if they have just been shipwrecked; or, sometimes, they allow themselves to simply be submerged.
Bailey-Gates captures his subjects in both color and black and white, alone or in small groups. He finds a restful and elegantly cohesive color scheme of beige, black, white, and teal.
While most of the images depict figures who appear alone, a few of them find moments of togetherness in duo or group scenes. The water takes on emotional depths, suggesting aspects of the isolation or solitude that we all float over, and sometimes fall into (especially in light of recent events). Yet the group shots find support and togetherness, solidarity as humans among all the watery darkness. The characters of the solo shots too, though they feel somewhat lonely, exude a quietly hopeful sense of confidence and solidity. We must each learn to navigate the treacherous waters of life, though we don't always have to do it on our own.
Gallico and Baily-Gates' use of set is subtly brilliant. From this relatively simple technical idea of using a pool arises a nuanced and introspective emotional realm. Matching it with mutedly beautiful colors and composition, they realize a campaign that offers a welcoming and much-needed moment of reflection in our era of stormy seas.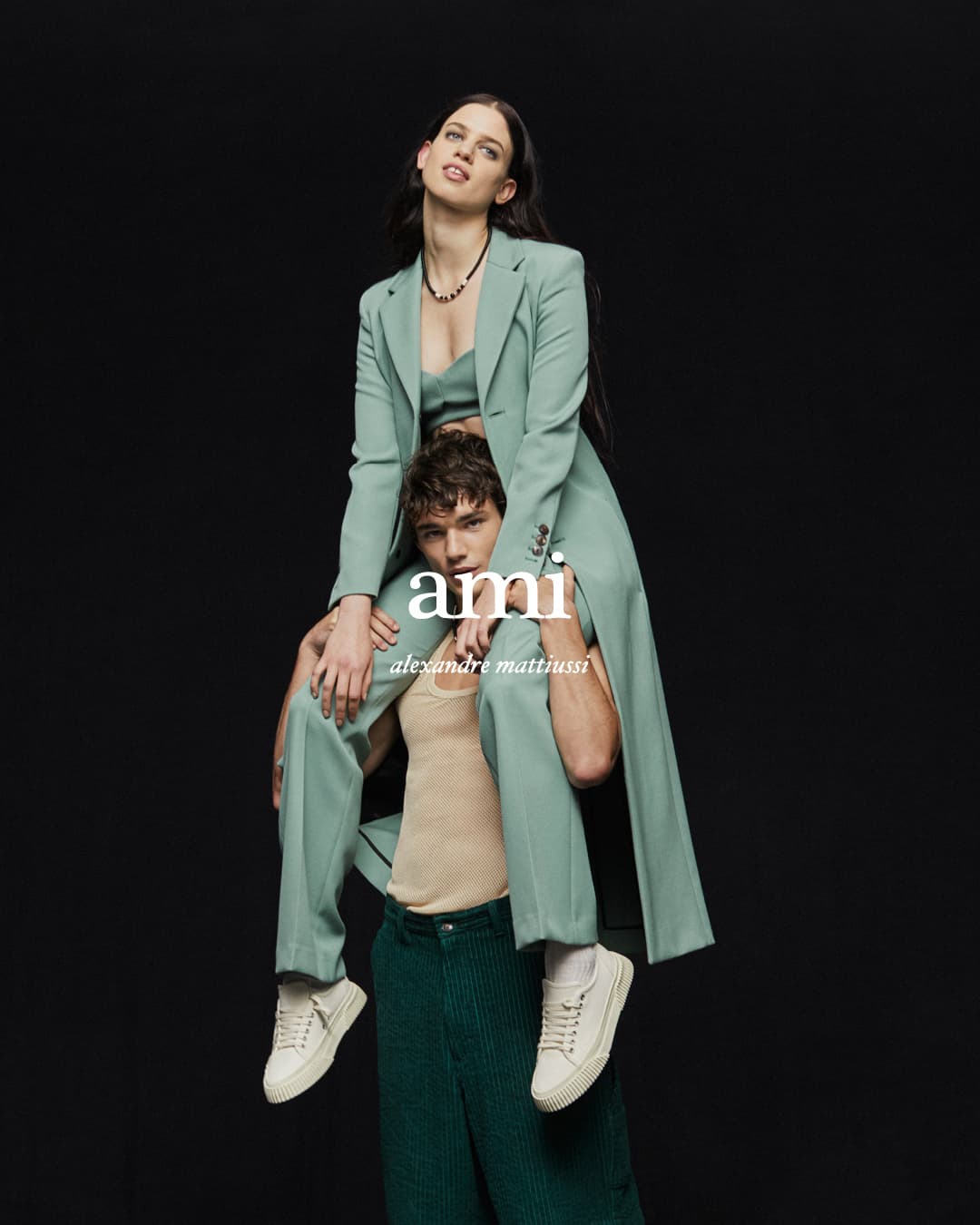 AMI Creative Director | Alexandre Mattiussi
Agency | Julien Gallico Studio
Creative Director | Julien Gallico
Photographer | Michael Bailey-Gates
Stylist | Pau Avia
Hair | Christian Eberhard
Makeup |Adrien Pinault
Production | Amelie Rouyer
Set Design | César Sebastien
---