By Anna Ross
Anya Hindmarch Takes The Impression on A Tour of Her Innovative Collective of Five Interconnective and Immersive Stores
Anya Hindmarch is famed as one of fashion's finest conceptualists, leading entrepreneurs, and renowned for starting a revolution against single-use plastics. Add to the mix her accessories empire, her previous business ambassadorship for the UK, current NED of the British Fashion Council, and Emeritus Trustee of the Royal Academy of Arts and Design Museum; it's safe to say – Anya is not one to sit still.
As much of London's retail scene does just that, Hindmarch is giving bricks and mortar the revival it so desperately needs. Opening today on London's Pont Street, 'The Village' is a collection of five neighboring Anya Hindmarch stores that allow visitors to shop, socialize and submerge themselves in an ever-changing schedule of pop-ups, collaborations, and live events. Hindmarch's Village is an extension of her penchant for innovative fashion experiences, "something we're craving now more than ever," says the designer.
"I've been dreaming this up for two years," says Anya, standing proudly outside her new inside-outside eatery, The Anya Café. "During the pandemic, I had this urge to shift back to local," she explains. Quite literally – both Anya and many of her team live nearby – allowing them to drop by to visit, work and react to events as they happen.
My whole career has been global, global, global – I used to have to do a window scheme that would be adapted to 60 windows across the world, and it just somehow felt compromised and unauthentic.

Anya Hindmarch – stressing that "fewer stores – but more memorable" is the aim of the game at Hindmarch HQ
The Café
What could be more local than a high street café? As we step in, Anya describes the interior as "a chic version of a classic British 'caf". Exquisitely designed by Brady Williams, the room is filled with a heavy hit of old-school nostalgia from facade to food; Battenberg cake, ice-buns, 'Family Circle' inspired biscuits, and tea come served up from London's acclaimed caterer William Norris. Each aspect has its own 'Anya-ism,' with the brand's signature cartoon eye motif covering everything from saucers to sugar cubes – an element of humor that's iconic of the Hindmarch brand.
The Plastic Store
It's been fourteen years since Hindmarch took a stand in eliminating plastics with her 'I'm NOT a Plastic Bag' tote, a hit campaign that has been attributed to raising awareness across the globe around reducing single-use plastic. Her most recent collection, 'I AM a plastic bag' moves from raising awareness to design solutions found in circularity; Taking two years of research and development, the collection is made from an innovative cotton-canvas-feel fabric, each composed of 32 half litre recycled plastic bottles and coated with recycled windscreens. The Plastic Store will play host to the new collection, as well as live events, talks, exhibitions and collaborations – all with a focus around sustainability and circularity.
The Label Store
Next door, a rainbow-colored facade welcomes you into a store dedicated to the art of organization. Hindmarch's 'Labelled' collection is her best-selling range and rightly deserves an entire space in its own right. Such is Anya's love for organization; the brand recently collaborated with industry experts on a series of virtual events based around "decluttering, organizing, and productivity."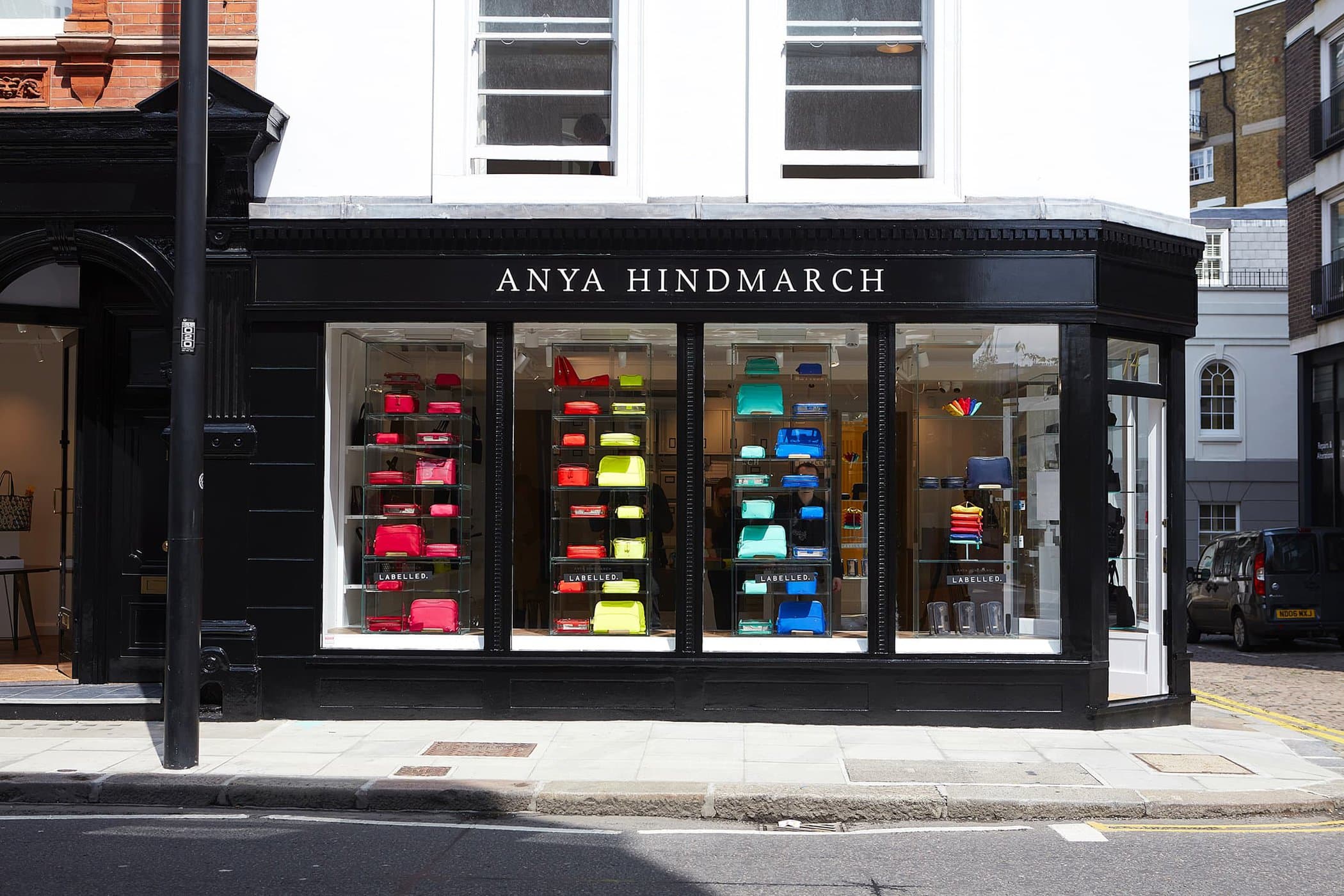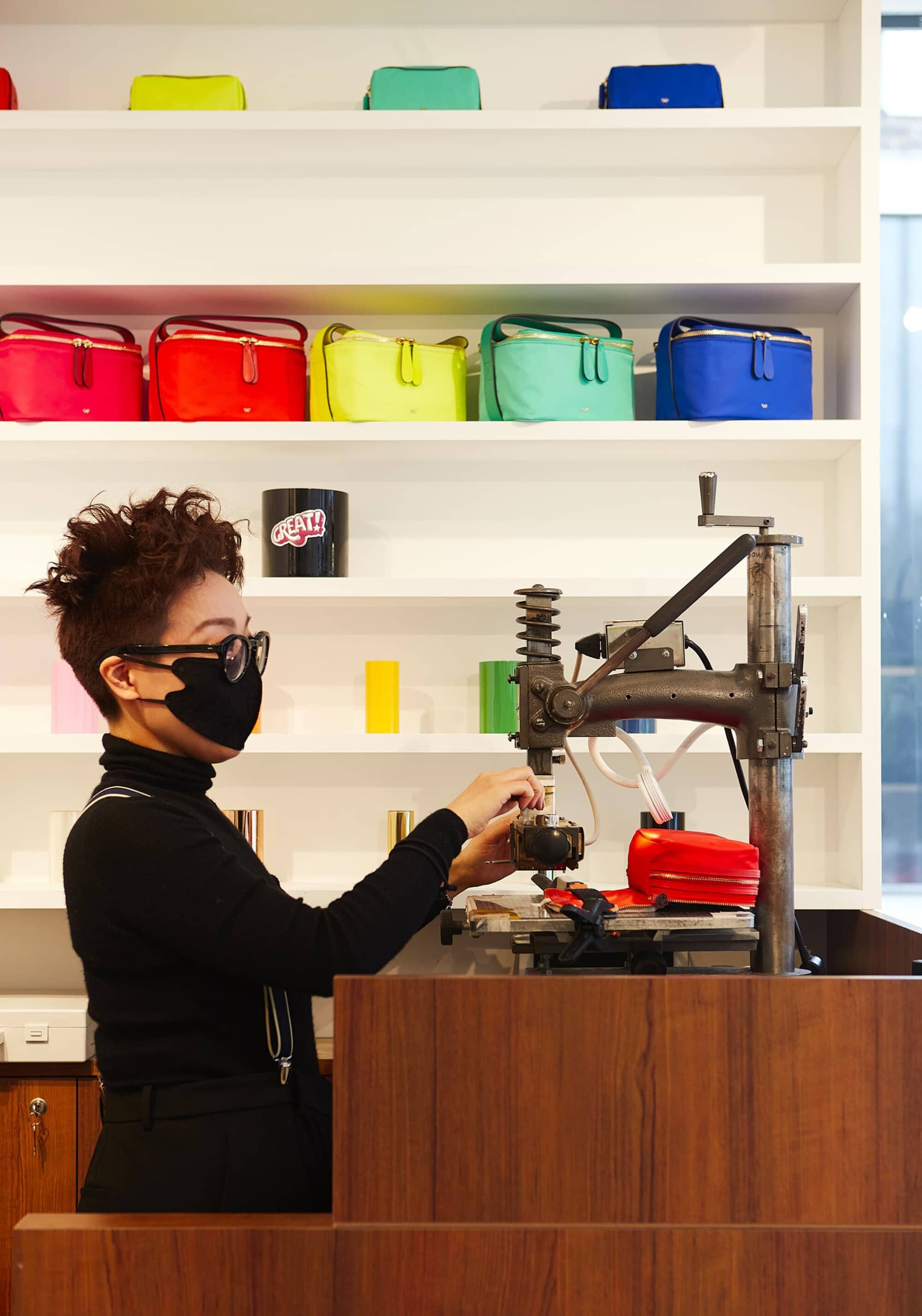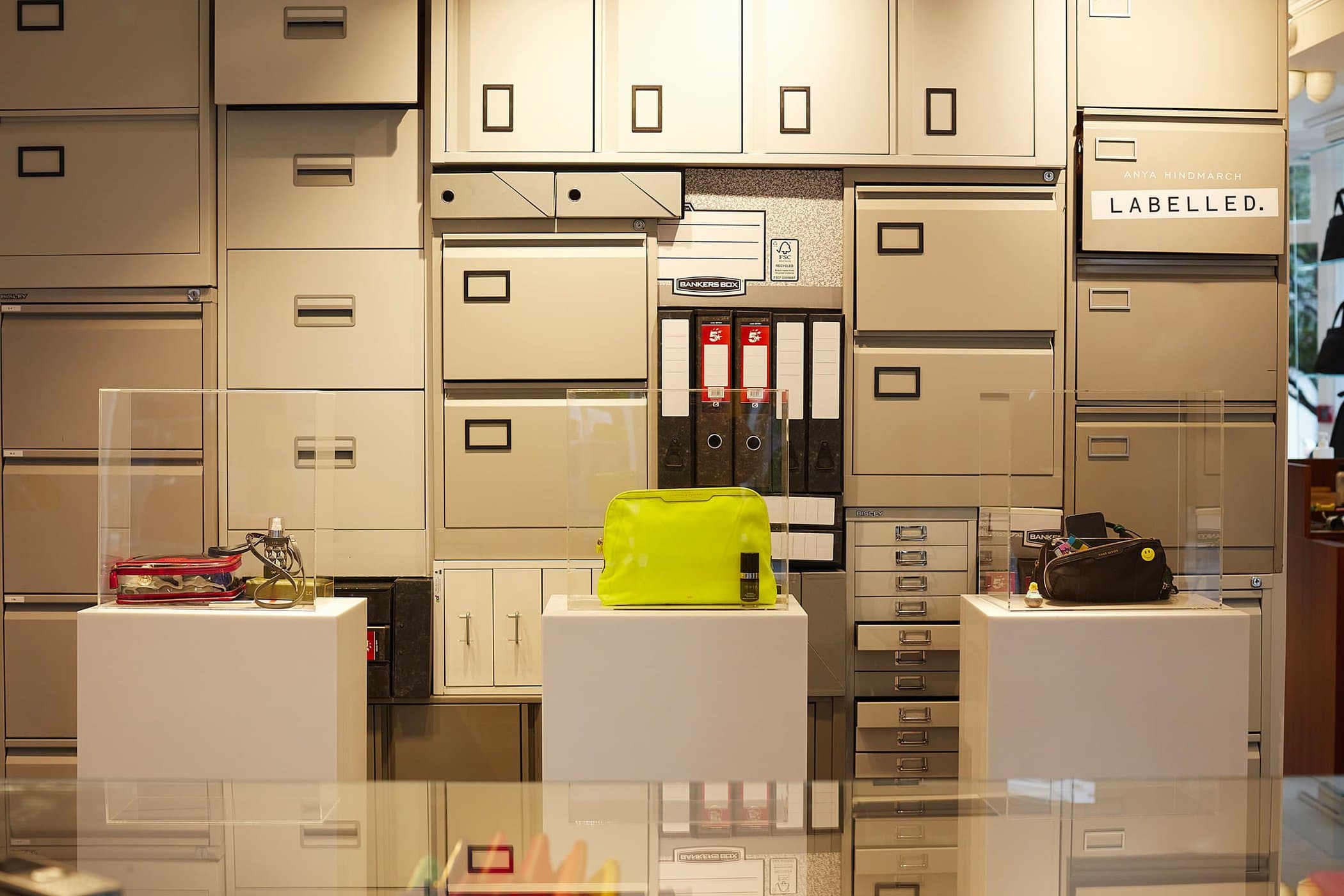 The Bespoke Store
Across the (Hindmarch-branded) pedestrian crossing is Anya's flagship space of 15 years. "It's like coming home," she says, surrounded by touching tributes to her family, including a 'hangover box' given to her husband, containing compartments for Aspirin and Alker Seltzers. The store itself is entirely dedicated to personalization; 'It's about having your name on something, not mine,' says the designer. Bespoke customers can personalize a range of Hindmarch products by uploading an image or handwritten message inscribed on leather gifts by the shop's on-site craftsmen. "We're the first to do anything quite this bespoke. It's like making a piece of family history, to be handed down throughout generations," – a sustainable idea in and of itself.
The on-site workshop reveals an exclusive glimpse behind the scenes; "the aim is to reconnect people with how the products have been made and the craft that goes into making them- something I feel that's been lost." Their on-site team can remend and revive pieces that have been a little-too-loved, "Sustainability is all about 'make do and mend,'" states Hindmarch.
The Village Hall
Finally, into The Village Hall, an ever-evolving concept space launching as the 'Anya Hair Salon – Shampoo & Therapy' to celebrate the publication of the designer's first book, 'If In Doubt, Wash Your Hair.' This is the brand's first foot in the beauty industry, seeing a collaboration with Faith and Nature hair products – refillable – of course. Personalization and customer experience are once again on the agenda. Each customer (or group) who books into the 1970s inspired hair salon will receive a personalized magazine to read while listening to "70's therapy tapes, sipping champagne and receiving a well-earned pampering session," explains the designer.
The Village Hall will host a different concept every five weeks, a strategy that Anya agrees will keep the customer coming back in-store for more; "I think in a digital post-pandemic world, there needs to be a reason to visit a retail store. Something you can't get online," surmises Hindmarch. The Village represents that ethos in its entirety.
So what's next in The Village Hall's pop-up schedule? "I can't tell you!" teases Anya, case in point – "You'll have to visit to see!"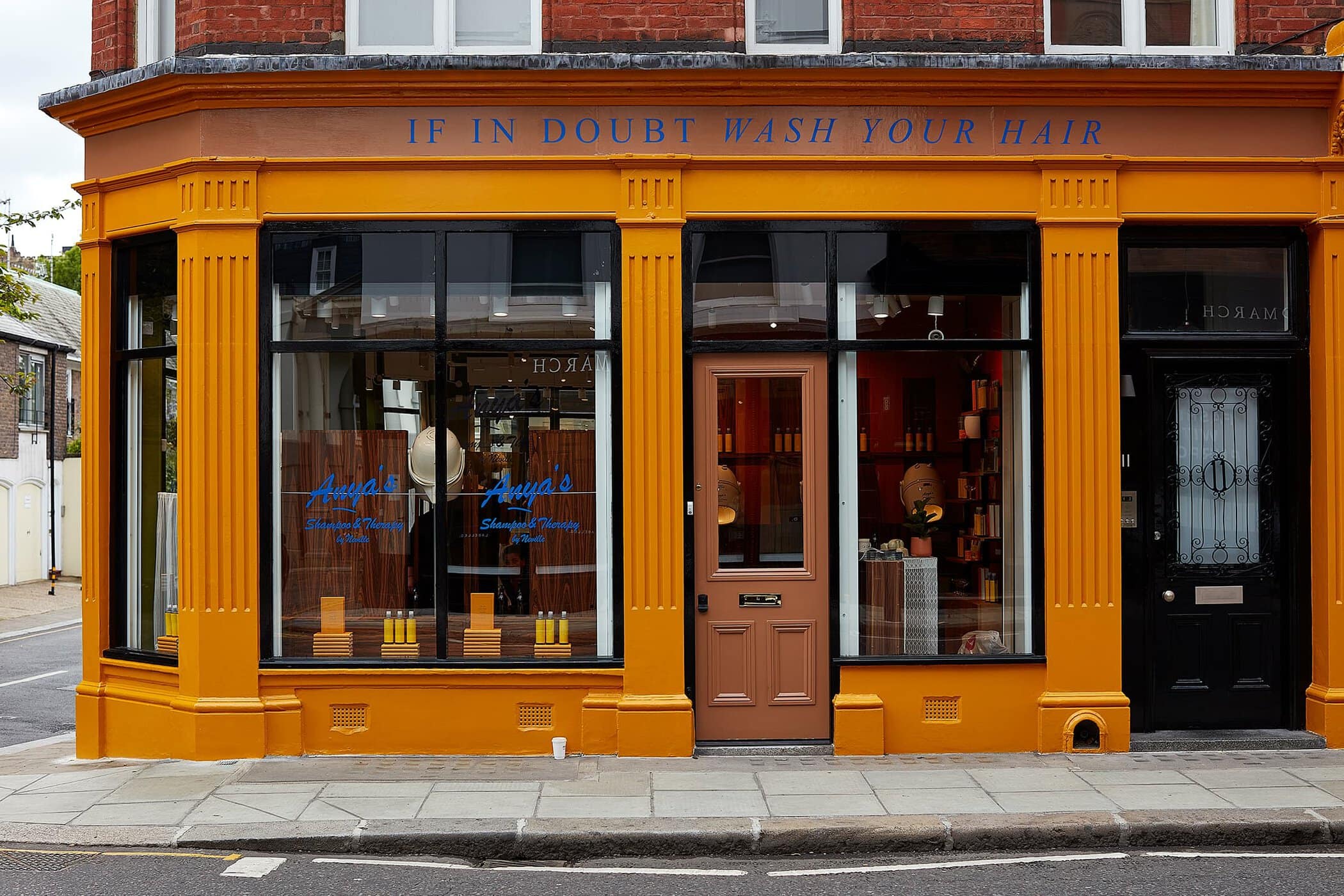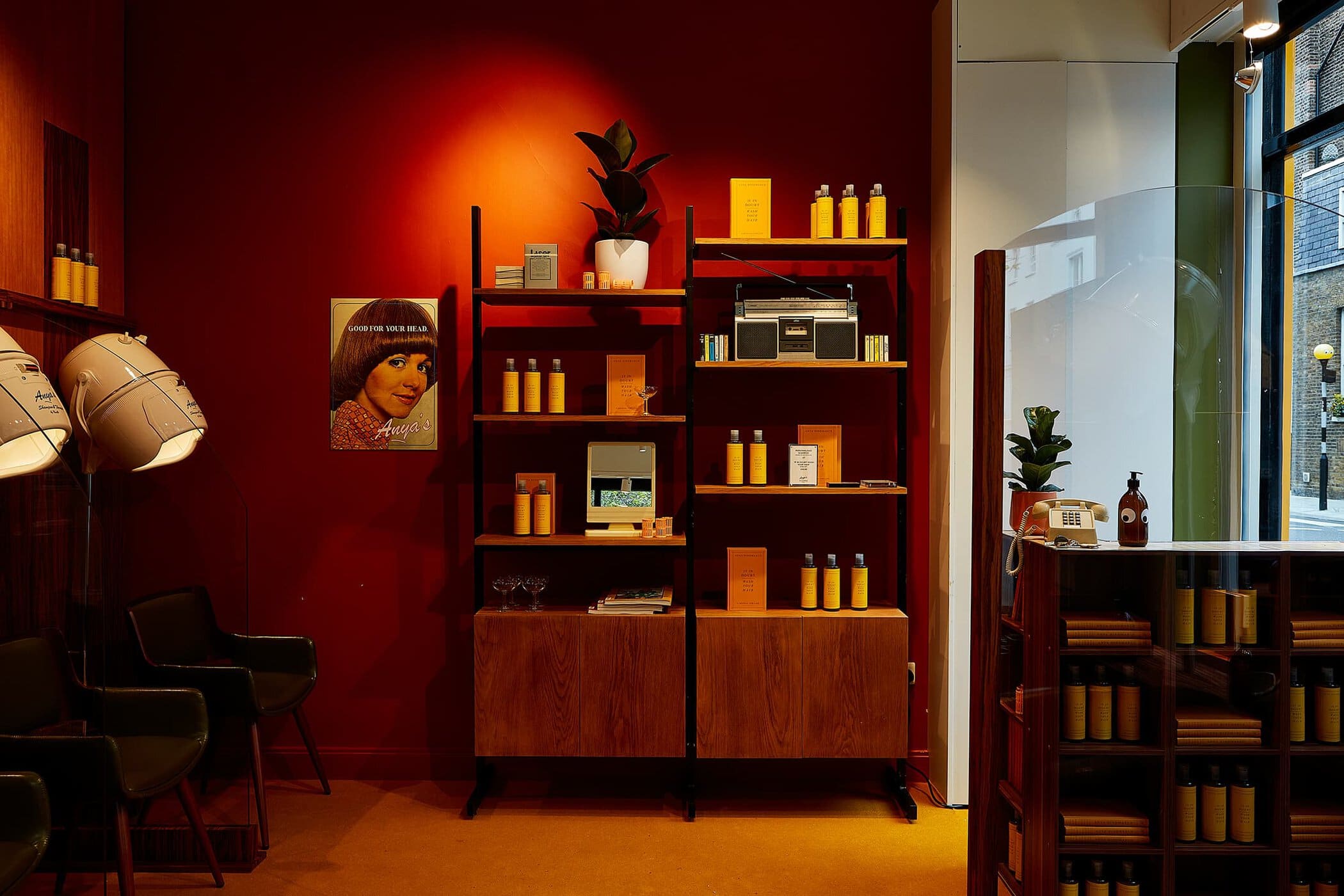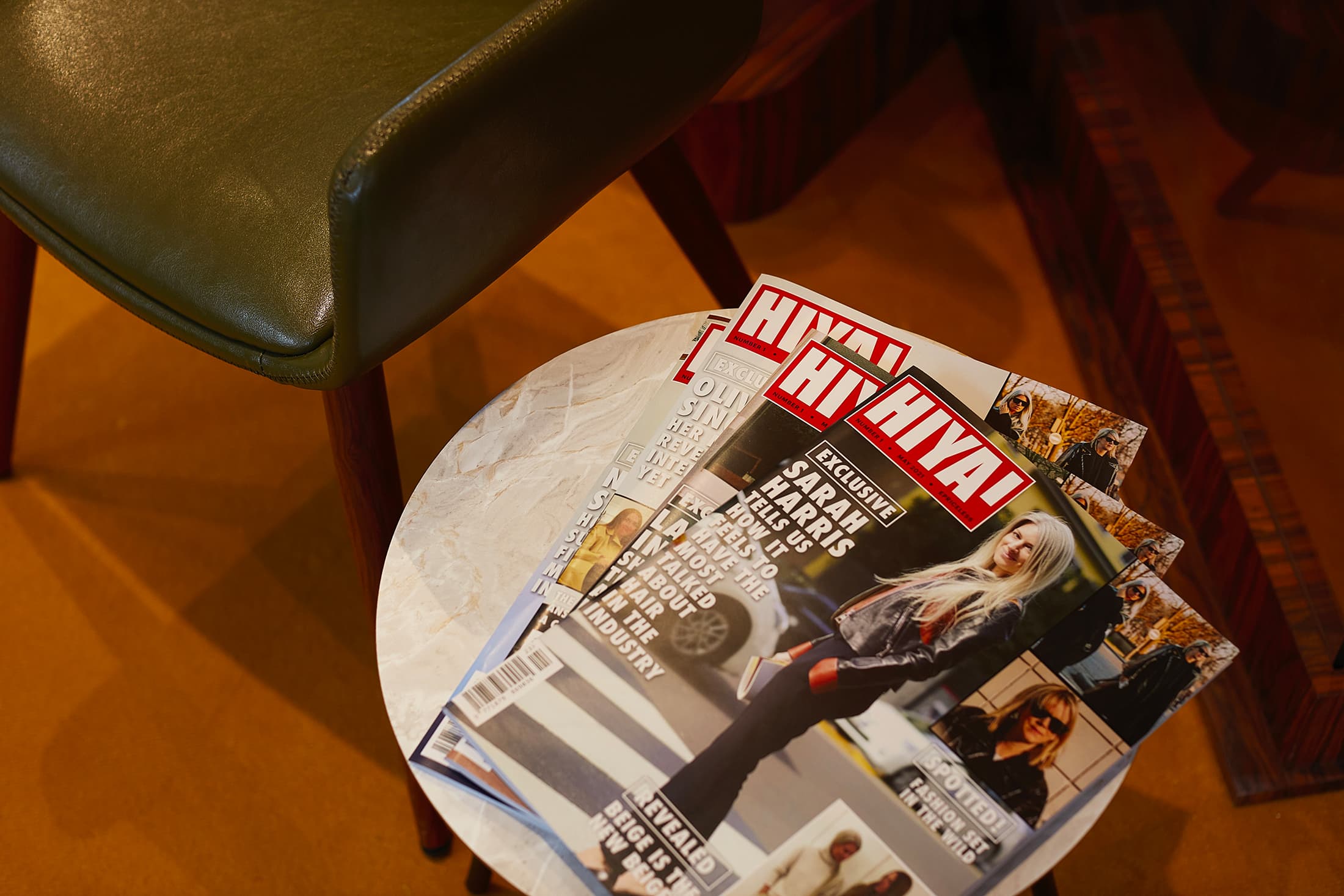 ---