---
Review of Balmain Fall 2022 Fashion Show
Peace, Protest and Protection
By Anna Ross
I very much wish that the message behind Balmain's Fall 2022 designs had not become so relevant, so timely,"

– Olivier Rousteing, Balmain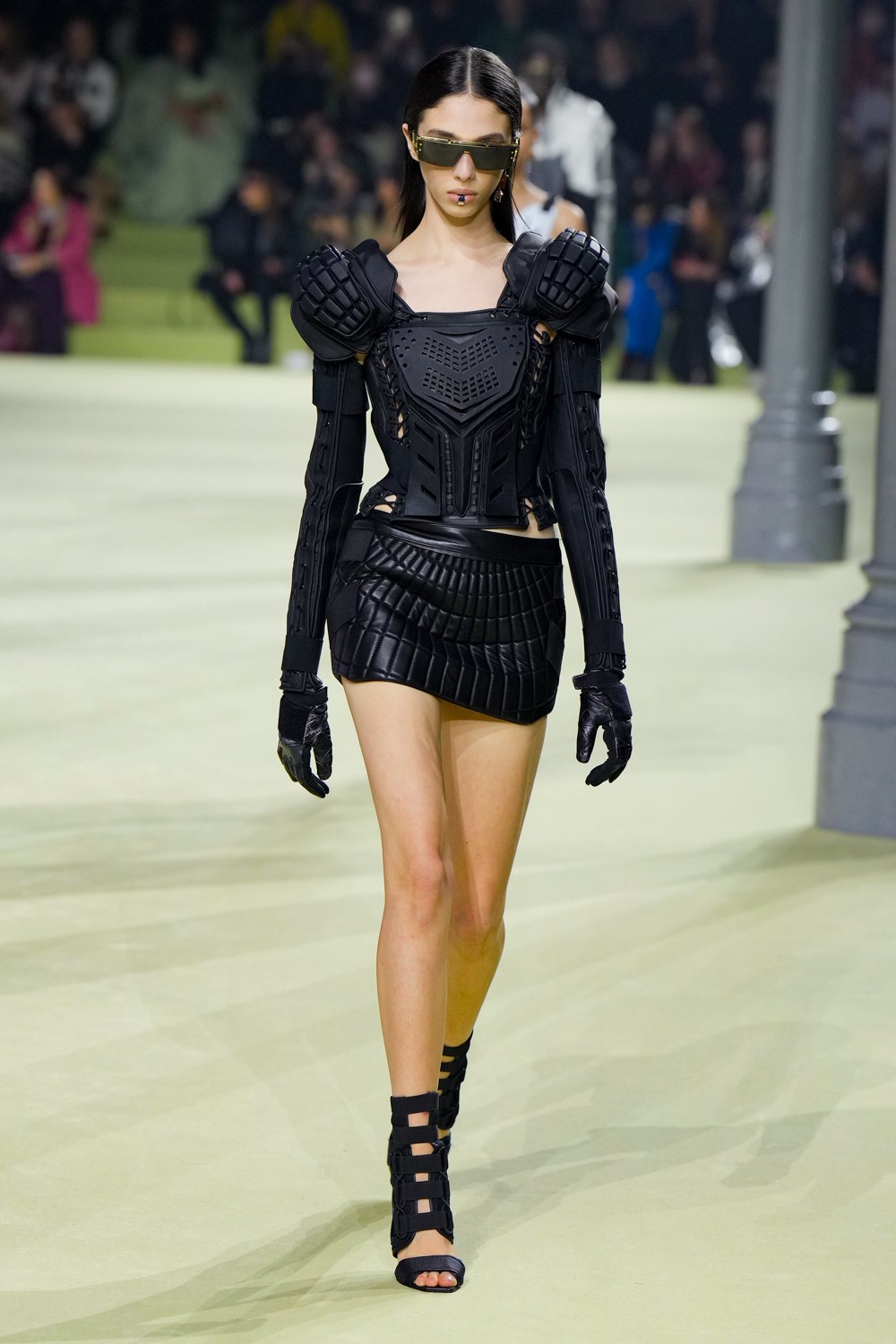 From these shownotes, one was left to ponder what was in store. An 'aha' moment came when a group of dancers swept the stage, marching towards one another, seemingly in conflict, before descending into a resounding kiss. There is peace, even in the storm.
Of course, Rousteing wouldn't have time to base his whole collection around the current clime. No designer could have, given the design cycle.
But today, his collection felt on the mark and deeply poignant, his 'Balmain Army' taking on a new meaning in their tropes of angelic white, soft pastels and pitch black, marching onwards in towering heels and all-out armor, tough yet tender – and ultimately, together.
In fact, the designer's inspiration came from his own experiences of negativity and neglect via social media, predominantly following a horrific burns accident that the designer suffered last year in his apartment in Paris that has scarred him for life, yet in turn, altered his perception of both the world and the people in it. From this, he has drawn the good, the bad and the ugly, denoting the outpouring of love from his followers alongside scornful judgment from rogue, torrid trolls.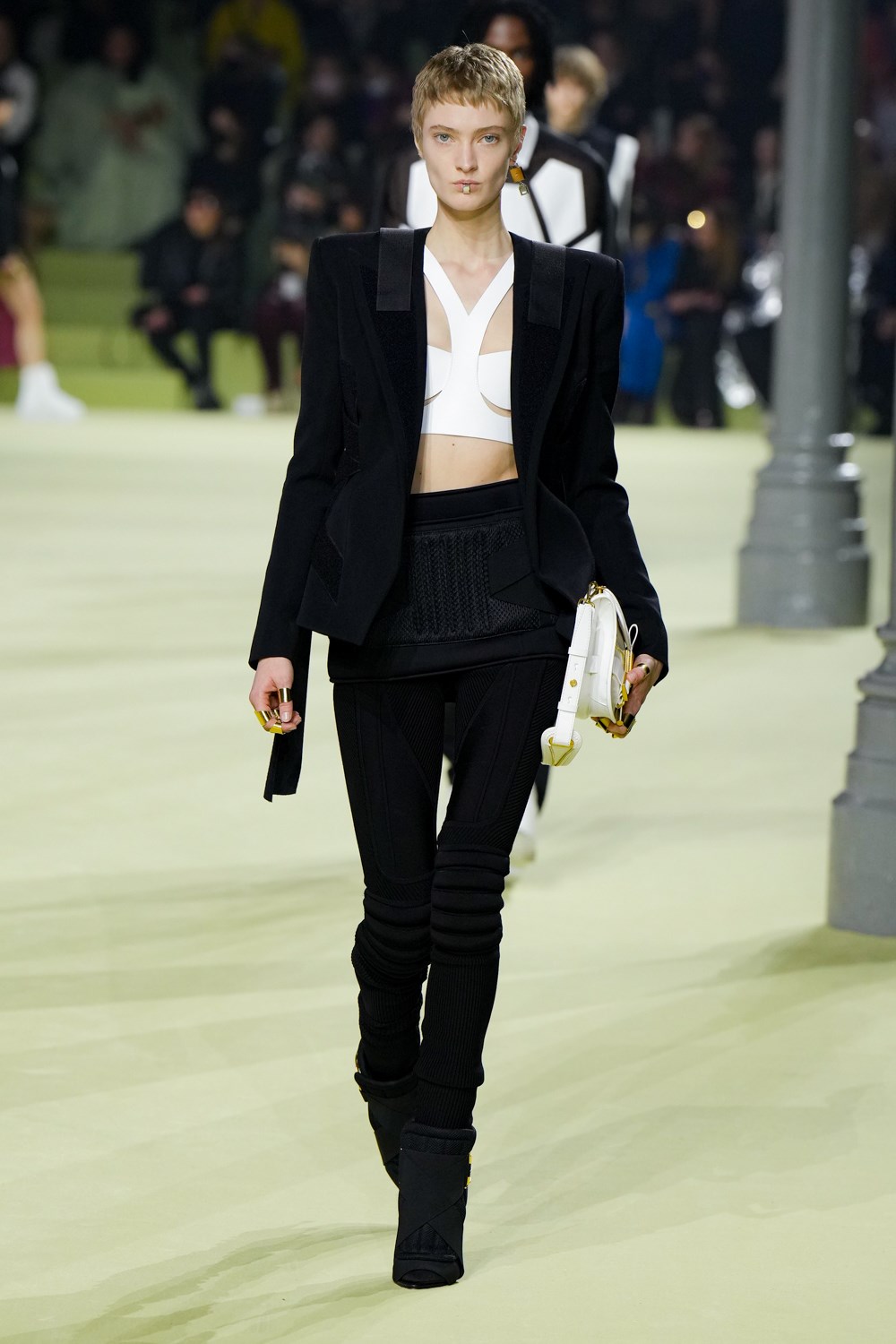 For anyone – let alone someone as renowned as Olivier – that kind of openness and vulnerability is enough to make anyone want to shield themselves away for a moment in time, and it could have been all too easy to present looks that cocooned and comforted. But no, Rousteing is a fighter, and his Balmain Army came out tonight (both in and outside the venue) ready to spread nothing but peace, truth and transparency. These very themes ran throughout the looks, which were plentiful, coming in at over 100 pieces. They say there's strength in numbers, but the collection could have done with editing down a touch, however as an audience member didn't find yourself bored, moreso compelled by the collection's evocative nuances (and moments of spectacular tailoring) throughout.
Armor was a central theme. It appeared beginning to end: some padded, others gilded, elsewhere contored around the body or molded in a silicone state. Often it was intricate and sometimes decorative, at times resembling velcro or padding, the kind you find yourself wrapped in following an accident resulting a trip to A+E. Relevant, given Rousteing's situation – even some of his sky-high platforms resembled leg braces. This look often veered into motocross-esque references: to-die-for were the high-waist leather pants (best paired with that nonchalant shirting) and intricacy of American-football esque dresses. Some stellar menswear looks featured bodyguards underneath suiting; tuxedos – but make it tough.
Elsewhere, some of the best versions of trompe l'oeil bodysuits I've seen in this little micro-trend that keeps popping up, showcased on both men and women, with one size-diverse look that showcased a glimmer of body-positivity in the Balmain army – more of this – please.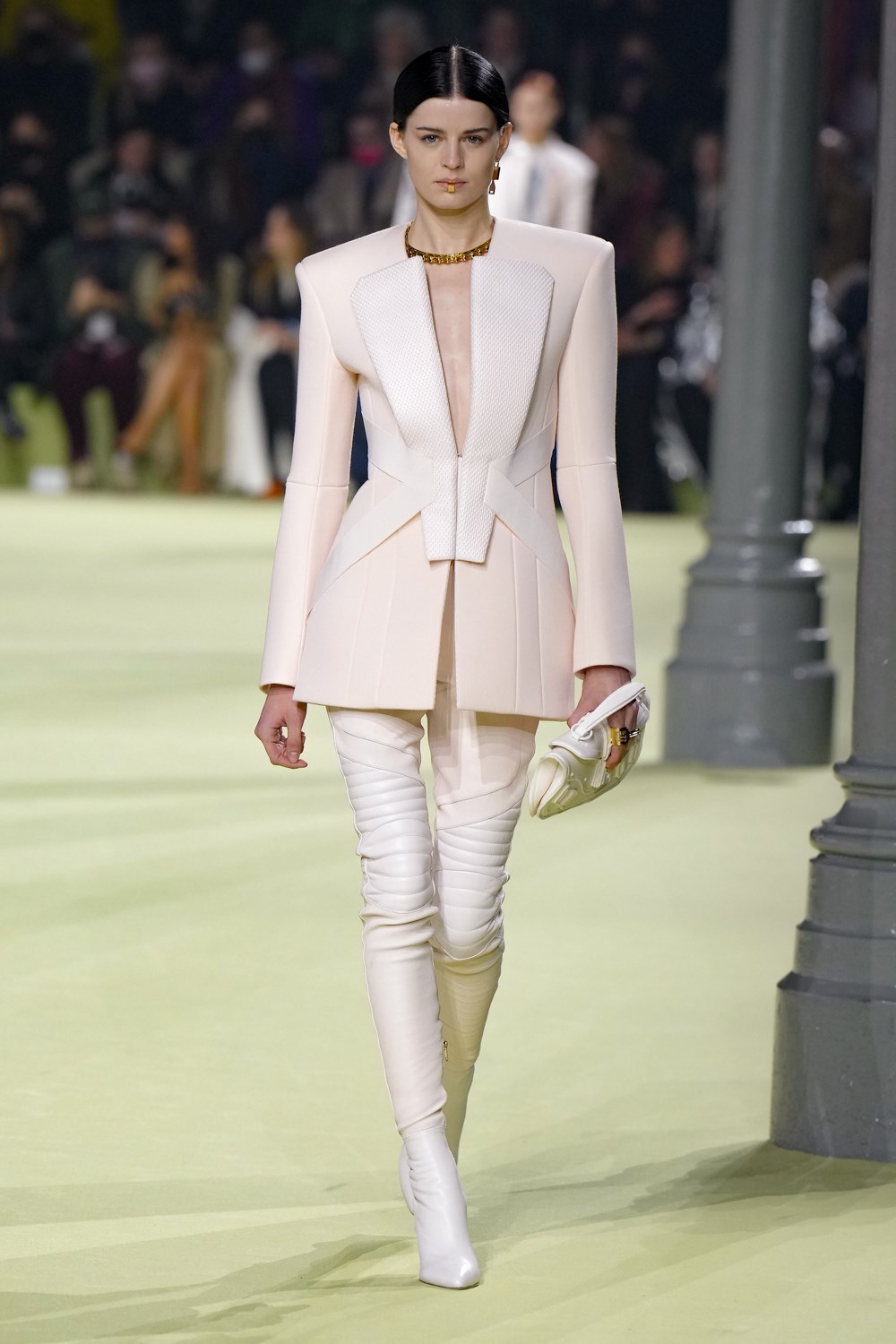 Rousteing's tailoring is something to behold. His suit jackets curved around the arm in almost skeletal-like forms; contouring at the waist; jutting at the shoulders. These were the strongest flex of the designer's skillset, no doubt. I could have done without the lace interval but appreciated the juxtaposing narrative or soft and structure throughout.
Post-show, our team spoke about the many designers drawing on corsetry and armor as a constant throughout the A/W22 shows. It would have felt obvious in 6 months given the circumstances. However, on reflection, the unanimous theme of protection seems fitting with a world recoiling or reverberating from trauma of all kinds.
Peace, protest and protection are central themes amongst our daily lives. We need clothes that reflect that.
---