---
Over the course of fashion month, Balmain launched their second store in Paris' at 374 rue Saint-Honoré. The two-story, 630-square-meter boutique (6,845 square feet) is Balmain's second store in the French capital and was developed by Creative Director Olivier Rousteing in partnership with the Studio AMV.
The design follows the codes developed by Rousteing and Studio AMV for Balmain's shop in Milan's Via Montenapoleone a year ago but with some tweaks for the houses native city.
Rousteing explained "Our brainstorming sessions took off from a consensus on the need to riff on classic Parisian residential architecture. From there, we ended up breaking down the codes of the hôtel particulier into ten particular elements, each of which was then associated with one key Balmain signature."
I wanted the retail experience to stress experience, intimacy and discovery, we divided the space into a series of connected, distinct rooms, each inspired by the look of a living space (library, garden, boudoir, etc.) and each dedicated to the display of one Balmain collection.

– Olivier Rousteing
"Since this design serves as a prototype for all future addresses, Olivier wanted the stress to be placed squarely on the second part of the house's official name: Balmain Paris," explained Anna Philippou of Studio AMV. "He made it clear to us that he wanted Balmain to transport Paris to all corners of the globe, to make each Balmain visitor feel the atmosphere of Paris, wherever they may be in the world. But he also ensured—at every step of the process—that this was done in a modern fresh way, that avoided all the expected clichés."
"In many ways, Balmain's new prototype echoes the guiding principles behind all of our Balmain collections," continues Rousteing. "While each runway offering acknowledges and salutes the house's singular heritage and impressive savoir-faire, my team and I always ensure that we are, above all, designing for how today's generation lives and dresses. That same historic-modern duality can be spotted in the new boutique interiors. The parquet, moldings, chandeliers, curtains and mirrors all make clear references to classic elements.

We're definitely not trying to create some sort of museum piece or dollhouse. Instead, we play with each historical reference, making sure that designs are modern as well as elegantly crafted from the finest materials. Our new addresses are always spaces where I know that the Balmain Army would definitely feel at home.

– Olivier Rousteing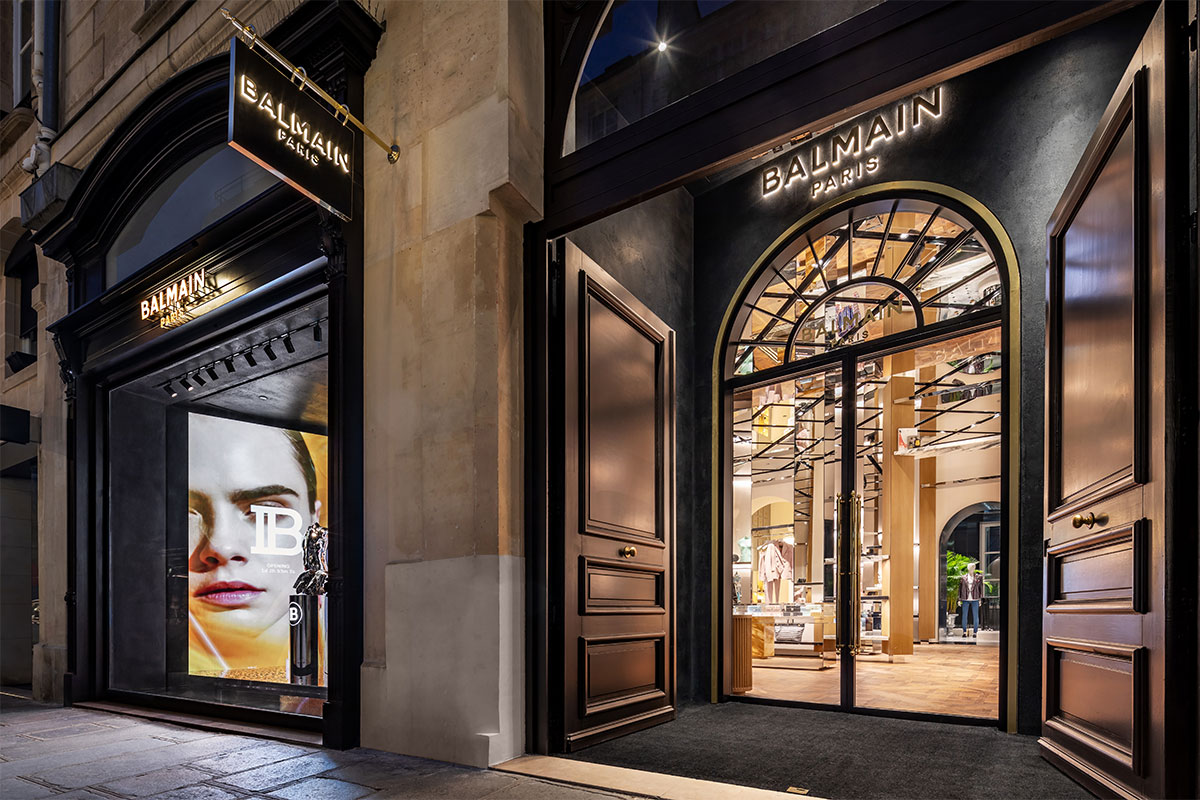 Address
374 rue Saint-Honoré, 75001 Paris
Architects
Studio AMV, Paris

Interior
636 square meters (403-square-meter selling area); Two floors are dedicated to sales, with one mezzanine and one basement area dedicated to inventory
Collections
All Balmain Women's, Men's & Accessories Collections
---