Review of Banana Republic Fall 2021 Ad Campaign by Photographer Richard Phibbs with Models Louise de Chevigny, Nya Gatbel, Cherokee Jack, and Alex Hermann
Banana Republic looks forward by returning to its roots with a new campaign for Fall 2021, shot by photographer Richard Phibbs.
When Banana Republic first launched out of San Francisco in 1978, the brand was the defining player of the then-trendy safari-chic movement. With a recognizable language of khakis and cargos, suede and leather, the brand provided a practical yet sophisticated wardrobe for imagination and adventure. Complete with retail stores featuring elephant tusks, Jeep Wranglers, and palm fronds, the aesthetic extended entirely throughout the brand's presence and identity.
After the buzz died down, preppy fashion came up, and the brand was acquired by Gap in 1983, Banana Republic pivoted towards accessible luxury that didn't have the same sense of character, but was competitive with mainstays like J. Crew and Ann Taylor. Now, the time seems ripe for the brand to return to the imagination and character that set it apart from the beginning.
The new campaign embodies the adventurous spirit of Safari and Sahara style, with some modern sensibility. Desert boots, cargo pants, and bomber hats exude the spirit of adventure, while the dunes and sky of the desert location suggest endless possibility. The warm neutral color scheme is energetically punctuated by brief flashes of red.
The campaign is a focused statement of the brand's revamped identity, but its strongest asset is the stage it sets for the future. With the reestablished values of adventure, imagination, and travel, Banana Republic has a strong opportunity to create brand communications and experiences that are characterized by storytelling. A reference to a forty-year-old brand identity won't do much to connect with contemporary consumers, but if Banana Republic can use its newly recognizable character to give people an optimistic and adventurous cosmopolitanism they can connect with, the move is sure to bring the brand forward into exciting new frontiers.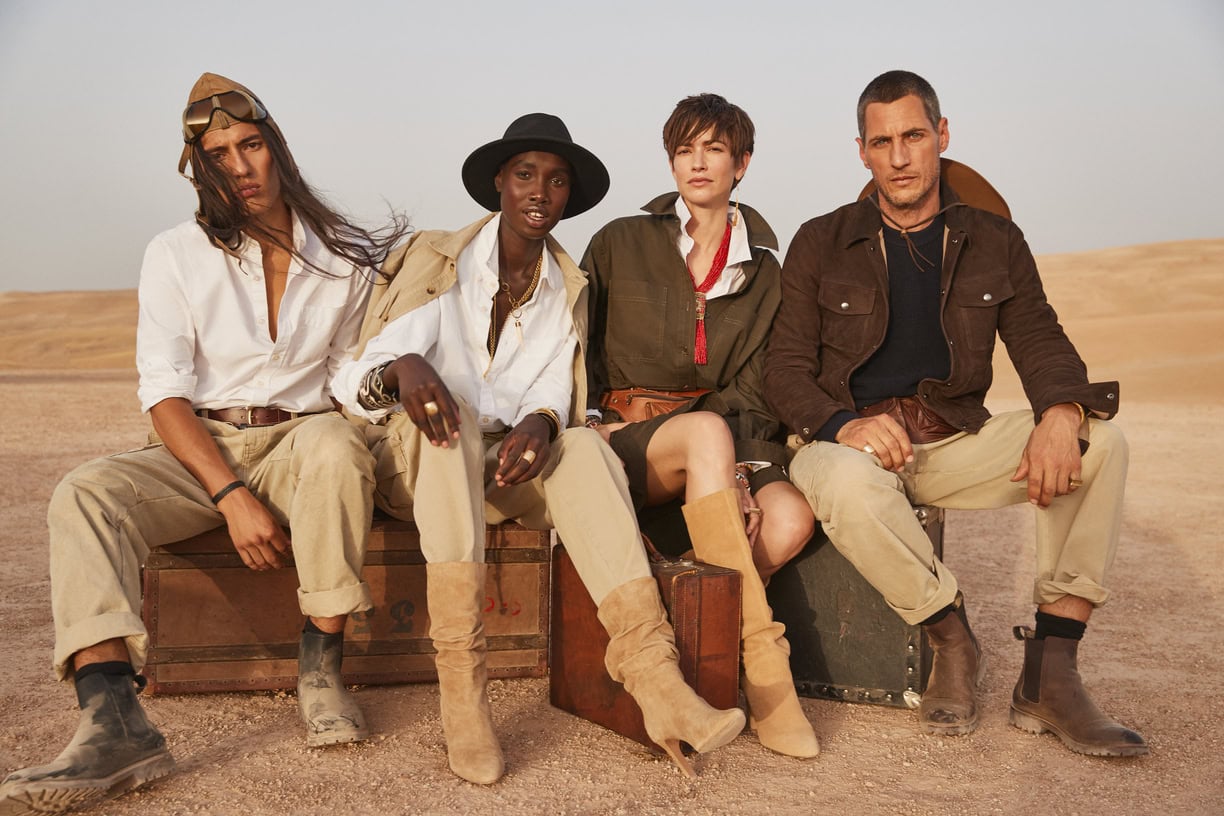 Photographer | Richard Phibbs
Models | Louise de Chevigny, Nya Gatbel, Cherokee Jack, & Alex Hermann

---