---
It only took a few years for Ben Gorham to turn BYREDO into an alluring, global, and distinctive brand. The Sweden-born maverick decided to venture into the rather competitive business of fragrances, and the brand was born in 2004. At that time, the concept of niche perfumery was taking off, but Gorham had bigger plans than just perfume. Understanding that consumption would change, and anticipating the growing importance of the digital sphere, he wanted to create an overall experience that would include different kinds of products, while keeping the same approach and sensibility. Packaging, advertising, design, and communication played an important part in his success, emphasizing the singularity of his brand. So did storytelling and the power of emotions. He sensed before many that certain luxury brands were losing their authenticity -causing consumer fatigue- and that there was room left to conquer for independent brands.
In many ways, Ben Gorham can be envisaged as a contemporary artisan, soring every object he touches with his own character and perspective. Some of his fragrance best-sellers happen to be extremely personal, such as "Bal d'Afrique", inspired by his father. Today, BYREDO includes beauty, candles, bags, fragrances, sneakers, and other collaborative lines and projects that are still original and unexpected. Gorham has involved artists, celebrities, artistic directors, and graphic designers to come up with new and unprecedented ideas. He also stretched the boundaries of traditional perfumery to involve contemporary culture. Early on, he understood that the worst thing for a brand was to rest on its laurels and rely on its former glories. He has therefore been exploring new avenues and directions for BYREDO over the past 14 years and challenged his own limitations in the process. That sense of great curiosity -coupled with a passion for his craft- makes him an engaging and exciting figure for The Impression to talk to.
BYREDO occupies an enviable place within the current fashion landscape. It is not a fashion brand per se, yet it is worshiped by industry insiders who seem to relate to Gorham's creations almost intuitively. What is specific about his process is an ongoing use of storytelling techniques and a range of contrasting emotions, something he's keen on stressing himself during our discussion. He may in fact be researching something specific for years, without ever finding what he's been looking for. BYREDO's approach is timeless in its essence and operates beyond the constraints of the fashion system, which has been obsessed with hype, buzz and faster consumption. The spread of COVID-19 has obviously challenged this, and the way we consume goods may become more discerning in the long term. Genuine and personal stories are also more likely to seduce us and push us to buy. We caught up with Ben Gorham to discuss what defines his complex creative process, which collaborations struck him the most and why he enjoys being at home surrounded with his loved ones.
Philippe Pourhashemi: How have you been Ben? Are you in Stockholm with your family?
Ben Gorham: Yes, I am. And I'm enjoying my new life.
Philippe Pourhashemi: Sounds great. Tell me more about that.
Ben Gorham: I got my life back. I got it back when I stopped traveling so much. I now get to be a father and a husband full-time, I work out and eat at regular hours. Some of the things that came out of this pandemic have also been positive ones.
Philippe Pourhashemi: How does it feel for you to have all this time now and a new life structure?
Ben Gorham: It is good, but also conflicting for me at times. I'm dealing with the current crisis and business not working out the way it should, so it's a conflicted thing to find some pleasure in your daily life, while having to tackle those kinds of situations.
Philippe Pourhashemi: BYREDO was founded in 2004, and you will celebrate your 15th anniversary next year. What does longevity mean for you?
Ben Gorham: I'm very happy with it. Since day one, longevity has been part of the process for me, and I wanted a brand that could stand the test of time. Considering how much the world has changed over the past decade, I feel we have done immense work to keep BYREDO relevant. Beyond these ideas of timelessness and longevity, it is crucial for a brand to keep evolving. I feel we've been able to do this quite well.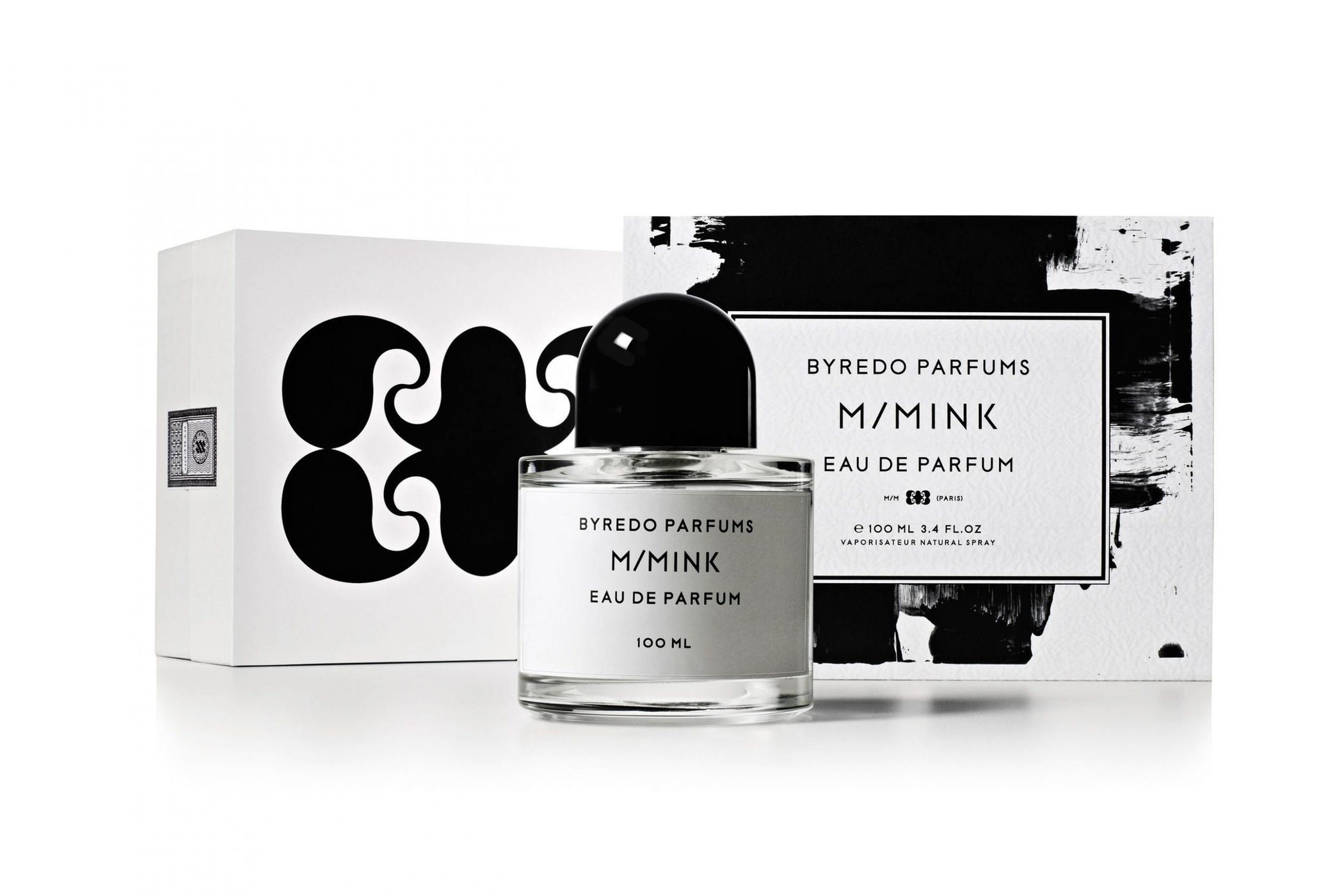 Philippe Pourhashemi: Talking about changes, which major transformations did you see within the fragrance industry?
Ben Gorham: Within the independent realm of the fragrance world, there has been a significant shift. You have a rising amount of independent brands now, along with the ones coming from the larger conglomerates. The competition is higher than ever, but I'm a person who strives within that mindset.
Philippe Pourhashemi: You do love a challenge, don't you?
Ben Gorham: I do. I enjoy the challenge of the big brands as an underdog, but I also try to play every game as well as I can, regardless of the competition.
Philippe Pourhashemi: Can you have a large global presence as a brand and still consider yourself as 'niche'?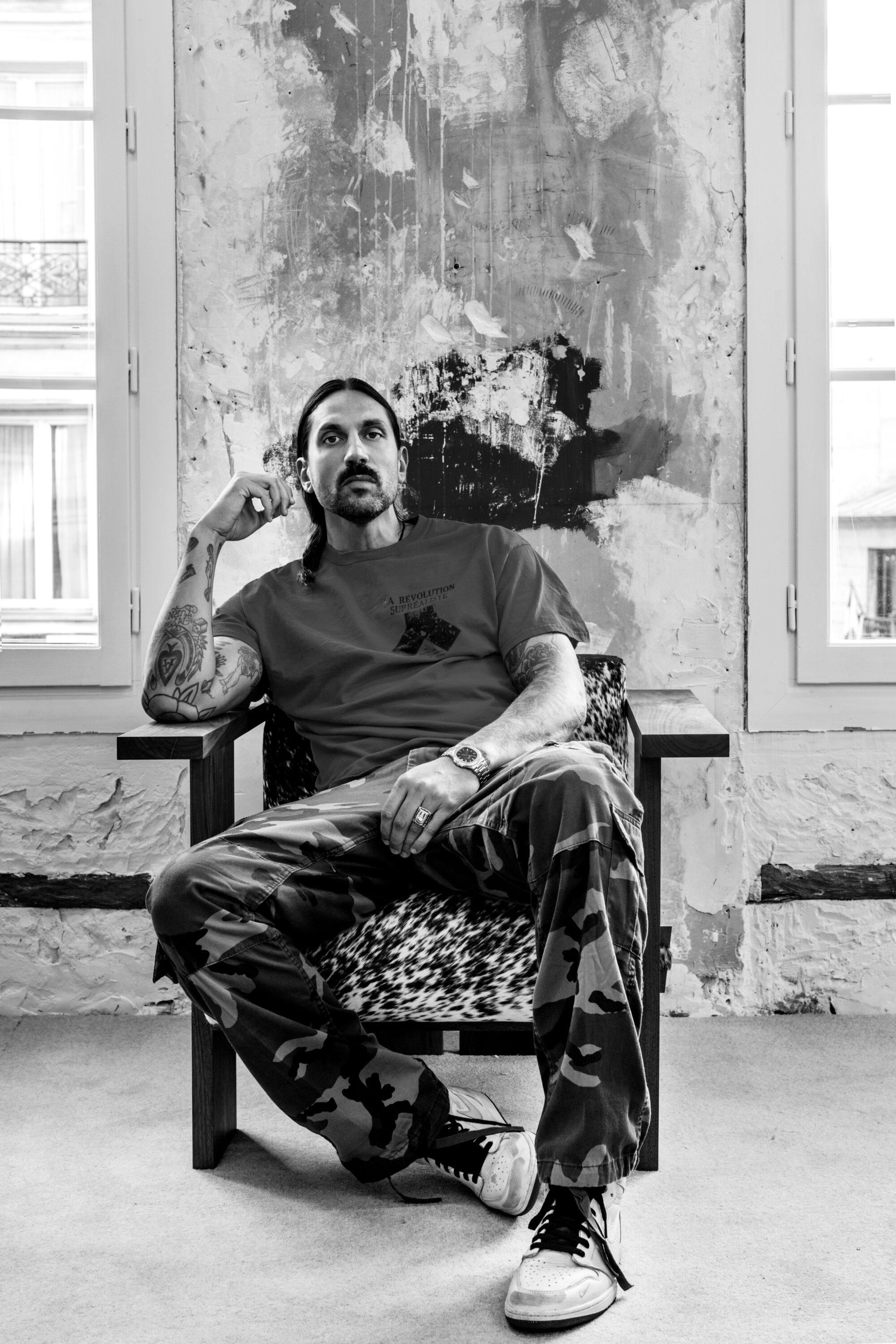 I think the word 'niche' is quite diffuse now. It used to mean you were a specialist or expert in your field launching an independent fragrance brand, but it also entailed that you only sold within certain places, so there was a limitation in terms of how many products and lines you could launch. I never really identified with that specific aspect, but I do like the idea of being an independent brand. Can I maintain the motion and the focus BYREDO, while enjoying a global position? I believe we can, and I think I always imagined that. The two can coexist for me, with some tension of course, but I believe they are able to live together.

– Ben Gorham
Philippe Pourhashemi: How would you describe the process behind a new fragrance? Is it constructed or purely instinctive?
Ben Gorham: It's still very instinctive and subjective for me. I think that works for us as a brand and we have built our following thanks to that. Sometimes we will have great commercial success with a fragrance, and sometimes a little bit less, but maintaining some clarity and a point of view is more important. Our process isn't based on numbers, studies, or trends.
Philippe Pourhashemi: Some movies can be met with critical acclaim, but they won't make any profits. Do you think some of your fragrances have not been understood?
Ben Gorham: It's a really good question. Timing is always an important variable when it comes to launching a fragrance. In a context of fast consumption, celebrity culture, digital and e-commerce, there's a level of volatility at play, which means the circumstances can create great successes, almost by chance, because the combination of these factors aligns. From my own perspective, some of the most creative work we've done -which has been the least successful commercially- remains the most important. Using your analogy of film, we have the ability to produce Hollywood blockbusters, as well as develop our indie category, and both ranges matter to us. That's the dynamic part of the brand: all these worlds can exist together in harmony.
Philippe Pourhashemi: Which fragrance took you the longest to develop?
Ben Gorham: I mean, there are projects that you can never finish, despite spending years on them. There were things I was exploring at some point in relation to human skin for example, which were very subtle and quite complex to work on. That's 5 or 6 years spent on a project that still isn't done… I'm not sure if these count, but within the current collection of fragrances, Bal d'Afrique took me a long time to complete. In my process, and in my learning curve, it was the first time that I left very tangible references behind and tried to create a perfume that was very much based on fiction and emotion. It went from translating very specific memories to translating the emotion of a memory communicated by my father. When you move into the abstract realm of perfume -and translating such complex things like emotions- it gets quite difficult and takes much longer.
Philippe Pourhashemi: How do you communicate with your perfumers?
Ben Gorham: It is hard, like marriage is hard, just like any relationship or friendship you have in your life. You need to find out if somebody can understand what you are trying to express. You can communicate through words to a certain degree. Images have been a great tool for me, but also music, film and objects. I'll use any means necessary to convey the right feeling to the perfumer.
Philippe Pourhashemi: Do you already have a vision in mind of all the bits and pieces?
Ben Gorham: I have a clear emotion in mind from the start. And I'm very research-oriented. I like to deep dive into different worlds. Things that are sparked by memory open-up new dimensions. You start exploring not only the memories but also the people shaping that story, the places and relationships inherent in them.
Philippe Pourhashemi: Sounds very Proustian to me, this idea of reconstruction.
Ben Gorham: I think it is. You keep jumping between past, present and future. That relation to time probably explains why I've been so obsessed with the idea of recreation.
Philippe Pourhashemi: BYREDO is famous for its unusual collaborations. Which ones were the most rewarding for you?
Ben Gorham: They're all very interesting to me, because they're about learning. That's always been the common goal behind collaborating. The collaborative work that I have done with M/M Paris has probably been the most significant. It's been such a learning curve for me and changed my approach to things.
M/M Paris | Inez & Vinoodh
Philippe Pourhashemi: What did you learn?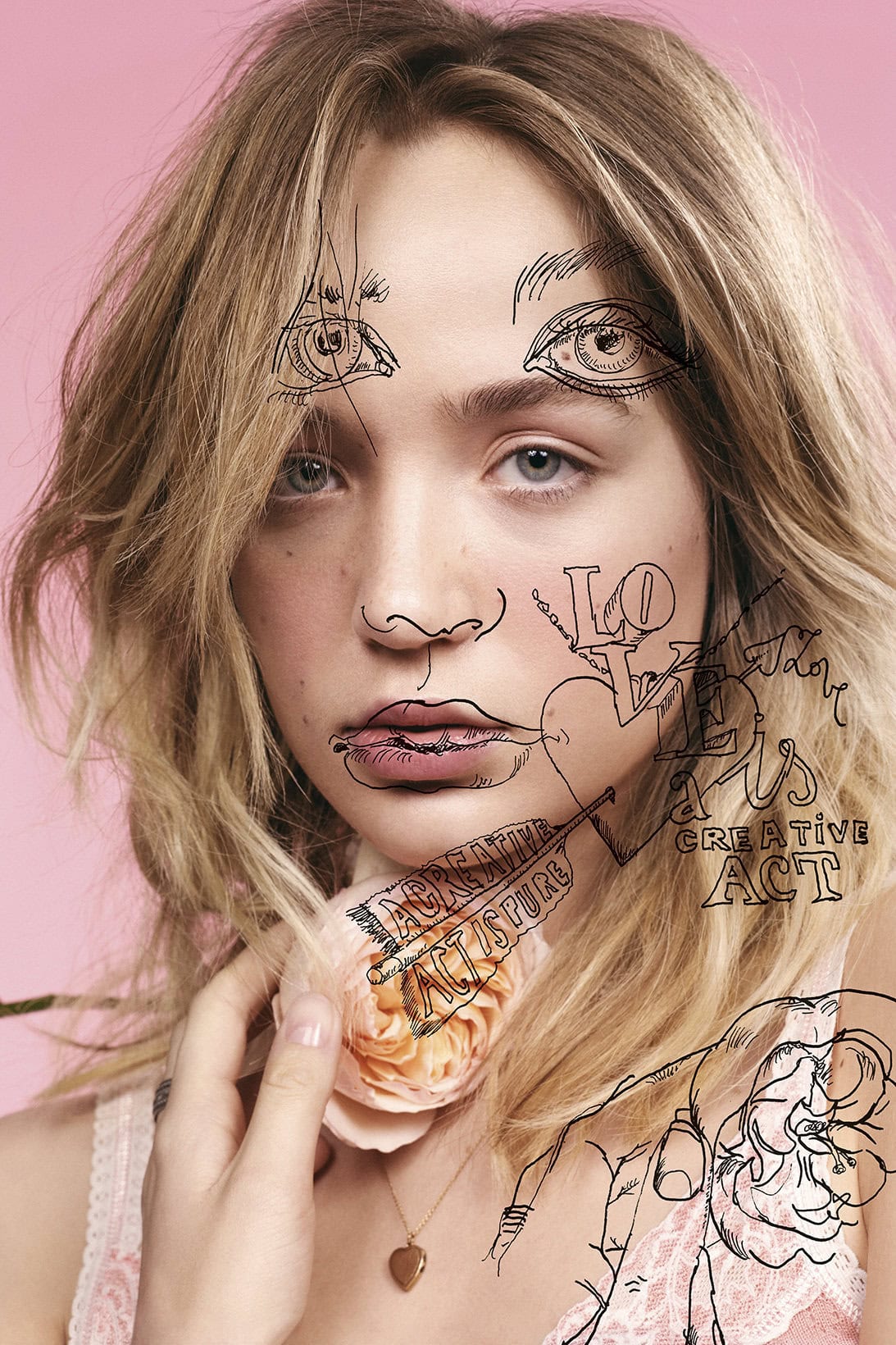 I've learned that it's extremely important to bring emotion with every new project, taking away this conventional idea of right or wrong, good or bad. They (M/M Paris) helped me create a system to find my own truth within these projects. It gave me confidence but helped me streamline my process, too. There's almost a mentoring kind of relationship with them, which I truly appreciate.

– Ben Gorham
(campaign image M/M Paris – BYREDO Lil Fleur)
Philippe Pourhashemi: It's funny, because I wanted to ask you if you had any mentors. Guess we can include them.
Ben Gorham: Yes, definitely. My wife has kept me very grounded and focused. I've been the recipient of many people's generosity over the years. I don't know if you are familiar with The Last Dance, which is a documentary portrait of Michael Jordan.
Philippe Pourhashemi: I haven't watched it yet.
Ben Gorham: It's a 10 part documentary about him, undoubtedly the greatest basketball player of all time. It's set in the 1990s, and I had been obsessed with him as a child until I turned 25. Watching this recently, I realized that he's directly responsible for what BYREDO is today, and that is quite amazing. There's an athlete's approach on work ethics and ongoing focus, competition and drive, which stands for BYREDO. It's so applicable to creative fields and what we have done. I found that quite interesting.
Philippe Pourhashemi: You launched your handbag line in 2017. How has that developed since then?
Ben Gorham: It's going great. There were obviously a lot of questions when I went into that direction for the brand. I'm very happy I did this. One of the fears I had with BYREDO was this idea of complacency and being stagnant. I wanted very much to shift the perception of what BYREDO was and challenge myself in a very physical design process, using elements of architecture, aesthetics, and volume. I also fell in love with leather, which has great relevance within today. It was about planting a seed and improving the line over a long period of time. It still takes up a large part of my mind, and I'm slowly trying to clarify the idea. I see these bags almost as separate identities, like a brand in themselves. It is about exploring emotions through leather, not making a fashion statement. There is a seasonal rhythm because press and customers are still attuned to that.
Philippe Pourhashemi: This might change though, and the idea of permanent collections could become more and more appealing.
Ben Gorham: Definitely. I embrace this idea. Making a bag of a certain quality does take a very long time indeed.
Philippe Pourhashemi: It is about time itself I guess. If you think about the luxury brands, some have existed for centuries and the bag is like the embodiment of that history. It's interesting to see if a brand like BYREDO can access that kind of language.
Ben Gorham: It's like writing a song I suppose. It's something you can release now, but it'd be great to be able to listen to it in 5 or 10 years' time. You can be the number one hit of today, that isn't a guarantee you will still be relevant in 20 years. Perhaps this relates to your very first question about longevity. I consider the 100-year horizon of every product and every project we do, and that process is very different from the world we're living in.
Philippe Pourhashemi: Why do independent brands still matter today?
Ben Gorham: They matter more than ever.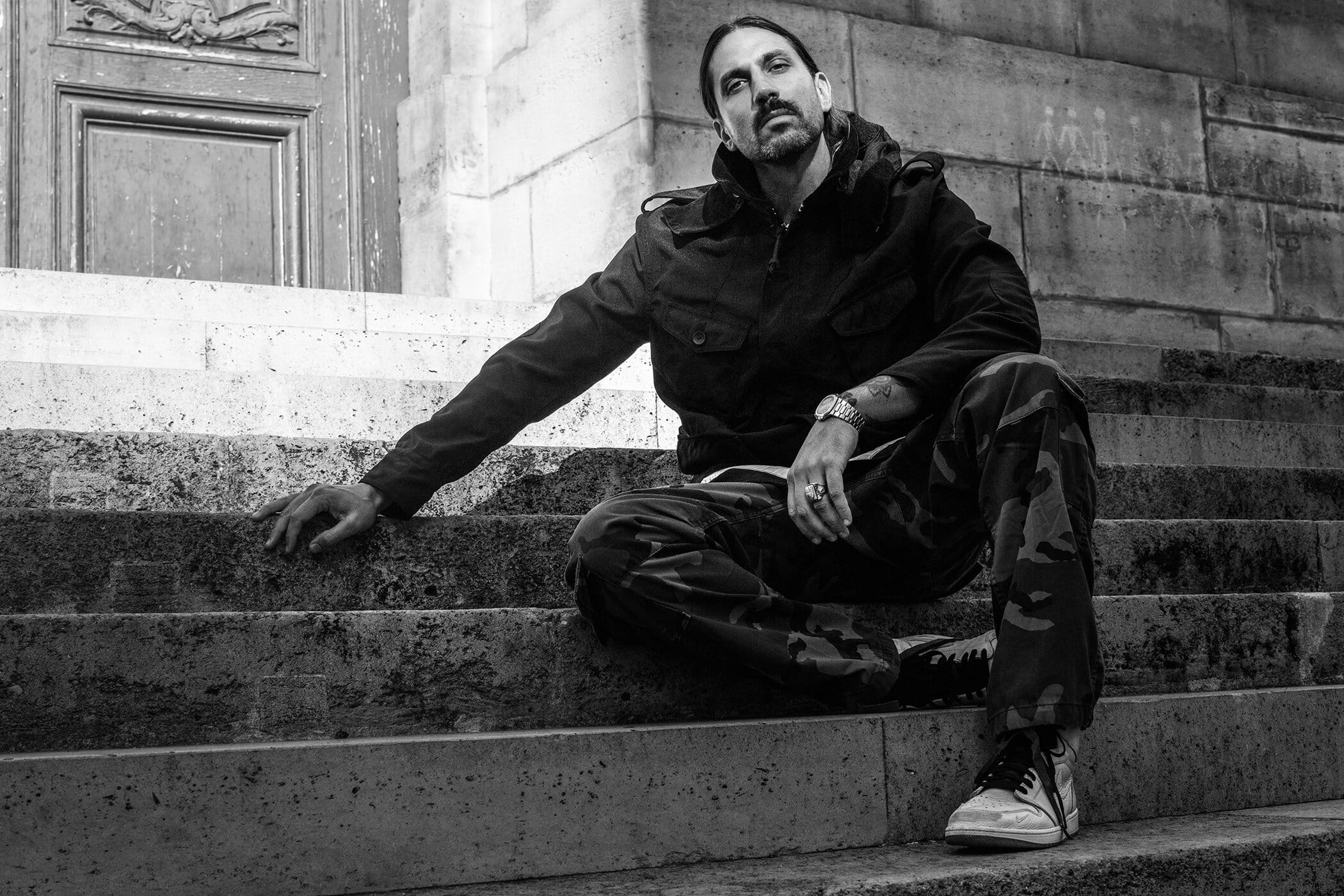 People want to buy products from the person who made or conceived them. It's a very human emotion, the way that we connect. There's so much available and there are so many product launches in the world. It's all accessible and digitally consumed, but the level of saturation we're experiencing now makes people question what is important. That single idea of being a product or an idea from the person who created it in the first place implies a higher level of exchange and emotional connections, which are increasingly important factors today.

– Ben Gorham
Philippe Pourhashemi: I think people are becoming much more selective with what they consume.
Ben Gorham: Yes.
Philippe Pourhashemi: Do you have any plans for the 15th anniversary of the brand?
Ben Gorham: I don't know. Perhaps because I'm past 40 now, I try not to celebrate birthdays (laughter). It's something I need to think about.
Philippe Pourhashemi: Does it feel like a short or long time? You have been on this whirlwind of travel, launches, products and encounters for many years.
Ben Gorham: If I go all the way back, it doesn't feel like 15 years at all. I mean, I was standing and making candles in my kitchen before all of this happened. It's a little bit like looking at my children and thinking "Oh God, how could they have grown so much!" I think I have that same kind of relationship to BYREDO. I think what is interesting maybe is that, at certain times, you do take a step back and look at the work that has been done. You try to understand the journey. If you can do that, it will inform the next chapter somehow. I guess the anniversary will be a great opportunity to do this and examine the body of work, so to speak.
Portrait Photo | Matthieu Salvaing
---