---
Take a look at the annual reports of any major luxury behemoth and it quickly becomes apparent that many fashion houses are a misnomer as the revenue is driven from the accessory side of the business. Fall saw its most risky and risque campaign come from the accessory arena via designer Glenn Martens' Y/Project digital short built from 3D renderings of the designer's accessories, which is a highlight of the season.
Here Chief Impressionist Kenneth Richard discusses a few of the key campaigns that make up the Best Fashion Accessories Ad Campaigns of Fall 2019.
Acne Studios
Despite having gained quite a bit of success on the runway, Acne Studios Creative Director Jonny Johansson has always embraced the everyday of reality with equal enthusiasm. To drive that point home, the designer teamed with photographer Richard Burbridge on the firm's latest campaign, focused on people.
Acne Studios is about both fashion and reality. I'm proud that we've always designed new fashion that people want to wear. I love it when I see people around the world carrying our Musubi bag. Every time I see the bag now, I think about real people. I wanted to bring this feeling to our new campaign that features the Musubi, by bringing together some real people who excite us, and who tell their stories through the campaign.

– Jonny Johansson, Creative Director of Acne Studios
The campaign features seven young talents: Xie Chaoyu (model), Delfin Finley (artist), Parker Kit Hill (dancer), Dylan Jagger Lee (musician), Esther McGregor (model), Ajani Russell (artist) and Sara Skinner Hiromi (model), each lensed in black and white as well as explaining in short film what their perfect day is.
The short films have an artist hand that was wise of Johansson and Burbridge to leverage. Rather than watch the talents explain in front of the camera what their perfect day is, they record that separately, using it as a voice-over while the models are filmed in silence. The result is short art films that draw the viewer into studying the character of the subjects while listening to their perfect day.
The juxtaposing of the naturalistic black and white portraiture with the polished colorful range of still accessories is stunning. Johansson embraces the gender-neutral attitude of today's youth in positioning men opposite accessories that traditionally have been thought of as female-specific.
The campaign makes the best of both worlds and balances them them so well that it is no wonder that Acne Studios has become a bridge from street to luxury. This is one case where being of two minds is poetically comforting.
Acne Studios Creative Director | Jonny Johansson
Photographer/Director | Richard Burbridge
Models | Xie Chaoyu, Delfin Finley, Parker Kit Hill, Dylan Jagger Lee, Esther McGregor, Ajani Russell and Sara Skinner Hiromi
Casting Directors | Piergiorgio Del Moro & Samuel Ellis Scheinman
---
Alan Crocetti
The human form is augmented by Alan Crocetti's jewelry in his new 'Erotica' campaign.
The campaign from the London-based jewelry house, shot by photographer Pierre Deusschere, is incredibly sensual. Skin shines, muscles contort and bones protrude, emphasizing the organic geometry of the human body and evoking an awareness of the sensation of one's own body. The lone prop from the shoot, a slime that gushes forth from the models' hands, furthers this exploration of natural forms with its amorphous shape as well as lending additional tactility to the photographs. Alan Crocetti's jewelry is at home in these images, where it seems more an extension of the body than mere adornment. Earrings nestle seamlessly into ears and rings cup knuckles with such ease it renders their unconventional forms as familiar as the nude bodies upon which they are shown.
Pierre Deusschere shoots the models so as to create little distinction between their bodies, frequently having the two pose intertwined. Even when the models are separated, they sometimes assume the same pose with the same piece of jewelry as their counterpart does in a different photograph. The ambiguity between their bodies is so strong it is difficult to distinguish which model is the subject of the campaign's close up shots. Such androgyny is reflective of Alan Crocetti's jewelry, whose clean, organic forms complement masculine and feminine bodies with equal ease. This fact is well known to the designer, who chooses not to categorize his creations by gender.
The gorgeous, sensual images of 'Erotica' result from the seamless merging of Alan Crocetti's jewelry with the organic forms of the male and female body.

Alan Crocetti Creative Director | Alan Crocetti
Photographer | Pierre Debusschere
Models | Jess Cole & Georges Labbat
Hair | Benjamin David
Makeup | Marlien Echelpoels
Casting | Chloe Rosolek Casting
Producer | Rebecca Cuglietta
Location | 254Forest, Brussels
---
Gentle Monster
Kids doesn't often land in our best-ofs, but Gentle Monster's expression of infinite possibilities and dreams through their first Kids Collection really caught our eye. Inspired by self-made youth creators along with all kids committed to achieving their dreams, Gentle Monster shrank six of their signature designs to support kids express their unique individuality.
Instagram digital sensation, Belgian photographer Luca Mastroianni, recognizes that digital art has no limit. Pushing with every image, photography has become a vehicle of discovery and experimentation via his otherworldly backdrops. The result is a world we can fall into – and one of the best accessory campaigns of the season for kids and adults alike.
Creative Director/Photographer | Luca Mastroianni
Talent | Coco
---
Gucci – Grip
Gucci's Grip watch become the focus of an Instagram collaborative project harnessing the spirit of skateboarding in a social media campaign that cast skateboarders across the globe.
The genuinely inclusive, diverse, radical, and often genderless skateboarding community is the perfect haven for Creative Director Alessandro Michele to roll into to showcase the genderless Grip watch.
To showcase the collection, Alessandro Michele invited a number of skateboarders and artists from different cities around the world to participate in a project and share their personal stories. The result was a visual exploration of the global skateboarding and related communities, with participants of different ages and genders. Skaters and their friends were documented and pictured skating and hanging out. The end result included images, artworks, and videos that together form a joyful portrait of action, creativity, inclusion, sociability, and subculture. The cities featured were London, Paris, Rome, Tokyo, New York, Shanghai, and Seoul.
Among the collaborators is the queer skateboarding project Unity, a Californian group founded by artist Jeffrey Cheung and Gabriel Ramirez in 2017. Unity hosts monthly skate gatherings around the world and the images will focus on its Paris skate days. Additionally, Clémentine Schneidermann, the French photographer based in Wales, will document a cast of skaters in typical London scenes. Meanwhile, New York-based skater Tyler Blue Golden will be the focus of a shooting by LA-based photographer Noah Dillon. Other projects featured couples of China's young skaters and a group of skater girls from Seoul, documented with their families. In Tokyo, Japanese skater Shinpei Ueno was portrayed with his local community of artists and musicians. Lastly, in Rome, photographer Niccolò Berretta documented a cast of skaters including Orlando Miani, the artist and skater who starred in the Gucci Cruise 2020 advertising campaign.
To bring the digital campaign to the real world, Gucci unveiled a new installment of its ArtWall project, showcasing the Grip watch, just off East London's famous Brick Lane. The wall featured an illustration by British artist, designer and art director Kieron Livingstone, who mixed graphic elements with distinctive house codes in his whimsical style. Kieron is the lead designer of multi-platform creative collective Project Zoltar, which has been an expression of the British punk-rock street scene for over a decade.
Gucci Grip and the spirit of skateboarding were also the focus of the third game added to Gucci Arcade, the new section of the Gucci App that allows users to play with house characters, inspired by vintage video games.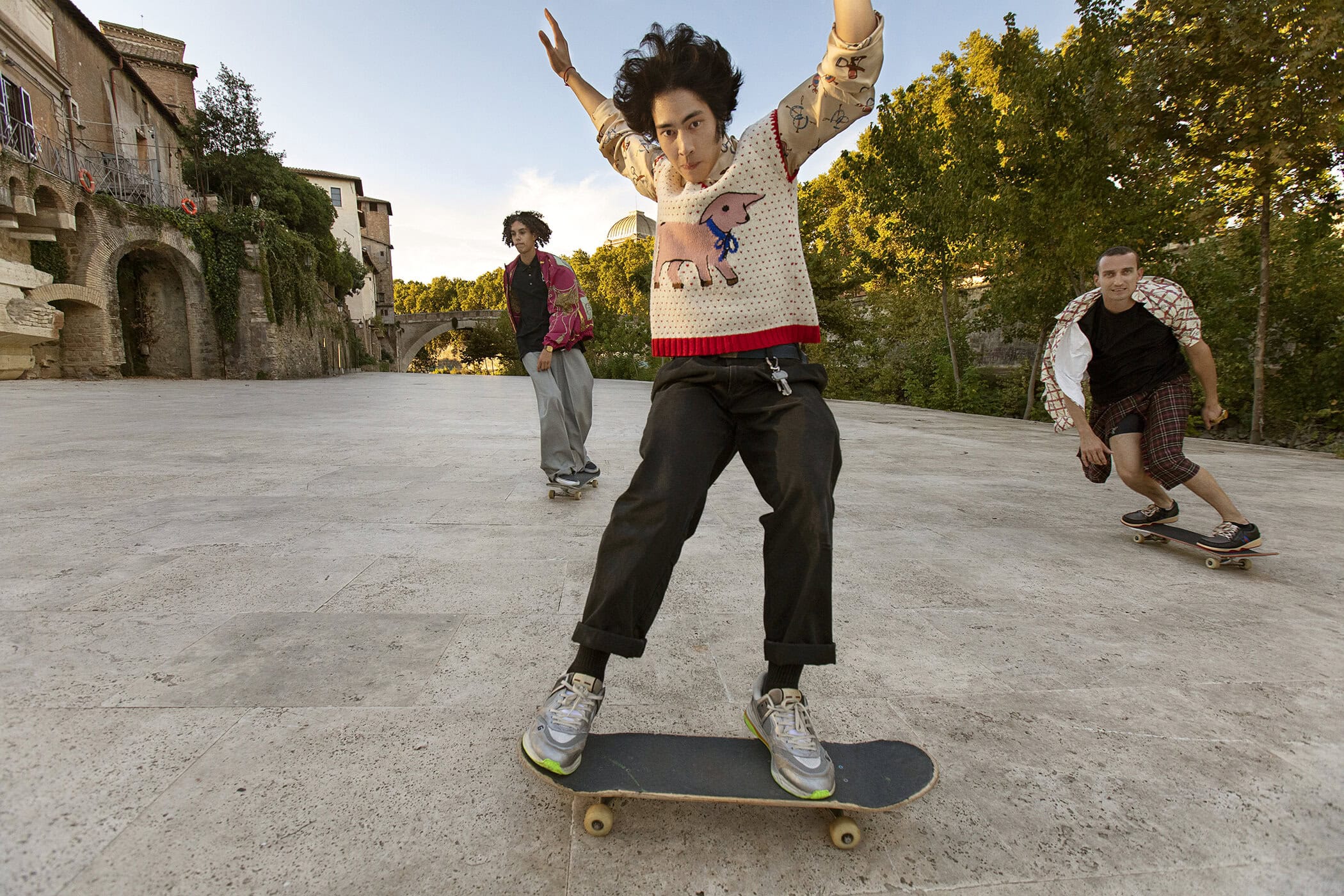 ---
Gucci – GG Marmont
Gucci Creative Director Alessandro Michele reminds the world the power of the Renaissance in the house's digitally-driven campaign to promote the GG Marmont collection. For Gucci, fine art is not just a thing of the past, but a living and extensive element of the past, present, and future.
Lensed by Julia Hetta, the social ad campaign revisits the 17th-century roots to revitalize their 21st-century brand. With new horizons approaching in their company, Gucci is taking a step back from mainstream models and turning their collection to fine art— just as the painters of the Renaissance turned away from Baroque style to revolutionize art. Here, Michele and Hetta are utilizing the finest materials that construct their handbags as a straight correlation to the finest art of our world so far. Gucci has mirrored the Dutch still-life paintings to such perfection that the campaign's images even fall in line with some of the primary rules of diagonals, thirds, and alignment as seen in the original Dutch still-lifes.
This GG Marmont campaign proves the visuals of the 17th-century art revolution are applicable and influential even today. The dramatized lighting, utilization of food and props, and the display of achievement is not lost in society today— and we have the 17th century to thank for it. Just as the still-life paintings were a sign of Dutch exuberance, the Double "G" has become a notion with the same connotations. Alessandro Michele, Julia Hetta, and the Gucci team have proved that history never truly dies and, in fact, still has the power to revolutionize the world as we know it. Whether it is the 17th or 21st century, a renaissance is dawning and Gucci is leading the forefront.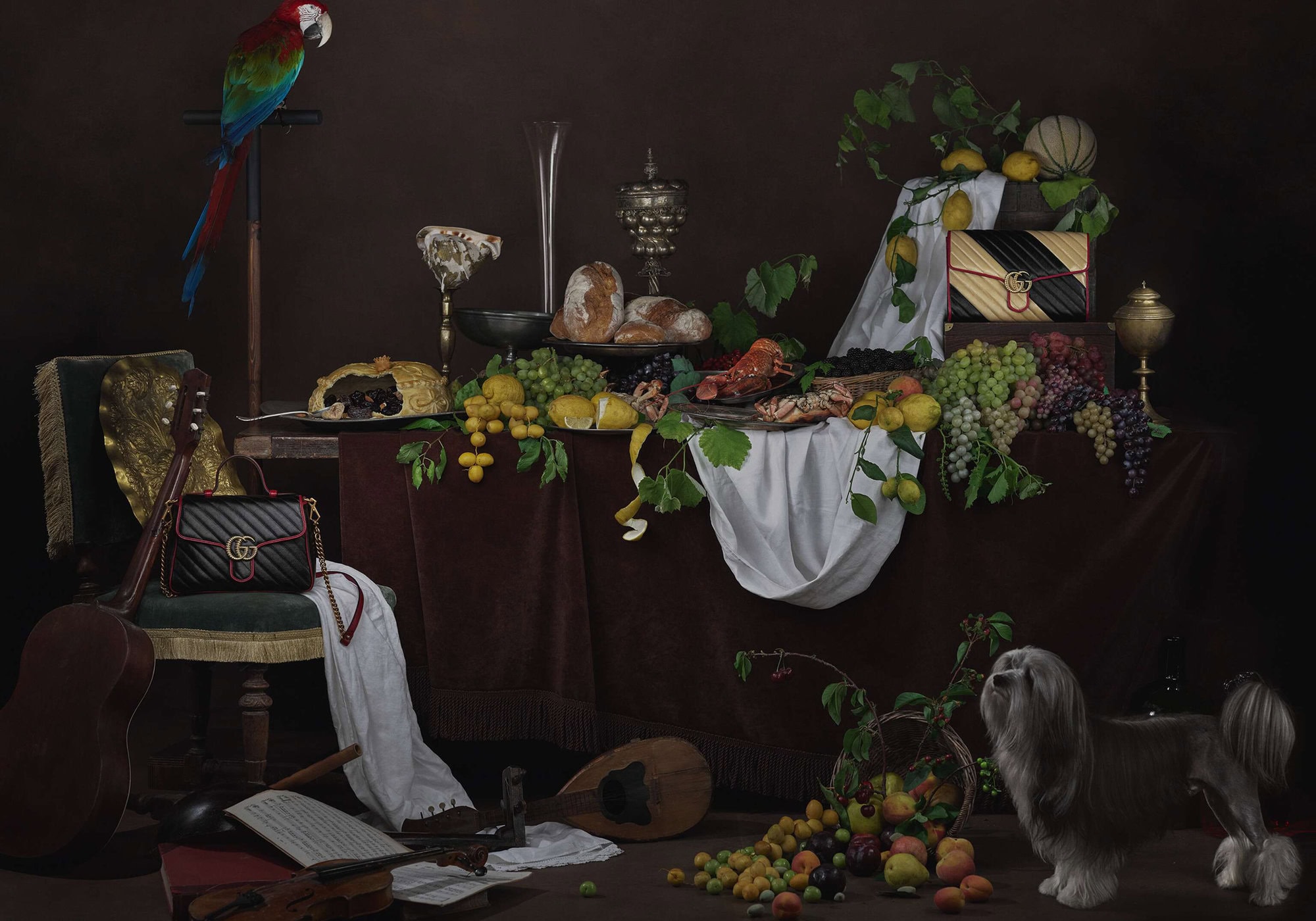 Gucci Creative Director | Alessandro Michele
Photographer | Julia Hetta
---
Gucci – Timepieces
With the handshake becoming a charged interaction in the current political climate, its origin as a sign of good faith has been somewhat obscured. The new campaign launched for Gucci Timepieces by Creative Director Alessandro Michele seeks to buck this trend and reclaim the handshake as a symbol of unity between individuals. Although the campaign centers around a bold politician on the campaign trail, its focus lies not on this character in isolation, but rather on the relation of the crowd of supporters whose hands he clasps. The group varies widely in age, gender, and race, but the campaign unites all in a spirit of exuberance.
Photographer/artist Ari Marcopoulos does a brilliant job to make clear the unity of this diverse group in both his photography and videography. In his photographs of the politician shaking hands with individual supporters, he fills the background with other hopeful members of the crowd, creating a visual closeness which forces the viewer to recognize the crowd not as a collection of individuals but as one body. The video contains an exuberance seen in Marcopoulos's other videos, with the camera frequently cutting and moving from the politician to his supporters to their hands locked in an embrace. This technique serves to again blur the visual distinction between individuals and thus symbolically unite them.
The campaign features two Gucci watches, new versions of the G-Timeless automatic and the Grip, and its spirit of inclusivity is well represented in the designs of both. The G-Timeless automatic has a classic shape inspired by mid-20th century timepieces and yet stays cool through incorporating sleek stone dials and indexes in the distinctive Gucci bee motif. The Grip was designed by Alessandro Michele without thought to age or gender, and features a rotating dial covered by an engraved case with three holes for the hour, minute, and date to show through. While this design is unique, its simplicity renders it easily wearable. Both of these timepieces can be worn by an array of people as varied as those depicted in the new advertising campaign, showing that Gucci is adopting the handshake, a gesture of inclusivity, as not just the star of its new advertising campaign but an integral part of the brand's design philosophy.
Gucci Creative Director | Alessandro Michele
Photographer/Director | Ari Marcopoulos
Music | Music: 'MY WAY' Sex Pistols
(C. Francois / P. Anka /J. Revaux / G. Thibaut)
© Warner Chappell Music France Sa / Soc Jeune Musique No 1
Su licenza di Warner Chappell Music Italiana S.r.l.
(p) Universal Music Italia Srl
/Café Concerto International srl
---
Nike X Toiletpaper
Sneaker-heads and art buffs should be very excited about Nike's latest collaboration. The athletic powerhouse has enlisted the help of Toiletpaper, an artist's magazine and collective, to release the new Air Max 270 React.
Maurizio Cattelan and Pierpaolo Ferrari founded Toiletpaper in 2010—Maurizio as a leading figure in international contemporary art, and Pierpaolo as a photographer and artistic director. They've since created a magazine that is quirky and imaginative, provocative and unsettling, and incredibly humorous.
Both Nike and Toiletpaper have roles in popular culture. Their audiences are not far from one another. A collaboration of this sort makes perfect sense, and Toiletpaper gives Nike the artistic edge we didn't know they needed.
That edge is in Milan, right where the campaign for the new Air Max 270 React is set. The merge of the Air Unit of the Nike 270 and the Nike React has created a geometric shoe that has the potential to exist in the world of art and design. A playhouse, that is Milan.
The new Air Max 270 React poses in front of a cathedral, strapped to a banana. A pigeon rests within the shoe, a seed dangling from its beak. Keychains, tokens from a visit to Milan, swing from the shoe's bottom. I love Milano. Toiletpaper has framed the new Air Max 270 React in a visually captivating campaign that breathes charm and quirk into Nike. Who said athletes can't have fun?

Agency | Toiletpaper
Creative Directors | Maurizio Cattelan & Pierpaolo Ferrari
---
Stuart Weitzman
American footwear house Stuart Weitzman and ad agency General Idea has been playing the long game this season, teasing out short bursts of a tiered campaign rather than unveiling it all at once. Outside of the core talent of Kendall Jenner and thread of consistent art direction, the tie that binds the three-parter #SW campaign together is one of empowerment.
Scene I: #SWDANCE debuted in early September and underscored the art of movement, portraying the energy and resilience of women as Kendall joined a dance troupe. Here in follow-up scenes, the campaign unfolds while introducing dancer extraordinaire Lil Buck.
Scene II: #SWSTRENGTH took this message of empowerment a step further by highlighting how both women and men feel confident to dance through any challenge using a rope in a tug-of-war metaphor. For the campaign finale, Scene III: #SWSUPERWOMEN reinforces both concepts while expressing how SW boots equip those who wear them to be the heroes of their own lives, conquering daily battles fearlessly and flawlessly.
The power of women is a thread that runs throughout the campaign by photographer and director Charlotte Wales. Credit goes to choreographer Danielle Polanco, who helped to bring the campaign a twist and kick. In addition, rapper DDG's hit "Run It Up (Feat. YBN Nahmir)" is the featured soundtrack across the campaign, a song he says he wrote to empower and support women.
The campaign is a positive example of maintaining a sense of sexuality in today's politically correct climate while championing empowerment, which will ultimately lead Stuart Weitzman to the one thing that matters beyond providing supportive heeled shoes for strong women: strong sales.
Agency | General Idea
Creative Director | Semjon Doenhoff
Photographer/Director | Charlotte Wales
Models | Kendall Jenner, Yang Mi
Stylist | Clare Richardson
Music | Run It Up by DDG (featuring YBN Nahmir, G Herbo, Blac Youngsta)
---
Tom Ford

Meet excellence. Tom Ford hosts a dinner party of formalities and luxury in the fall 2019 ad campaign shot and directed by Steven Klein.
Glamour gushes from the images of the campaign, shot in what seems to be a living room. This home setting is juxtaposed by the luxurious looks and clothing styled by Carine Roitfeld. Purposing a home as a gathering of looks from the models creates an inviting and familiar "dinner party" nostalgia for the consumer, as they can now envision their own Tom Ford-styled gatherings.
The theme was written on Ford's Instagram as Model Anok Yai is "introduced" to her fellow talents in the campaign. This bridging of people is a key element in what fashion does: inspire, exhibit, and connect. Which certainly plays into Ford's new role as leader of the CFDA.
An exhibition of newly made connections brings together people in the name and label of the Tom Ford brand in his 2019 fall campaign. A beautiful capturing of elegant silhouettes in a laid back environment has us all waiting to meet the new collection in our own living rooms.
Tom Ford Creative Director | Tom Ford
Agency | K. Studio
Creative Director | Steven Klein
Photographer/Director | Steven Klein
Models | Alexandre Cunha, Anok Yai, Erik van Gils, Mariacarla Boscono
Stylist | Carine Roitfeld
Hair | Garren
Makeup | Diane Kendal
---
Y/Project
Part of being human is wanting not to be. The infinity of the soul is frustrated by the necessary finitude of the world in which it finds itself, the need to be in a certain body, in a certain place, in a certain time. These limitations are vulgar to the spirit that knows itself to be eternal and everywhere. Longing to transcend their specificity, a human being seeks unity in the experience of others: in the telling and hearing of stories, in a stream of images on a screen, in the embrace of a lover. They look to become part of a whole. And yet to be a part of a whole, one must be limited. A person needs eyes to see and ears to hear, arms to hold. In order to have an experience of this whole which lifts the spirit beyond the limitation of being in a certain body, one must be in a certain body. The body, then, is both obstacle and end.
This curious duality is explored in Y/Project's first-ever video campaign. The Paris-based label enlisted Frederik Heyman to create the video for their Autumn/Winter 2019 accessories campaign, another first for the brand. Heyman is a digital artist (though this label doesn't seem to capture the magnitude of his work) from Belgium, and has been friends with Y/Project creative director and fellow Belgian Glenn Martens ever since they attended the Royal Academy in Antwerp together, where Heyman shot Martens' first campaign. The artist's work makes frequent use of digital scans and photogrammetry, an innovative technique which creates three-dimensional measurements from two-dimensional data.
In my work, I start from 3D scans and create digital installations in a virtual environment. All the bodies were 3D scanned at first and were comped in together afterward in big mechanized setups. The Y/Project accessories were also 3D scanned, and partly 3D modelled.

– Frederik Heyman
The video is bizarre, sexual, and enchanting. Human obelisks of entangled and robotically augmented bodies performing uncannily mechanical sex acts on each other rise up from mechanical platforms overgrown with wildflowers. Heads and hips bob in polyrhythmic digital synchronicity, as flesh gives way to metal and circuitry. Fully-clothed laboratory workers who appear to be monitoring the infinite progress of the strange ritual/experiment feel like a juxtaposition; their reliance on technology seems cold and distant against all this intimacy and flesh-to-flesh contact.
Heyman seems to be exploring ideas of deconstruction and reconstruction, an erotic desire to lose oneself in another person and in doing so become oneself more than ever. His video artwork is directly inspired by the collection's Kamasutra jewelry, a pair of elegantly sensual pieces that echo Heyman's motif of intertwined bodies. Exploding the simplicity of these accessories, Heyman forces us to consider our desire to transcend our humanity, and shows us that this desire is ultimately a desire to embrace our humanity.
The potential risk taken by Glenn Martens and Y/Project – launching a campaign they had never attempted before in a way they had never attempted before, and collaborating with a wickedly experimental artist – has massively paid off. The campaign manages both to be tremendously innovative and to explore timeless questions. What feels most exciting about it is that at its heart it is an extremely impressive and strangely beautiful piece of art. Isn't it great to be a human being?
Y/Project Creative Director | Glenn Martens
Director | Frederik Heyman
---