---
The Best Men's Fashion Ad Campaigns of the Fall 2020 Season as chosen by Kenneth Richard
Gone are the days when menswear campaigns lagged behind women's in terms of concept, artistry, and production value. The Fall 2020 season brought quite a few changes and challenges, but it also afforded creatives more time alone to develop their work. Thus, we've gotten to see many fashion houses push the integrity of their communications for menswear to a level we're mostly accustomed to seeing for the best women's campaigns.
Men's campaigns this season brought a new and needed urgency to their depictions of masculinity. Many of our favorite campaigns felt concerned with the future, using male characters to embody both positive leadership and the dangers of patriarchal arrogance. Daily Paper created a quietly beautiful campaign in celebration of black fathers, beautifully lifting them up as leaders and protectors of the next generation. Louis Vuitton used imagination and the visual metaphor of clouds to send a similarly uplifting message. Raf Simons, on the other hand, explored sci-fi psychedelia to create a beautiful but ominous set of imagery which warned of climate catastrophe.
It was a great season for tailoring and tailoring-focused campaigns, particularly for Boss and Gucci. Boss used slick and simple black-and-white imagery to communicate the versatile strength of their designs, while Gucci recruited an unexpected trio of personalities for a colorful celebration of eclecticism. Kim Jones of Dior did incredible work combining classic men's tailoring codes with punk stylings and theatricality for a beautiful vision of a masculinity liberated from toxic binary restrictions.
Here are The Impression's Top 10 Men's Fashion Ad Campaigns of Fall 2020 as selected by Chief Impressionist Kenneth Richard.
Boss
Boss Chief Brand Officer | Ingo Wilts
Agency | Baron & Baron
Creative Director | Fabien Baron
Director | Fabien Baron
Photographer | David Sims
Models | Achenrin Madit, Malick Bodian, Benno Bulang, Sora Choi, Romaine Dixon, Meng Yuqi, Leon Dame, Veronika Kunz, Bente Oort, & Maartje Verhoef
Stylist | Ludivine Poiblanc
Hair |Paul Hanlon
Makeup | Lucia Pieroni
Casting Director | Piergiorgio Del Moro
---
Celine
Celine Creative Director | Hedi Slimane
Photographer | Hedi Slimane
Model | Dylan Delval
---
Daily Paper
Daily Paper Co-Founders | Hussein Suleiman, Jefferson Osei, and Abderrahmane Trabsini
Photographer | Florian Joahn
Fathers | Kida Kudz, Mark Maciver, and Grooveguruu
Team | Rodrigo Inada and Rhys Gray
---
Dior
Dior Men's Artistic Director | Kim Jones
Creative Director | Ronnie Cooke-Newhouse
Photographer | Steven Meisel
Director | Benn Northover
Models | Jecardi Sykes, Lucas El Bali, Ludwig Wilsdorff, Malick Bodian, Otto Nahmmacher, Patrick Waldron, & Thatcher Thornton
Stylist | Melanie Ward
Hair | Guido Palau
Makeup | Pat McGrath
Set Designer | Mary Howard
Casting Director | Shelley Durkan
---
Gucci
Life Of A Rock Star | Men's Tailoring Campaign
Gucci Creative Director | Alessandro Michele
Art Director | Christopher Simmonds
Photographer/Director | Harmony Korine
Talent | A$AP Rocky, Iggy Pop; Tyler, The Creator
Hair | Paul Hanlon
Makeup | Thomas De Kluyver
Video Music | "Supernature" Performed by Cerrone, Written By: Marc Cerrone, Lili Marlene Premilovich, Alain Wisniak, Published By: Kobalt Songs Music Publishing, Because Editions /Concord Music, Publishing Courtesy of Malligator Préférence under license from Because Music
---
Louis Vuitton
Louis Vuitton Men's Artistic Director | Virgil Abloh
Photographer/Director | Tim Walker
Talent | Michael Ward, Ottawa Kwami
Stylist | Christine Centenera
Hair | Cyndia Harvey
Makeup | Lucy Bridge
Set Designer | Shona Heath
---
Raf Simons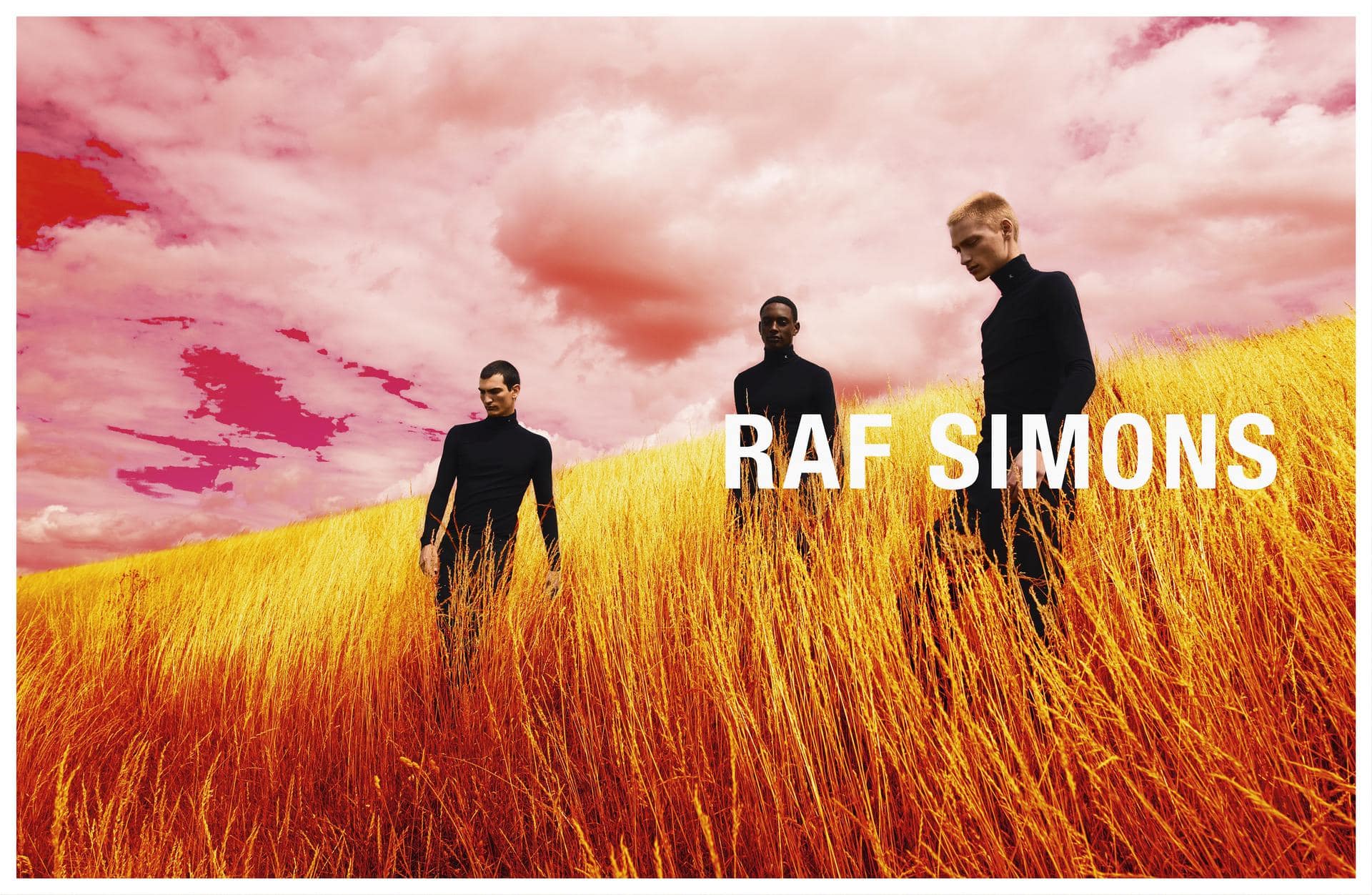 Raf Simons Creative Director | Raf Simons
Photographer | Willy Vanderperre
Models | Luca Lemaire, David Musefano, & Lennert De Lathauwer
Stylist | Olivier Rizzo
Hair | Louis Ghewy
Makeup | Peter Philips
Manicurist | Eva de Keersmaeker
Casting Director | Ashley Brokaw
Production | Mindbox
Post-Production | Stéphane Virlogeux
---
Valentino
Valentino Creative Director | Pierpaolo Piccioli
Director | YH Fong
Models | Callum Heslop, Jeremiah Berko Fourdjour, & Jethro Sapon
---
Zara
Agency |Baron & Baron
Creative Director/Film Director | Fabien Baron
Photographer | Craig McDean
Cinematography | Benoit Delhomme
Model | Henry Kitcher, Jonas Glöer, Jun Young Hwang, Ty Ogunkoya, & Lucas El Bali
Stylist | Karl Templer
Hair | Eugene Souleiman
Makeup | Diane Kendal
Production | North Six
Casting Director | Ashley Brokaw
---
---