---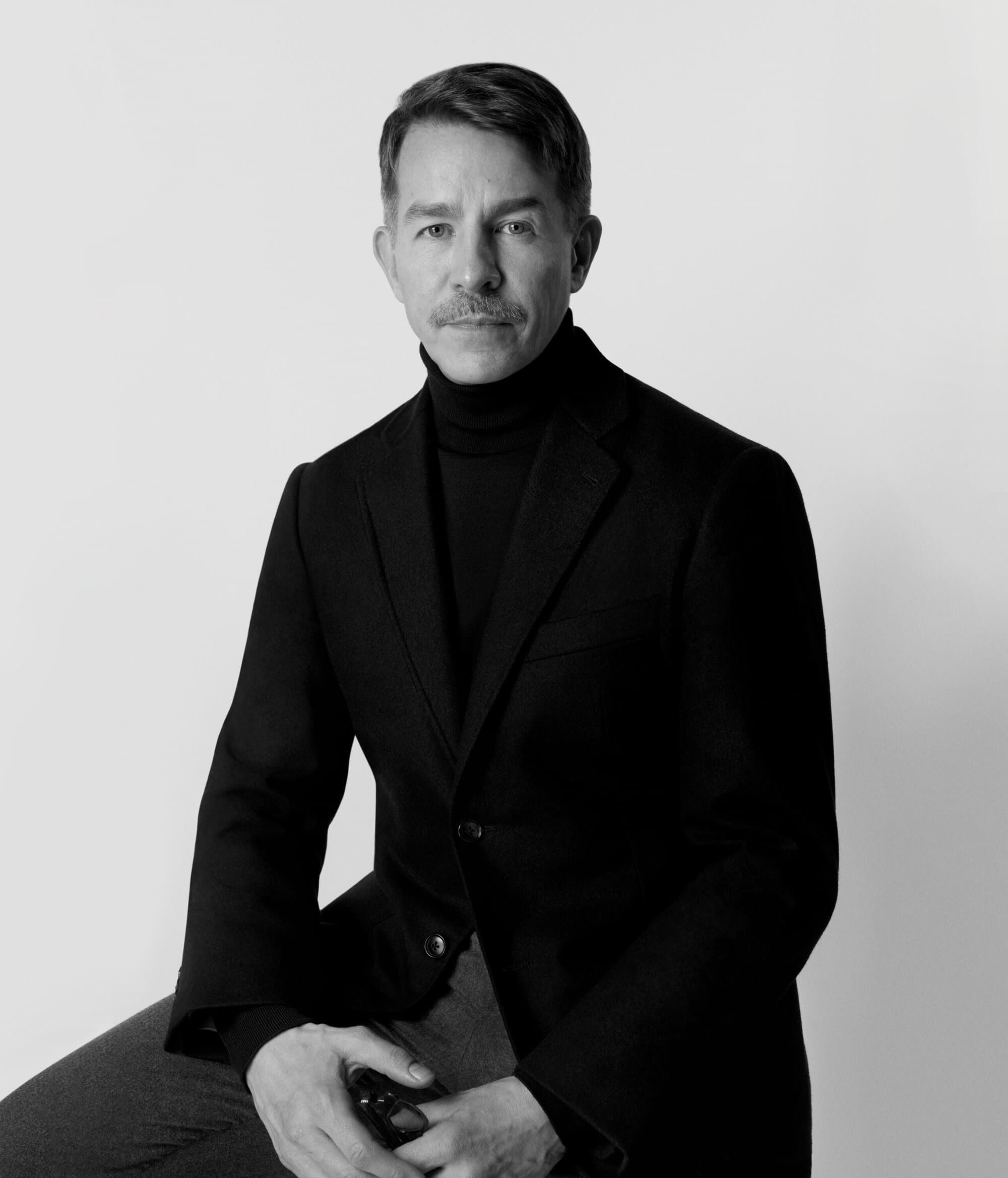 Dunhill Welcomes Simon Holloway As New Creative Director
Dunhill announced the appointment of Simon Holloway as Dunhill's new Creative Director, effective immediately. Holloway brings with him a deep and rich understanding of English style and design codes. His aesthetic embodies heritage; creating timeless and quintessentially British collections.
Simon joins directly from fellow Richemont Maison James Purdey & Sons, where, as Creative Director, he successfully laid the foundations for a growing clothing and accessories collection. Further roles held have included Agnona and Ralph Lauren Collection, designing Luxury Ready to Wear, Knitwear, Shoes, Accessories, Fragrance and Home Collections. His Purdey successor shall be announced shortly.
Under the tenure of CEO Laurent Malecaze, dunhill is moving forward with renewed dynamism and a rejuvenated strategic direction. Holloway's appointment reinforces the focus on dunhill's guiding principles of British craft, innovation, functionality and masculine elegance.
"I am delighted to welcome Simon Holloway as the new Creative Director of dunhill. His creative energy coupled with his decades of experience in luxury, will be instrumental as we evolve and expand our House's iconic codes in the context of today's client. Simon's sense of quality and craft, along with a clear understanding and appreciation of the dunhill DNA, will ensure we continue to innovate through products that are timeless, purposeful and relevant."- Laurent Malecaze, CEO, Dunhill
"It is a great privilege to be appointed Dunhill's Creative Director and trusted with the rich and extraordinary heritage crafted by its founder. Alfred Dunhill was a pioneer, an innovator and one of the most influential British tastemakers of the 20th century. His obsession with ingenuity and refinement established a House synonymous with purposeful luxury and quality – an enduring and powerful inspiration." – Simon Holloway, Creative Director, dunhill
Holloway studied Fashion Design at Kingston University School of Fashion and currently resides in London.
Kelly Bennett nominated as Zalando SE Supervisory Board Chairperson, Susanne Schröter-Crossan proposed as new member 
Zalando, a leading European online platform for fashion and lifestyle, today published the invitation to its Annual General Meeting, which will be held virtually in Berlin on May 24, 2023. The Supervisory Board Nomination Committee is proposing a new composition of the Supervisory Board that will ensure continuity, fresh insights and provide a logical succession for the Chairperson role.
Current deputy Chairperson Kelly Bennett, who has been a member of Zalando's Supervisory Board since 2019 and serves as an advisor to the leadership teams of Microsoft, Strava, Nubank and was formerly Chief Marketing Officer at Netflix, is proposed to become Chairperson. He would succeed Cristina Stenbeck, who has decided not to stand for re-election. In addition to Kelly Bennett, the Nomination Committee proposes Jennifer Hyman, Niklas Östberg, Anders Holch Povlsen and Mariella Röhm-Kottmann to be re-elected as shareholder representatives. The Nomination Committee has further recommended electing Susanne Schröter-Crossan, who brings expertise in finance, technology and supervision as well as Environmental, Social & Governance (ESG) topics, as an independent member of the board.
"We look forward to working with the renewed Supervisory Board post the Annual General Meeting of shareholders. Kelly's tremendous technology experience, focus on operational excellence and track record of building beloved global consumer brands will continue to be a great asset going forward. We are also excited to welcome Susanne with the robust financial expertise she brings to her Supervisory Board engagement," said Robert Gentz, Founder and co-CEO of Zalando. "On behalf of Zalando, I would also like to thank Cristina for her long-term years of commitment to our Supervisory Board and her helpful advice. She has been a valued friend, trusted advisor and insightful shareholder over many years."
Stenbeck will continue to serve until the date of the Annual General Meeting on May 24. She has served on the Supervisory Board over several terms, from 2014 to 2016 and then again from 2019 to 2023.
"It's been a true privilege to work with my fellow Supervisory Board members as well the Co-CEOs and broader Management Board. On behalf of the Nomination Committee, we are so pleased that Kelly is prepared to assume the role of Chairperson. He represents a unique mix of skills from his background in content, scaling global platform businesses and the growth mindset he brings to our team through his experience with Netflix, Spotify, Strava and Nubank," said Cristina Stenbeck, Chairperson and member of the Nomination Committee. "Kelly has also had meaningful dialogue with key stakeholders including investors, and has served during his two board terms on the Audit Committee and the Remuneration Committee. He also personally chairs the Nomination Committee as well as the Diversity & Inclusion and Sustainability Committee. It is the Nomination Committee's clear view that the Supervisory Board will benefit from the continuity of Kelly's valuable perspectives across a number of important Zalando Group initiatives."
Schröter-Crossan was most recently Chief Financial Officer of residential real estate company LEG Immobilien SE, where she was also a member of the ESG steering committee. Prior to that she held roles in Corporate Finance in Frankfurt am Main, Hong Kong and London. Currently, she has a supervisory board mandate at HelloFresh SE. Susanne's intention is to join the Audit Committee as an additional financial expert post the Annual General Meeting of shareholders.
"I'm delighted that we are nominating Susanne as an independent member for the Board. She brings exactly the right experience and expertise to be part of Zalando's future journey," said current deputy Chairperson Kelly Bennett, who is also the Chairperson of the Supervisory Board's Nomination Committee. "On a personal note, I am excited to continue serving on Zalando's Supervisory Board and it would be an honour to serve in the position of Chairperson, supporting Zalando's Management Board as it executes its vision for growth over the coming years."
The terms of the three Zalando employee representatives on the Supervisory Board continue until the Annual General Meeting 2025.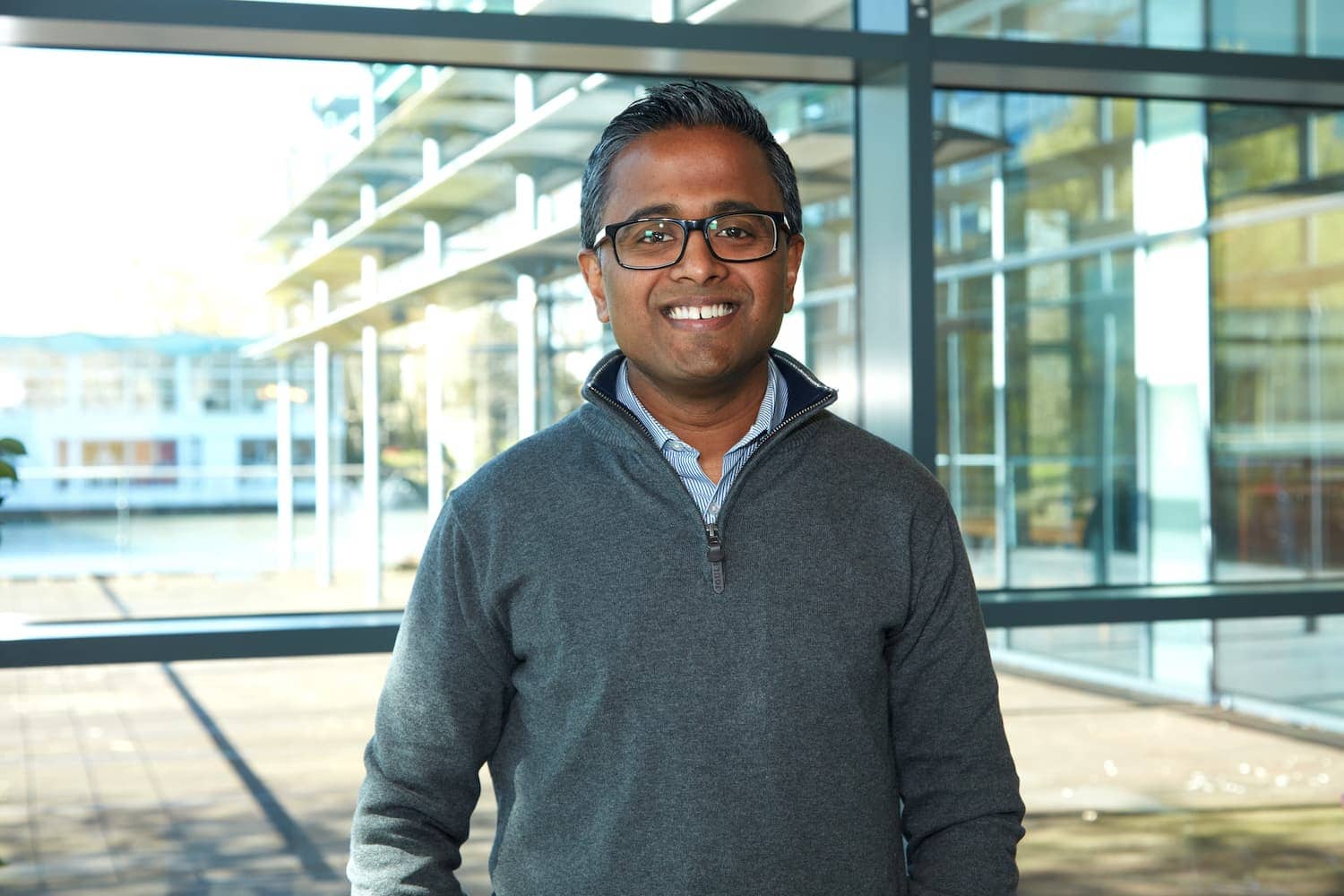 Pentland Brands Announces New Chief Operating Officer 
Pentland Brands has announced Abhy Thomas-Joseph as its new global chief operating officer (COO).
Abhy joined Pentland Brands in 2012 and was appointed global IT director in 2018. The following year, his role expanded to include the digital and innovation functions, where he established a new global digital strategy for the brand portfolio, growing their digital sales by 40% and significantly increasing their reach and engagement in a digital world.
Abhy joined the Executive team in January 2022 as the President Asia Pacific, with responsibility for leading the brand, commercial, and operational teams across the region. In this role, his accountabilities also included leading the data, innovation, logistics, supply chain, technology, and transformation functions globally.
Abhy is known for fostering trust and loyalty among employees, customers, and partners, driving large-scale digital transformations at pace within complex organisations and consistently delivering value for global businesses and their shareholders. Passionate about transforming businesses and fuelling growth, Abhy has previously ranked second in 'The CIO 100', which recognises the 100 most transformational and disruptive chief information officers in the UK.
Chirag Patel, Pentland Brands' chief executive officer, says: "In his new role, Abhy will take ownership of our global operating model and ensure we're set up to be simpler and more efficient in how we work with our customers, suppliers and partners. He'll also build strategic vendor partnerships, drive vendor led innovations, future-proof our supply chain and logistics operations, and use data and technology to power business growth. This is a natural transition for Abhy given his existing global responsibilities and leadership impact in the organisation".
"Abhy will continue to lead the Asia Pacific region in this role, providing executive leadership for what is the fastest growing region in the world."
Abhy replaces Jon Godden, who, having spent 16 years at Pentland Brands, has decided to leave the business in June 2023. Jon has held a variety of roles within the business, including managing director of Mitre Sports. As portfolio director he led the acquisition of Speedo North America and, as chief operating officer, has been responsible for leading the global finance, HR, legal and workplace teams.
Chirag continues: "I'd like to personally thank Jon for his leadership and support, most recently guiding the business through the global pandemic. His calmness and professionalism, always keeping perspective and remaining resilient, were critical in helping us to navigate those challenging times. We wish Jon and his family all the best for the future."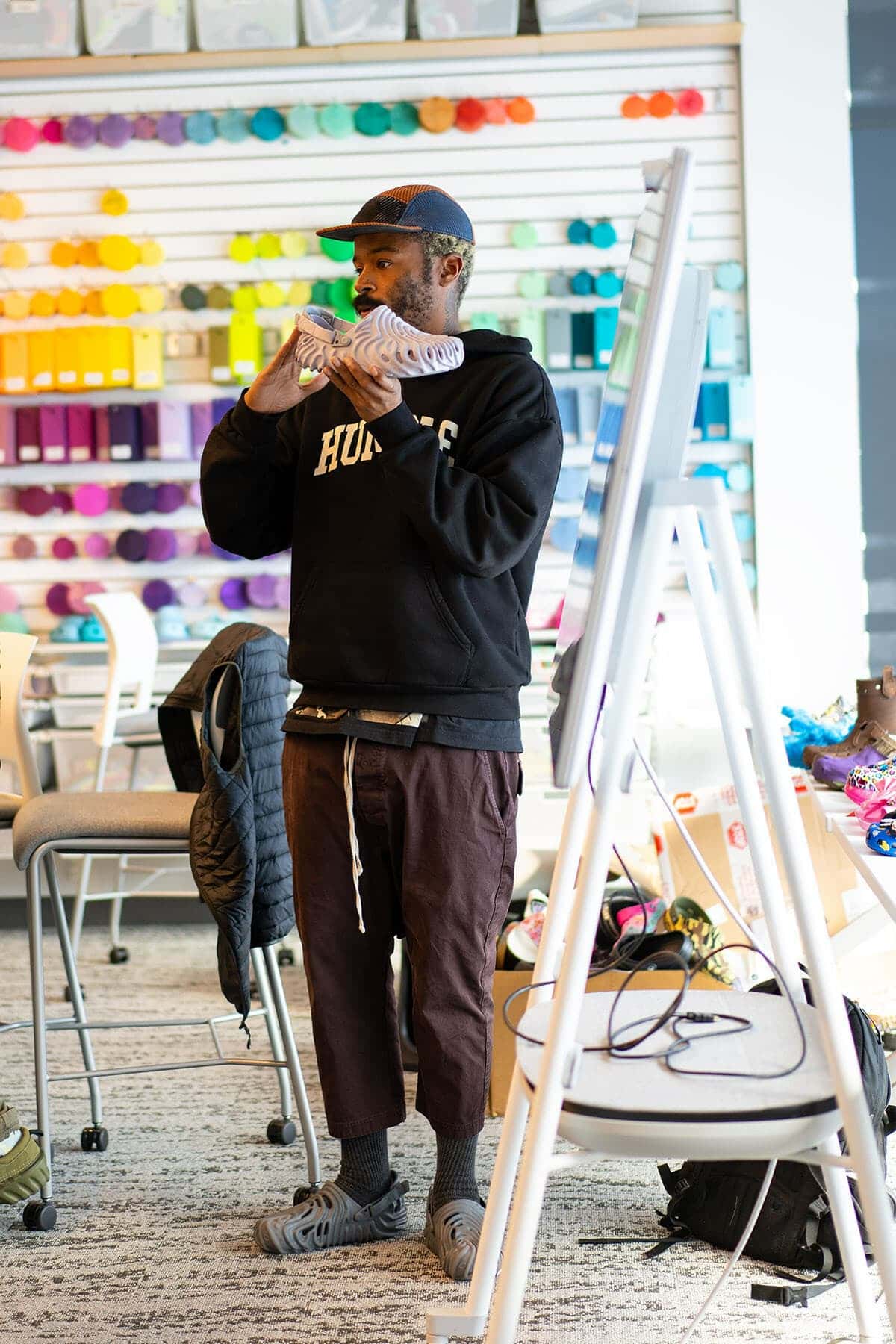 Crocs Announced Extended Partnership with Designer Salehe Bembury
Innovative casual footwear brand Crocs and visionary industrial designer Salehe Bembury announce a two-year partnership. As part of the agreement, Bembury will join the brand as Creative Director of the Crocs x Pollex Pod collection. In this role, he'll work alongside the team to evolve his Crocs signature Pollex design and introduce new silhouettes and colorways within the collection.
The pair first collaborated to introduce the Pollex Clog in 2021. Crocs broke the mold of its iconic Classic Clog for the highly anticipated release, creating a new silhouette which resulted in one of the fastest global sell-throughs for a Crocs collaboration. Following the first launch's incredible success, Crocs and Bembury released seven new colorways of the Pollex Clog in 2022, each selling out within the first few hours.
"For many years, collaborations and product partnerships have been at the core of our brand strategy, and we are very proud of what we have been able to create in partnership with Salehe. His unique approach to design has brought a fresh perspective to our molded form and enabled us to connect with new consumers. Looking ahead, we are excited to continue this partnership and extend into dynamic new silhouettes," said Michelle Poole, Crocs Brand President.
As a renowned designer who approaches products through a consumer-first lens, Bembury shares the same brand values as Crocs, marrying innovation and utility to bring to life modern design languages that resonate with new audiences. Much like many of Crocs' most notable collaborations, the brand's relationship with Bembury began authentically as an internet conversation-turned-real-life-partnership story. When Crocs reached out to Bembury via Instagram direct message offering to send him shoes, he responded by asking if the brand might consider a collaboration. Crocs was inspired by Bembury's interest in changing the form of the Classic Clog, and as they say, the rest is history.
"We exist in a landscape of 'here today, gone tomorrow' collaborations, so the value lies in long-term relationships and that's what we've established. Good design exercises restraint and balances utility with beauty and the Pollex Pod represents that by successfully merging Crocs' brand identity with my own brand identity," said Salehe Bembury, Designer and Creative Director, Crocs x Pollex Pod.
The first release of new silhouettes within the Pollex Pod collection will be announced later this spring. Designs will take inspiration from the original Pollex clog motif as the pair continue to explore how Bembury's signature fingerprint comes to life in 3D form.
Burberry Appoints Klaus Bierbrauer as Chief Supply Chain and Industrial Officer
Burberry announces the appointment of Klaus Bierbrauer as Chief Supply Chain and Industrial Officer, with immediate effect.
In this newly-created role, Klaus will lead Burberry's supply chain and product development teams globally. He will join the Executive Committee and report to Burberry Chief Executive Officer Jonathan Akeroyd.
Klaus joins Burberry after more than 20 years in supply chain and ready-to-wear operations roles at Kering Group, predominantly at Gucci and Saint Laurent. He most recently served as Chief Operating Officer of Alexander McQueen.
Jonathan Akeroyd, Chief Executive Officer, Burberry: "Klaus has a wealth of experience in supply chain and industrialisation. Bringing our supply chain and product development teams together under his leadership will drive greater connectivity, while ensuring end-to-end ownership for delivery. I am delighted that Klaus will be joining our leadership team and I am excited about working closely with him to achieve our ambitions."
Roberto Cavalli Announced Sergio Azzolari as new CEO
Roberto Cavalli announced the appointment of Sergio Azzolari as its new chief executive officer, effective April 2. The executive will report to the Board of Cavalli.

Azzolari was previously CEO of Dsquared2. 
"Finding the right partner to work with me to take Roberto Cavalli forward in our evolution has been a primary focus over the last several months, and I am thrilled that Mr. Azzolari is joining our talented team. He's a skilled business leader with a deep passion for the consumer and a sophisticated understanding of building global, omnichannel brands. This, combined with his collaborative working style, transformation experience and intense focus on results, will put us in a good position as we move toward the future," – Hussain Sajwani"
Roberto Cavalli is one of the world's greatest fashion icons and a brand I have admired for many years. It's an incredible opportunity to partner with Mr. Sajwani to continue to build on 50 years of heritage and innovation. The brand holds tremendous potential around the world, and I could not be more excited to lead the next phase of development for this great company with the team," – Sergio Azzolari 
---