---
Review of Boss Spring 2022 Fashion Show
A home run in the field of dreams
By Lizzy Bowring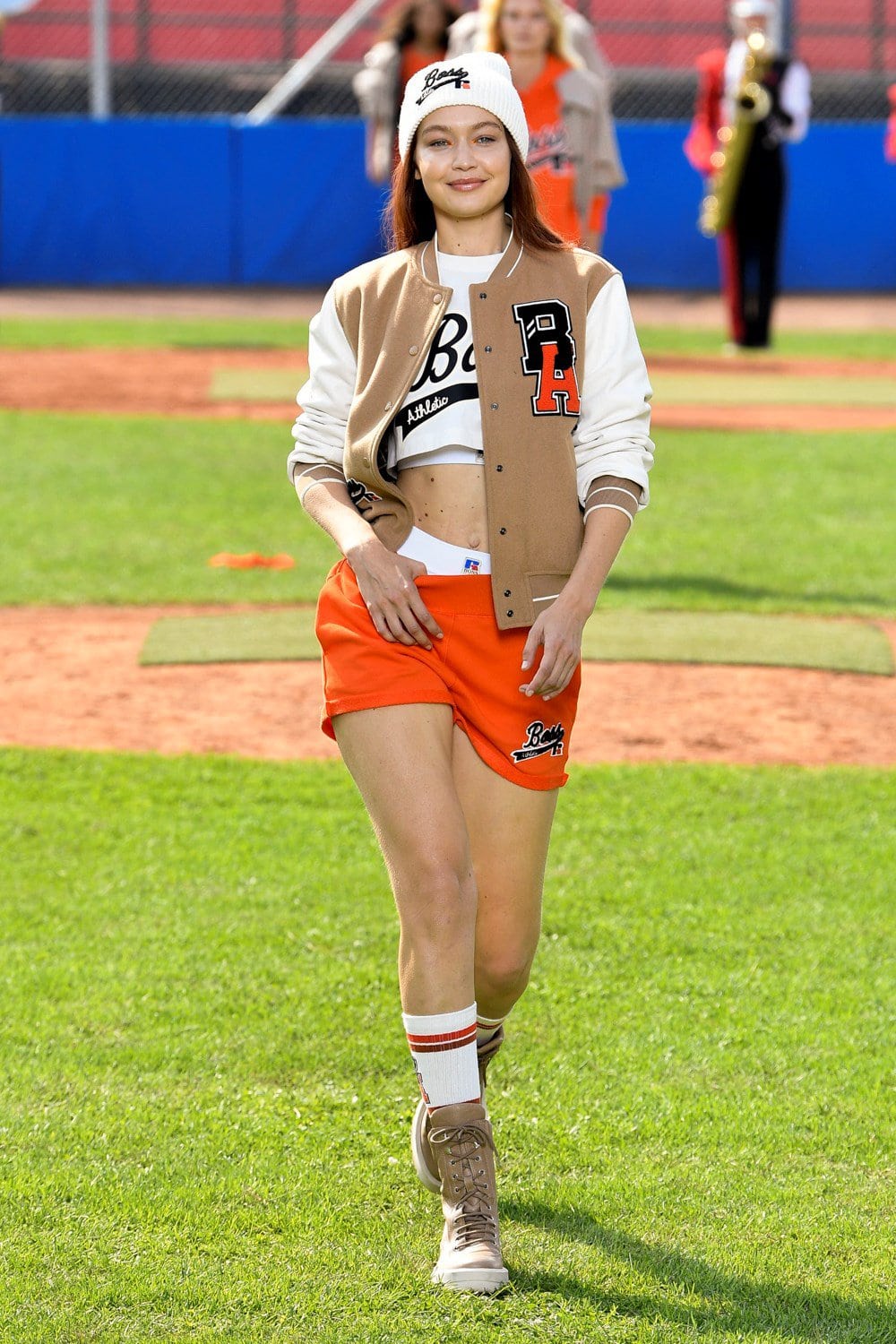 If you were carried away with the euphoria that exuded from today's Boss show, then you are forgiven. And show it was, held at the Kennedy Sports centre in Milan. Unfortunately, Tommy Hilfiger will have to take a back seat to this one which, in many respects, reminded me of the anticipation we all felt when Hilfiger presented at the Tommy Pier in 2016, all with side stalls, hot dogs, fries and Gigi Hadid. Just as in 2016, this collection includes 60 looks, 48 ​​of which will be immediately available for purchase.
Well, today superseded that; the atmosphere was palpable. Energy and excitement came with a full marching band, cheerleaders, baseball players, iconic ballpark figures, popcorn, soda, fries, and hot dogs. The music was loud; the baseball commentator revved the young crowd, muti influencers amongst them. I felt as if I might have been in the Dodger Stadium with the rush of being with thousands of die-hard fans, yelling and cheering.
Picture painted. The change to Boss is somewhere between an astonishing revolution, or is this the nail in the coffin for the Boss brand as we know? Since Daniel Grieder (ex Tommy Hilfiger) took over as the new CEO, change was inevitable.
But, you have to ask yourself, what is Boss to you? Quintessential classic tailoring? We all know tailoring has suffered a demise over the last 16 months, but this direction has come as quick as a ball off a baseball bat.
The casualization of dress codes may have something to do with it, but a deeper dive sees where this is going. In 2020, Chief Brand Officer Ingo Wilts collaborated with Russell Athletic, successfully attracting younger customers. Why miss this opportunity?
In conjunction with the vision from Grieder, today's mesmerizing youthful collection hit the ball out of the park ( excuse the pun on Baseball references).
First, colour. A palette of camel, hot orange and white, then gave way to grey and navy. Nothing complicated here but concise and straight to the point – no fuss. Then the contours of silhouettes softened, heralding the energetic play of preppy cardigans, soft-shouldered jackets, hooded parkas, ponchos, 'track pants, sweatshirt dresses, and bombers jackets with the occasional tailored jacket thrown into the mix. There was something here for everyone, even the more mature. I could take home any one of the following pieces – look two with its checked overcoat and tailored trousers worn back with an orange hoody, or look thirty-four, the grey horizontally tucked top, just an excellent piece for a casual weekend. As for the relaxed trousers and the softly tailored jersey blazer to take you to the office. Thank you – chaching!
As for us as spectators, my youthful influencer sitting next to me exclaimed, 'this is so cool'. That just about sums it up.
---