---
Review of Boss Fall 2023 Fashion Show
Boss Backs Fluidity as a Symbol of Progression
By Angela Baidoo
The see-now, buy-now concept was one that the fashion industry approached with a sense of cautious optimism, for at last here was a solution to the issue of consumers wanting to wear the clothes they saw come off the runway, rather than wait six months before they hit the shop floor. But other than Burberry (during Christopher Baileys tenure) and Tommy Hilfiger, many designers opted to stick to the traditional calendar format. But for spring 2023 newly appointed SVP of Creative Direction Marco Falcioni took the idea of the destination show and ramped it up by 1000% to present a spectacular see now, buy now show set in Miami, which as the gateway to the Latin American market, also enabled the brand to authentically target this demographic as part of the shows marketing activation. Disseminating global assets at scale via TikTok, YouTube, Instagram, and BeReal.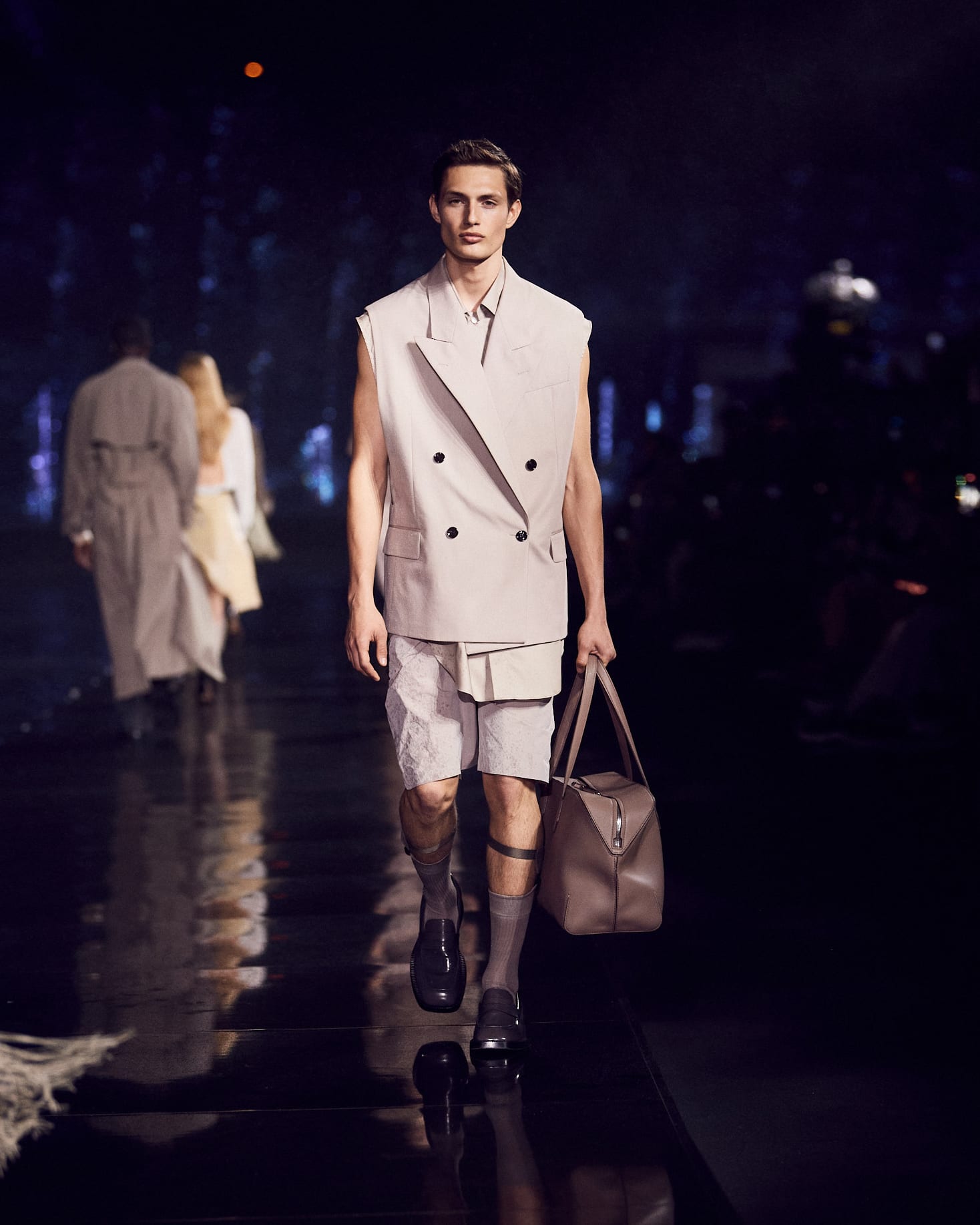 The BOSS Spring/Summer 2023 collection is a fluid revisitation of the brand's heritage tailoring while offering a 'see now, buy now' approach to key pieces

Marco Falcioni, SVP of Creative Direction, Hugo Boss.
As a show surrounded by water, the fluid element became a key theme and an almost unintentional immersive character within the show, as models were practically walking on and in the organic structure – the runway was set atop of water – as they were also softly misted with coloured jets in the background. This added to the atmosphere and message of fluidity, but it also had the inadvertent effect of playfully dousing the front row – Maluma, Suki Waterhouse, Demi Lovato, and Lucien Laviscount – who were thankfully shielded with clear umbrellas.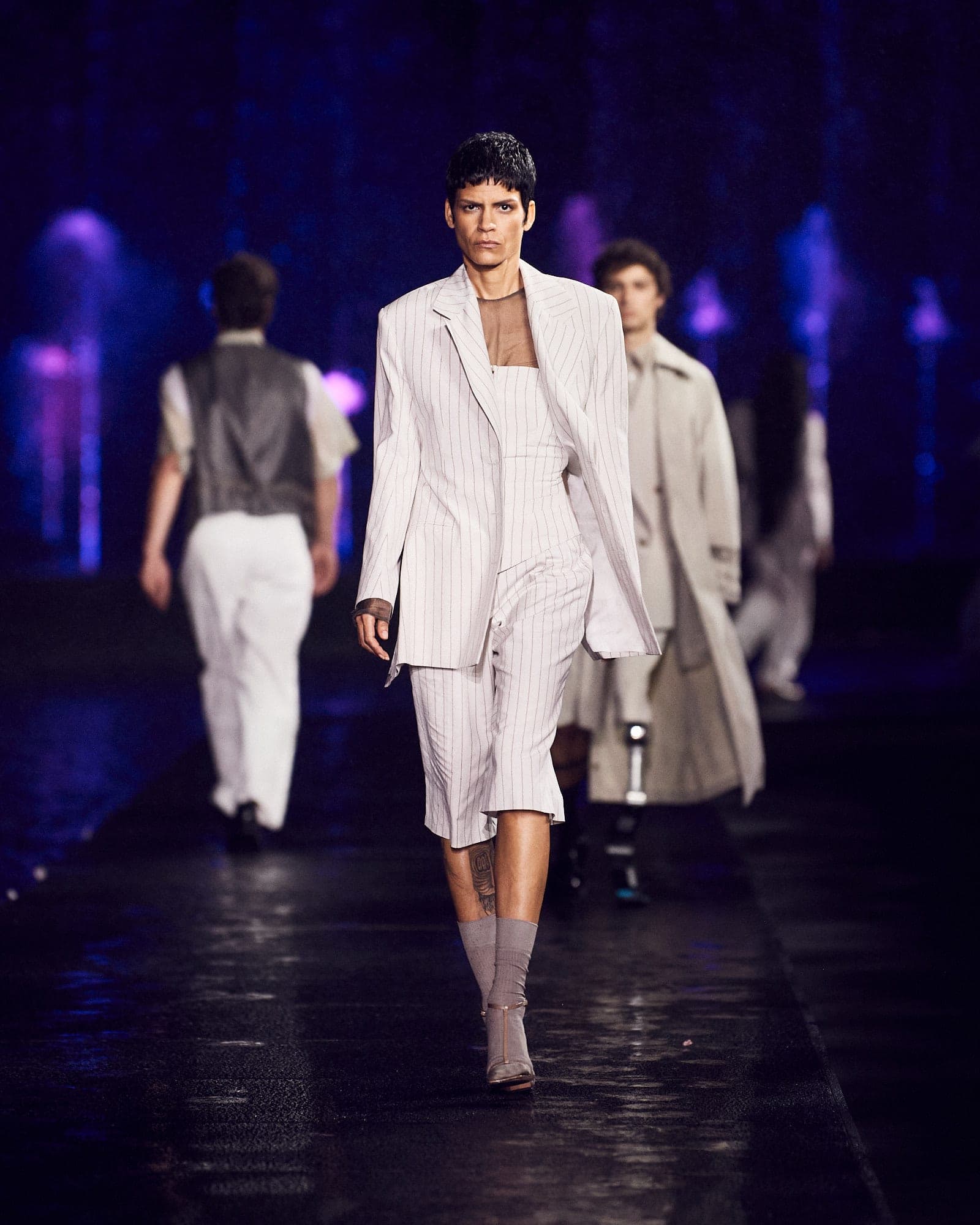 The clothes took you on a journey back in time to the early nineties, when tailoring, after the 'Greed is Good' 1980s era of sharp shoulders and stiff collars, lost a lot of its seriousness thanks to a certain Mr Armani who presented a laid-back vision of the fluid three-piece suit. With today's show owing a debt to the ad campaigns shot by Peter Lindbergh and Aldo Fallai in those first few years at the dawn of the 1990s, set in either a desert-strewn landscape or a cobbled Italian city street, Hugo Boss's Marco Falcioni took to reinventing how the typical tailored suit would come to be associated with the Boss name.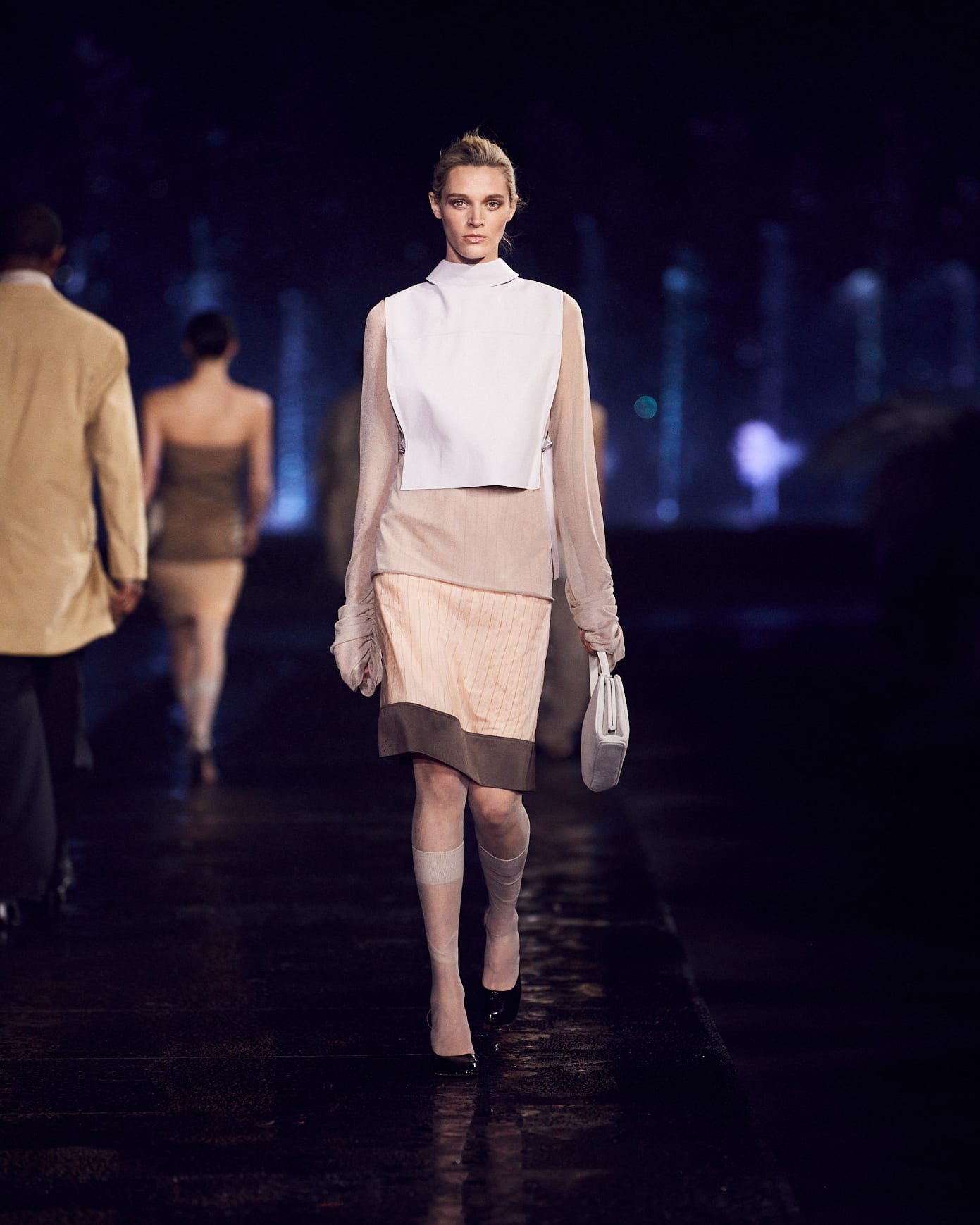 Taking a light touch to the category with gauzy layering, delicate deconstruction, and cut-away panels, Falcioni's collection was like an onion in the way that when you peeled away the layers, yet more clever construction and styling twists were revealed. Names like Donna Karan, Helmut Lang, and Calvin Klein come to mind when viewing this collection through a nineties lens, but these clothes were brought right up-to-date and were more than an homage to the great designers of that time. Making the classic tropes of that decade his own, Falcioni took to repurposing high-collared bibs with a semi-sheer knit, and pleat-front trousers were affixed with extended fold-over waistbands. Suit jackets which appeared fully formed as the models walked down the runway were revealed to have the backs completely cut-away or split open and fixed with a simple buckle. While sheers in wovens and knits dominated and were in reference to the "exquisite tension that lies between contrasting elements, such as solid and fluid states" as stated in the show notes, veiling and encapsulating shirts, two-tone bandeau dresses, and providing an invisible layer over a longline shirt dress.
In a collection of over 60 looks, each one held their own in a palette of warm neutrals that referenced sand, mushroom, dove grey, buttermilk, and biscuit, before fading to black for a section of modern occasion wear.
One of the underlying motifs that inspired the collection is the exquisite tension that lies between contrasting elements, such as solid and fluid states; land and sea; opaque and transparent; past and present

Marco Falcioni, SVP of Creative Direction, Hugo Boss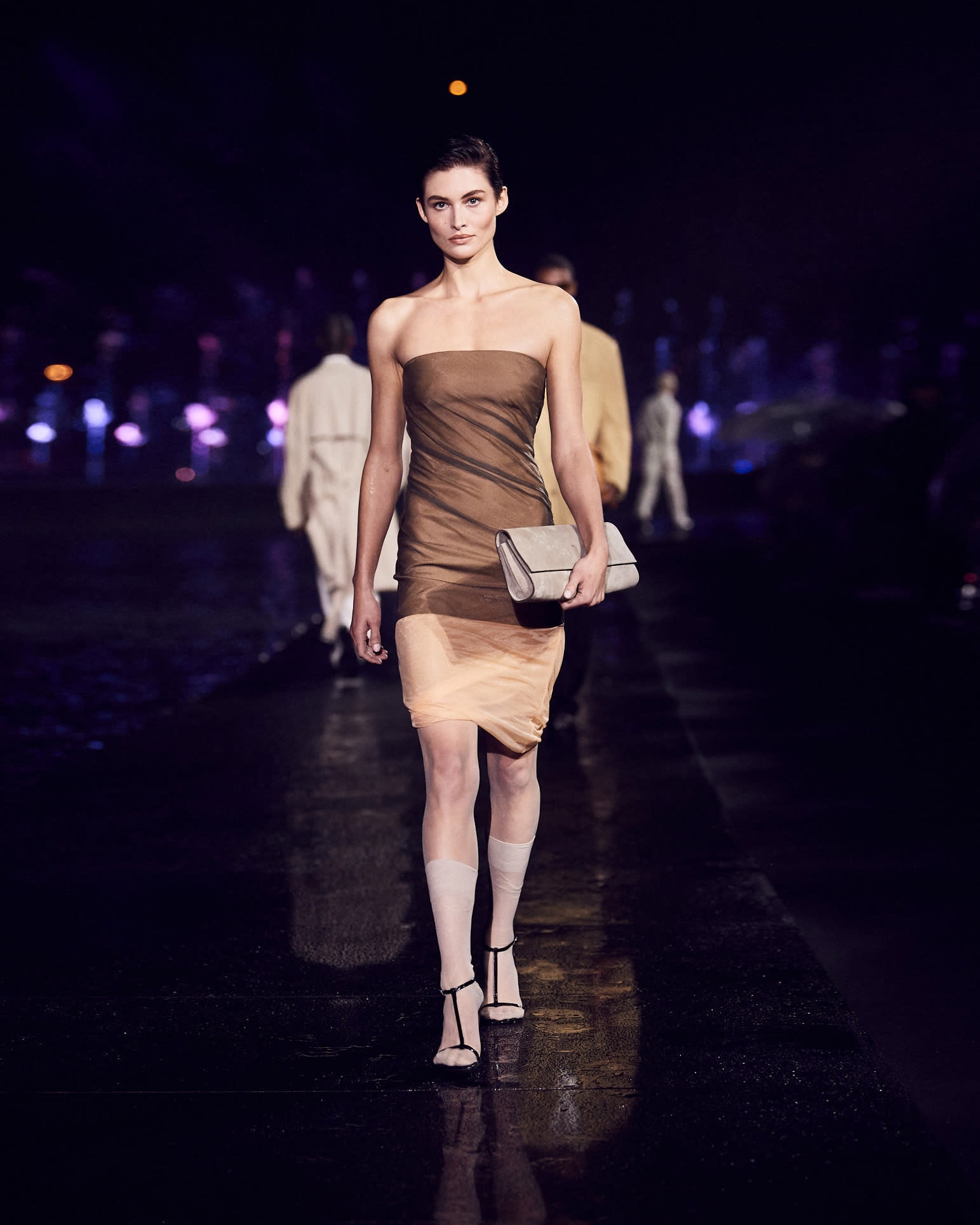 Falcioni has been credited with helping the brand appeal to younger customers and "strengthened the brand's approach to genderless dressing", which in his spring 2023 collection is clearly evident. As many of the looks could be effortlessly interchangeable across the genders, with the languid nature of the fit lending itself to a range of body types. Whether that be wide-leg trousers or Bermuda shorts, drop-shoulder trench coats or oversized waistcoats.
After a fall 2023 season where many were disappointed that size diversity and representation had been rolled back significantly, it was refreshing to note the casting choices for the Boss show. Employing "All-star celebrities and athletes" from Pamela Anderson, Naomi Campbell, DJ Khaled and brand ambassador Khaby Lame. But also curve model Precious Lee and Olympic medal winning fencer Ibtihaj Muhammad whose look incorporated her hijab head covering.
And being that it was a see now, buy now collection, allowing the collection to be imagined on a range of bodies – especially those of bigger, broader men (USC Quarterback Caleb Williams walked the show) who it has been noted have been heavily left out of the men's luxury fashion conversation – will touch base with the brands customers who won't have to wait to purchase the looks in real-time, as "selected items were made available for immediate purchase in 68 countries across the US and Europe" according to the show notes. Also serving to align with an "embrace [of] the spirit of self-determined individuality in an ever-changing world".
---