---
Review of 'Salon 01' London Spring 2021 Fashion Show
Evoking the Émotions of Clothes
By Long Nguyen
"It's good to be safe, but it's really important to be bold," Neneh Cherry said in a voice-over said at the start of the short film titled 'Salon 01 London.' With models walking inside a studio around a small group of masked guests scattered around the rectangular space at the Sadler's Wells theater taped on October 9th with this local audience that is part of the Bottega Veneta London community as the film presentation of the Spring 2021 collection. Cherry spoke about the strong personal connection with clothes that people develop, at times just because 'sometimes clothes give me courage.'
In a continuation with the new approach of showing the Spring 2021 collection, the Yorkshire born Daniel Lee, the creative director of Bottega Veneta, chose London to stage and film a small physical show with music and reading Neneh Cherry. Also, Lee produced a series of three books of photographs showing the elements in creating the collection with a series of raw images of people and objects that contributed to the making this great mix of spring clothes. Book 1 contained different images collected by Lee as his primary inspirations, like a picture of a male dance in motion, hands around a black leather coat, or a marble wall carving. Book 2 featured photographs of the backstage of the actual live show by the photographer Tyrone Lebon.
The German conceptual artist Rosemarie Trockle collaborated to make Book 2, a collection of images like mustard knit hot shorts, extreme close-ups shots of knit fabrics, a wool jacquard sleeve of a jacket and a shiny leather shoes, sets of gold necklaces on a mannequin, a woman wearing a green unfinished jacket with pins on the pockets, and a gold leather cord perhaps in between the lacing system of boots.
Trockle relegates these unprocessed and unfinished work-in-progress fashion items into art, transforming the process of creating fashion into laborious and meticulous labor. Her close-up photographs of, say, the fringes of a knit scarf offer the idea of touch and feel the essence of this spring collection built around the notion of safe and bold, from a simple white shirt dress to the dress made of beads.
The clothes, both men and women, are fluid with a lean silhouette, flare legs with plenty of knitwear, and made from fabrics mixtures that create a but of surface volume for that tactile feel like a light brown short coat with a tan short dress, a light green knit sleeveless dress, or a red and gold thread jacquard cropped patch pocket jacket and matching short skirt. One of the strong knit looks is the wide ribbed hand-knit wool short slip dress, light orange long v-neck knit dress, light orange knit spread collar cropped polo, and a light pink chunky hand knot v-neck short sleeve polo paired with straight-leg pants for men.
"It's like armor that gives you freedom," Cherry said of these chunky and protective garments like the red high neck coat-dress but perhaps also of the light stone knee-length coat one of the male models.
The men's tailoring follows a lean and fit shape like the light brown three buttons single breast with straight shoulder, and cigarette pants to the oversized green wool double breast jacket and matching flared pants. The options for men range from a v-neck cardigan pantsuit to sweaters and pants to a monochrome white shirt and large pants. The men's footwear is mostly sandals and flat shoes, and the guys carry leather bags in black or light orange leathers.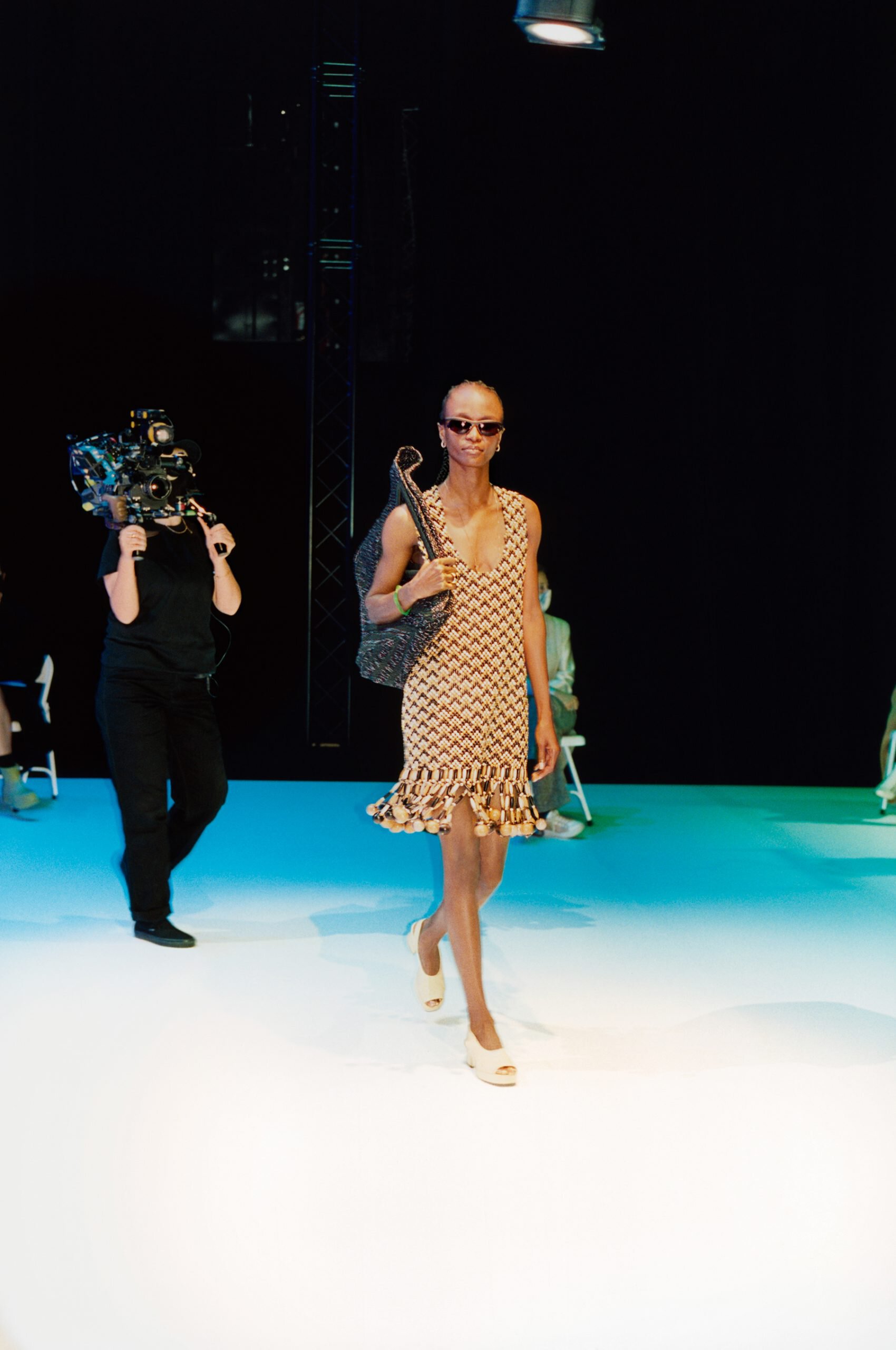 It isn't just about physical clothes. It's about clothes that have meanings and attachments to the people wearing them.
This emotional connection is perhaps one of the most difficult tasks for designers to achieve, and often so many of the efforts seemed short of getting to the finish line. Here, Lee accomplishes this mission with the clothes more so than with the 'art' he built around creation, art that merely help foster that emotional chord.
"More loving and accepting of myself. Beauty can be so many things – it's the rough and the sweet, the straight, the narrow, the wide-open … sometimes I want to dress like a man. My friend, he's got the best nipples I have ever seen!" Cherry said with a bit of a laugh.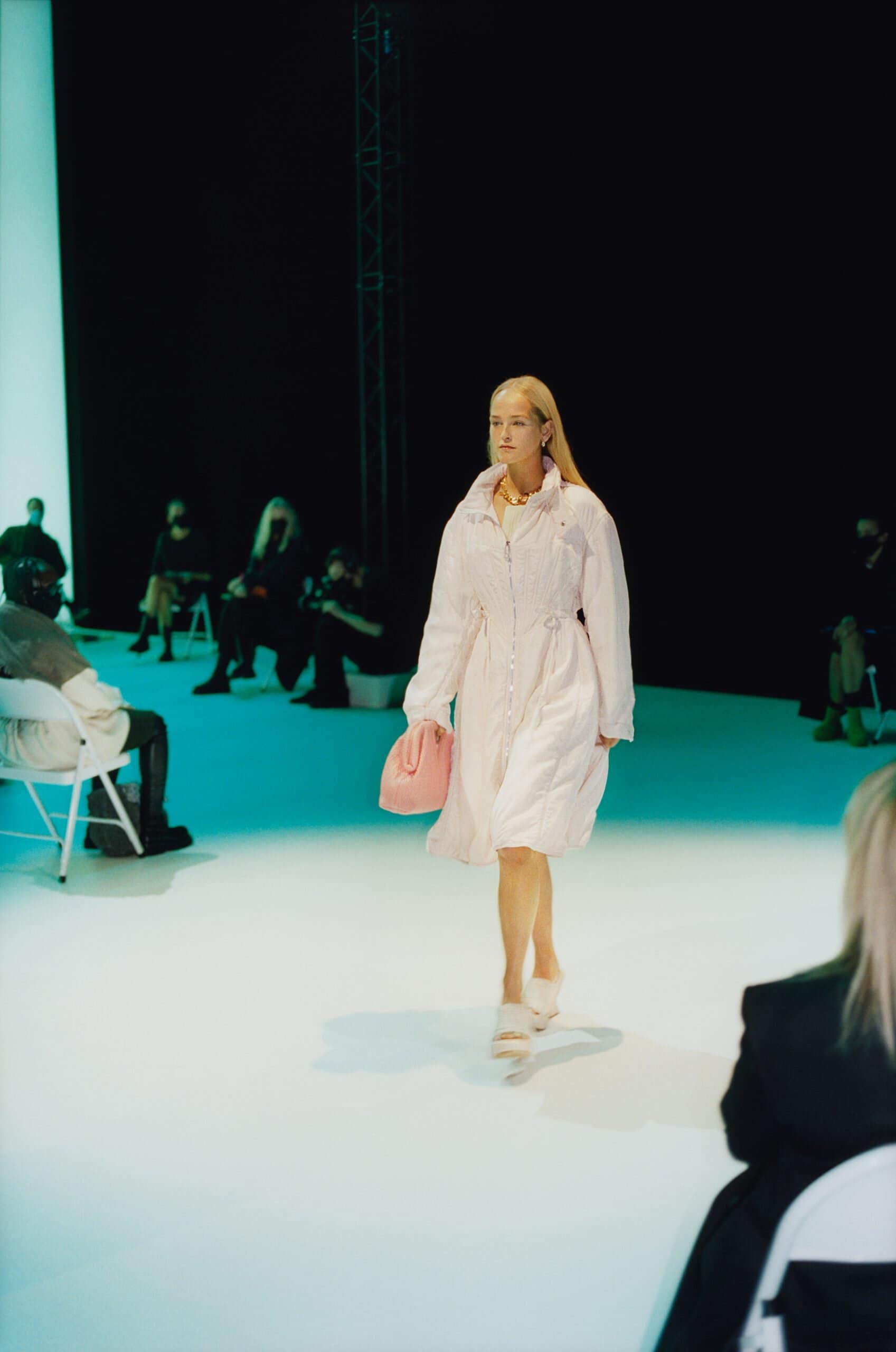 Looking at each of the looks in the film, there is a sense that Lee left the collection slightly unfinished for the customer to become the final owner of these looks – unfinished in the sense that the consumer will turn these crochet dresses and coats into their own personal garments, garments that over time they can obsess about.
The film is also an effective alternative to a live fashion show with the book supplements and brought to life by the sound and voice of Neneh Cherry.
"Feeling hot – sometimes you just get dressed up and feel a hot and bad and sexy feeling like I am the shit and this is to die for," she said towards the end of the film in referencing the kind of clothes that became objects of desire which there are plenty to choose from here in this spring 2021 collection.
---