An Ode to Artisanship: Bottega Veneta's Flagship Store Reimagined by Matthieu Blazy
In the illustrious heart of Paris, the radiant beacon of high fashion – Bottega Veneta – heralds its triumphant return with the grand reopening of its flagship store on the revered Avenue Montaigne. This momentous occasion marks the début of an establishment under the visionary aegis of Matthieu Blazy.
Set to unfurl its splendor on the 25th of September, this architectural marvel spans two opulent levels at the prestigious 12 Avenue Montaigne address. It is not merely a store, but a testament to Blazy's ingenuity and his debut contribution to the brand's aesthetic. Imbued with inspirations from the epochal Space Age, this sanctum seamlessly fuses time-honored Italian artisanship with a contemporary ethos. The visitor is seamlessly transported on a whimsical odyssey – navigating the annals of time, from yesteryears to visions of tomorrow and the vastness beyond our realm.
The expansive area, nearly 800m2 in its grandeur, is an ode to two primary materials: the ethereal Venetian glass and the rich Italian walnut wood. Square glass blocks, reminiscent of modernist industrial aesthetics, are meticulously woven into the fabric of the store – from floor to ceiling. These glass structures bathe the space in a gentle, ambient luminescence, held in place and contrasted by the warmth of walnut wood, which also graces the transitional stairway and the jewelry gallery corridor.
A masterful dance of volume and scale echoes throughout, juxtaposing cosmic allusions with snug, inviting nooks. The core of this architectural symphony is a brilliantly lit retail expanse, punctuated by plush seating arrangements and complemented by exclusive VIP chambers and fitting rooms. The sinuous gallery corridor, with its undulating curves and the pervasive embrace of wood, crafts a haven of serene intimacy.
Every corner of the store whispers the brand's undying commitment to artisanal mastery, showcased in bespoke furniture pieces and fixtures. These include custom wood and glass
hanging rails, each painstakingly hand-crafted by esteemed Venetian maestros. The tactile allure of leather seating and plush wool carpets pays homage to the tactile richness and avant-garde spirit of Bottega Veneta's offerings. Modular shelves invite the onlooker into a realm of curiosity and playful exploration.
As one graces the threshold, a singular, handcrafted glass handle – the genius of Venice-based Japanese luminary Ritsue Mishima – offers a welcoming touch. Throughout, brass adornments echo Blazy's signature Drop motif, with mirror elements casting undulating reflections, reminiscent of Venice's mesmerizing aquatic panorama.
As a final flourish, the Winter '23 collection will find its home at 12 Avenue Montaigne. Here, the full gamut of Bottega Veneta's offerings will reside, accompanied by an exclusive in-store personalization service for their esteemed leather creations.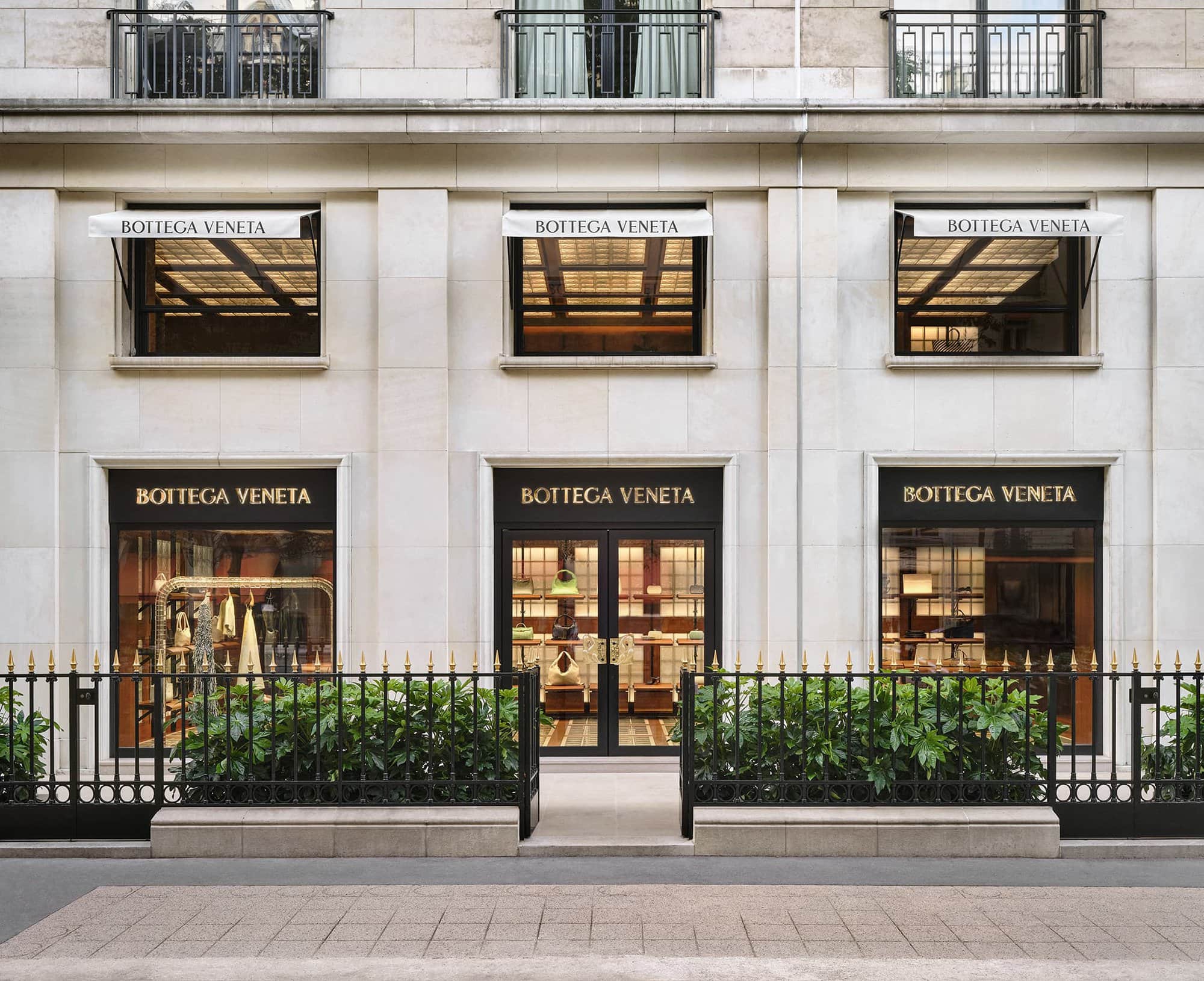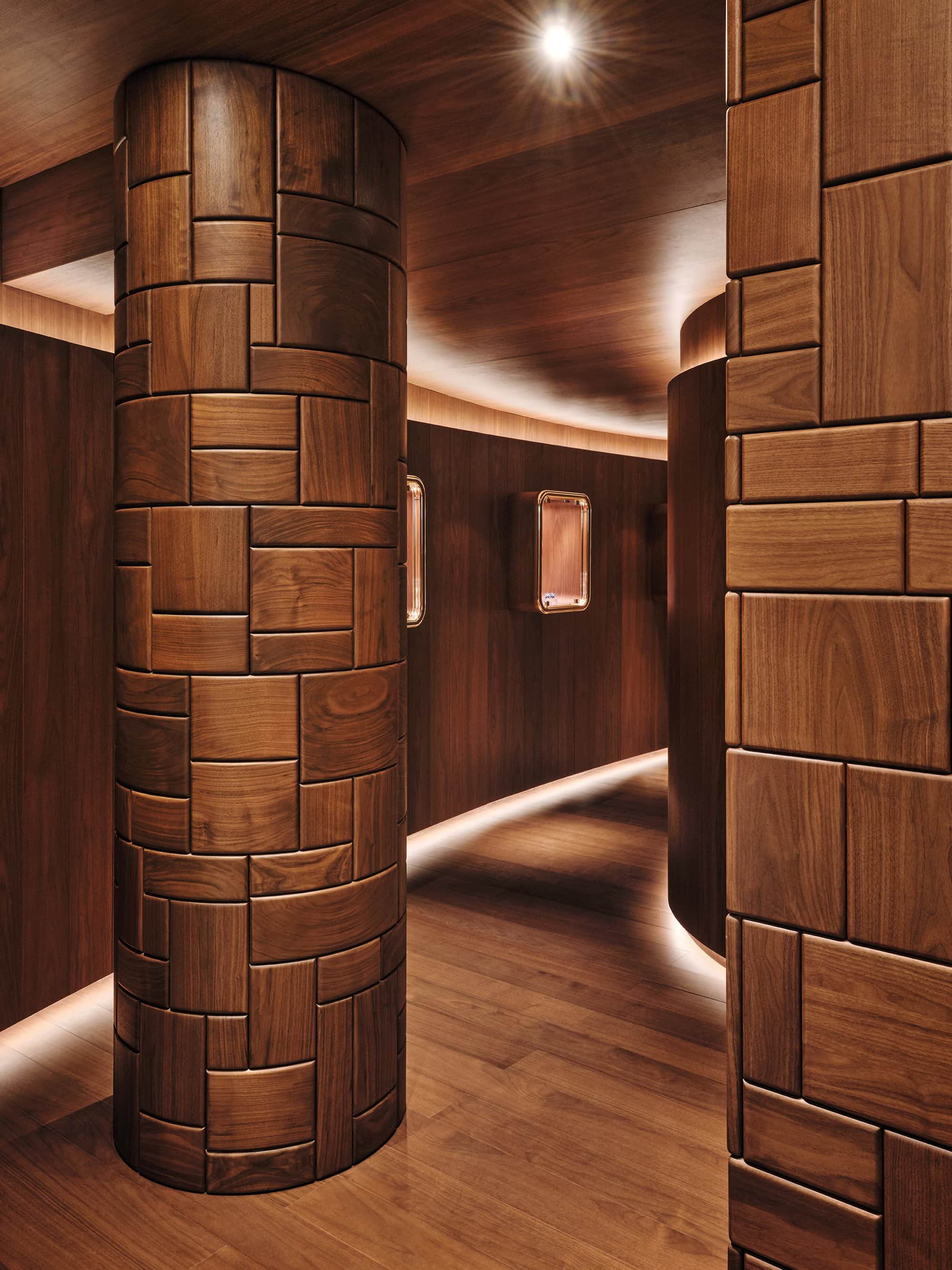 ---