---
As Bottega Veneta Cleans It's Instagram Account Question Arise Regarding Fashion's Love/Hate Relationship With Social Media
Bottega Veneta has started the new year off with an unprecedented and somewhat baffling move: the brand has deleted its Instagram account. It has also scrubbed its Facebook presence, and whittled its YouTube content down to a measly two videos. As the house seems to be the first ever fashion brand to delete its social media presence, the strategy raises interesting questions and points to the complexity of marketing in a digitally dominated creative scene.
Bottega Venta's decision to relinquish their Instagram presence presents us with a bit of a paradox. Initially, it seems as if the move gives the brand more control over its own image, rescuing it from the clutches of the social-media mob and putting it back into the hands of a few creators and dedicated consumers. But looking a bit further, the disappearance could yield the opposite effect: with no official presence continuously releasing curated, verified BV content, the brand's digital image can be created and distributed by anybody with a social media following. In this way the move seems at once tyrannical and democratic, completely exclusive yet all-encompassingly inclusive. We wonder which of these outcomes Bottega Veneta has in mind – perhaps both. Can the chaos of social media be relied on? Part of what makes the question so nebulous is that it's still quite hard to say how much a brand is responsible for its own success. The fashion media establishment made a big deal of Bottega Veneta's comeback in 2018 and 19 under the new creative directorship of Daniel Lee, attributing its renewed popularity to his "quietly radical" leadership and his penchant for "bending the rules," (he never had his own Instagram account – très avant garde!). But it is worth noting that contemporaneous with this comeback was a huge spark of renewed interest in the brand on Instagram fashion circles, largely due to the popularity of fan account @newbottega – which, unlike Bottega Veneta's own official account, is still going strong with hundreds of thousands of followers.
Disappearing from social media may be a new luxury, one that an old house like Bottega Veneta can afford.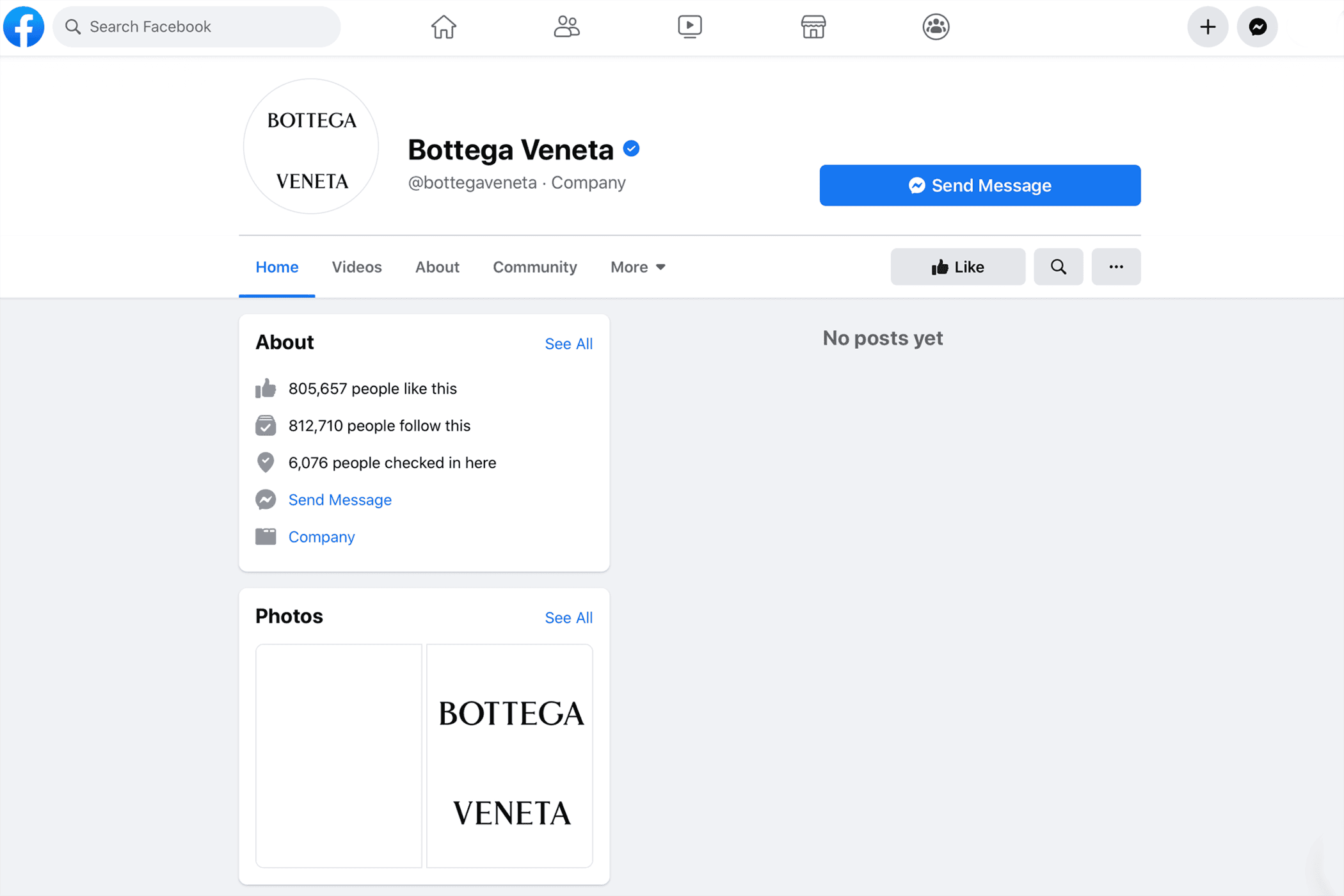 Many young brands which came into existence after the advent of Instagram have used the platform to tremendous effect. Brands like Telfar and Yeezy create pieces with maximum covetability and time each release perfectly to the rhythm of social media buzz – and also post on Instagram almost every single day.
Bottega Veneta may be seeking to position themselves above all this noise, relying on their classically luxurious status to offer a respite from the slew of endlessly shareable (and thus, perhaps, endlessly forgettable) content.
In an age where every brand is pivoting more and more towards digital content, it is intriguing to consider how Bottega Veneta will produce and release shows and campaigns moving forward. A renewed focus on designing for just a few shows and campaigns each year could be quite artistically promising. If the brand's own work is strong enough to get and keep fans' attention, then its existence on social media – whatever democratic or influencer-controlled form it assumes – may just take care of itself.
But can the strategy pay off? Can Bottega Veneta maintain a post-social-media presence and persist in quiet luxury? Or are they flying too close to the sun, only to be inevitably melted into internet oblivion? For now, it seems like only time will tell.
---