Brandon Maxwell, Exclusive Designer Interview

BY GEORGE WAYNE
His will certainly be the most anticipated show of the New York Fashion Week: Women's 2017 Fall/Winter season. Which is to be expected, because Brandon Maxwell is – without question – the hottest American fashion designer of the moment. It took him all of four seasons to catapult to superstardom. His luxe, spare chic in a totally original, All-American way has captured the fashion zeitgeist here, and it certainly doesn't hurt to have the one and only Lady Gaga as the ultimate muse.
He exuded a charm and lucid self-confidence as he sat for this CFDA/Impression exclusive interview amidst the chic of his fragrantly diffused, all-black and lacquered atelier on East 49th Street.
What's your mood been like of late, Brandon Maxwell? Has it been nothing but nervous, sleepless nights?
Well, it's been a really busy time! And I have been in a really different place, mentally and physically, before this next show – and it's been a much happier place. I have been flying back and forth from California and just got back after spending one day there, so, yes, I have been keeping busy. I did take a break before that, in December, in Hawaii, but I am a fast-paced person, so taking that first vacation in a very, very long time was a test of patience. I was waking up every morning ready to work and then trying not to do that. But what I have learnt throughout this entire process is that everyday is a hurdle and a different struggle.
So you're not running on fumes.
No, I am not running on fumes, but if you had told me when I was ten or eleven years old that I would be so blessed to be working in L.A. the night before, then getting on a plane back to New York City and rushing to a fitting for dresses that I have made, I would never have believed it. I feel very excited with the way my life has been going.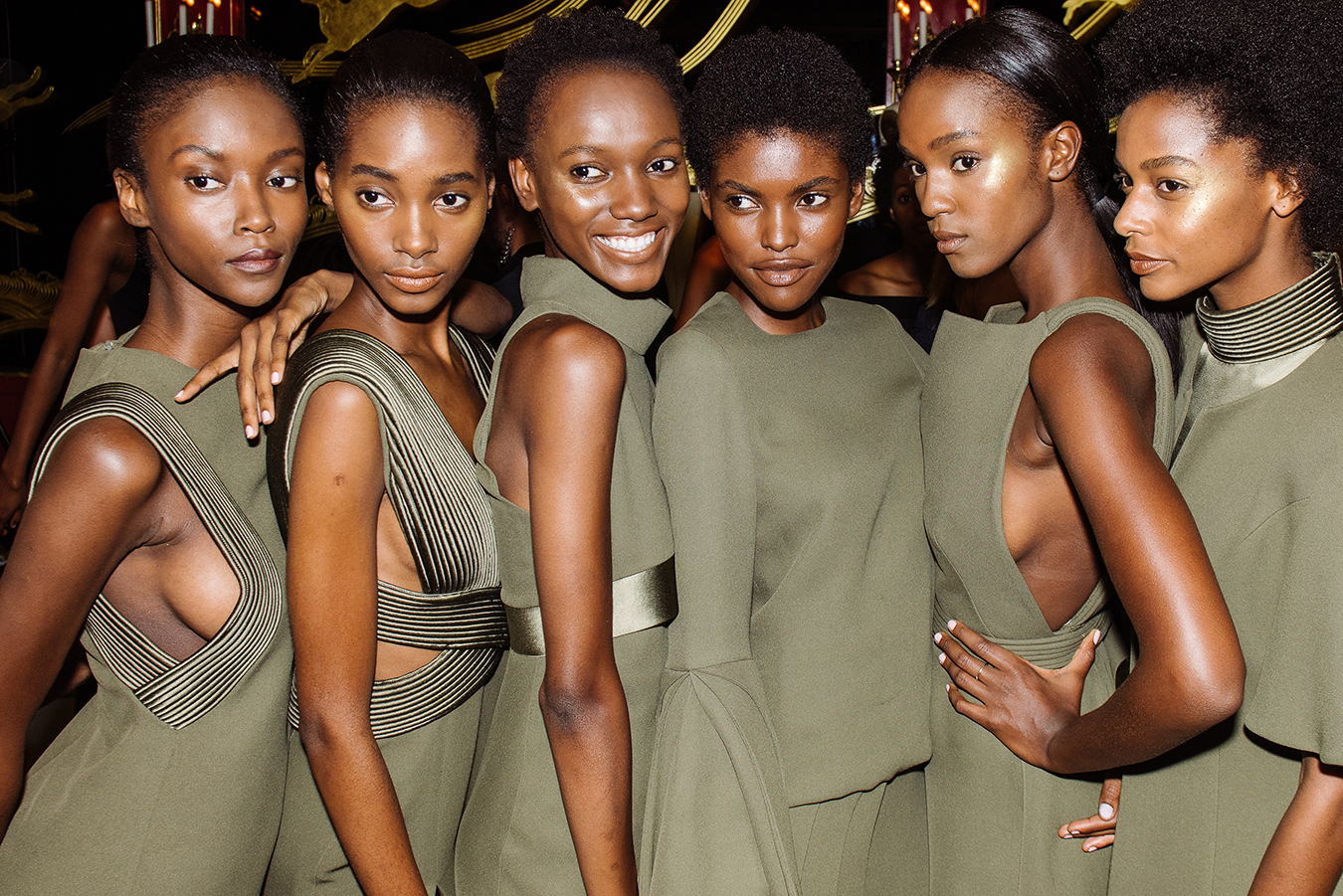 Casting seems crucial to a Brandon Maxwell production. This will be your fourth collection, but the brand has already become synonymous – and is much regaled – for its stunning, striking and genius diversity on the catwalk. Is this a concerted effort?
First of all, I work with James Scully, who is the most fantastic, fantastic, fantastic casting director, and I think we both see very much eye to eye. Casting is one of my top favorite parts of the process and it is very much representative of how I see the world.
I am very much aware that the world is round and that the world is very much diverse. And that is just the way I have always thought of it growing up. I think that fashion sometimes can seem to be so un-obtainable and out of reach for certain people.
And yes, mine are hand-made clothes that have a certain price point and that I cannot change at the moment. But I want to make sure that if a young girl happens upon our collection online or somewhere, that she can see some part of herself represented here.
Last season, when Imaan Hammam opened your show in that uber-luxe Look #1, and was followed by modern, All-American ingenue Taylor Hill in that frilly, ruffle hem mini-dress and her head-turning ponytail – it was a moment! By Look #4, your front row was in the throes of ovation!
[Laughs] You know what?
[quote text_size="small"]
I think that my shows are so filled with love that I can look out on that front row and know that I have a deep, personal relationship with most of them there – and the same for the girls in my show. Most of the girls have been with me from the beginning.
They have watched me cry, they have watched me laugh. They know that I am very nervous before a show and that I worry so much and I think they understand and realize that. So by the time it comes around, I think that the models really show up for me. They are excited and they rally around me. They hold my hand and they make it fun for me. It's that magic that sort of gets me through it.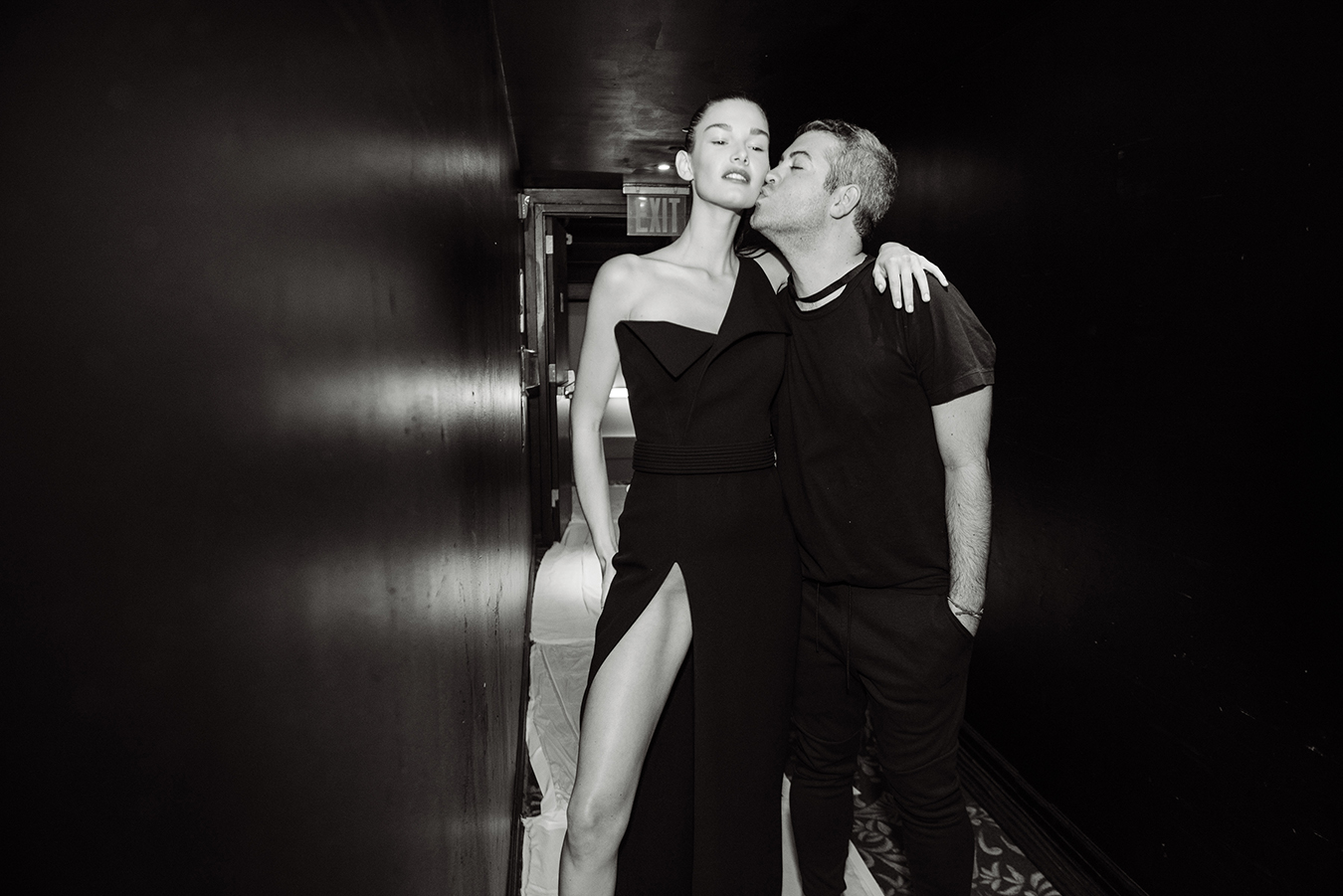 Live for the applause, darling! So, now the debut of Fall/Winter 2017.
What's the mood for this latest collection – which I personally consider your definitive make-or-break season?
Thanks, George, no pressure.
Well, the world and his wife are waiting for this moment! And I will also say that as far as this astute arbiter is concerned, Brandon Maxwell is America's next fashion star!
There is no question in my mind about that fact. And, yes, the world is waiting with bated breath for this must-see show of New York Fashion Week: Women's 2017.
I never imagined that I would be reach this point and that anyone would care.
Well, as WWD once described you: "a tumbleweed who blew in from Texas"….
And learning it all from a grandmother who ran a high-end clothing store in Longview, Texas called Riff's. I grew up there and that's where my journey began. As for this upcoming collection, it's a representation of all I have wanted to do for myself.
[quote text_size="small"]
This time around I really had to ask myself, 'Who am I?' and 'What do I really stand for?' And, as result, I have gone through this design process very differently than any before.
Well, we know you love a bell sleeve, but this season the nape of the neck seems to be your point of reference.
I would say that I always love a bit of structure. And this season, yes, there is probably a bit more on the neck, but it's all a very natural fit. I will also say that I felt very free making this collection. I felt free of any expectation or opinion. For some reason, I really connected with the entire process this time around.
You were one of the first to champion the voluminous silhouette. Is that going to be a continued theme this season?
Yeah, I think so.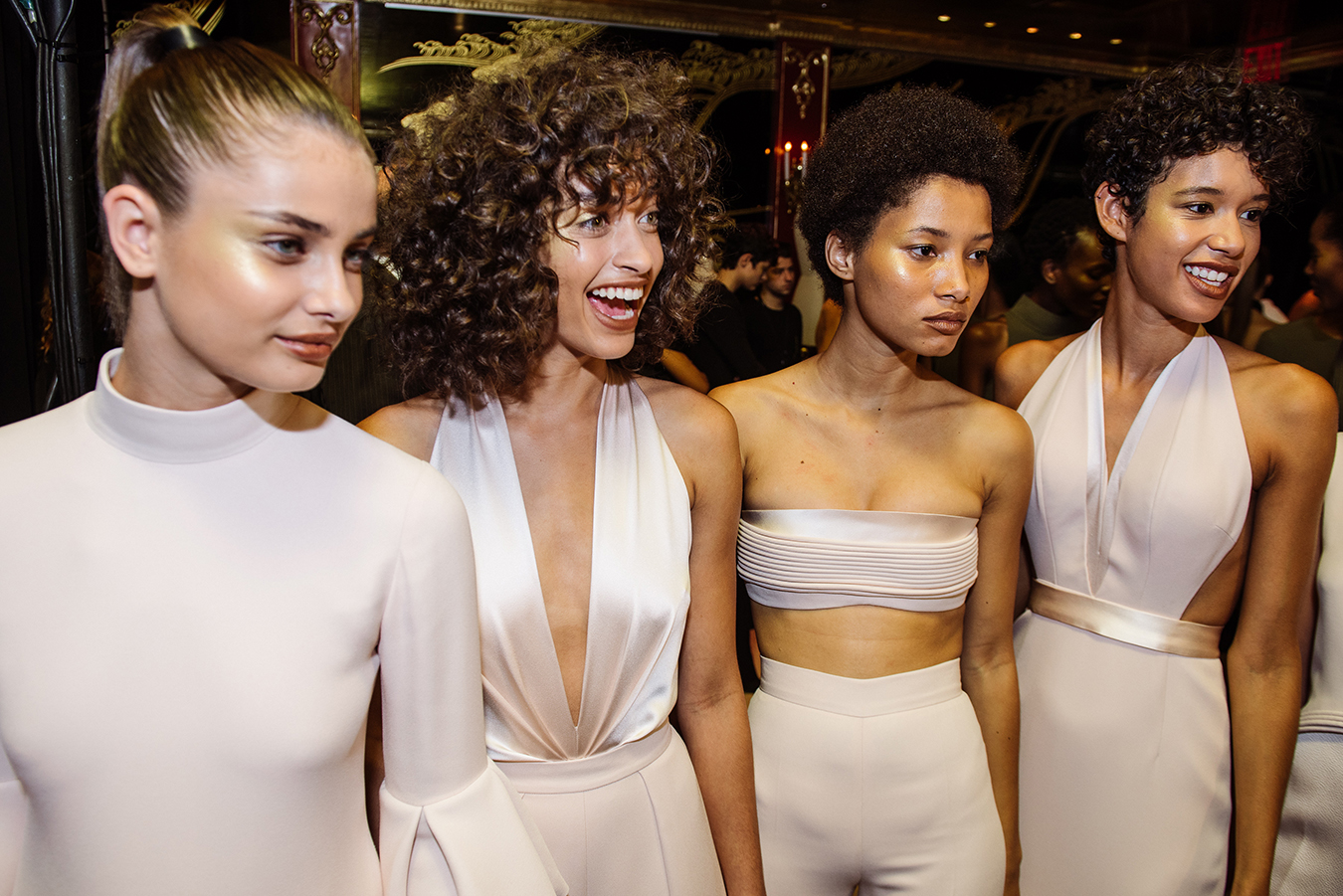 You are known for your structure more than the cut, and you prefer to drape rather than begin the process with a sketch.
I don't know if I have mastered it, but that's how I work, I do drape. The process is different for everyone. I worked as a stylist for many years and still do. I take the same approach in my design as I did with styling, and that is: I get to know the woman and her likes and dislikes and the things that she is insecure about, and really try to emphasize all aspects. For me, it is all very emotional, as I create the collection I drape on a real woman, that is how I know how to work. I approach it all very emotionally.
Speaking of muses, how do you go about the creative process with your ultimate muse, Lady Gaga?
Well, we've been friends for so, so, so many years that it's a best friend, sister, family kind of thing, so it's very, very natural and collaborative.
Do you remember your first custom design for Lady Gaga? Did you design that infamous meat dress from the MTV Video Awards of 2010?
Nicola Formichetti was the stylist and I was his assistant at that time, but I did sew up that dress and I was vegan at the time. The very first dress I made for her was on my birthday; she had an album coming out and it was a blue velvet dress.
Are you working on designs for Lady Gaga and the NFL Super Bowl this year?
You will have to watch on February 5th.
How many looks are you creating, Brandon? How many looks for this mad spectacle?
You will have to watch on February 5th.
What about "A Star Is Born," the movie she is re-making with Bradley Cooper? Are you working on that project with her, too?
Oh, I don't know.
That would be a natural progression for you, to become the Hollywood Costume Designer for your best friend.
Well, we will see, I take one day at a time.
And, apparently, your own pictures. You studied photography at St. Edwards University in Texas and just shot your own ad campaign, tell me a little about that.
The campaign is based on the life of Riley Montana, who is a muse. We shot it in Detroit at her childhood home, with her family. I have a very personal relationship with Riley; she was in my very first show and we have spent a lot of time together and got to know each other very well. She danced the runway to much applause last season.
For me, the women in the show are so important and this time around, I really wanted to highlight Riley's story.
Well, it now goes without saying that every modern woman today ought to invest in a classic Brandon Maxwell suit. You just can never go wrong with that.
Thank you.
The brand is also doing very well on e-tail sites such as www.shopstyle.com.
What are your thoughts on the whole see now-buy now phenomena?
I am only on my fourth show and so I would say right now it doesn't feel applicable to me because I am just getting into the saddle, as it were. I am quite happy with the way the status quo is working for me right now.
How do you decompress? Where is your bolt hole to get away from it all? Falun Dafa Meditation is supposed to be the new chic.
Meditation? I tried to meditate once and it was a mess. I can tell you that meditation is one thing that I will never be successful at. I decompress by going home to Austin, Texas. I have had the same best friends my whole life and I often unwind surrounded by my best friends.
You have said, 'I want to be a reliable brand that women can come to each season.' Where do you see yourself in 2025?
Eight years from now I will be forty, so in terms of the brand, I would hope that we are expanding very healthfully in a range of different categories. I look forward to the bags and the shoes and the beauty aspects of the brand, and hope that we will be able to reach as wide an audience as possible. And by forty, I also hope that I will be married and have a baby.
Who are the titans of fashion that you have the most respect for?
Azzedine Alaïa, Donatella Versace and Karl Lagerfeld. Because they are all extremely generous and they have all been at this a long, long time, and yet remain ever relevant.
Live for the applause, Brandon Maxwell.
[hr align="center" style="striped"]
George Wayne, Contributing Editor
Acclaimed New York-based style scribe George Wayne welcomed the opportunity to sit with New York's latest fashion star, Brandon Maxwell, where ''the excitement and optimism in the brand's showroom is palpable.'' The Jamaican-born writer will have his ''quasi-memoir,'' Anyone Who's Anyone – The Astonishing Celebrity Interviews 1987-2016, published by HarperCollins in the Autumn of 2017.
Photos | Courtesy of Brandon Maxwell