---
Watching the house of Calvin Klein navigate the era of post-Raf Simons as they find their way without a designer collection and visionary at the helm is a difficult one rife with 'what ifs' and comparisons. It is no easy feat and one made even more difficult due to the heritage of groundbreaking advertising from its founder that left such a lasting impression. With the release of their latest Calvin Klein underwear campaign by EVP of Global Creative Cédric Murac, a new direction for the house is taking shape. A softer and less cutting shape that gives affirmation that the label is a mass house rather than a designer house. A house that understands provocation but, unlike its founder, doesn't wish to cross boundaries.
The latest campaign once again features a dynamic cast with a combined social network of followers as large as the reach of some of the best media firms. In her first Calvin Klein Underwear campaign, Naomi Campbell opens the film showcasing her iconic Clydesdale strut from behind drawing in the audience while placating the fashion flock.
From there the narrative gets 'real' to match the campaign hashtag #MYCALVINS IRL (In Real Life). Campbell proceeds to Skype in her skivvies as the black and white filmed fantasy of fashion shifts to a colorful reality with colorful characters. Model Bella Hadid, athlete Odell Beckham Jr., musician Beth Ditto, singer Lay Zhang, actor Jelly Lin, model Hayley Foster, model Abby Champion, model Cara Taylor, actor Jacob Elordi, songwriter Diplo, and actor Matthew Noszka all play roles from snapping steamy selfies, to snacking on donuts, to peeping in doorways.
Director Bardia Zeinali keeps the film upbeat and playful with hints of edge as Campbell does her best impression of Sharon Stone's interrogation leg crossover move from Basic Instinct. A remix of Groove Armada's "I See You Baby" with the lyric of shakin' that ass is also put to full effect as the talents snack or lift weights.
The film and stills by photographer Daniel Jackson never quite cross fashion's threshold of designer sophistication or the global disruption threshold to make the campaign water cooler. If there is one element of founder Calvin Klein's DNA that The Impression wished for Murac and the Calvin Klein team to inherit it would be the designer's propensity for high-stake risk that made his campaigns conversational. Digital allows the house to go even further with risk-taking narrative in ways that founder Klein would have relished, 'in real life.'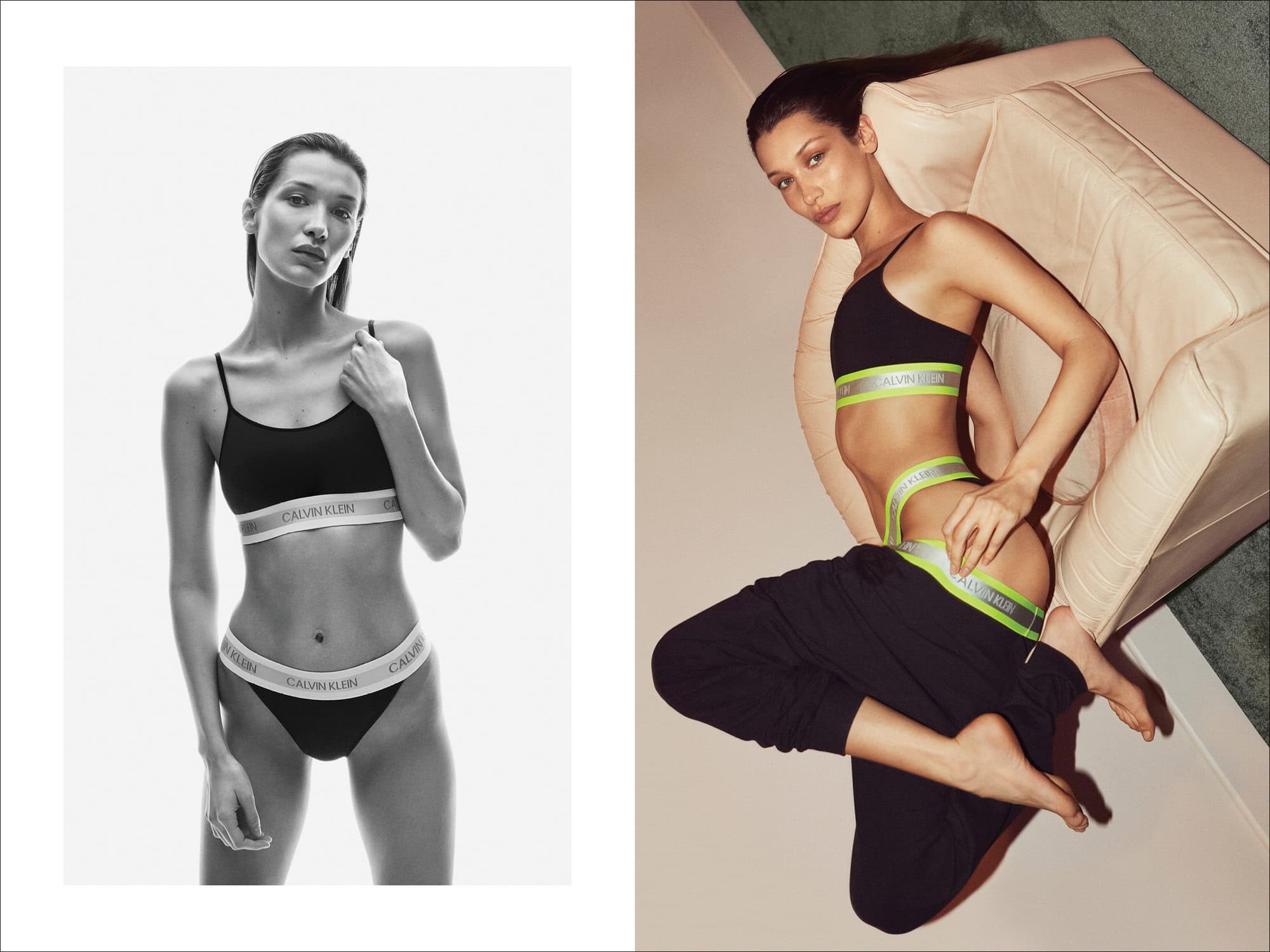 Calvin Klein Creative Director | Cédric Murac
Art Directors | Ben Keren, Florentin Tuillier
Director | Bardia Zeinali
DOP | Evan Prosofsky
Exec Producer | Carrie Provenzano
Photographer | Daniel Jackson
Talents | Naomi Campbell, Bella Hadid, Odell Beckham Jr, Jacob Elordi, Diplo, Beth Ditto, Lay Zhang, Jelly Lin, Hayley Foster, Abby Champion, Cara Taylor & Matthew Noszka
Stylist | Alastair McKimm
Hair | Ward Stegerhoek
Makeup | Hannah Murray
Casting | Ashley Brokaw
Production | Lauren Nikrooz
Editor | William Town
Post Production | Modern Post


---