A Legacy of Fearlessness in Fashion: How the British Fashion Council's NEWGEN Initiative is Empowering Young Designers Through Innovation and Global Amplification.
By Angela Baidoo
Fashion month is a moment in time, a small window into the rollercoaster of blood, sweat, tears, and passion designers tackle on a daily basis. To communicate and share their vision with the world, it's an ongoing battle for young independent designers to find a way to make their brands financially viable, while also growing sustainably.
In this journey though, they are not alone, as each city with their respective councils – the Council of Fashion Designers of America (CFDA), British Fashion Council (BFC), Camera Nazionale della Moda Italiana (CNMI), and the Fédération de la Haute Couture de la Mode (FHCM) – have recognised the importance of nurturing the next generation.
Only one short week ago, London had its biggest and boldest fashion week since the days of 'Cool Britannia'. Not only attracting some of the world's top talent in the form of models, actors, and musicians, it also became the launchpad for two new mega-exhibitions – the British Fashion Council's 'Rebel: 30 Years of London Fashion' at the Design Museum, but also a Gabrielle Chanel retrospective at the V&A Museum. As well as playing host to a citywide takeover by Burberry. In celebration of their new store on Bond Street, they executed the genius idea to re-brand the station to Burberry Street. Images and selfies of which are still doing the rounds on social media. This marketing activation also ran alongside a Burberry x Normans Café collaboration in Tufnell Park – replete with a menu of a full English fry-up, Burberry blue fixtures and furnishings, and branded staff uniforms. Culminating in Daniel Lee's second show for the heritage brand in Highbury Fields.
Proving how much the week can pack into its 5-day schedule, it was very much an amplification of all the new names who editors, buyers, and stylists should have on their radar, many of whom have been supported by the BFC's NEWGEN programme. Here at The Impression, we took a look at how the BFC and its NEWGEN programme is evolving to meet the needs of young talent in a changing industry, and how the councils of the other big three should look beyond grants and think more dynamically in order to ready young talent for sustainable long-term growth.
Index
30 Years of NEWGEN
A New Strategy for a New Era with British Fashion CEO Caroline Rush
What Does the Future Hold?
What Does the Next Era of Support Look Like?
30 Years of NEWGEN
The 'REBEL: 30 Years of London Fashion' exhibition by the BFC in partnership with Alexander McQueen brings to light the cultural, educational, and even financial influences which have gone into shaping the next generation of designers, from every decade since 1993. The curation of the exhibition is an enlightening journey through the past, present, and future of all who have passed through the NEWGEN programme. From designer names long forgotten (Clements Ribeiro, Louise Gray), to those we have lost (Richard Nicoll, Sophia Kokosalaki), to those who have secured their moment in pop culture history for eternity – Marjan Pejoski's Oscar's dress for Björk from 2001 being one such example. It also highlights the importance of the support needed by designers who are just starting out in the industry, as many have openly and honestly been addressing of late. As to build – and sustain – a profitable business (even reaching the 10-year mark is no guarantee of smooth sailing or continued success, you simply have to look at the recent bankruptcy filings of Christopher Kane and The Vampires Wife, who both managed to reverse those decisions at the 11th hour) it takes backing from dedicated institutions – such as the BFC – funding and where possible government backing. The co-operation of the ruling government in the growth of British designers (who are often exported to the world) should not be underestimated, as one look at the NEWGEN's timeline which sits prominently at the start of the exhibition, highlights the way in which successive governments continually increased tuition fees, while reducing or removing grants for those from disadvantaged backgrounds, having the ripple effect of unwittingly blocking the rise of the next Simone Rocha or Matty Bovan.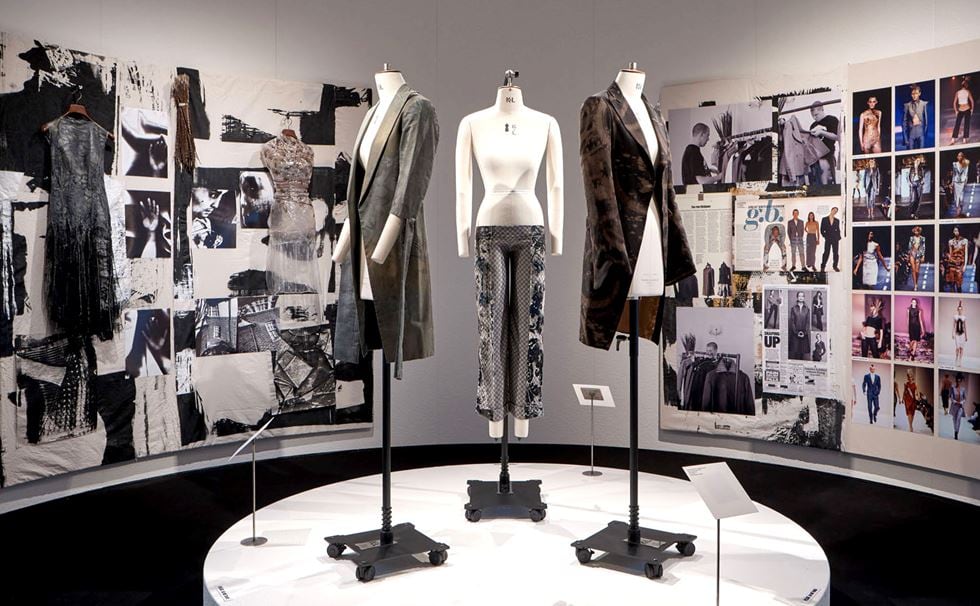 The 'trailblazing' designers who feature in the exhibition are also a tribute to the unique relationships – and tribes – formed by those helming from London, Manchester, Cardiff, Edinburgh, or Yorkshire, as well as the wider global influence of those whose heritage hails from Africa, India, and Asia. Attracted by world-class design schools which have produced some of the country's most successful designers, which can be distilled down to their uncompromising ask of each student to carve their own path and reduce their ideas down until they get to that spark of genius that will set the industry alight.
Counting themselves as part of an exclusive group i.e., NEWGEN alumni. The over 300 designers and brands include main sponsor Alexander McQueen, Halpern, Ashish, Harri, Molly Goddard, Martine Rose, Duro Olowu, Louise Gray, Nicholas Kirkwood, Christopher Kane, JW Anderson, Nicholas Daley, A Cold Wall, and Nensi Dojaka. Who have all had a lasting global impact on how the fashion industry looks – and operates – today.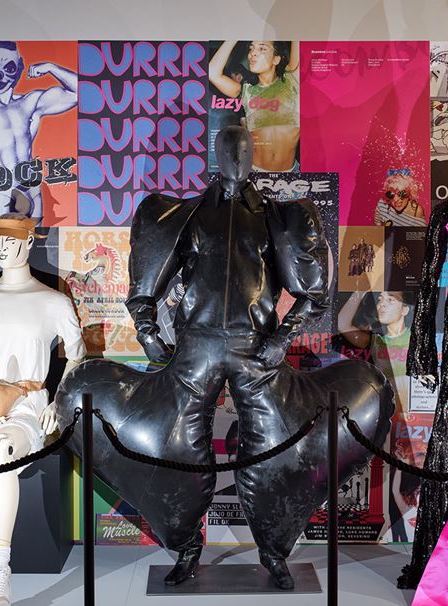 There are boundary-breakers, who sit comfortably alongside traditional storytellers. Harri, founded by Harikrishnan Keezhathil Surendran Pillai in 2020, is the brainchild of the son of a latex farmer, hailing from Kerala, India, who came to study menswear at the London College of Fashion. He would go on to gain notoriety when his blow-up latex suit was worn by Sam Smith at the Brit Awards this year. As just one of the pieces occupying the Club Scene room, its highlights how London's once vibrant and at times raucous party palaces brought together creatives who were able to debut some of their most outlandish creations, or simply by being in the room form life-long friendships born of a love of techno. The scene was also a hotbed of inspiration, which gave designers a necessary feedback loop that informed the way they placed a fastening or developed a new print technique.
All Designers in London remember the great club nights that made them who they are. The queue to get into the REBEL [a name aptly chosen as the title of the exhibition] club symbolises the many relationships, genres, and inspirations that have spiralled outwards from dance floors and venues and onto London catwalks."

REBEL: 30 Years of London Fashion
As an imperative part of the exhibition paying tribute to the fashion departments and course leaders who have mentored, critiqued, and cajoled some of the industry's most well-known and respected names, the 'Art School' room gives the casual observer or avid fashion follower an open invitation to discover the creative process from the designers-eye view. There are books of sketches and notes scribbled, samples of fabric exploration, and experimentation with details that go some way to explaining the thinking behind the final garments on display.
Fashion departments in British art schools have a global reputation for focussing on developing individuality. This distinctively British tradition generates boundary-pushing designers who continually question everything, the fashion system included."

REBEL: 30 Years of London Fashion
The NEWGEN exhibition and the programme as a necessity for young design talent, demonstrates how the platform has provided a supportive hand to designers in their formative years, and why it should be invested in, not just through internal fund-raising efforts, but also from a government-backed perspective.
A New Strategy for a New Era with British Fashion Council CEO Caroline Rush
Taking the step to be one of the first of the council's to re-look at their strategy for young designers, the British Fashion Council released a statement in early June. Setting out their 'refocused strategy' there were 3 key pillars that will guide the BFC over the coming years, namely that of "responsible growth…relentless innovation…and the global and local amplification of the British fashion industry."
With this in mind, The Impression sat down with Caroline Rush, British Fashion Council Chief Executive, during London Fashion Week, to hear about how the BFC were planning to implement their renewed initiatives, and how the support they continue to offer the next generation of NEWGEN's would evolve to meet the demands of a shifting fashion landscape.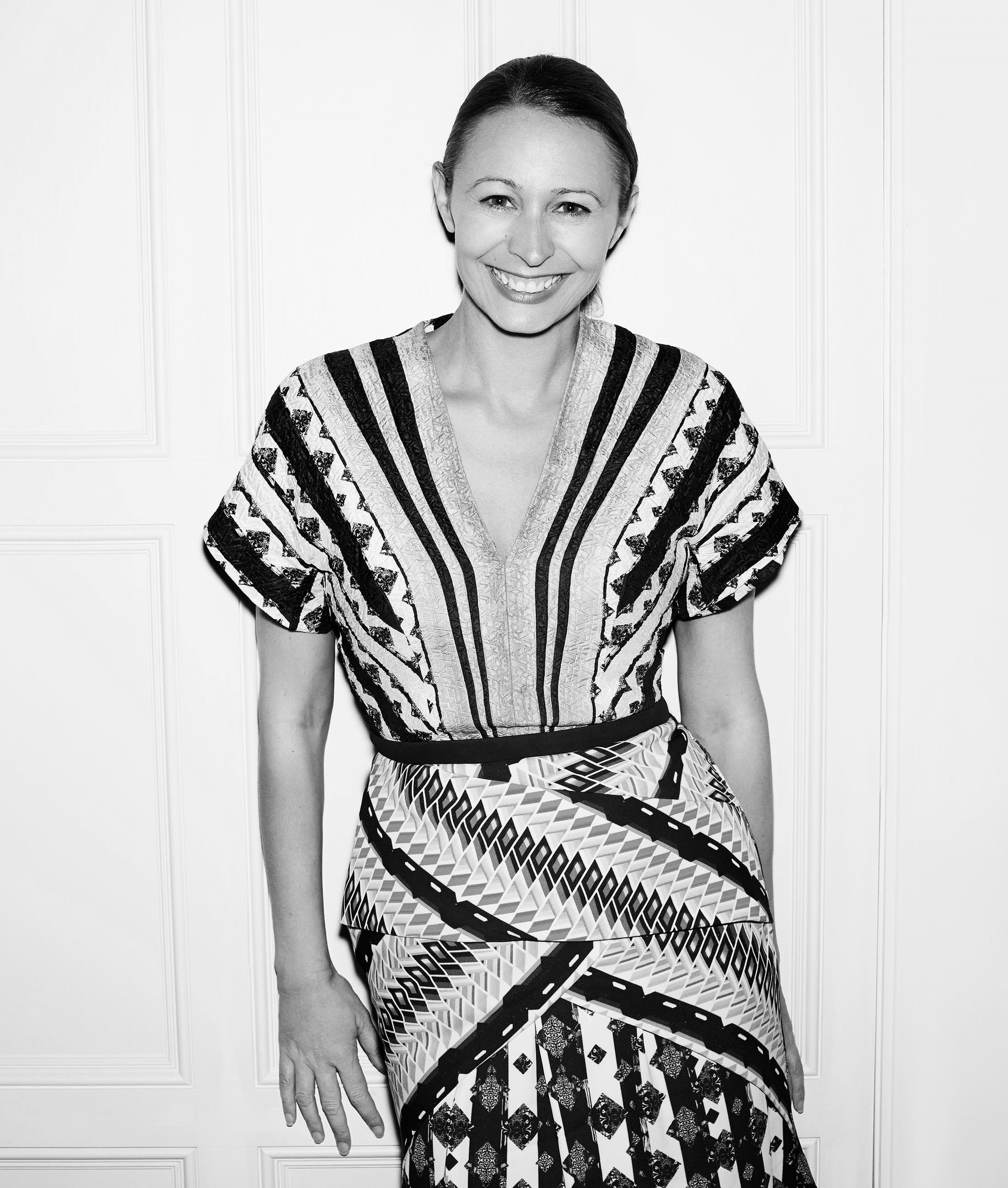 Angela Baidoo: Congratulations on 30 years of NEWGEN! Firstly, I'd like to ask how London designers have evolved with the aid of your supportive initiatives?
Caroline Rush: We've had 30 years of NEWGEN and it was the original design support programme for the British Fashion Council. And that in itself has evolved over the years, when it first started, it was literally a space at the Ritz Hotel, with some rails for young designers, which of course, included Lee McQueen. Since then, it has really become focused around showing at London Fashion Week. The opportunities have grown to produce a collection, or mentoring [as part of a] support programme to really help the small independent designer businesses think about what it means to run a fashion business today. [So we do a lot of] mentoring support one to one, not just with our team, but with experts in industry. And we have just been able to announce this week funding for the show venue for NEWGEN over the next two years. And that is so important, because it is very expensive to put on a typical fashion show, and particularly at this moment in time with the cost-of-living crisis, we just want to make sure that those support systems are underpinned.
The designers need to have the opportunity to showcase, because for them it's their opportunity to share their collection with an international audience, to really think about where they're going to be selling, and hopefully to take orders as well as to get some brilliant media coverage. it's also about them finding their place in this global fashion industry.
Beyond that we have lots of other programmes such as our Fashion Trust, which is about small business grants for businesses who are a bit further along the line. We have our Fashion Funds, which are bigger cash prizes for those that may be taking the next step before they take investment. And then the British Fashion Council membership programme runs monthly webinars and seminars on everything. There has been a lot that businesses have had to grapple with over the last few years, especially with what trading globally looks like being out of the EU, but equally the changes around sustainability regulation in the EU and thinking about disruption around digital innovation. There is a lot of work to be done, but our designers have access to a lot of resources, as we are all in the fashion industry time poor, so it's about making sure that some of that content lives online, accessible at any time.
Angela Baidoo: You have added the term 'Belonging' to your Diversity, Equity, and Inclusion Initiative, can you speak a little bit about what the B means to the BFC and how it will be implemented?
Caroline Rush: We started looking at diversity and inclusion from a research data perspective, and when you start to get some of that data into action it's really important that these programmes are embedded as part of the culture of an organisation. And when we were having a curated conversation around how do we move the agenda around D&I, we asked, Is it around asking questions? Or is it around real cultural change? And actually, when you think about diversity from a male/female perspective on boards, it was really the bit that changed some of that narrative. But equally, if you don't feel that you belong on that board or belong within the organisation, then retaining talent is incredibly challenging. So, what we're trying to do is look at it holistically. Thinking about all the protected identities through diversity and inclusion, [and how does] that in itself create opportunities for programmes that lead to economic gain.
Angela Baidoo: Are there any young brands you're looking forward to seeing this season?
Caroline Rush: I think it's been incredible to see our designers [grow], some who are in the exhibition and some that aren't. We have Harri (Harikrishnan Keezhathil Surendran Pillai), and to see them go from being these costume-like inflatable latex fabulous pieces, taking that into a show context but also taking that futuristic view of what a collection could look like, that could then to be brought to retail was a really exciting step. And equally, what we see in our designers, I'm sure the international audience sees as well. You see these young designers that start with this explosion of creativity, and then they slowly start to refine down the codes of what their design houses are going to be, from a sustainable collection perspective to something that is a bit more personal. And that's the exciting thing for me, seeing that step up, the refinement in production, or the challenge in bringing in tailoring, knitwear, or different categories. So, yes, it is an absolute joy for us to be there to watch.
Angela Baidoo: It must also be very important for the British Fashion Council to have taken this moment in time, at the 30-year mark, to showcase all that young designers, with your support have achieved.
Caroline Rush: Absolutely, and for us, it's the seeing the three decades of collections, which could still be relevant today. You know, you look at Lee's (McQueen) Bumster, right the way through to Leo Carlton's carbon capture, and they could live in exactly the same era. And that's the one narrative that runs through [the exhibition] is that all of these designers have pushed boundaries, and even today have stood the test of time.
What Does the Future Hold?
There is always the need to balance creativity and commerciality for young designers, as ultimately their collections, however Avant Garde, has to sell, which is where guidance from experts in the industry is invaluable. Extolling advice on what markets to target, and how to educate retailers on how to buy into their collections, whether that is from a deeper size set perspective to taking a risk on more creative pieces. How to expand collections into areas such as accessories and footwear, often the most lucrative arm for brands, and how to make the best the use of re-purposed fabrics from resources such as Nona Source, all while losing none of their DNA. Something the BFC's NEWGEN programme provides as par-for-the-course.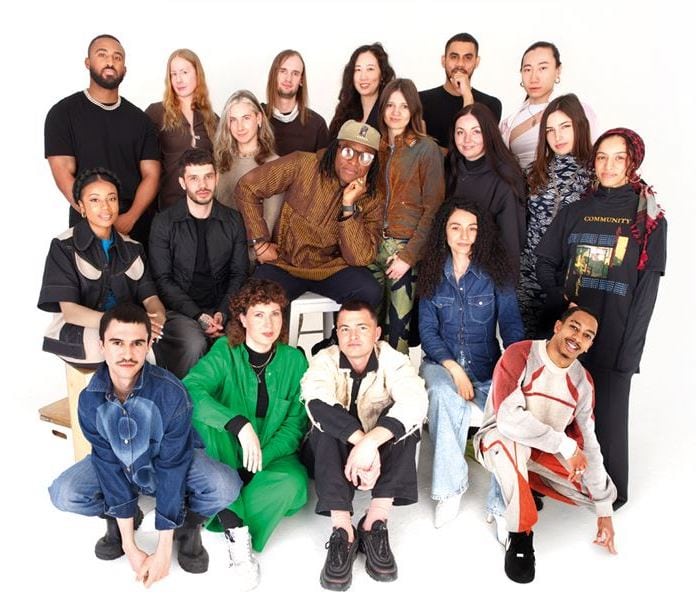 The NEWGEN programme providing a space for young designers to show together is key, allowing them to assuage the need to find a location and finance the entire show themselves – an undertaking which is a necessary evil yet can haemorrhage money from a brand. And for small brands this is often unsustainable without the help of incubators like the NEWGEN.
The NEWGEN show space for young designers is an unspoken gift, as how these designers sell is just as important as what they sell, with the demand to put on a runway show (one of the most effective ways to draw attention to and market a brands vision) becoming a necessity in today's image-heavy world. But, it is not always the most viable solution. Switching to an annual model (as adopted by KNWLS, Conner Ives), showing outside of the traditional schedule (Martine Rose, Jacquemus), or even opting for a presentation format, are all valid options for up-and-coming designers to lean into, as a way to showcase their work and keep control of their budgets. The industry has its expectations, but designers should also be encouraged to break the mould, especially those with a DIY-spirit at the heart of their brand. As trying to keep up with the relentless pace can lead to burnout and disillusionment, and the loss of good designers that could have gone on to be great designers, creative directors, or all-round taste-makers.
As new designers come to the forefront and are hailed as the next big thing, they inevitably draw a crowd for the way they are tapped into a particular community, or authentic narrative based on their heritage. As editors, buyers, and stylists seek out new names who will engage their customers or audience craving a break from the norm. And that point-of-difference is something London has become an incubator of, alongside the BFC's NEWGEN initiative there is also Fashion East, the Sarabande Foundation, and Fashion Scout, producing everyone from Tolu Coker to Paolo Carzana, Di Petsa to Feben, and LVMH Prize finalist Aaron Esh. Because if there is one thing the city doesn't lack, it's talent.
What Does the Next Era of Support Look Like
Create a Sense of Belonging to Break Barriers
Belonging is an apt 'connector' for the BFC to choose as a focus. As international and national students come to London to start their fashion education (creating a groundswell of cultural fusion), many of these young creatives – upon entering the industry – will be seeking the same sense of belonging they cultivated while studying among their peers, where in some cases, lifelong relationships were forged. But as the reckoning of 2020 brought to the forefront, there is still a pervasive culture of exclusion, from the boardrooms to the ateliers, and even when a breakthrough has been made (Virgil Abloh at Louis Vuitton, Maximilian Davis at Ferragamo), whether or not that designer feels like they 'belong', will determine how long they stay in their coveted position, if at all. Creating a boomerang effect that means real change never really takes root.
Adding Belonging to their Diversity and Inclusion strategy, in the way the BFC have, is a great starting place for industry-wide change. If there is any hope in combatting the subtle (and not-so subtle ) ways the industry can make those who come from marginalised backgrounds or under-represented groups, feel less than at home.
More than Money
Offering up more than monetary assistance, which it goes without saying is a lifeline for brands just getting their start in the industry, what young designers need to succeed, no thrive, in the industry is more than money. Young designers are operating from a base which in recent years has become more hostile to fledgling creatives. With Brexit creating barriers to trade and more unnecessary paperwork, and the then Chancellor – now Prime Minister – Rishi Sunak's decision to discontinue tax-free shopping for tourists (months before major regions such as China began to reopen) sending them to neighbouring cities such as Paris. How to navigate the socio-economic factors which also feed into running a new business is something which the BFC is providing, from contract negotiation to IP protection. Giving a sense of hope in an uncertain future, for the graduates of the art colleges who are producing such raw talent i.e. Central Saint Martins, The Royal College of Art, the London College of Fashion, or the University of Westminster.
Benefitting the Bottom Line
Launching this landmark exhibition to coincide with London fashion week, was demonstrative of how much resonance there is around British fashion culture, and the genuine interest around those who make up its community, whether what they produce is fully understood, or not. Fashion as an art form deserves to be respected, not only for its track record of providing over 800,00 jobs in the sector, and 21 billion to Britain's GDP according to a 'Value of Fashion Report' by the British Fashion Council, but also for its undeniable draw for potential national and international students and consumers from all corners of the earth, with London the epicentre of that magnetic pull.
If young British designers have always had it in them to be, and remain, fearless then the least they deserve is an equal amount of confidence in their talent, coupled with capital from the powers that be. Initiatives such as the BFC's NEWGEN and Fashion Fund should be applauded and protected, for giving young designers a fighting chance to make it on their own terms – as independent entities – before seeking out further investment. Because without them there would be no Lee Alexander McQueen, Kim Jones, Erdem Moralioglu, Grace Wales Bonner, Saul Nash, Priya Ahluwalia, Simone Rocha, Charles Jeffrey Loverboy, Roksanda Ilincic or JW Anderson.
We have unwavering belief in the UK fashion industry, its creative heartbeat and London as a global fashion capital. Our businesses are innovators, challengers and provocateurs and our ambitions are too great to be constrained by the small team at the BFC. We as an industry showed our strength as a community through the pandemic and harnessing that strength to collectively do what we can to contribute to retaining and strengthening our pre-eminent position as creators, innovators and industry trailblazers is the opportunity now.

– David Pemsel, British Fashion Council Chair
---