By Lizzy Bowring
London Shines With An Alchemy Of Creativity, A Unique Partnership, And Circularity
With the fashion industry still buzzing after NYFW and tomorrow's launch of LFW (September 17th – 21st), there is an alchemy of creativity and circularity bubbling up through its very portals.
Lizzy Bowring speaks to Caroline Rush, the Chief Executive of the British Fashion Council, on the collectives that support and demonstrate the regeneration of fashion for the UK. From what Caroline has to say, it is pretty clear that this LFW is just the boost that the industry needs.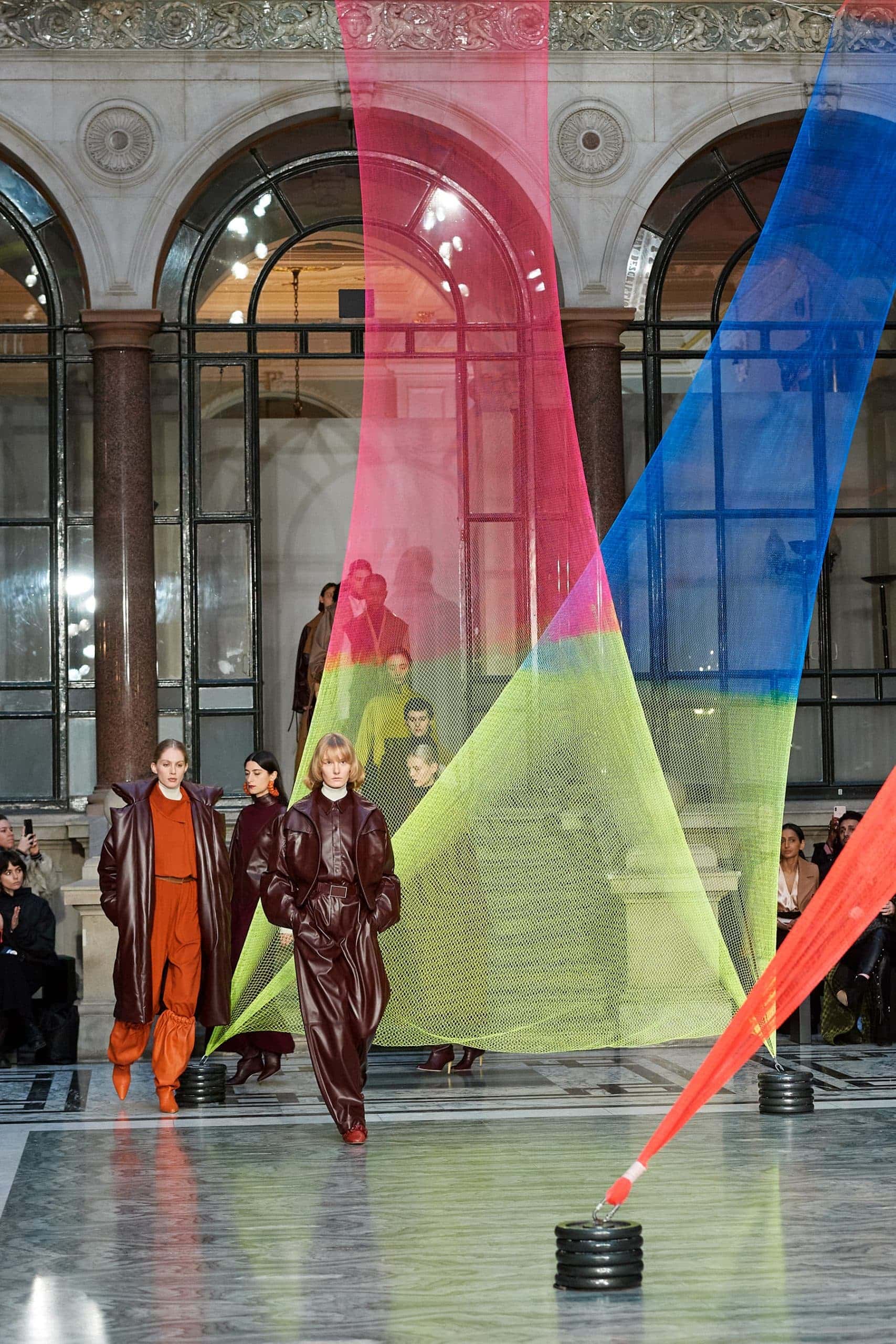 There's more to LFW than meets the eye as Caroline Rush approaches the new season with enthusiasm and excitement, but above all, her approach is with a profound sense of responsibility to creativity and a fierce determination to pivot UK fashion as the pioneer of sustainable fashion.
Lizzy Bowring: The last 18 months have propelled the fashion industry with such velocity that we find ourselves having to re-evaluate how and where we must sit in this new global dynamic. The need for transparency within fashion businesses is a fundamental requirement to gain trust and loyalty from future consumers, yet to engage the customer will also require us to present a compelling product. With so many new means of reaching customers, such as sustainability, digital platforms, and data-driven analysis to inform our decisions, is the core component of creativity in danger of being overlooked?
Caroline Rush: I don't think so, particularly for designers building their businesses in the UK or those at art colleges – that DNA of creativity is fantastic in terms of brilliant products and creatively thinking about how they will build businesses for the future.
Many of the young designers that we see coming through are logically looking at the kind of business they want to be, really focusing on how sustainable they want to be and very engaged in their communities, work in, and sell to. So it's gratifying to see those values emerging. Of course, we've seen from our more prominent brands like Burberry putting out ambitious targets in terms of not just being net-zero but being nature positive. So we are also seeing the younger designers coming through, looking at ways to shape the future.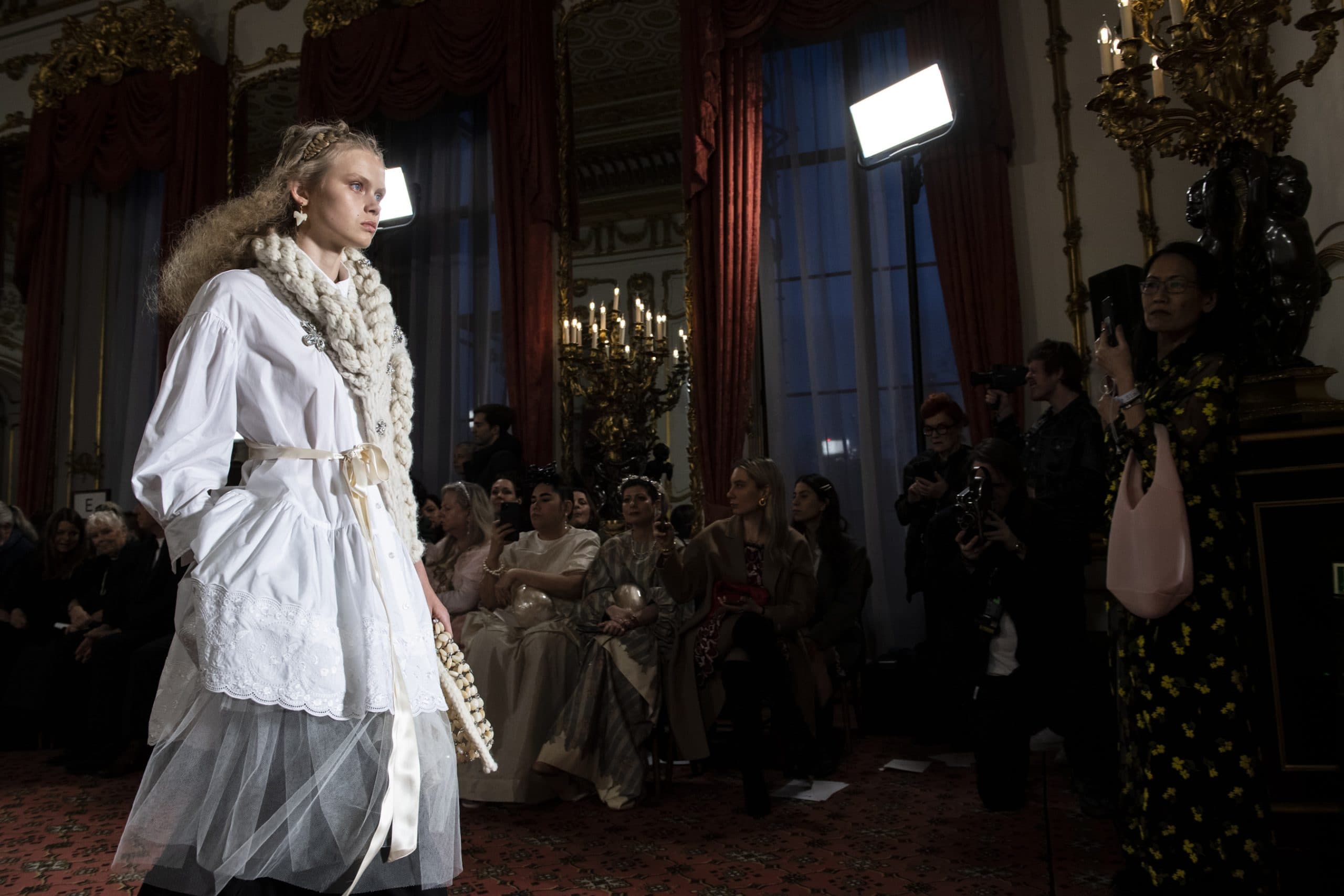 Lizzy Bowring: My thoughts are that creativity elicits individuality through compelling artisanal intuition, the art of fashion, history, and life experience at all levels. It is intrinsic to our cultural heritage and a natural component of our DNA. More than ever, designers embrace what is around us and the richness that the world has to offer.
With this in mind, S/S 22 is being viewed globally, as the season of re-birth and as London has always been viewed as the hub of creativity, how do you envisage the role of British designers and how significant a part do you feel they will contribute to the future of this much-needed re-generation in fashion?
Caroline Rush:

London has always been the engine room for ideas. We see a constant flow of new businesses and highly creative individuals emerging not just in the fashion industry but across all other creative sectors; our designers and brands are playing a significant role across the intersection of fashion and culture.
The vibrancy and the interdependence of creative industries can also demonstrate what digital formats can be like and how they engage with their customers in new ways.
We are very excited about the schedule both in terms of it coming back with physical events, welcoming people back to London, and equally for those who are choosing to continue with the digital showcase of their work, and how that will be represented alongside the physical activations. I think it will feel really great to the global audience to see the energies coming through from the catwalk, the street style, and the vibrancy around London.
There will be 350 events around London over the next five days that consumers can get involved with, so there will be a real sense in the city that London is back. The mayor of London, Sadiq Khan, has a new program called 'Let's do London,' about getting people back into the city. London fashion week, our designers, our brands and our retailers will play a very important role in that.
Lizzy Bowring: Creativity is key to our cultural heritage. The pandemic world has sadly brought about the demise of several emerging talents. As business leaders, we are responsible for ensuring that the threads of creativity will continue and not be lost. Therefore, we need platforms that can offer such support and engagement for the future 're-generation'. BFC is the first International body to engage and partner with TikTok to support emerging talent. How do you foresee this unique partnership developing in terms of supporting the NewGen programme, and what significance will it play for fashion collections in general?
Caroline Rush: BFC partnered with TikTok on NEWGEN (NEWGEN is the BFC's talent identification scheme, showcasing the very best of emerging talent).
Its a great partnership because TikTok will be able to bring in their creatives to think about different content that is coming through on the Tik Tok platform. TikTok is becoming a significant platform for us. Our numbers are growing very, very quickly in terms of engagement as it is for our designers. We are very much looking forward to all the activation that will be held at the TikTok space over the next few days. The area is in the old Selfridges Hotel – a great location, accessible for everybody. Our principal partners Clearpay and TikTok will be coming together to host a dinner Saturday evening to celebrate the importance of supporting creative talent in London. When we were thinking about how we would raise funds this year, Clearpay underwrote all of our designer support for programs and grants initially, so both of them are very aligned to supporting creative talent. It's fantastic to see your partners coming together to work in that way.

And with that said, look at the roster of notable talented designers showing, including Supriya Lele, Harris Reed with his gender-fluid collection, and the darling of the moment, Nensi Dojaka, who recently won the 2021 LVMH prize and whose recent work has earned her a celebrity following. These young designers are rekindling the notoriety that London is the centrifugal force for emerging talent.
Lizzy Bowring: The world of fashion must take the lead in behaving responsibly to reduce the carbon footprint, as seen forefront in Copenhagen fashion Week. New York, Milan, and Paris are promoting change by offering up sustainable and responsible solutions. Do you feel optimistic towards this approach to post-pandemic fashion, and if so, how will London Fashion Week contribute to this direction?
Caroline Rush: Yes, the industry will move towards circularity.
There are two stages here, stage 1: we have a report coming out next Tuesday (21st September), the first stage of research of what the target state could be in circular fashion and what the eco-system could look like in the UK.
We believe that the UK can be this fantastic blueprint for circularity. We have the designers, the brands, the textile manufacturers, great retail, e-commerce, and an avid population of shoppers. We collect more post-consumer waste than anywhere else in Europe.
Therefore, we are looking at the infrastructure and what needs to happen, and the stakeholders who need to make that happen. We believe that is the way for us to reduce our impact on the planet significantly, so I am absolutely aligned with that. Our engagement in that research shows how many other businesses, from big brands to small, are aligned to this thinking.
For LFW, we all have to play our roles. We have all done different audits in the past; now we need to make sure that our partners have solid and sustainable credentials. We have gone one step further this year and have taken the work that Copenhagen FW has done and looked at how we can embed that in the work that we do with the designers, helping move them towards being more sustainable business practices in the way that they showcase at LFW. That piece of work is being done now, and we will be sharing that with the designer businesses towards the end of this year. We are also correctly measuring our carbon footprint of all of our expertise around fashion week and looking to this as a benchmark not just to offset but reduce this going forward.
Lizzy Bowring: Thank you for taking the time our of your busy schedule and we look forward to a creative, circular, and celebratory London Fashion Week.
---