When Size Really Does Matter– Does the Rise of the Quiet luxury Trend Spell the End for Size Inclusivity?
By Angela Baidoo
Three short years after voices calling for more inclusivity in fashion were at their loudest (and showing signs of ushering in genuine representation on the runways), along comes a trend whose origins lie in a distinctly exclusionary aesthetic. Favouring tall, thin, able-bodied, and preferably wealthy participants, namely the trend for 'Quiet Luxury'. But has its emergence, along with adjacent revivals of y2k and 90s-era styling led to the marked decline in plus-size models that was witnessed on the runways this summer 2024 season?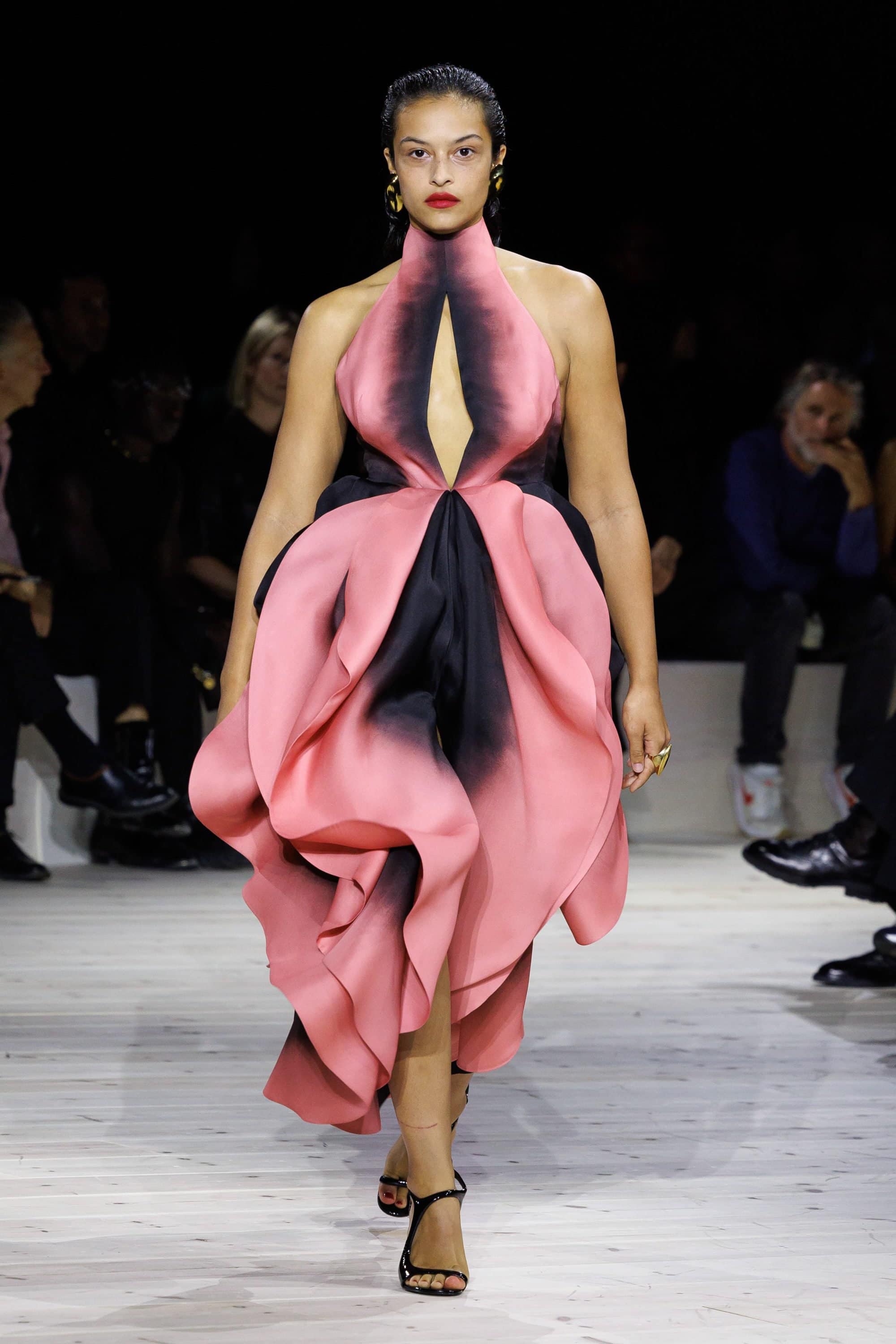 At a time when the cost-of-living crisis, as well as continued disruption from world events are influencing consumer spending in a volatile way (negatively affecting the bottom line for luxury brands), a reversion back to tried-and-tested methods of marketing via desirability politics – which often means putting the most unattainable version of beauty on a pedestal – is predictably making its way back into the zeitgeist.
In what was seen as progress, where more models of different races, shapes, sizes, and abilities were coming to the forefront, what was witnessed on the most recent runways this season – despite the optics of a few stand-out shows – was the sample-size standard coming back in full force. But is that the complete picture, does it go beyond the runway, and how can luxury brands help to fix the problem of true representation from runway to retail and reality?
Key Takeaways
Empower emerging names to lead the way: Emerging designers who are more in tune with the evolved consumer are championing size inclusivity and demonstrating the revenue-driving potential of an inclusive brand vision.
Size inclusivity should go beyond casting: Luxury brands should consider the entire customer journey, from runway to retail to reality, with retailers placing orders that include a deep enough buy within the L-XXL size range ensuring that customers who admire looks on plus-size models can purchase them in real life without facing sizing inconsistencies.
Educational initiatives can help to tackle the root of the problem: Major fashion institutions should embed education on plus-size fashion and product development. Offering dedicated courses and making plus-size mannequins available to all students during their studies.
The bottom line: Luxury brands that fail to extend their sizes beyond a Large risk missing out on a substantial revenue opportunity, amounting to approximately $288 billion in 2023 alone. By excluding plus-size individuals, brands also have to reckon with the optics of promoting narrow beauty ideals which may affect their relevance in an increasingly diverse world.
Index
Emerging Names Make the Cut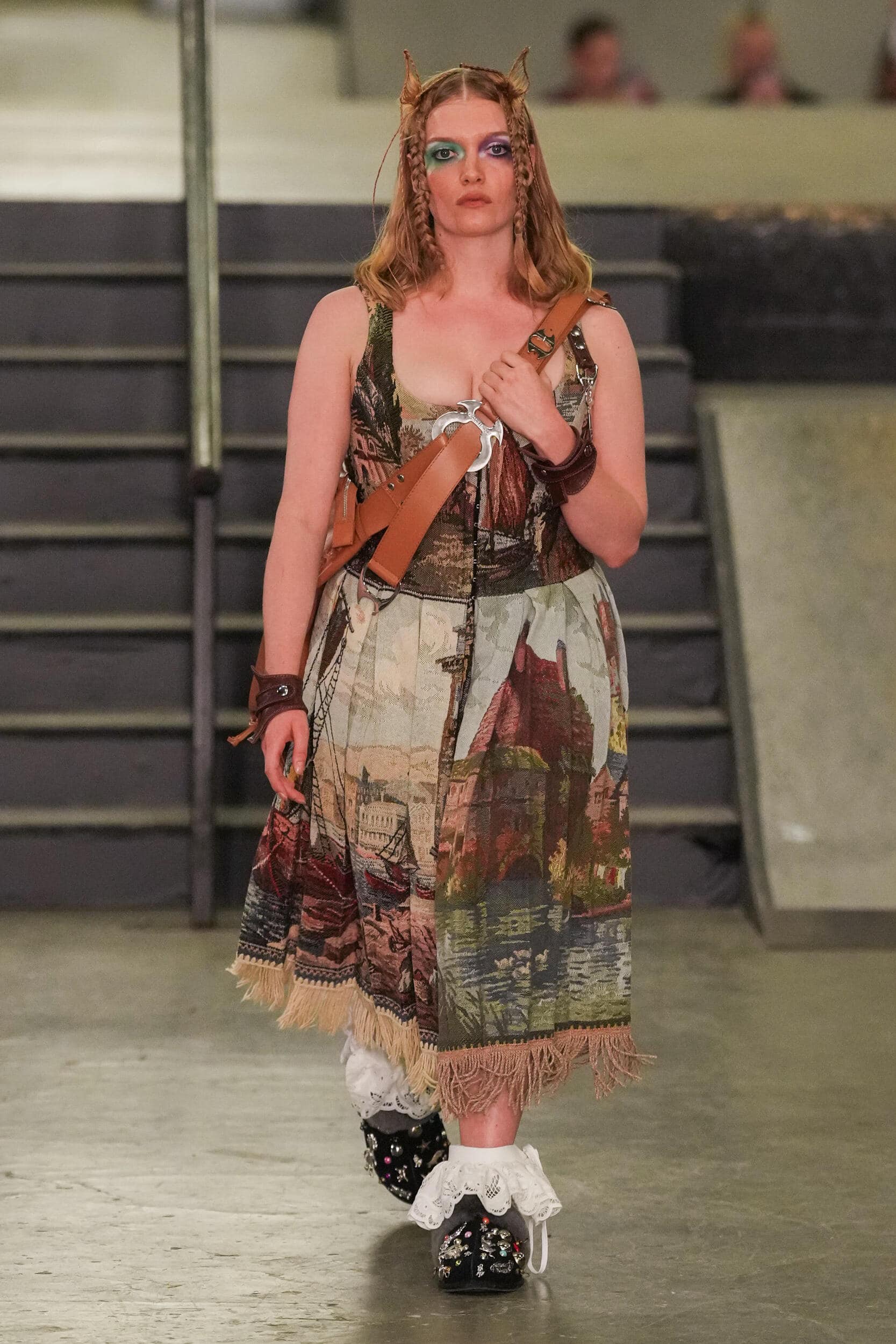 Young or emerging designers have always been forward-thinking when it comes to the promotion of diverse models on their runways. Choosing to amplify inclusivity by allowing a wider range of individuals to see themselves in their collections. These designers – from Chopova Lowena to Karoline Vitto – offer an honest view of how garments, from tailored blazers to cut-out midi dresses, will translate onto different body types.
The brussels-based design duo of breakthrough brand Ester Manas have already been making waves on the runways. Ester Manas and Balthazar Delepierre have created a brand where one size truly does fit all. Having gained recognition through a number of awards and prizes, from the LVMH Prize to the Hyères festival, their ethos of inclusive design that doesn't shy away from cropped hems, mini lengths, and suggestive cut-outs have won them fans in the artist SZA and a collaboration with cool-girl favourite Ganni. The team's views on size inclusion, when speaking with The Impression, centered around being part of an evolving movement.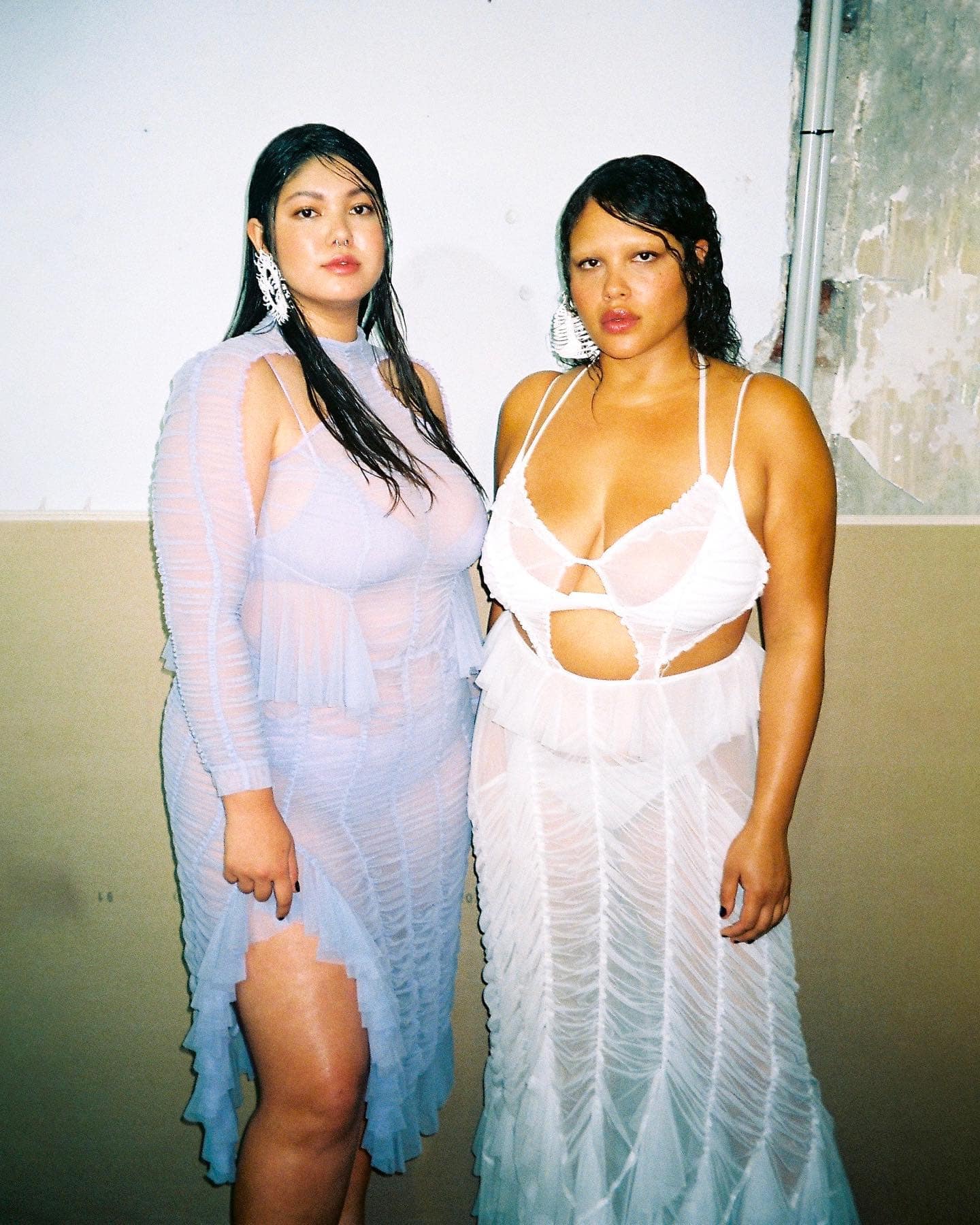 Having a younger vision and a fresh perspective helps to keep up with an ever-evolving fashion industry. The size inclusion issue isn't new though, it has always been there, but it's true that the industry is now more open to this conversation, and we are proud to be part of this movement."

Balthazar Delepierre, Co-founder, Ester Manas
While it's true that the impact of these designers decisions will keep the conversation alive, it is the bigger, more established luxury brands that have the potential to make the most significant change. By normalizing plus-size model representation, rather than rolling it back, luxury brands can encourage inclusivity and set a precedent for the industry as a whole.
As the rise in popularity of GRWM (Get Ready With Me) videos by a range of content creators on social media has shown, plus-size shoppers want to buy into the latest trends which emerge each season, outside of the easy-wins of a jersey T-shirt or knitted dress, whose stretch allows them to flatter a range of body types. And those customers who skew younger will continue to demand fashion options that tap into the trend for sheers, cut-outs, underwear as outerwear, and mini-lengths, which these emerging names are making their signature. As well as tailored looks, which have to be expertly fit and graded to flatter and meet the requirements of those who buy from a size L and up.
In recent years a number of designers have taken up the call to act and are providing targeted collections which both flatter and celebrate the curves of their potential customers.

-Karoline Vitto (available in sizes S-3XL)
-Sinead O'Dwyer (XS to 4XL)
-Ester Manas (whose signature gathered technique allows for a one-size-fits-all system for many of their dresses, but they also offers sizes in S-3XL)
-Christian Siriano (2 – 30)
-Selkie (XXS to 6X)
-Chopova Lowena (who it must be noted had an inclusive cast of mid-to-plus size models for their summer 2024 show, is available in sizes XS to XL)
-Molly Goddard (6-18).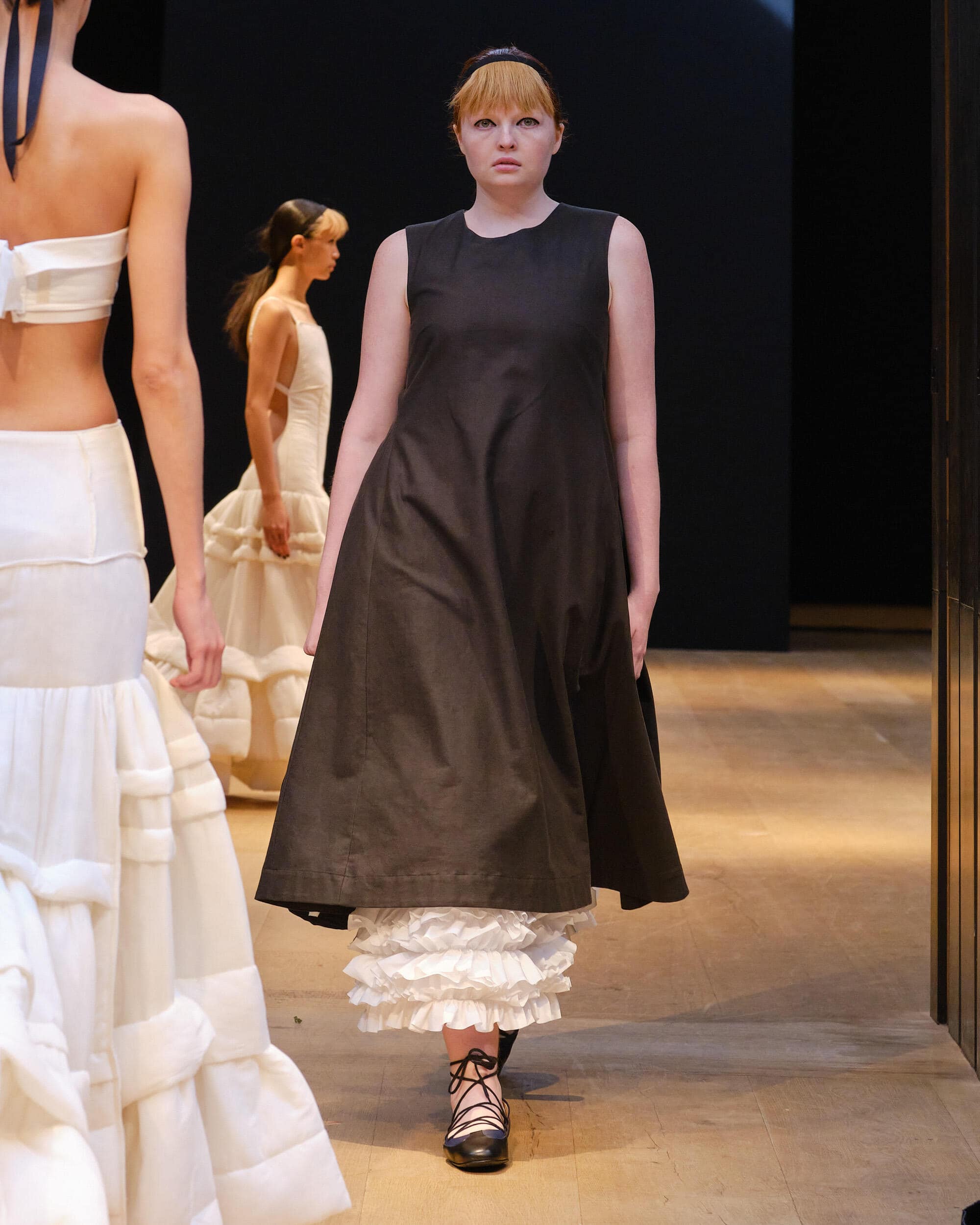 As shows are so core to the brand, it feels really important that we represent the size inclusion of our offer in the show! Our customer base is very varied so representing this visually in the show and online is essential. We offer inclusive sizing from our own e-commerce as widely as we can and if you can't find your size on our e-commerce, we will make it for you at no extra cost."

Molly Goddard, creative director, Molly Goddard
It is commendable that young designers are taking on the responsibility of enacting change, but bigger brands who can bring about widespread transformation also have to reaffirm their commitment to their diversity and inclusion manifestos.
Embedding Change Via Education
What and how designers are taught in their formative years – at institutions such as Parsons School of Design and the London College of Fashion – can be instrumental in leading breakthrough changes in an industry that is often slow to do so. The many designers who were taught by Louise Wilson on her infamous MA course, or who studied at Central Saint Martins, are testament to that fact, as a generation of young British designers broke through and changed the way women were empowered (Alexander McQueen), couture was staged (John Galliano) , and sustainability was radically embedded (Stella McCartney).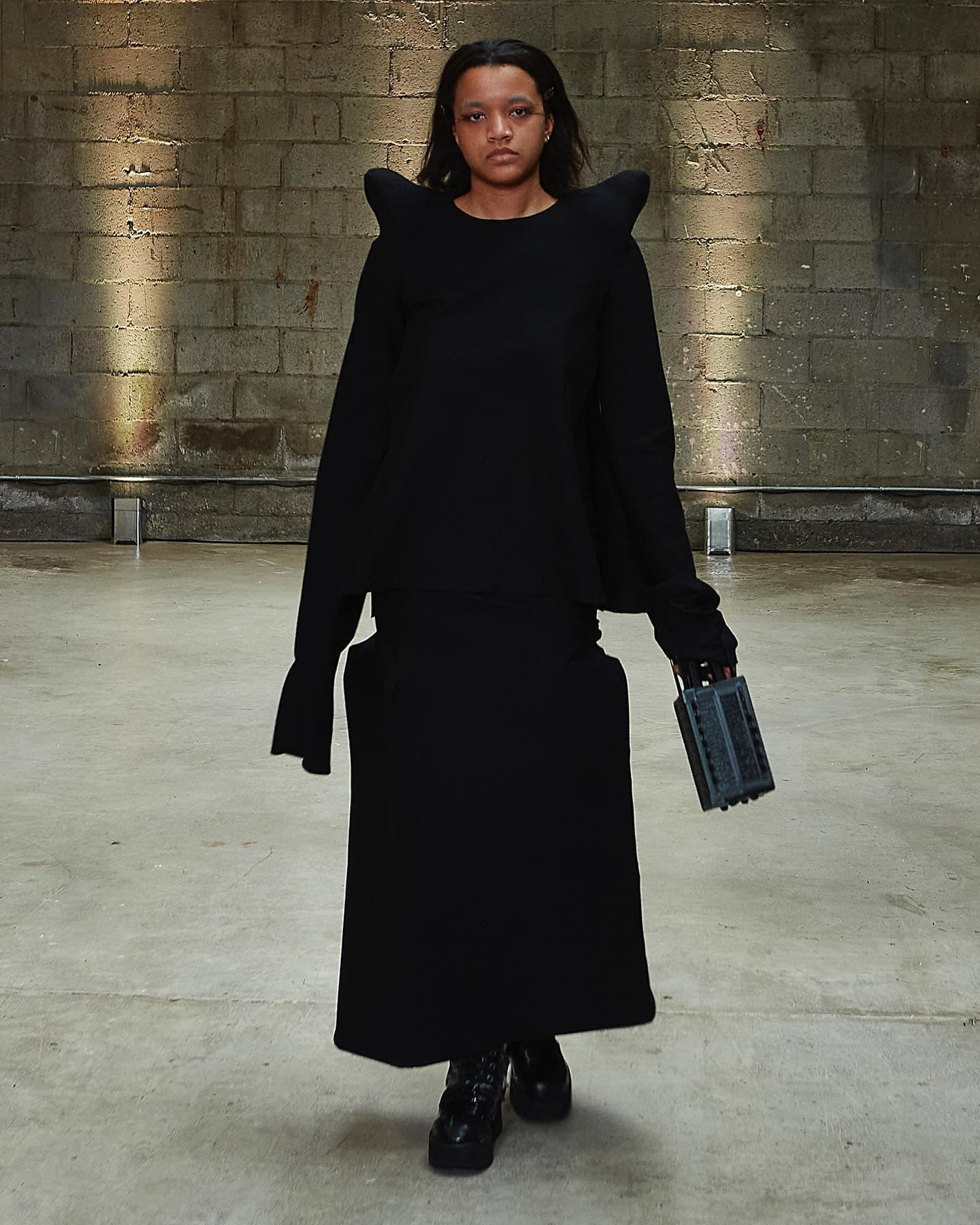 Proving that fashion education has a pivotal role to play in influencing the industry's standards and practices, the Fashion Institute of Technology (FIT) have taken the proactive step to integrate education on plus-size fashion and development into its further education (so open to both students and the public) programme, setting a precedent for change from the bottom-up. To encourage more plus-size models on the runway at fashion week, other major fashion institutions should follow suit by not only offering dedicated courses, but also ensuring the availability of plus-size mannequins and sample blocks for students during their studies.
The way fashion students work and communicate has evolved, they have a more interactive relationship with their designs and are trying their creations directly on themselves (to take pictures, to post it on their social media) which gives them a variety of body types to work on. But fashion colleges should provide students with tools and opportunities to work on larger morphologies. It starts with buying different sizes of Stockman (tailor's dummies) for example."

Ester Manas, Co-founder, Ester Manas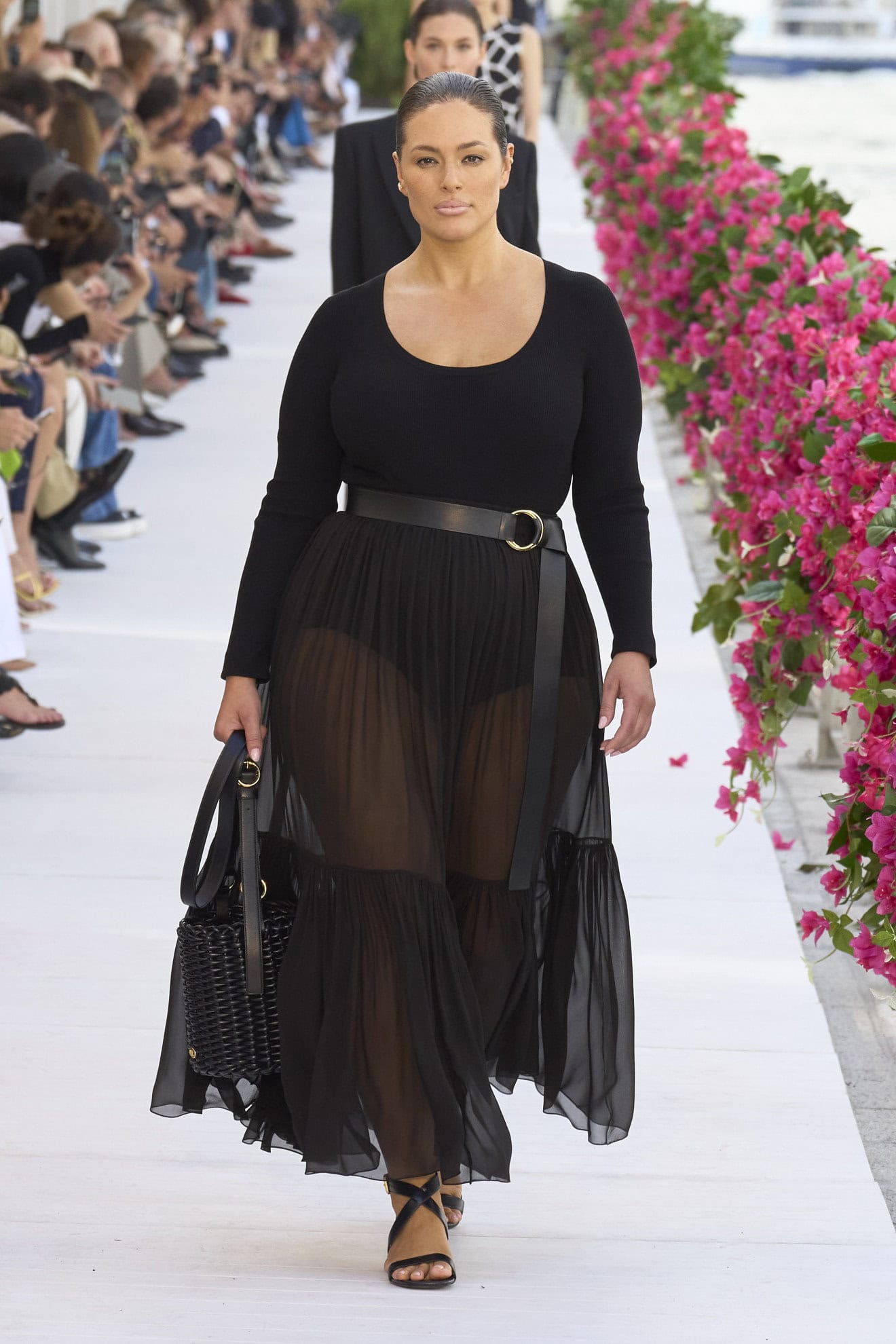 Following her own campaign to implore the fashion education system to do better, Mallorie Dunn – Founder & Designer at SmartGlamour, and Adjunct Professor of Fashion Design/CCPS at FIT – proposed and gained approval for the creation of two new Continuing Education courses at the institution. Focussing on the realities of the average American consumer, these courses encompass essential aspects of fashion design and production tailored to plus-size fashion, including size chart creation and working with plus-size fit models. By incorporating such courses, fashion schools can help cultivate a generation of designers, stylists, and industry professionals who are better equipped to promote inclusivity and diversity in fashion. Expanding further on the importance of starting at the root, Dunn told The Impression
"Plus size people are the majority, 70% of folks of all genders in the USA wear plus sizes, that is not niche. That is not elective. The standard dress form size should be an 18 – not a 6. Fashion students should be taught the reality of customers – not only when they choose to take an inclusive or plus-focused class – in their main fashion apparel and fashion art courses."
Mallorie Dunn, Founder & Designer SmartGlamour and Adjunct Professor, Fashion Design/CCPS, Fashion Institute of Technology
Initiatives like the ones proposed at FIT are crucial steps toward broadening the understanding of plus-size fashion and fit, encouraging its incorporation into the mainstream. But the already evolved thinking of the current crop of next generation designers shouldn't be under-estimated. They are already considering 'Design-for-all' in their collections, which can be seen across the board in incubator programmes and industry prizes, a viewpoint shared by Molly Goddard whose collections are made to suit a range of body types from size 6 to 18, "I think colleges should focus on teaching making skills! Learning how to actually make clothes, pattern cut, sew and communicate designs is the most important thing in my opinion. I think the next generation of designers already has a far better grasp on how to reflect society and the value that adds." Goddard said.
By providing students with the tools and knowledge necessary to work with a diverse range of body sizes and shapes, fashion institutions can contribute to the ongoing efforts to make the fashion world more reflective of the real consumers who purchase luxury fashion.
From Runway to Retail Reality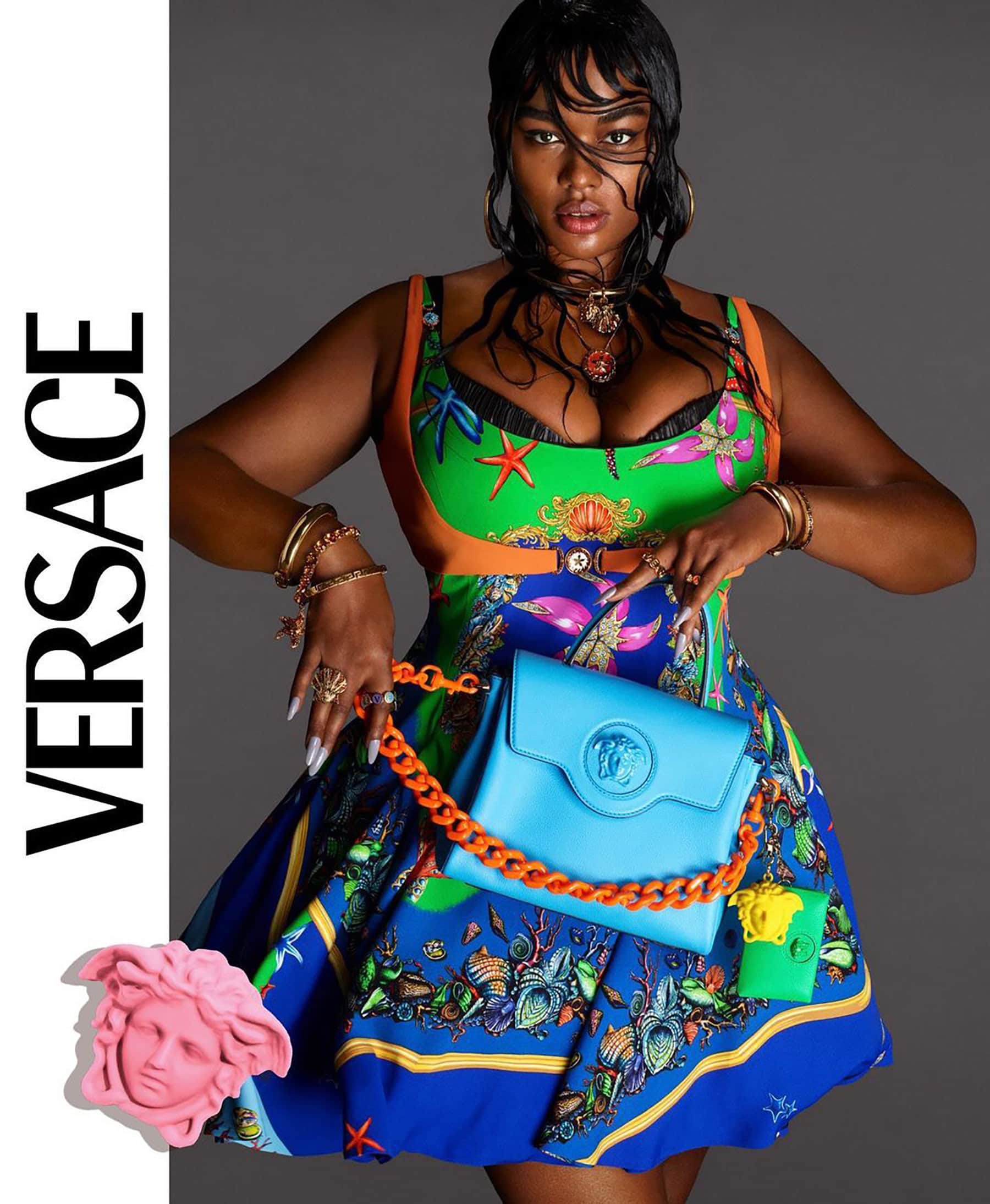 The fashion industry's size representation issue is a multifaceted problem that extends beyond runway shows and casting decisions. Despite brands featuring plus-size models in their runway shows and ad campaigns, the problem often persists at retail. Once collections leave the runway, there is often a disconnect between the inclusive message portrayed and the actual availability of plus-size fashion in-store. Meaning those looks that fans admired on Paloma Elsesser and Ashley Graham are often harder for customers to purchase in real life. Ester Manas, whose namesake brand pushes for representation from runway to retail via its model castings and e-commerce imagery echoed that the change needs to be seen and felt at the retail end of the journey "It is currently more important to represent size inclusion on the runways indeed, but the final change must come from retail. Most of the time, the inclusive sizes seen on the runway are nowhere to be found once the collection hit the stores" she said.
This discrepancy highlights the need to not only embed diversity during fashion month but follow through and make those designs accessible when each new season hits down on the shop floor. Lest customers who don't fit the narrow XS-L standard are left out entirely, relegated to buying into a brand via its accessories or footwear categories.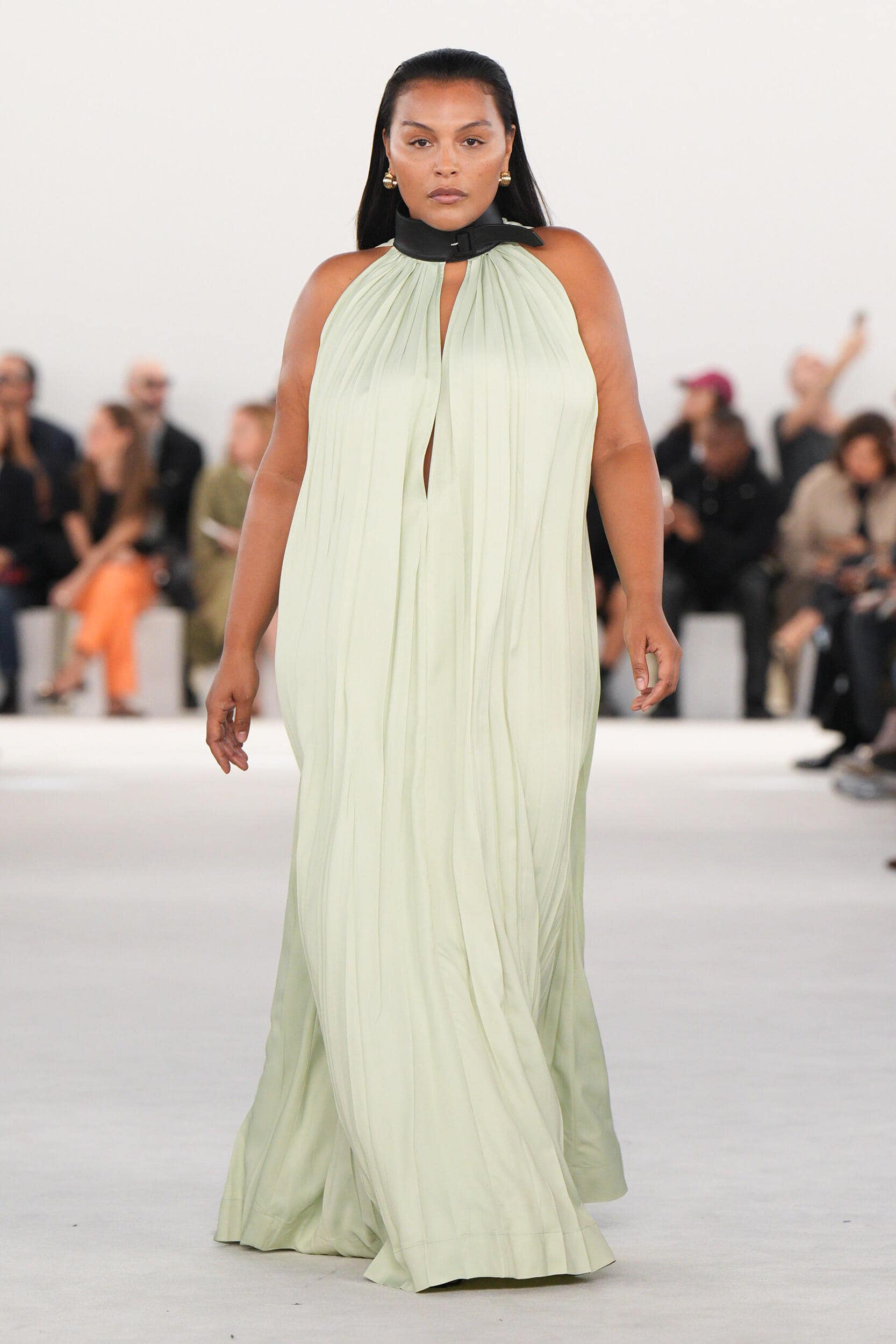 Drawing attention to another plus runway representation idea that I think is very insidious and important. [Is the fact that] each season, Christian Siriano is lauded for his inclusion, and I understand why – compared to his colleagues, he appears to be doing a good job – but in reality, for each show, he uses only around 4 "plus" models. I have yet to see a model that wears his plus sizes on a runway. He offers up to a size 28 – where is that model? This is such a deep and complicated issue. And to be quite frank – the issue doesn't even lie solely with Siriano. It is the agencies, the industry, and society as a whole that have completely skewed our ideas of bodies, sizes, measurements, and beauty."

Mallorie Dunn, Founder & Designer SmartGlamour and Adjunct Professor, Fashion Design/CCPS, Fashion Institute of Technology
Plus-size model casting in luxury fashion shows is undoubtedly a step in the right direction, but this should be accompanied by substantial changes to retail buys. To truly embrace inclusivity, luxury brands need to ensure that a diverse range of sizes are readily available in-store, with a more comprehensive approach to offering extending sizing. Serving to not only bridge the gap between runway and retail but also provide a more equitable shopping experience for customers of all sizes, reinforcing the importance of aligning messaging with actions.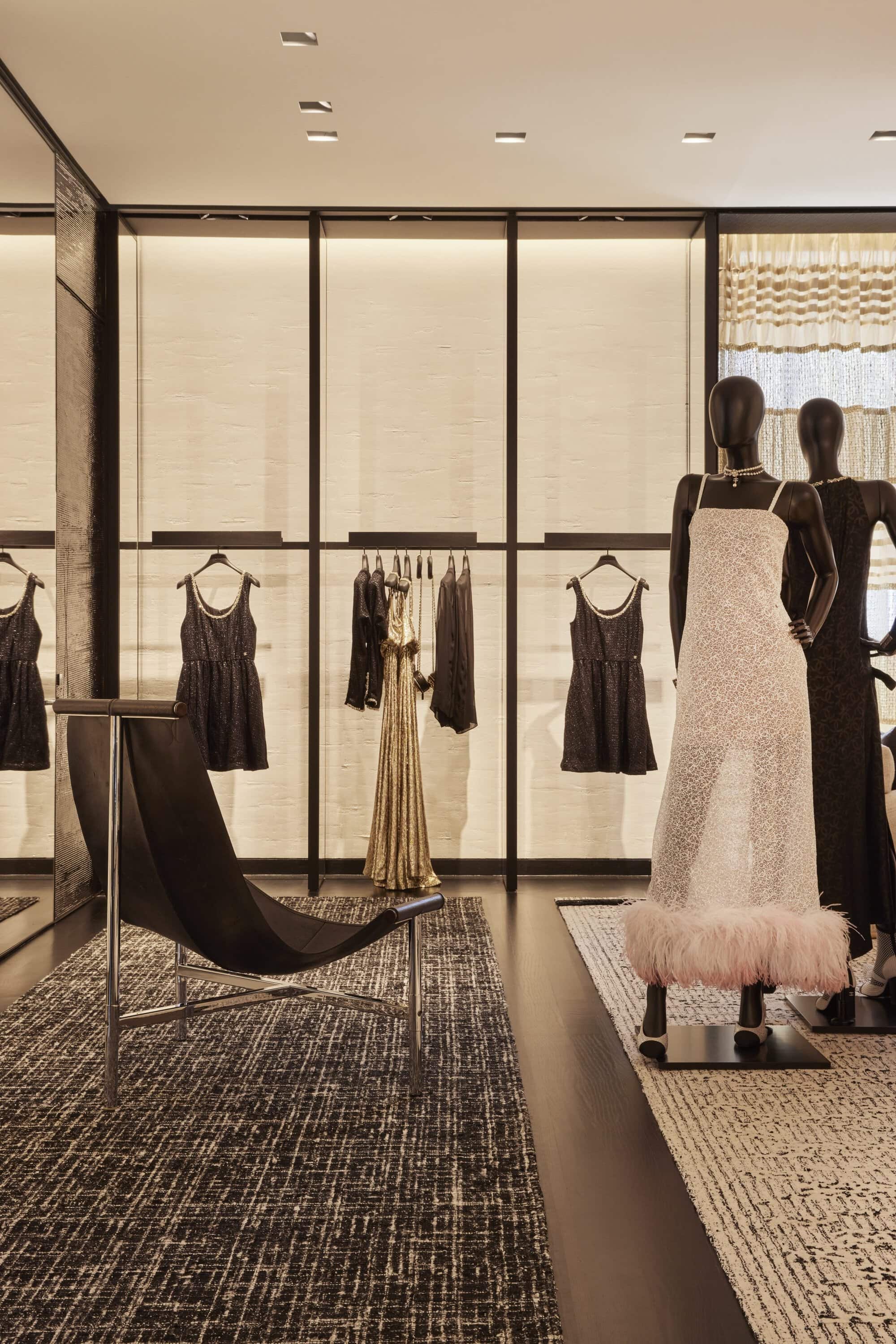 There is still quite a lot of hypocrisy in luxury stores because we all know that HNWI clients from the US, the Middle-East or Asia will pay extra to have made-to-measure clothing. They are the ones using the salons privés in Paris with a personal shopper. It's no secret. But they probably can't find anything that could fit them on the racks apart from the bags, some shoes (most high-end stilettos can't fit large feet) and accessories (the real money makers for most legacy luxury brands)."

Dan Hastings-Narayanin Deputy Foresight Editor at strategic foresight consultancy, The Future Laboratory
Is Quiet Luxury Quietly Excluding?
The 'Quiet Luxury' trend, epitomized by influencers such as Sofia Richie-Grainge, Kendall Jenner, and Hailey Bieber has undeniably reshaped the fashion industry over the past year. In the process it has left little-to-no-room for those who exist outside of the skinny-straight ideal. Raising concerns that this trend is now being reflected on the runways with the limited inclusion of plus-size models this season.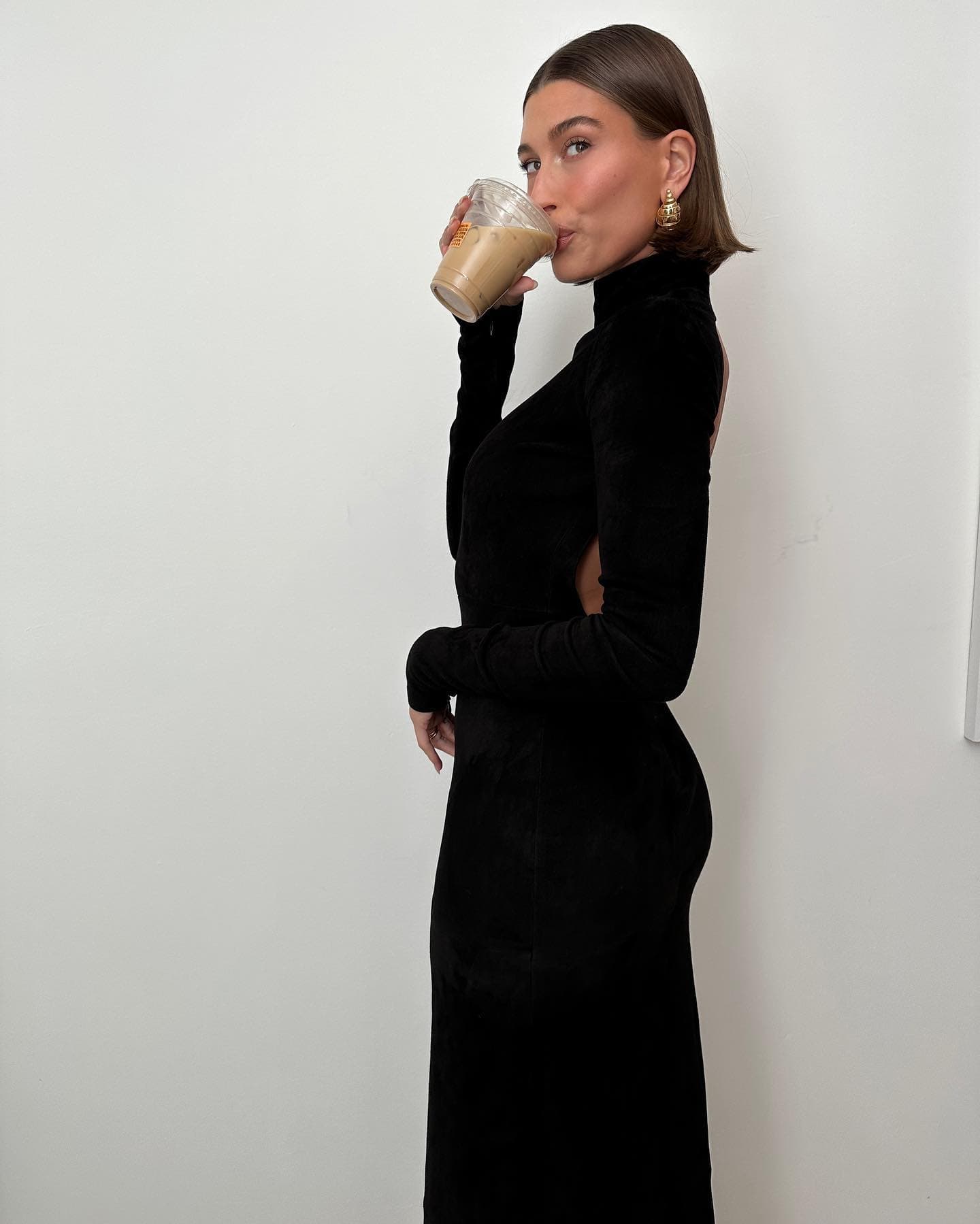 Mirroring the ideals of the 1990s – a decade which gave rise to 'Heroin Chic' and was a precursor to when size 0 became the benchmark for models globally – this trend has also served to perpetuate the notion of exclusivity centered around a particular body type. The return to such unattainable standards has also been driven, in part, by a renewed interest in accelerated weight-loss methods brought on by the popularity of drugs like Ozempic. While, the emphasis on the slender physique, which aligns with the 'Quiet Luxury' ideal, could also be said to have inadvertently resulted in the marginalization of plus-size representation across the fashion industry. Yet, despite the amplification of the trend via editorials, think-pieces, or tailored content, which tend to err on the side of featuring the most popular (read skinny) poster girls, there is room for a more expansive vision of the trend, as expressed by Ester Manas:
I don't think that the 'Quiet Luxury' trend is incompatible with plus sizes models. Quiet Luxury is just an aesthetic based on minimalism and timeless garments, any body type would work with that direction. "

Ester Manas, Co-founder, Ester Manas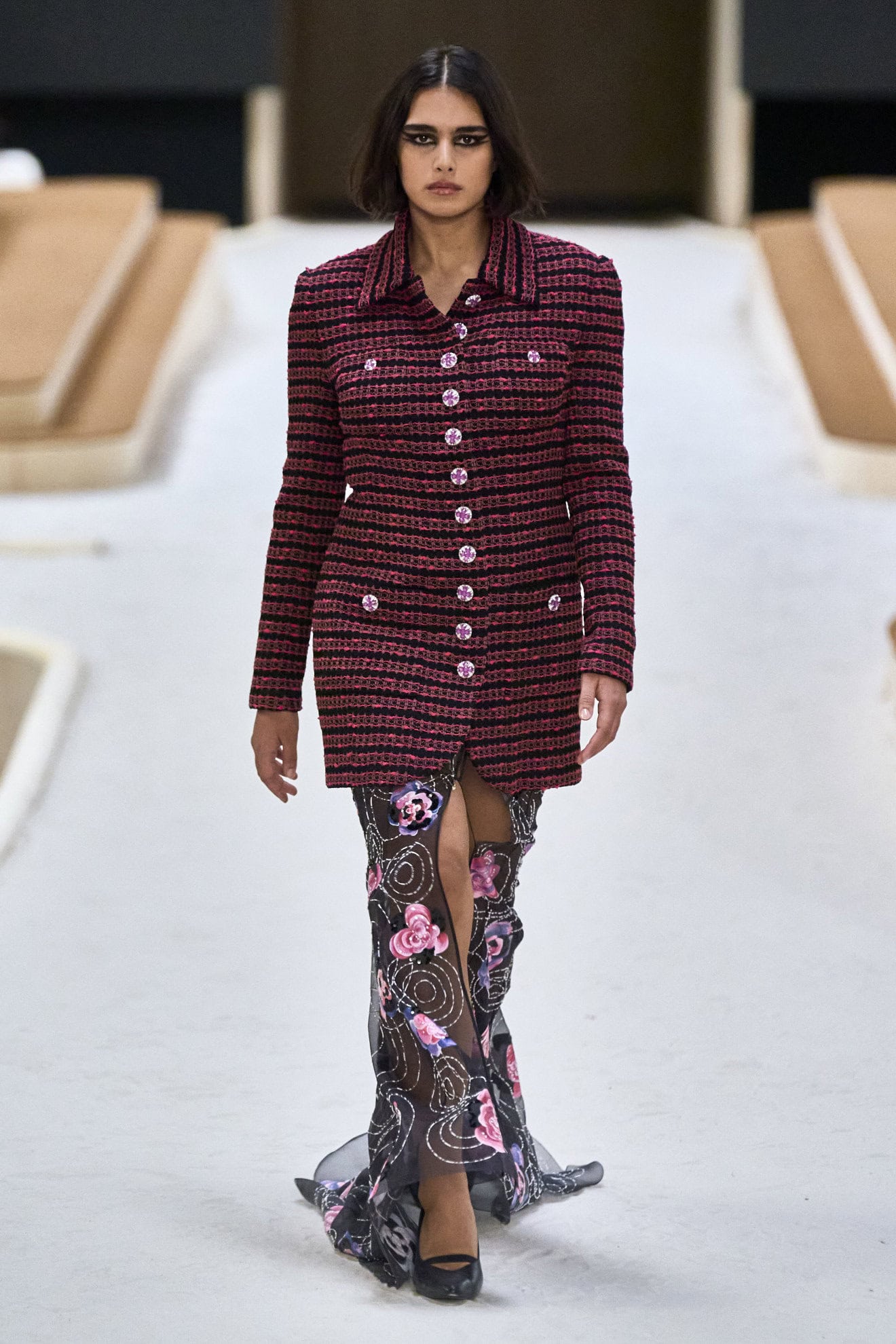 This swing-back-to-slim has been a shift which strategic foresight consultancy, The Future Laboratory, have been tracking as an underlying 'Body Hostility Era' where the cult of thinness is rearing its ugly head once again. According to the consultancy "After a decade of dieting rebranded as wellness and a Western awakening to inclusivity and representation of marginalised groups in the public eye, the 2020s might be replacing body positivity with body hostility".
Whether we are likely to see another social reckoning in response to the return of the size zero model will be dependent on the galvanising of a sizeable consumer base around a topic which may not be at the forefront of their minds in the current climate. A sentiment shared by Dan Hastings-Narayanin, Deputy Foresight Editor at The Future Laboratory who told The Impression "I'm not sure plus size consumers have enough power to hold the luxury industry accountable. If the premium and luxury fashion industries were just after the money, they would have extended sizing decades ago. But they will continue to hire one or two curvier models for their runways, and when they do it will be the most acceptable version of plus-size. Precious Lee is usually either put in a corset highlighting her breasts and hiding her stomach, while Chanel loves Jill Kortleve because she embodies the easiest step into inclusivity without any risk."
Interview with Felicity Hayward: Plus-size Model and Body Positivity Activist

Felicity Hayward has been a body positivity activist and model for the over 12 years. And for the past two, she has produced a report post-fashion month tracking the numbers around plus and mid-size model representation. Noting that this year, while there were some positive gains, city's such as Paris saw a year-on-year reduction from 33 plus-size models to 28 from September 2022 to September 2023, according to Haywards data. In contrast there was the platforming of Fashion East alum Karoline Vitto, who graduated from London to Milan with financial backing from Dolce and Gabbana. Featuring a full cast of models from size 10 to 24, her brand was given a main-stage presence with the global fashion press, but it was still a 'radical' act. Radical for the way in which the casting of her show managed to skew Milan fashion week's numbers on representation, and the fact that Vitto admitted to having to fly in models for the show itself.

The Impression sat down with Hayward to gain her insight on plus-size inclusion, and exclusion, and what she concluded from the data she analysed during September's fashion month.

Angela Baidoo: As a body inclusivity champion who has been tracking the representation of plus-size models on the runway, were you disappointed at the lack of representation this season, where there appeared to be a roll-back across the big four?

Felicity Hayward: It's a difficult question to answer, as yes, I feel like I'm being constantly disappointed, but this is the highest we have ever seen it in terms of size diversity in London. This season saw the most curve and plus-size models that the city has ever had, and I'm going to stand by that statement. But the reason it's a difficult question to answer is because, on the one hand, I can say wow (regarding the city's numbers) I'm incredibly proud that we have now got here and that we are leading the way, but then when you actually look at the numbers it's close to only 1% of the total models who walked the city.

Angela Baidoo: Did you find that it was the emerging brands who were leading the way, or was there also representation from established names in London?

Felicity Hayward: It's always the New Gen that have the biggest number in terms of representation, I think the bigger fashion houses are dabbling in curve, but they're using the same roster of one or two curve models, and they aren't thinking outside of the box. They need to be a bit more punk, especially in London, we invented punk and you're only putting two models on the catwalk, it's showing the ethos that these brands are built on.

Angela Baidoo: As many brands work to industry standard sample sizing – from the classroom to the sample room – is it a difficult ask to expect them to divert from this for a handful of models each show?

Felicity Hayward: Sinead (O'Dwyer) definitely expressed that it is a lot harder, mentioning in her seminar (the designer hosted a seminar at the Royal College of Art over a traditional runway show this season) that she has four different sample sizes, so that cost her four times as much. And that is what is frustrating, as we have these young designers who are taking the risk, knowing full well that big brands have the money, time, space, capacity, and resources, and they're still not doing it. That's the bigger issue here, and the most interesting thing Sinead said was that her garments are sold on Browns (Fashion), and SSense, but they don't buy into the bigger sizes, so there is still some sort of fat phobia in the fashion industry.

Angela Baidoo: Thinking about the translation of representation, have you found that luxury brands who have included plus-size models on their runways and in their campaigns , also have a broad range of sizes available in their stores?

Felicity Hayward: This really makes my blood boil, as I can't begin to tell you how many luxury stores I have visited who have used plus-size models in their campaigns, yet do not have clothes to fit me, it is tokenism. Because what message are we sending to the younger generation, that it's only for the models? And I'm not saying that every young person is going to be able to afford a Karoline Vitto skirt, but it's about having the option.

Angela Baidoo: When you hear about the rise of trends such as 'Quiet Luxury' and the ultra-slim 'Heroin Chic' aesthetic making a return, do you think brands playing into them is what is contributing to the reduction of plus-sized models on the runways?

Felicity Hayward: Even if designers are playing into that, It won't be for long. Trends come and go but we all need clothes to wear. This January was when we really had the rise of heroin chic, and the trend for Ozempic, where everyone was slimming down their bodies. Then the next fashion week in February saw New York down to the lowest they had ever been in terms of inclusion, so as you said that was definitely because of the rise of those trends. But with a backlash from everyone who recognised that the city used to be at the top when it came to diversity during fashion week, they came back up to second place this season, because what we do have now is the power of social media [to call these issues out].

Angela Baidoo: Do you find when you attend shows, plus-size representation is reflected in the guest list, as in do you find that you are one-of-one, or one-of-two on the front row?

Felicity Hayward: No, to put it bluntly. I remember attending a Fashion East show for Karoline Vitto during London fashion week, and there were two or three plus size guests including myself, and I just thought this designer is so well supported by so many London (plus-size) influencers. There are so many girls (plus-size influencers) that I know that want to go to fashion week, and they haven't been able to get into these shows, because there is still an IT crowd of people on the front row. I find it quite frustrating that I am usually only one of a few, but the same goes for street style.

Angela Baidoo: Speaking of street style, what has been your experience there, as we know so many influencers made their start that way?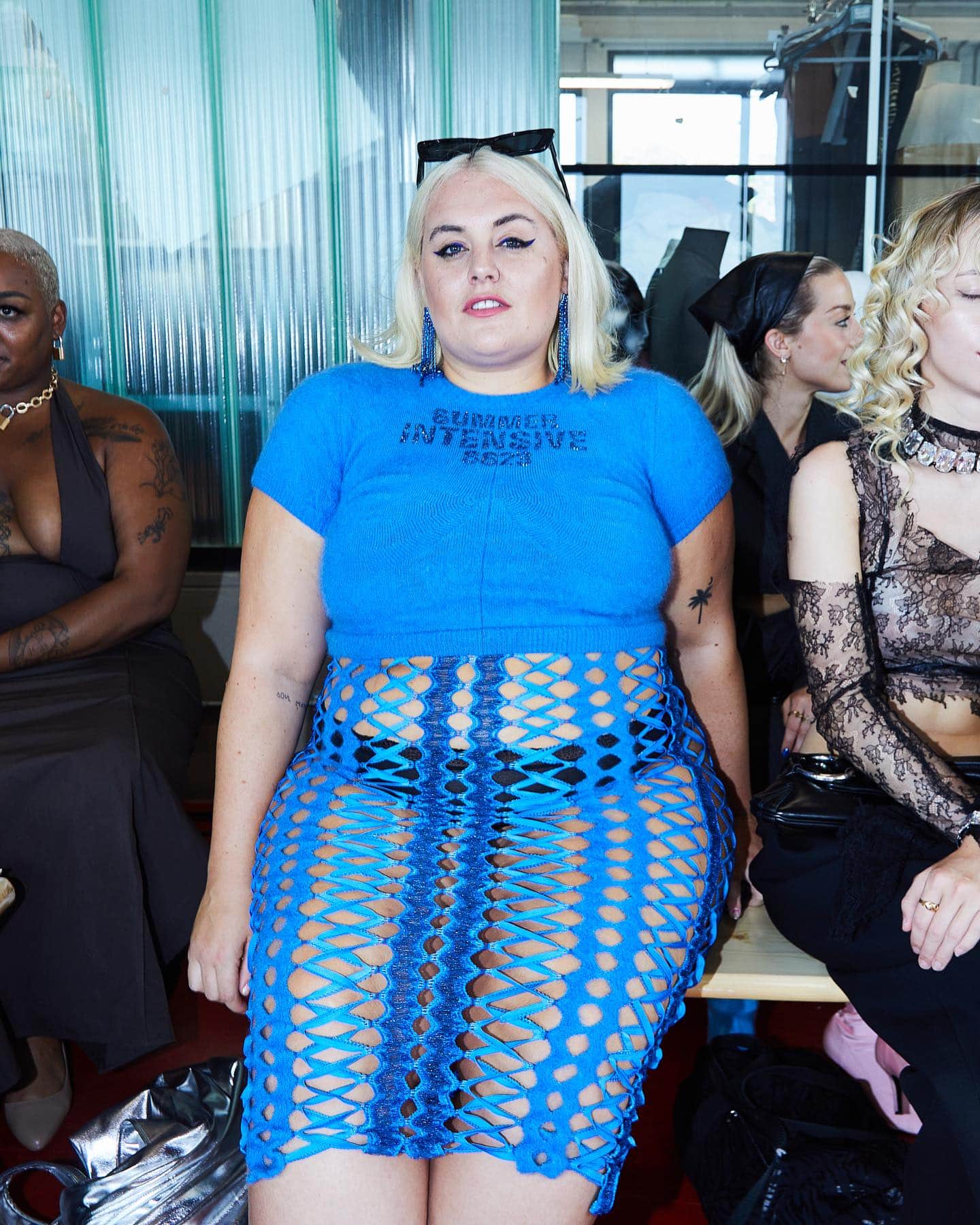 I had an issue at the Dolce and Gabbana sponsored Karoline Vitto show, where I flew myself to Milan and I went to the Dolce and Gabbana HQ where I was fitted for the show, and as I arrived – in a head-to-toe look by the designer – I got out of my car and the Italian street style photographers put their cameras down, and I just want to emphasize the fact that this isn't about me and my ego, this is about the fact that I am attending a show that is all curve, I am wearing the designer, I am not wearing anything offensive, and there were other Italian influencers who were wearing other designers, who were slim, and the photographers were just gushing over them. I had come all the way here to speak on this show and to promote it, and I can't even get a photo taken outside, and it must be because of my size, as I can't think of any other reason why."

Felicity Hayward, Plus-size Model and Body Positivity Activist
Felicity Hayward: But, inside the show there were plus-size women on the front-row, so it was great for representation, there were 10-12 of us scattered around the front row. And to be there with visually plus-size women from all around the world, and be able to say, "This is for us, we are finally seen". I can say that it was fashion history, it was honestly iconic. Because that moment needed to be celebrated, it's just so fickle that at the same time the Italian photographers wouldn't take our photo and that is a big issue.

Angela Baidoo: How can we change things from a casting perspective? And are there enough plus-size models for designers to use in their shows if they requested them?

Felicity Hayward: 90% of Karoline Vitto's models were flown in – from Brazil, North America, and London – she said she found it very difficult to find any plus size models in Italy. It's hard because there are typically five plus-size models that certain brands stick too. There are plenty of other plus-size models, and I think where you'll see them is in the New Gen designers shows, so yes, there are enough models, there really are, they do exist they're just not being used.
Making the Casting Call
In the casting of plus-size models, brands should not have to depend on 'street casting' (Chopova Lowena) or rely on the participation of friends and family (Demna at Balenciaga this season) in order to fill the requirement of diverse models needed for a show. Agencies should continue to actively acquire and promote a significant number of professional mid-to-plus size models for their books, allowing them to effortlessly supply the industry when the call finally comes in. Because if there is no representation at agency level, there can be little representation on the runways, outside of a handful of well-known names from Precious Lee to Jill Kortleve, Paloma Elsesser, and Ashley Graham.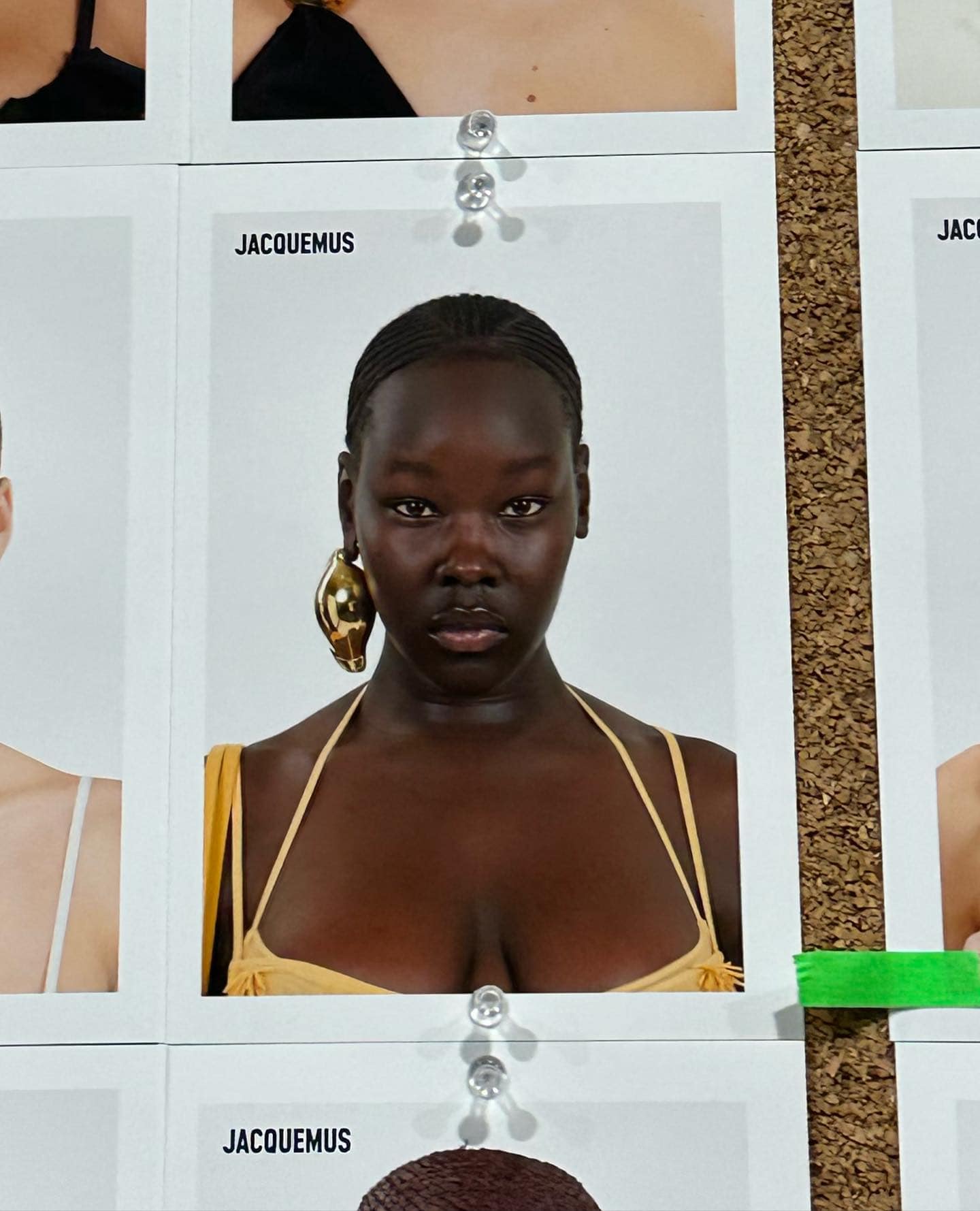 There is a pressing need to include more model diversity, as the industry grapples with the consequences of perpetuating an ultra-thin aesthetic that has prevailed for far too long. This narrow beauty ideal has not only had a detrimental impact on the consumers self-esteem and body image perception, but it has also fuelled the demand – along with social media – for quick-fix dietary aids, shapewear, and even extreme measures such as plastic surgery. However, there is a paradigm shift underway, with an enlightened generation of vocal consumers who are rejecting perfectionism and demanding greater representation in terms of body shape, size, and ability. Casting agencies such as Felicity Hayward's MiLK Model Management have responded to evolving mindsets by providing designers and brands with a diverse pool of models who can contribute to runway representation, campaigns, advertisements, activations, e-commerce imagery, and brand ambassadorships. With over 75 models within their 'Curve: Main' offer which includes Jill Kortleve (Chanel, Versace, Alexander McQueen), Ajok Daing (Moschino, Chanel, Max Mara), and Leslie Sidora who has appeared on the cover of Grazia UK. Add to this the agency's 42 'Curve: New Faces', and 30 in 'Curve: Development' and it totals 147 curve models who sit outside of the straight to skinny standard.
Speaking with Hastings-Narayanin of The Future Laboratory, this is an issue which has become pervasive in the industry, from models to celebrities, he said "We see the same issue with magazine editorials, red carpets (where Lizzo is dressed in Marc Jacobs, Dolce and Gabbana, or Valentino), and campaigns (singer Yseult for Alexander McQueen or Enam Asiama for Marc Jacobs Fragrances), all those amazing progressive visuals aren't followed through with tangible in-store inclusivity. It's all custom made for specific reasons (tokenism, appearing inclusive with one or two non-sample sized models out of 50) and for specific people who are worth it due to their influence, ROI and cultural relevancy. The reality is that if Lizzo visited any Valentino store, she would not fit into anything."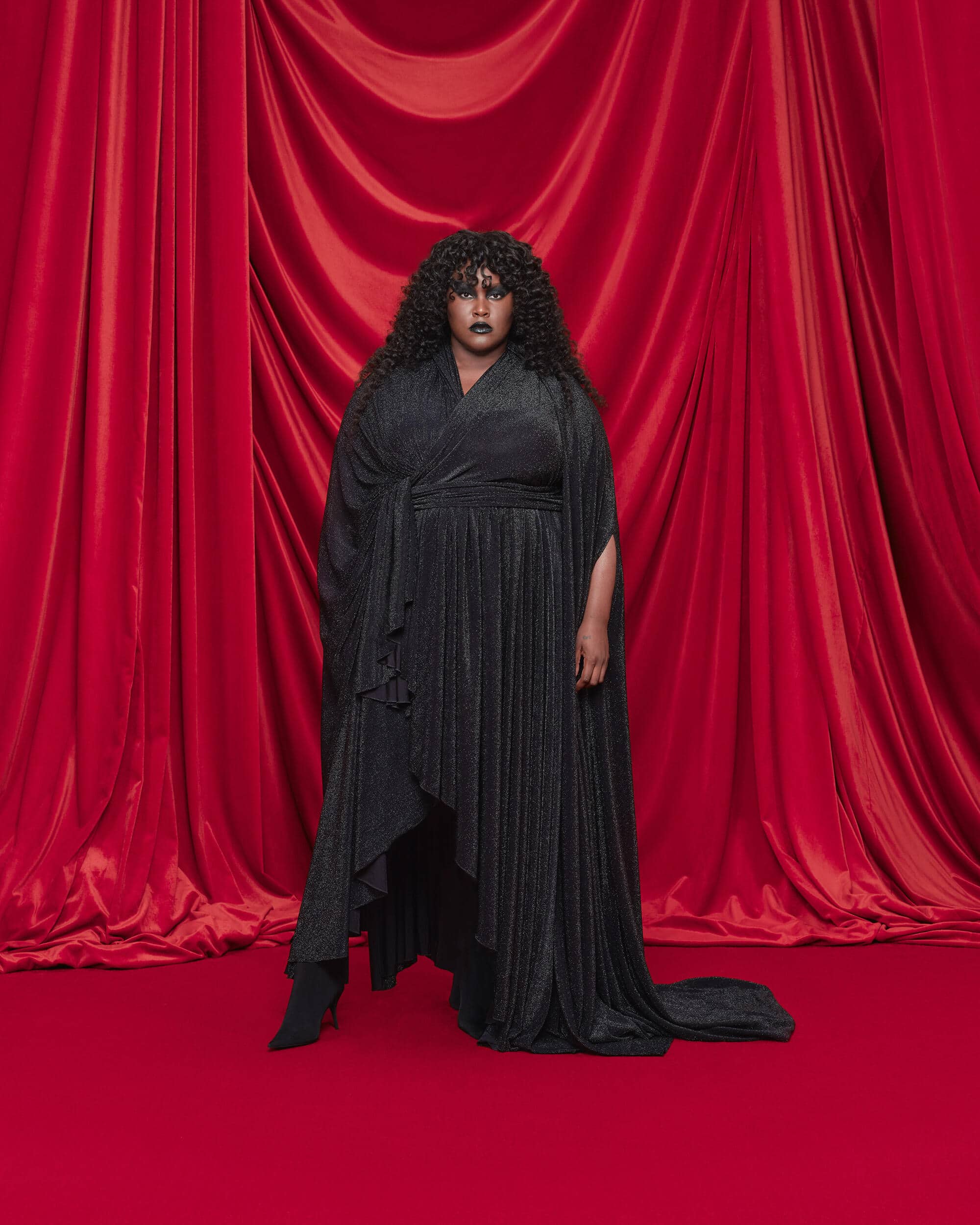 Brands who choose to shift their sizing strategy's (not simply because it is the right thing to do) will positively affect their bottom line, as according to Statista, there was approximately $288 billion U.S. dollars that was being left on the table in 2023 alone. By those brands who chose not to extend their sizing beyond a 12 US (a size 16 or large in the UK). These brands should consider the optics and find ways to connect their presentations (runway), marketing (ad campaigns), and retail experiences (mainline ranges offered in extended sizing) in a way that engages all the customers who wish to buy into the luxury sector in a way that isn't tokenistic.
Luxury fashion designers have a significant opportunity to lead the industry in embracing size diversity and breaking free from the constraints of a limited, ultra-thin aesthetic. By utilizing progressive casting directors and modelling agencies and incorporating more plus-size models into their visual brand narrative, they will not only be making a bold and ethical statement but also starting to tap into a substantially lucrative market.
The time has come for luxury brands to prioritize inclusivity, not just as a moral imperative but also as a strategic move that reflects the changing consumer landscape and the values held by their future customer.
While there seems to be an "industry standard" of a size 6 (US) sample – there is no overarching fashion guideline or regulation that it needs to be this way. Designers can easily choose to become aware of the reality of consumers and shift their sizing [for] their customer. A big issue – is that inclusion is seen as a trend and buzzword – because a lot of brands only dipped their toe into it due to social media, which democratised the voice of the consumer. But if the CEO or the creative director of a company does not work to unlearn fatphobic beliefs – and fundamentally change how they feel about dressing plus-size people – then the underlying issue – that is a deep, systemic issue that needs to be addressed at every level – will never be solved."

Mallorie Dunn, Founder & Designer SmartGlamour and Adjunct Professor, Fashion Design/CCPS, Fashion Institute of Technology
---