---
Review of Chanel Fall 2021 Fashion Show
Taking the Mantle of Cool Parisian Chic
By Long Nguyen
"I love contrasts, so for the more voluminous winter pieces, I wanted a small space. I don't know if this is the time we live in, but I wanted something warm, lively. I imagined the models doing a show for themselves, going from room to room, crossing each other in the staircase, piling their coats up in the cloakroom, and going up to the next floor to get changed. And I thought of the shows that Karl would tell me, back in the day, a long time ago, when the models would dress themselves, and do their makeup," was how Virginie Viard, the Chanel creative director, said of the mood she set for the fall collection film.
"So I decided to go to Castel. I like Castel so much for its many salons, the spiral staircase, its bar, the journey through this venue, its little house style, where the models can get changed, dressed and undressed, do their makeup together, have fun like a girls night in. It's very sensual," Viard said of the film by the photographers-directors Inez & Vinoodh.
As usual, the vast army of global ambassadors featuring the singers G-Dragon, Jennie Kim, and Angèle, the actresses Margaret Qualley, Whitney Peak Nana Komatsu, and Victoria Song, and the model Liu Wen had already permeated the digital space with black and white shorts of their preparations for this film premiere. Elsewhere also in the virtual realm, these ambassadors are also front row attendees with official portraits by Inez & Vinoodh.
The designer presented a very confident fall collection shown in a nonchalant and laissez-faire manner.
A group of young women entered the Chez Castel nightclub in Saint Germain des Prés, dropped off their coats, and meandered in the different rooms in this two-level Parisian nightspot.
Diana Ross' seminal theme song to the 1975 Paramount/Motown movie Mahogany 'Do You Know Where You're Going To?' in the opening scene prescribed the mood for the rest of the film until all the girls exited to the daylight out on the street, onto another adventure.
Doing away with the formality of a fashion show, as seen in this film presentation where the intimacy of the models and the clothes take the audience and Chanel customers closer to the heart of the action without the imposing staging set, can be at times a barrier.
There is a bit of familiarity in the everyday gestures repeated repeatedly, like how each model takes off their coats and leaves them at the coat check vestiare before going about mingling with each other. It is a small act, but virtually any audience is familiar with, and more importantly, the potential young consumers this collection espouses. And Chanel would want the coats that other young women will be leaving either at a coat check cloak or on their couch at home be one of this fall's offerings that can be a boxy ivory tweed pea coat or a black furry short coat.
All these small acts depicted in this fall film – putting on the earrings, straightening the hair, tying the black leather straps of a heeled pump, readjusting the bracelet, balancing a hat – are akin to a new fashion arbitrage. It is a resetting of how to see fashion closer to personal choices.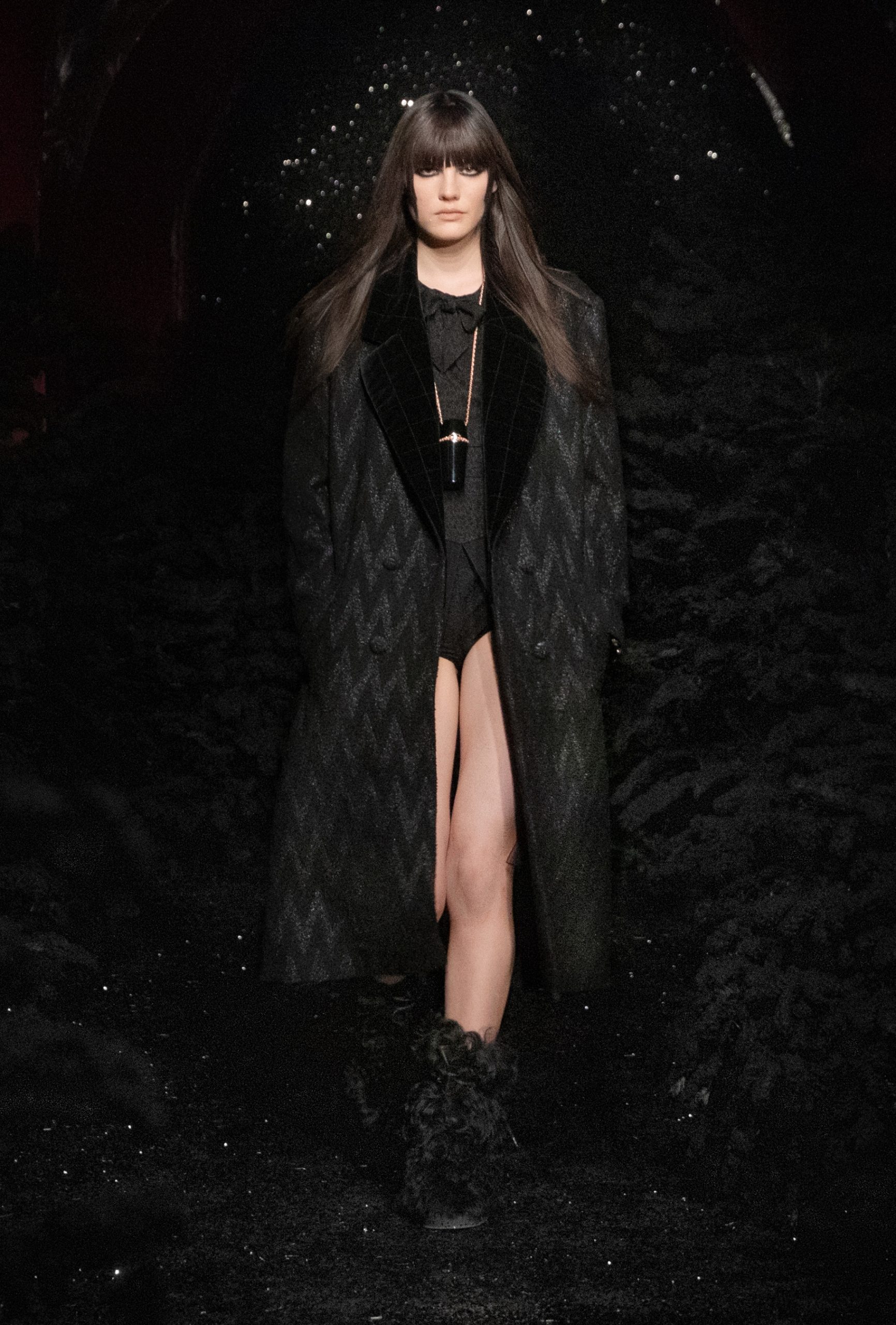 This collection is a mix of two influences: the ambiance of ski holidays, which I adore, and a certain idea of cool Parisian chic, from the 1970s to now.

– Virginie Viard
That ideation was at the heart of Viard's thinking that resulted in a collection that embraced contrasts of shapes, materials, and moods.
These contrasts played out seamlessly in this fall collection. Its strong focus on garments exudes effortlessness with slightly boxy and straight-line silhouettes with a coat's dominance as the new anchor that opened the show. Typically, a new variation of the classic signature Chanel skirt suit always took the lead at any Chanel show. However, these long-shaped coats in brown tweeds, brown plaid, charcoal zig-zag motif wool, or even olive velvet now provide the protective layer for the tweed bras and skirts; even a black wool one-piece bodysuit is worn underneath.
The heavy fabric and heavy volume of these coats juxtapose with the fragile of a bra veiled by a sheer black chiffon camisole and a short skirt or a black satin dress ruched at the front seams.
Those classic suits played a bit of a supporting role this time in several different versions. A blue tweed boxy cropped jacket with flare skirt, a strong black shoulder black tweed skirt suit, or a silver knit cardigan knit skirt suit with Fuschia trims conveyed the different moods. A few of these suits are paired with the furry après skit boots in white or black, must-have items for late fall.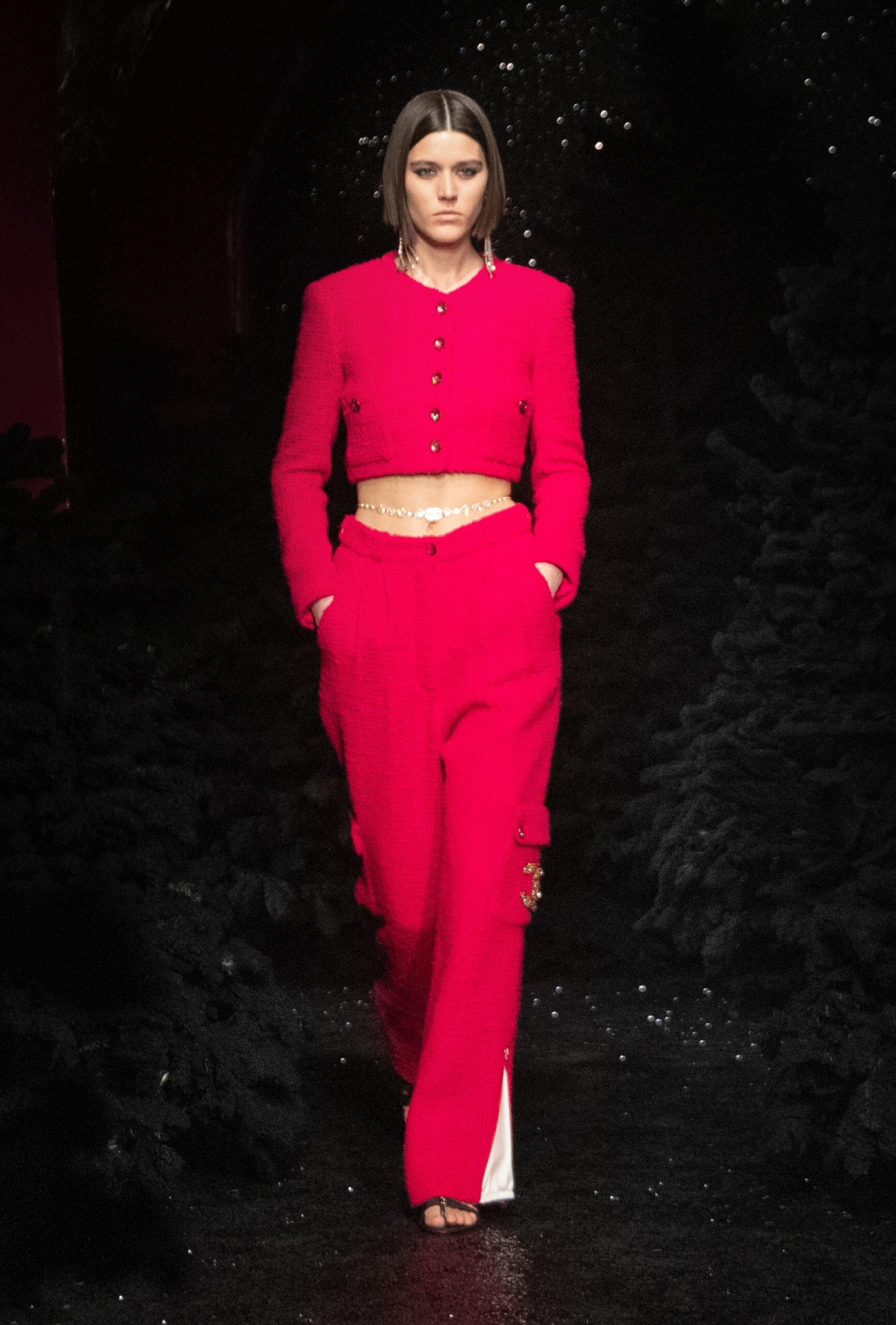 A couple of the classic suits now come with those very cropped jackets.
Viard first presented the midriff look in the Métier d'arts show in December 2019 with the grey tweed cropped jacket paired with a knee-length skirt and a white pearl waist belt.
Now, five seasons later, the classic skirt suit cut short of exposing a section of the waistline has resurfaced, but this silhouette is now more refined. The new fall midriff look is streamlined and cut as a slim collarless patch pocket cardigan jacket in a red tweed with a pleat cargo pant or in black with black denim shorts with attached black sheer gauze tulle wide legs. Like premier crus red wine, a little bit of time can add to how a shape tried out for the first time and resurface in later collections like these more formal cropped jackets, one worn with a black lace bodysuit underneath.
That is probably the subtlety of Viard's work at Chanel. The designer will try out a new idea, let that sink in somehow, and rework this shape in a different way to portray a different mood of a diverse collection. Or the designer can completely abandon the idea.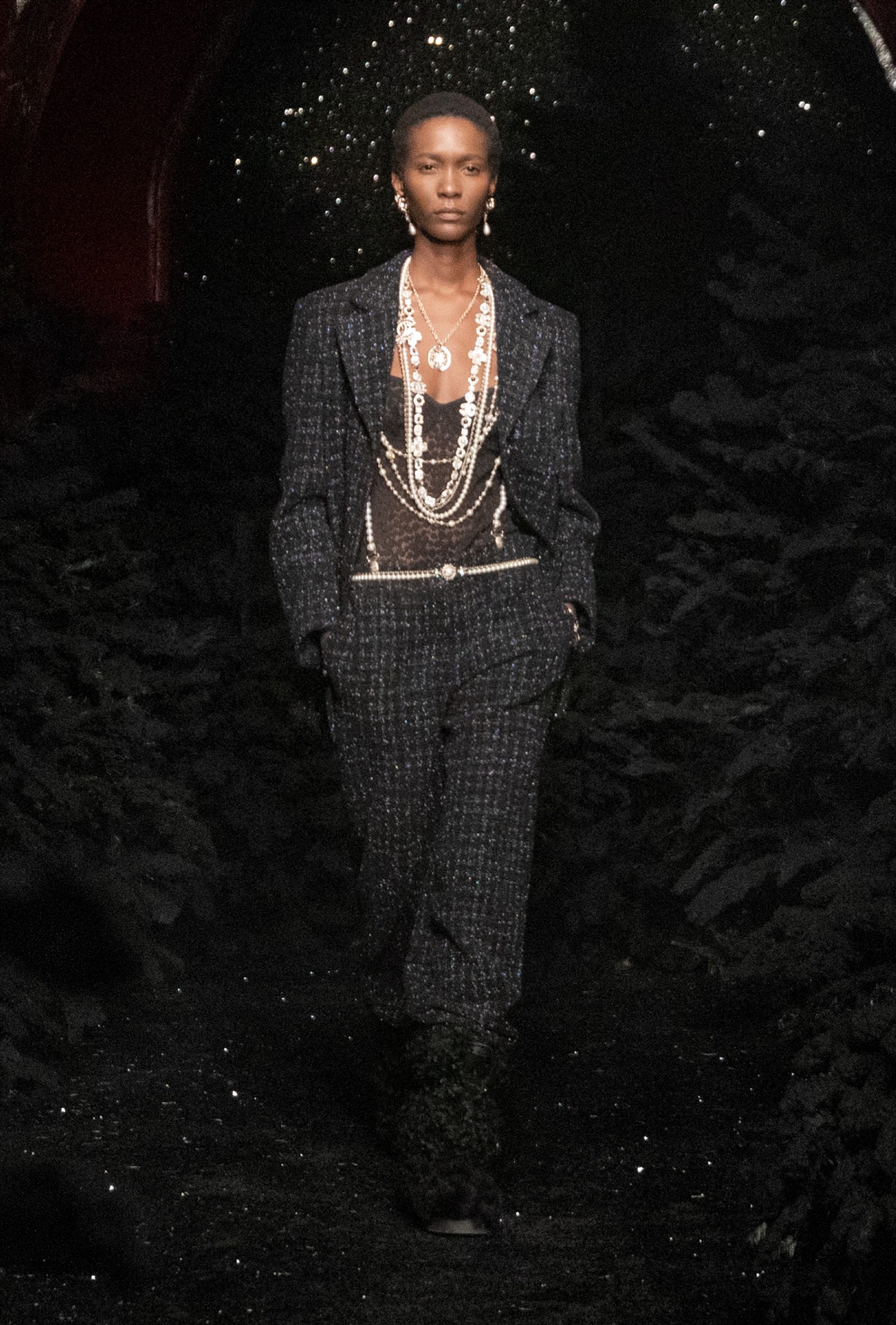 On the newness subject, hidden among all the signature work, is a simple, slightly broad shoulder, single breast charcoal tweed with a matching pair of low slung pleated boot-cut pants, aka a men's single breast suit but worn with a grey lacy corset and rows of pearly necklaces. There isn't any other look that even comes close to this masculine tweed pantsuit, not in a similar shape and not in any different fabrics or colors to emphasize the importance of any particular garment style in a show.
Perhaps in future seasons, Viard will examine this masculine pantsuit idea anew and define what it can mean within the Chanel repertoire. But for now, this pantsuit has no companion.
Bizarrely, it is easy to spot all the Chanel signatures and a few of the garments with overt branding measures such as the white or black logo quilted overalls or the multicolor double CC spotted on a black skirt suit. These are just the fun items that have always been part of any Chanel collections in these last two decades, and there are no exceptions in this fall collection. These garments and other momento accessories are like collector items for the house's diehard fans, especially the young women.
Cool Parisian chic is a fashion style concept of mythical proportion that has been up for grabs for a while now, with no fashion brands claiming this prestigious mantel. Here, Chanel is defining this coolness anew with this charming and low-key collection.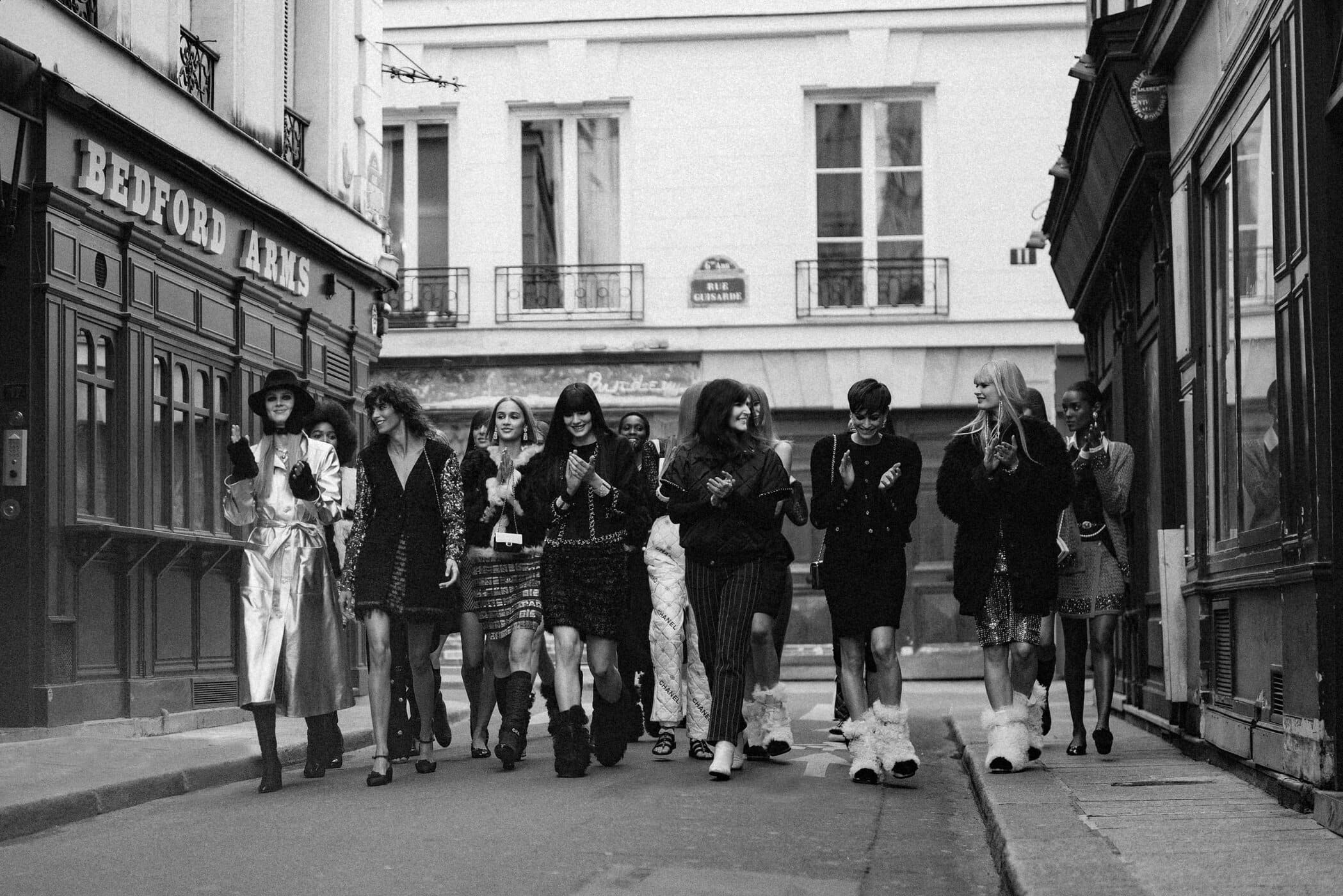 "Once we were standing still in time, chasing the fantasies that filled our minds. Do you know where you going to …" the refrain from that Diana Ross song from decades ago still resonates, and perhaps louder now than long ago.
---