Chanel announces the opening of a new flagship boutique in Beverly Hills, California. The four-story building, designed by architect Peter Marino, a long-time collaborator of the House, will be a complete expression of the world of Chanel , including Fashion, Watches & Fine Jewelry, and Fragrance & Beauty. Spanning over 30,000 square feet, it will be the largest Chanel boutique in the United States.
After more than a decade at the House's Rodeo Drive location, the Beverly Hills boutique has been rebuilt from the ground up. A celebration of Chanel's past, present, and future, the new, expanded boutique is housed in an abstracted exterior reminiscent of a staggered cube, cleaved by a multi-story glass atrium and clad in white crystallized glass.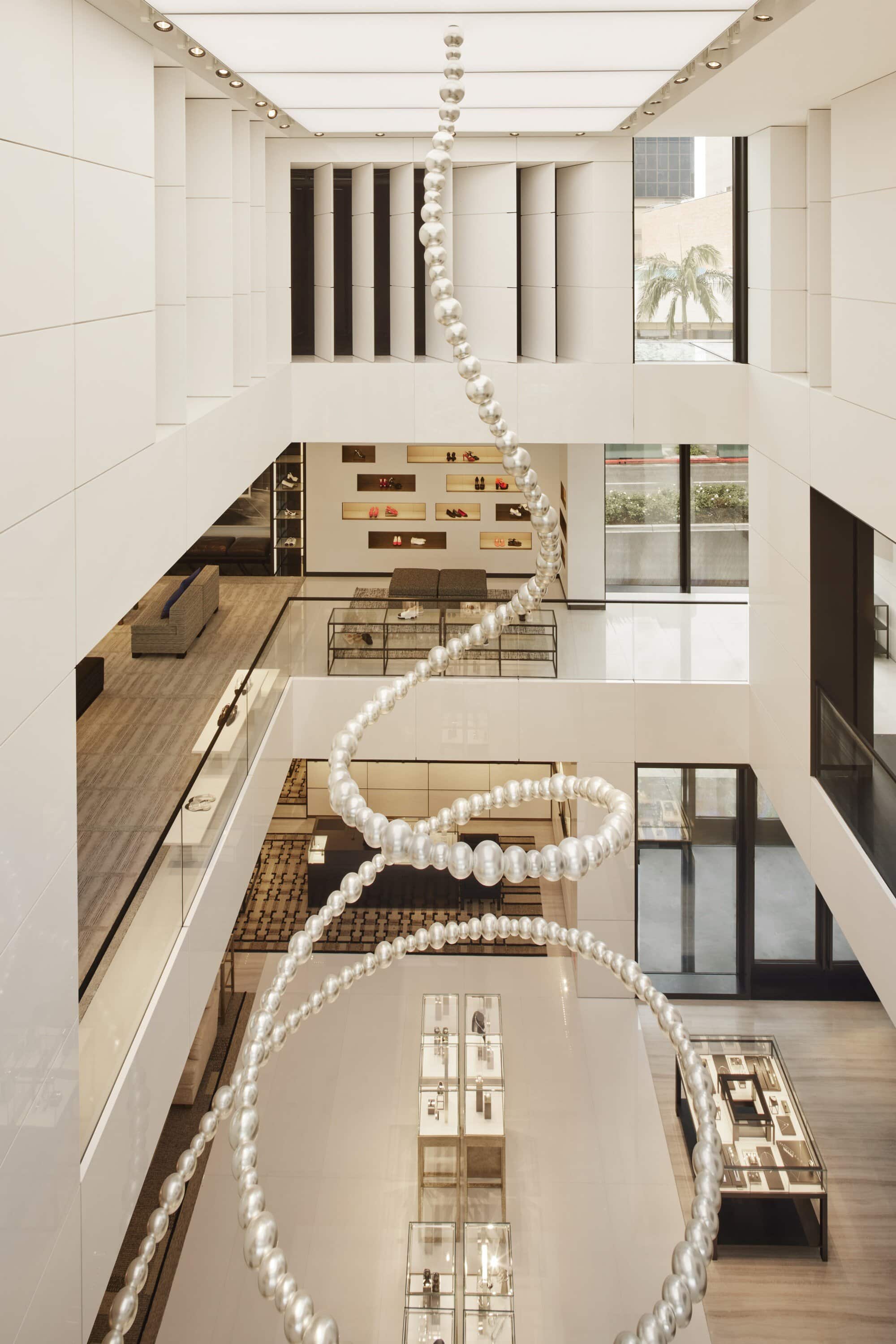 Upon entry, customers discover a pure white space punctuated by thin vitrines and glass cases displaying fine jewelry, bags, fragrances, and other accessories.The ground floor is a play on the House's emblematic two-tone: optic white plaster met with cast bronze, woven textiles, gray wave stone, and low dark tables in petrified wood and resin by Ado Chale and Jean-Claude Dresse, over which hang glowing Goossens chandeliers renderedin rock crystal. Straight ahead is the courtyard, whose trees and hedges are enclosed by the building on three sides. This central green space provides sunlight to every level of the boutique through floor to ceiling windows, as well as a point of entry for those entering through the private parking space behind the building. The first floor is divided into unique yet complementary pursuits: upon entry, handbags and accessories are found to the left of the atrium, a dedicated Watches & Fine Jewelry Salon sits to the right, and behind the accessories salon there is a dedicated Fragrance and Beauty section. As visitors ascend the open atrium staircase there is a sense of escaping the noise of the city, and immersing oneself in the House's vision as it unfolds from one floor to the next. On the second level, shoes and Ready-to-Wear are displayed, on the third, two VIP suites and try-on rooms, and on the fourth, a rooftop garden and penthouse. Design treasures intrinsic to Chanel's codes and sensibility populate the space: black and gold lacquered Japanese Kurodana cabinets from the Edo period sit alongside a contemporary coffee table by Ingrid Donat, while a pair of "Tweed" lamps by Delos & Ubiedo speak to the House's taste and the elegant, multi-dimensional decorating style preferred by Mademoiselle Chanel. At the top of the boutique, the rooftop space's black framed aluminum trellises echo the outlines of the city's fabled Case Study Houses, and enthrone an exclusive, private environment, perfect for the House's Los Angeles events and VIP clientele. This area connects seamlessly to the penthouse, and boasts views of the garden courtyard, Rodeo Drive, Brighton Way, and the glittering hills above.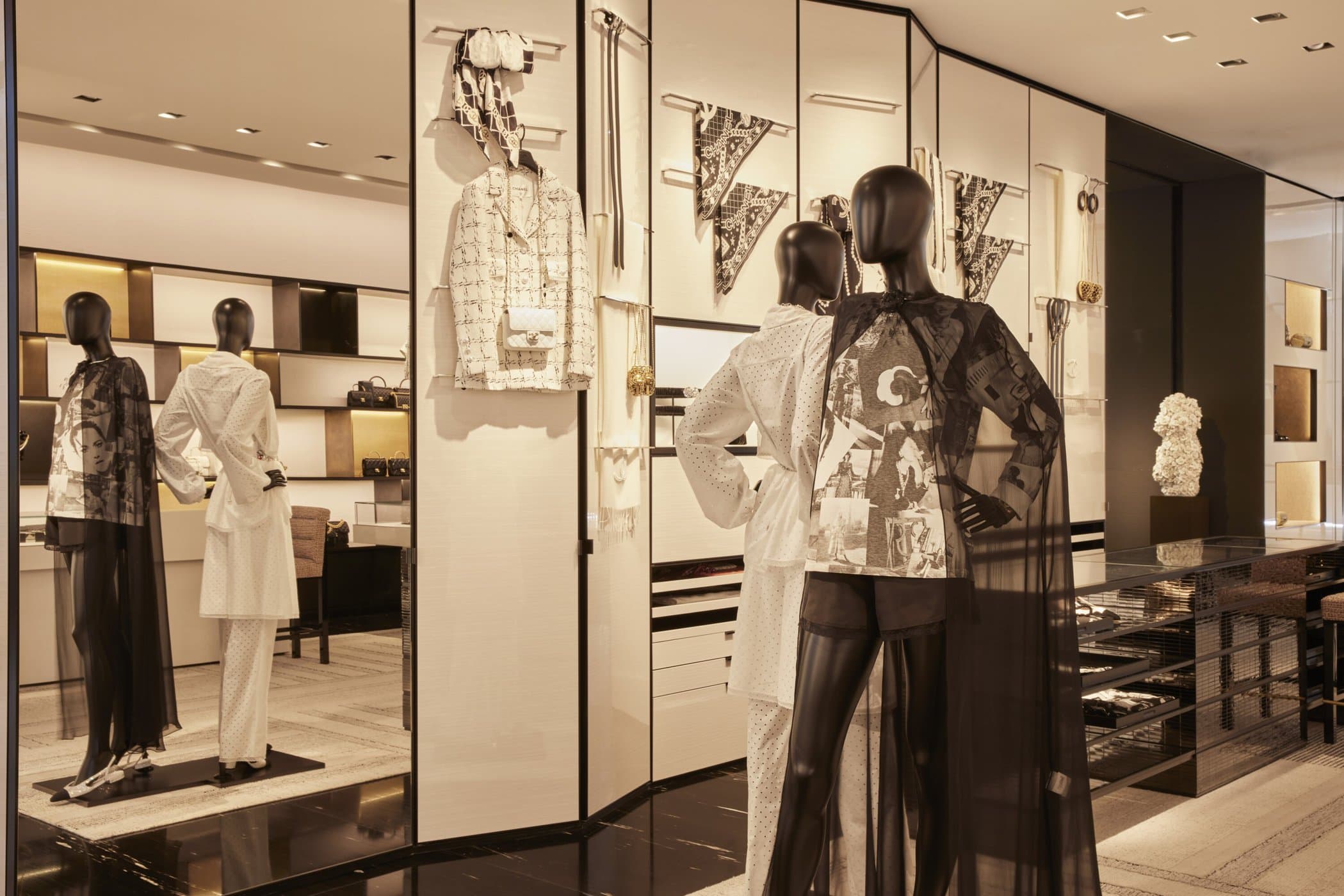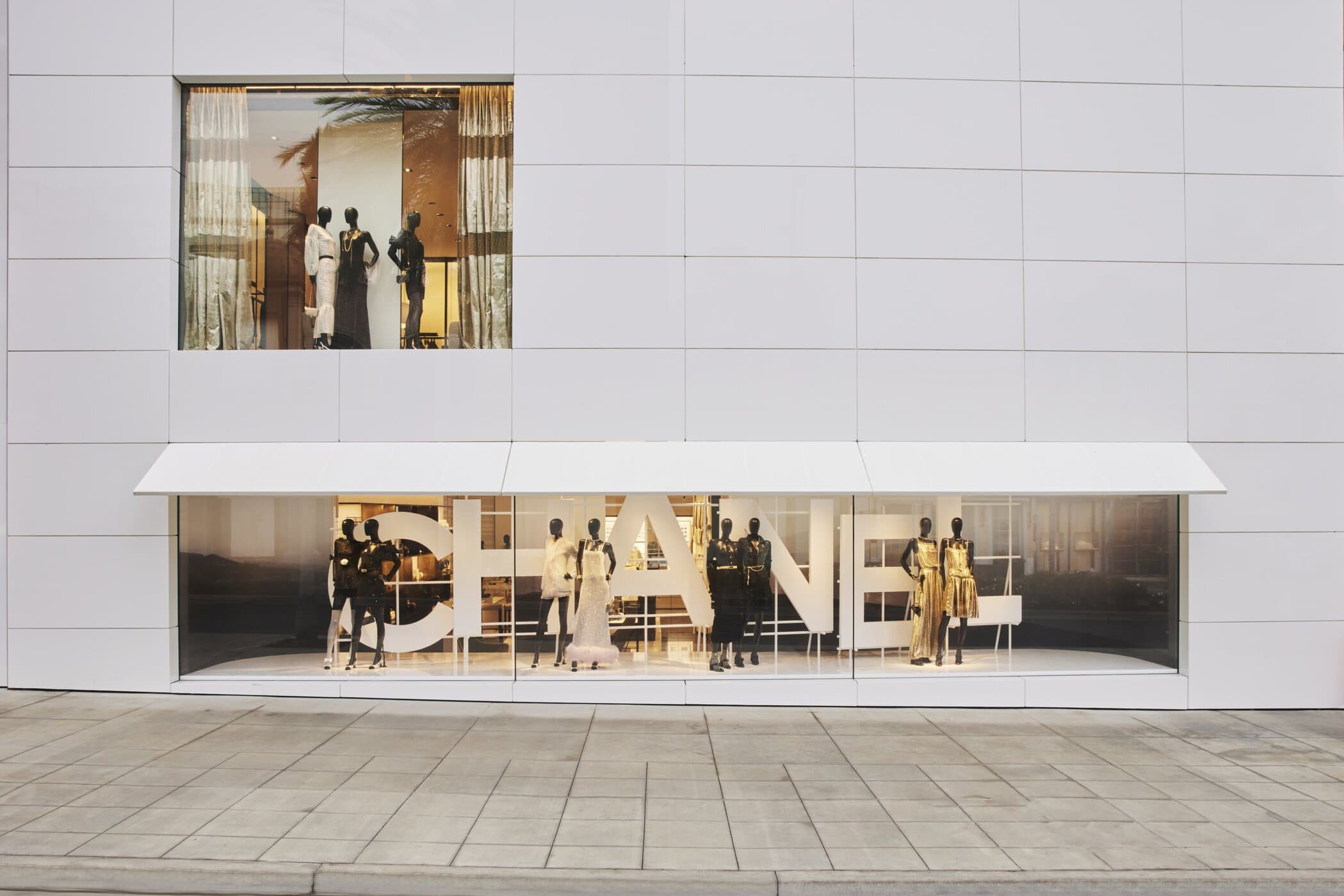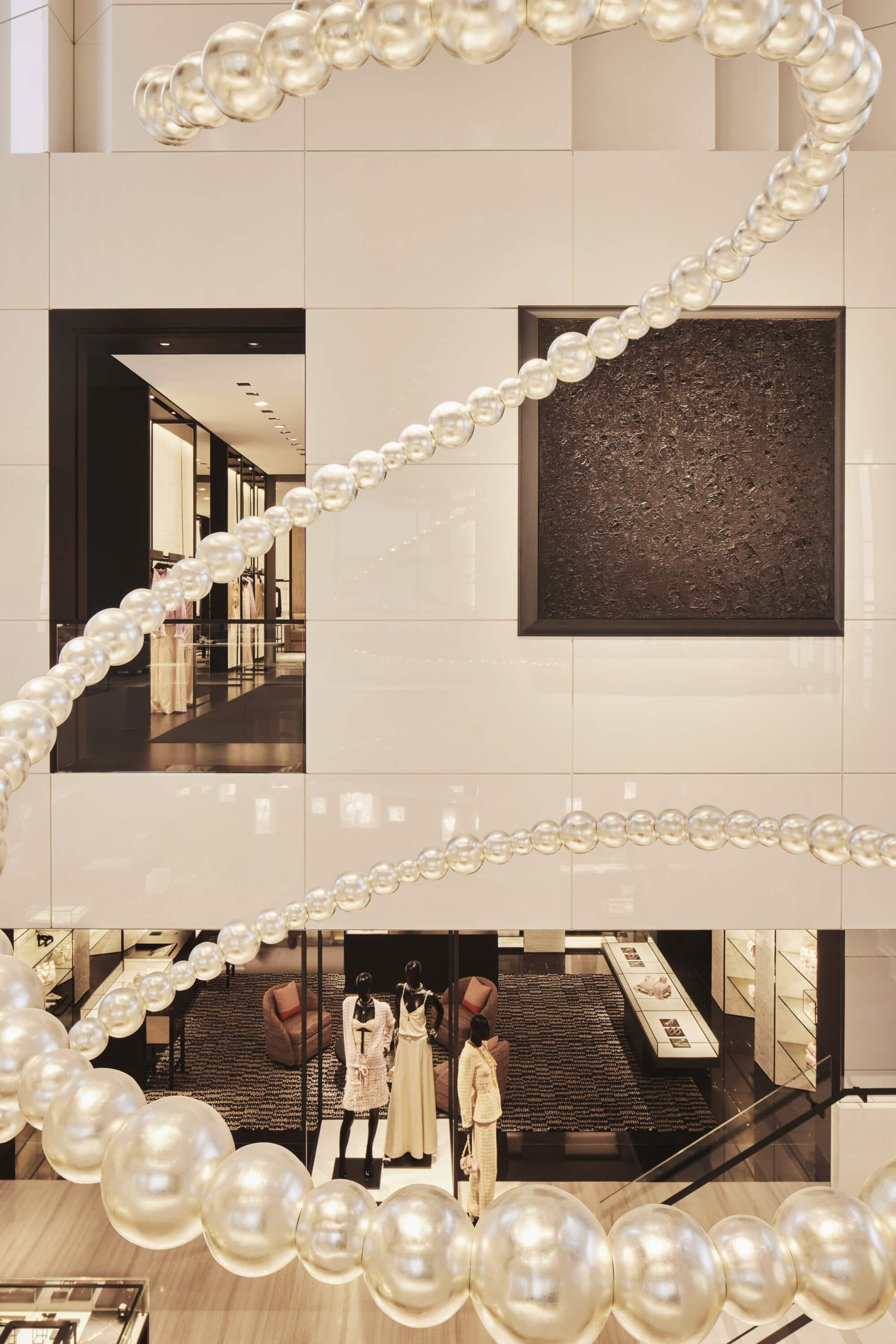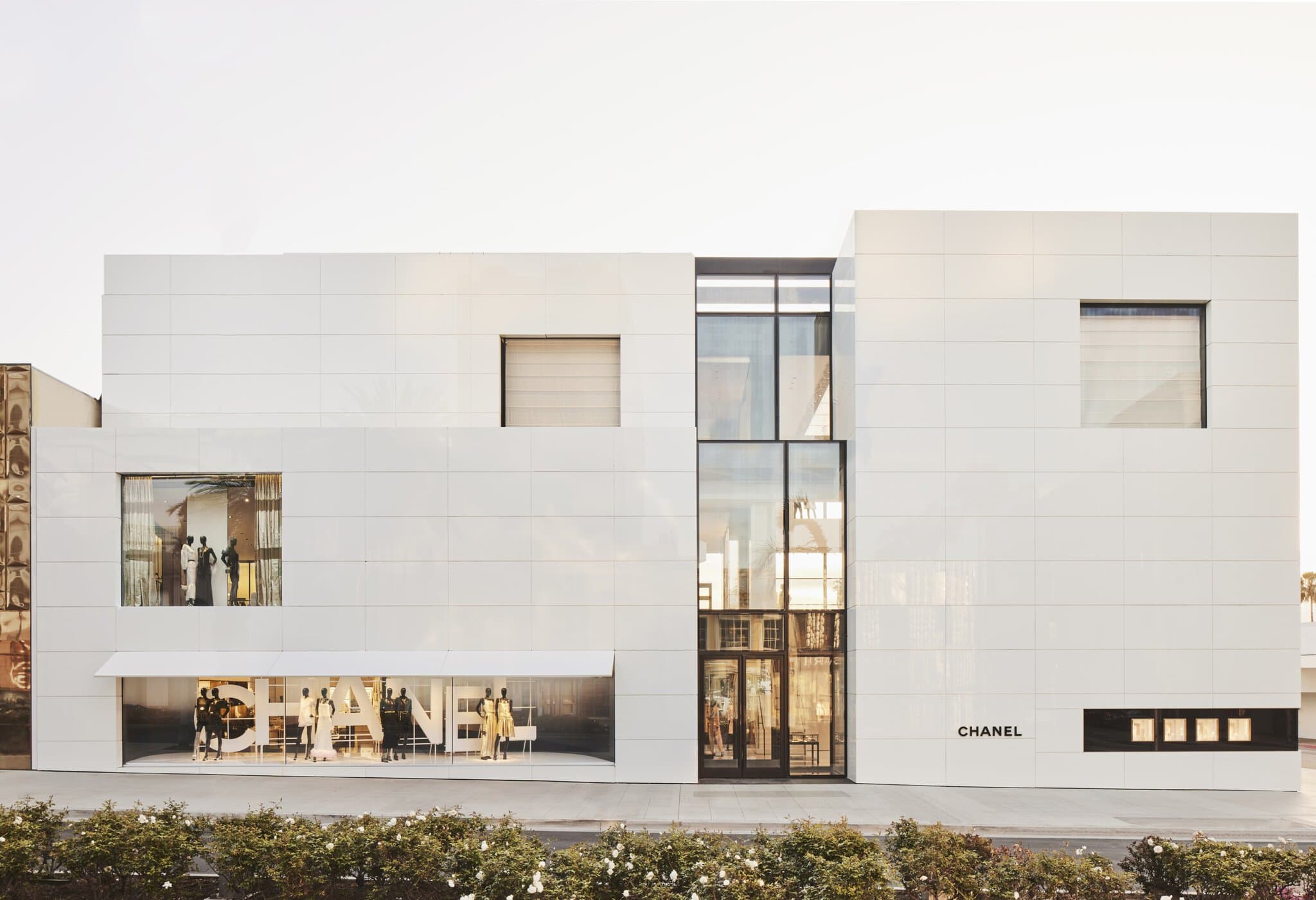 Location
400 North Rodeo Drive, Beverly Hills, CA, 90210
---