Chanel welcomes holidaymakers back inside the aestival, seasonal boutique on the sun-drenched Aegean coast in Bodrum, Turkey, at the Mandarin Oriental resort.
The modern cube-shaped design of the boutique, with its double C logo on the roof composed of black and white gravel, stands out against the backdrop of the hotel gardens and the stretch of sea beyond. The structure's clean, graphic lines are cut from local travertine stone, and nature feels ever-present thanks to the glass facade, abundant windows and double glass doors that allow sunshine and a sea breeze to filter inside. As fits the summer holiday mood, the boutique is flanked by a balcony and a terrace, both furnished with inviting outdoor sofas so guests can relax and make themselves at home.
Inside, the Chanel palette of white, beige and contrasting black is an ever-present and inviting backdrop for the House's latest creations. The boutique will open with the cinematic Spring-Summer 2023 Ready-to-Wear collection, followed by a showcase of the latest Chanel Coco Beach 2023 line – this season, a playful remix of American sportswear codes alongside brightly hued, modern swimwear, exclusively available in a selection of Chanel boutiques worldwide. Also arriving in boutique as the season progresses is the Chanel – Dakar 2022/23 Métiers d'art collection, which celebrates the colourful, free-spirited elan of the 1970s, and the Fall-Winter 2023/24 pre-collection.
Each turn reveals an ever-changing display of handbags, accessories, including new-season styles and colours, and costume jewellery, arranged in a modular fashion in the corners of the boutique, while glass-topped travertine podiums showcase the iconic J12 Watches and the Coco Crush Fine Jewellery collection. An enticing eyewear selection is found at the entrance, along with a selection of Fragrances, including Les Exclusifs and Les Eaux de Chanel.
The Chanel seasonal boutique in Bodrum will open its doors from April 11th.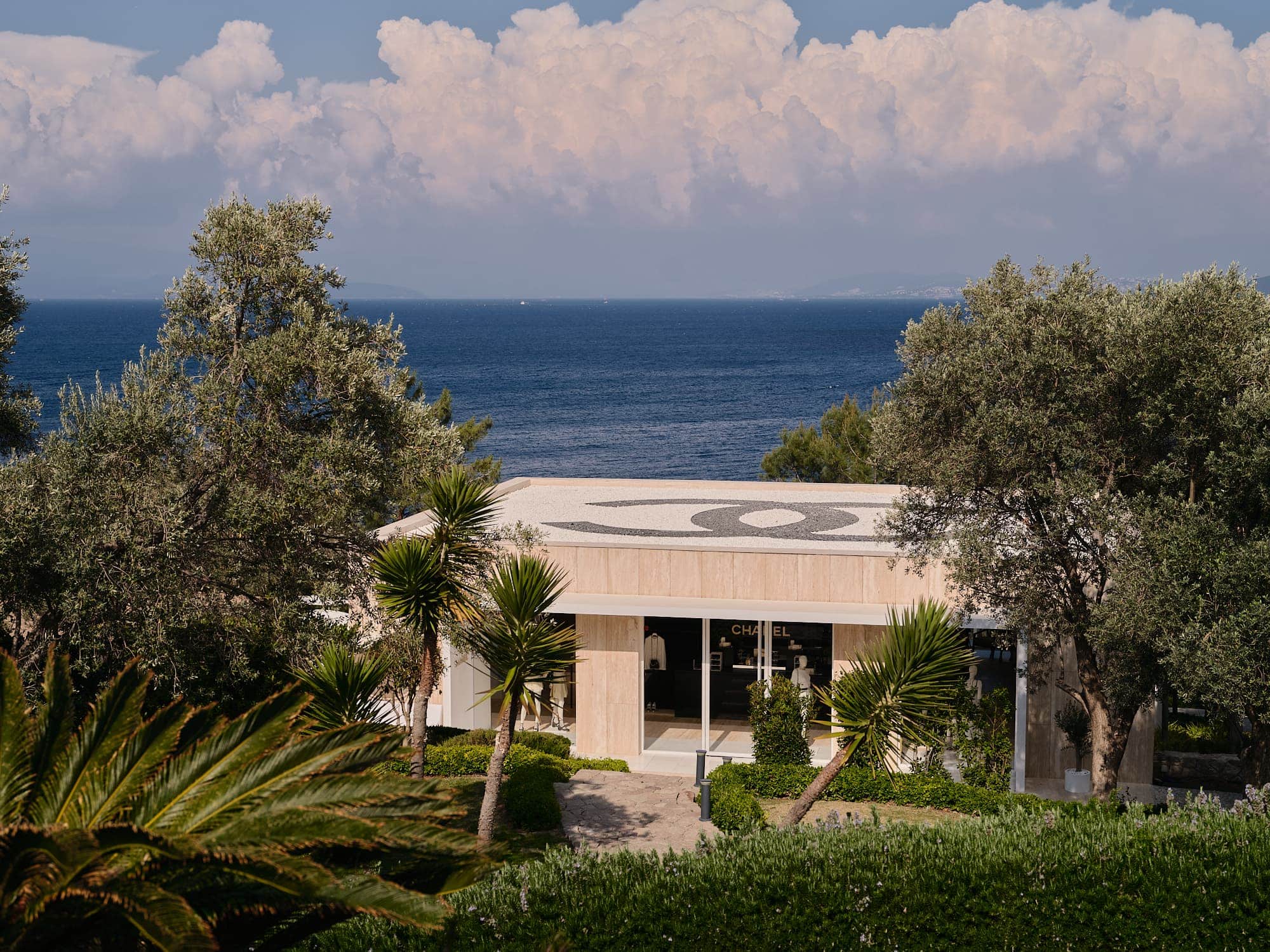 Location
Cennet Koyu, Çomça Mevkii, 314 Sokak No. 10, Göltürkbükü Mahallesi 48400 Bodrum
Chanel is also returning, as it does every year, to Saint-Tropez to celebrate the summer. For one season, the House is leaving La Mistralée townhouse and settling in the heart of the village. Built on a little town square with typical Provençal charm, a large 340m2 ochre stone residence with blue shutters has been transformed into an elegant boutique hosting the Ready-to-Wear and accessories collections by Virginie Viard, a selection of jewellery and watches, as well as a range of perfumes.
As if entering a holiday home, clients are welcomed into a shady garden with an outdoor salon surrounded by Mediterranean species. The boutique opens onto a vast vestibule decorated with a stained-glass window – a reference to the stained-glass of the Aubazine abbey where Gabrielle Chanel spent part of her childhood.
The ground floor then unfolds around a single large room punctuated with black columns contrasting with a terracotta floor and white walls set with panels of beige zellij or quilted-effect fabric. A minimalist two- tone architecture where warm spaces are created by sets of furniture, such as the curved lamps and the light-coloured rugs hemmed in black.
This spacious salon presents the Spring-Summer 2023 Ready-to-Wear collection and pre-collection, to be joined in the coming weeks by the Chanel – Dakar 2022/23 Métiers d'art collection. Styled on mannequins, the looks are also shown in understated dressing rooms made of stretched woven fabric textured like white tweed. Accessories, small leather goods and costume jewellery mingle with books and decorative objects in large bookcases. Les Eaux de Chanel fragrance collection also occupies these shelves, like a row of invitations to visit Deauville, Biarritz, Paris, Venice, Edinburgh and of course, the landscapes of the Riviera. The ground floor is also home to two other spaces. The first one is devoted to bags, including the iconic 2.55 and 11.12 bags, along with seasonal creations and new versions of the Chanel 22 bag. The second one is dedicated to summer with swimwear and beach accessories, sunglasses and from May onwards, a preview of the Chanel Coco Beach collection.
Upstairs, the decor combines modern furniture with elements inspired by Gabrielle Chanel's own apartment: a wheatsheaf table and decorative objects in bronze and rock crystal by Goossens, screens and mirrors… A second stained-glass window softens the sunlight while a space like a contemporary boudoir is home to the Watches and Fine Jewelry, notably the Coco Crush and N°5 collections, and the J12, Première and Boy·Friend watches. Pale fabric sofas for visitors to try on the season's shoes, nestle by dressing rooms presenting further Ready-to-Wear silhouettes. Three large fitting rooms complete this welcoming holiday home, steeped in the art de vivre of the French Riviera.
The Chanel seasonal boutique in Saint-Tropez will open its doors from 8th April until October.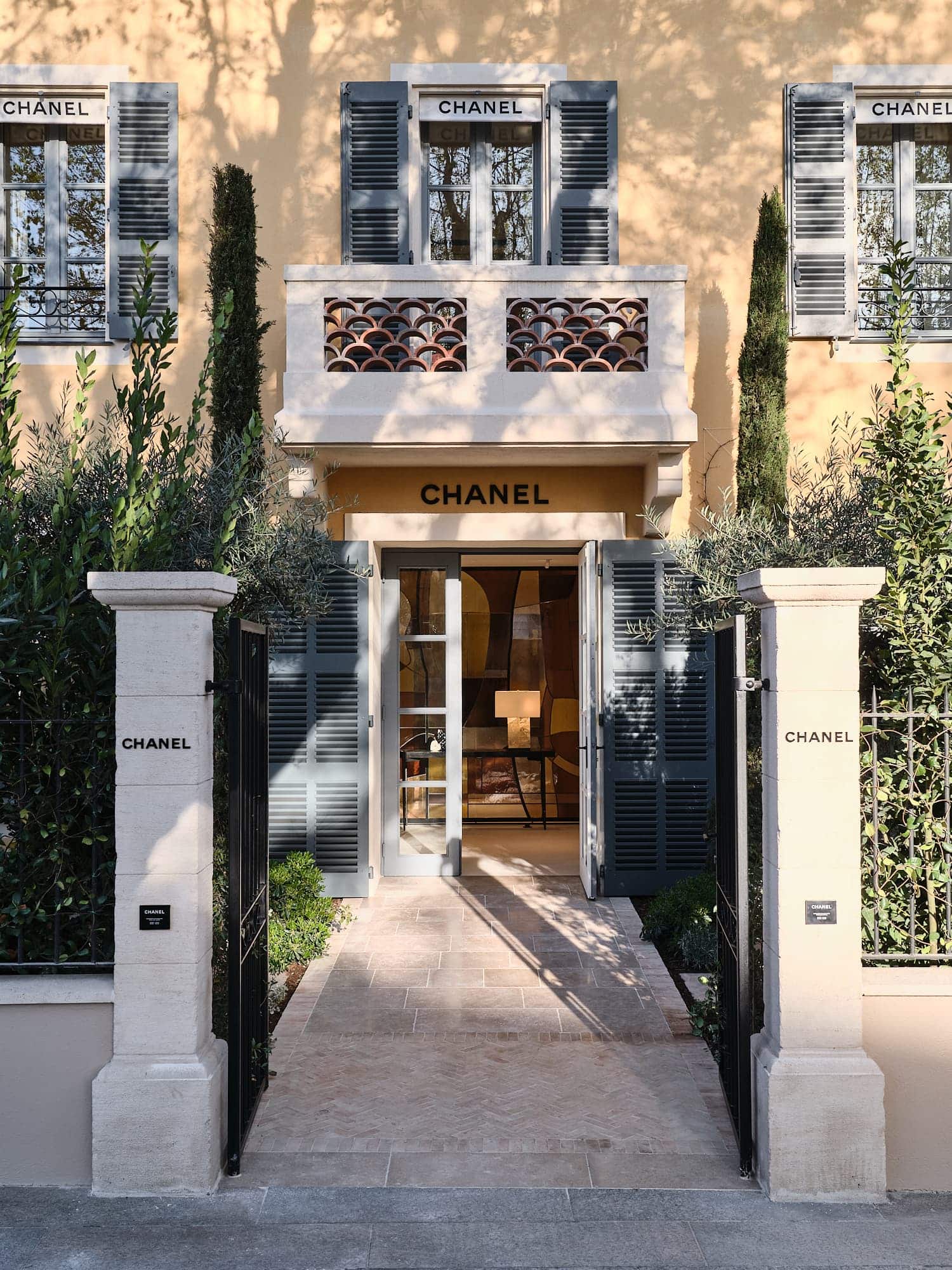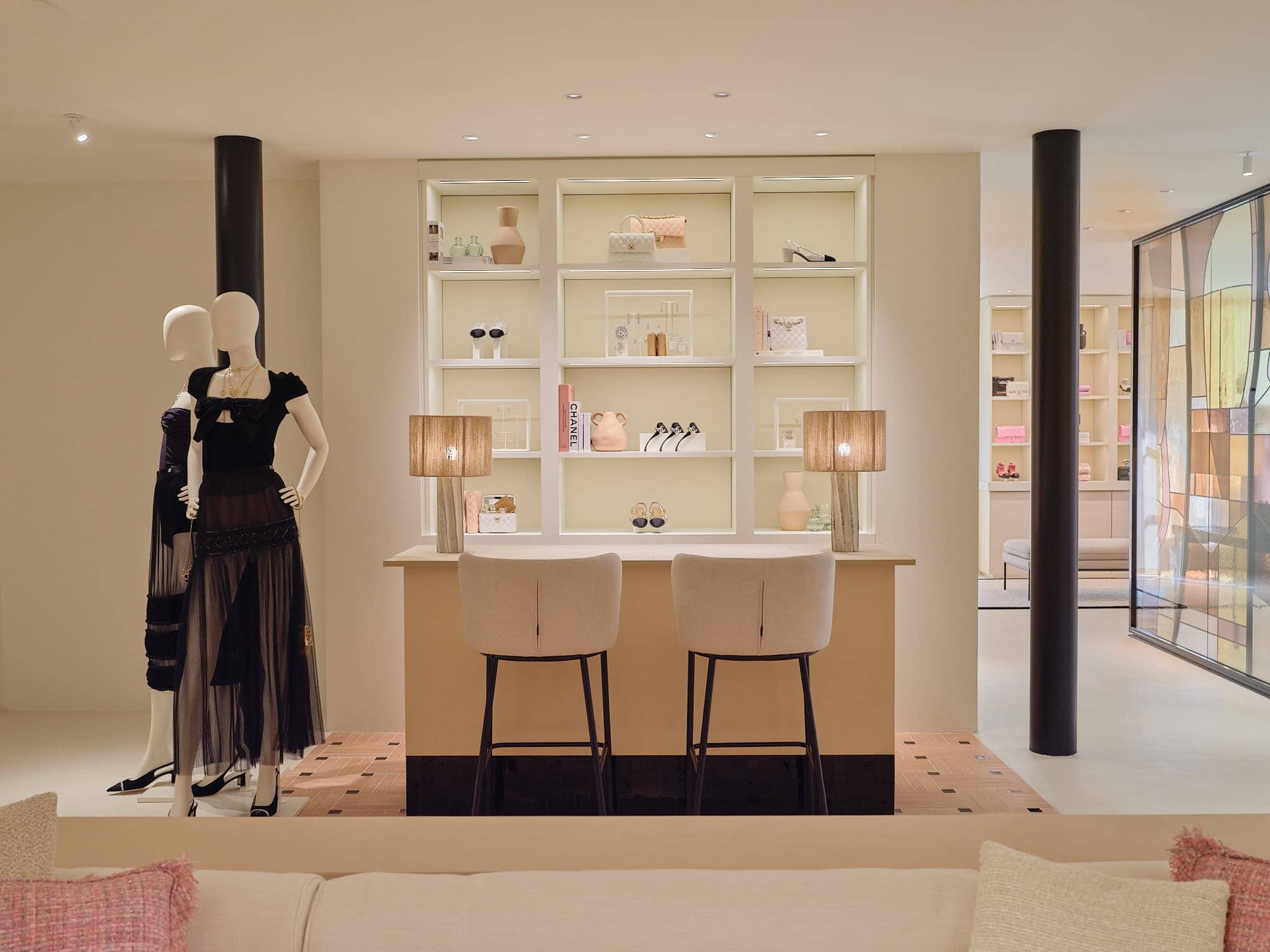 Location
78, boulevard Louis Blanc 83990 Saint-Tropez France
---