Loverboy's Unapologetic Energy Revives the Beating Pulse of Milan Men's Fashion Week.
By Angela Baidoo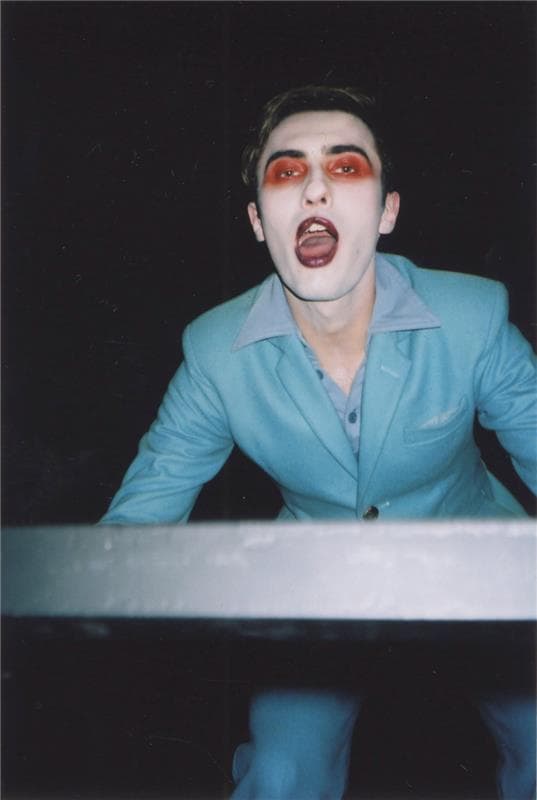 A name well-known on London's alternative creative scene, Charles Jeffrey's Loverboy brand has been pushing boundaries and subverting gender codes since his debut spring summer 2018 collection. The native Glaswegian, who made his way to London to study at Central Saint Martins, after several seasons showing at the now shuttered London Collections: Men, has taken a new pilgrimage over to Milan to expound on his directional take on fashion, youth and sub-cultures, underground nightlife, pioneering art, and music.
Backed by investment from multi-fashion brand agency and platform Tomorrow Ltd, who are 'pushing a new model for growing emerging labels in a fashion market where going it alone…is tougher than ever', Charles Jeffrey presented his first autumn winter 2023 men's and women's collection during Milan men's fashion week.
Here, at The Impression, we sat down with the Creative Director, following his well-received Milanese debut, to discuss his serendipitous meeting with Tilda Swinton which led him to this season's main inspiration, working across a range of audio-visual mediums, his thoughts on the evolution of the gender fluid conversation, and what the future of his brand will look like with a growing team and the security of a partnership with Tomorrow Ltd.
Angela Baidoo: Can you discuss what led you to land on fellow Scot John Byrne for your autumn winter 2023 collection?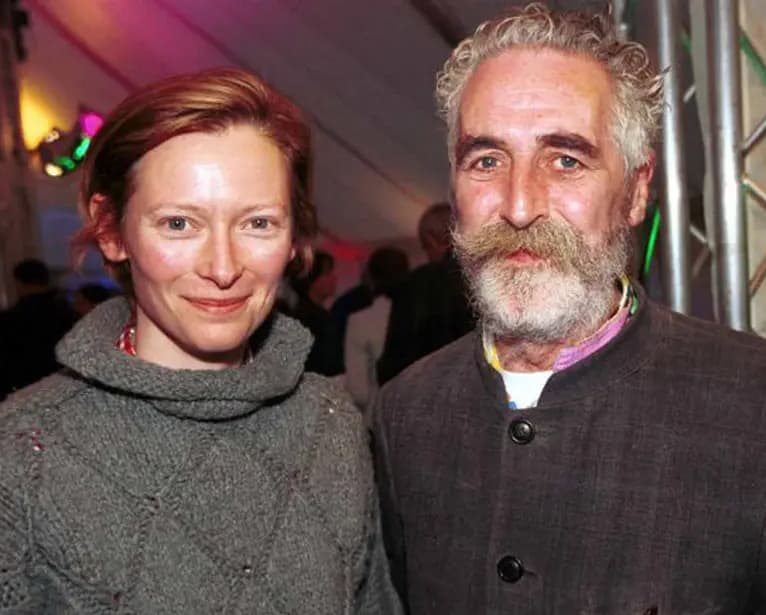 Charles Jeffrey: I was first introduced to his (John Byrne) work through Tilda Swinton when we were doing a shoot for Candy magazine, with stylist Jerry Stafford, who's a friend of mine through Tim Walker. And I was so starstruck when I met her, but we got on so well as I think she loved the fact that I was Scottish. Then we got chatting, and she says, "Oh, my God, you would love the artwork of [my former partner and father of my kids] John Byrne" and I said of course I already know it, and she could obviously just tell I didn't, but was trying to be polite, then she showed me his artwork and my initial reaction was, 'this is so good, this is incredible'. We did a collection just before the pandemic, based on a research trip to Scotland where we went to Orkney, and the Glasgow School of Art Museum, and where we also looked at John's work, so for this collection we chose to reference it for some of the fashion designs. Some of the Teddy boy jackets and the hair, for example, we wanted them to have these really huge quiffs. I just couldn't get enough of it, as he has such a huge body of work, he's a proper renaissance man. There's just something about it, which I just feel so affiliated with, so I really wanted to debut the Milan show with him kind of like, in my arm.
John Byrne has such a huge body of work, he's a proper renaissance man. There's just something about it, which I just feel so affiliated with, so I really wanted to debut the Milan show with him kind of like, in my arm.

– Charles Jeffrey, Creative Director of Loverboy
Angela Baidoo: And in terms of the prints you decided to use for the dresses and tailoring, why were you drawn to those – from Byrne's body of work – in particular?
Charles Jeffrey: I found that there were so many, it was a really difficult job to go through them, but what we wanted was to try and find some that had a variation of different characters. There were those that were almost like illustrative or satirical pictures of Teddy boys, they were very exaggerated and very fashion orientated, and those were the ones that I was immediately drawn to from a menswear perspective. Then I wanted something that was also really fantastical, and I watched this documentary about Byrne, which was him being commissioned by the King's Theatre in Edinburgh, and they asked him to create the artwork for the dome of the ceiling. So, he created this artwork without any pre-planning, he just did it in one go, and it was this beautiful figure of a woman and a man chasing the tragedy and comedy masks in the sky. And then the third one was an example of his work when he created much more abstract figures that were almost sculptural, and really gender ambiguous. So, I wanted to touch on that, and there's this one called American Boy, which is gendered, but you can't quite place it because of the way that it's constructed, but he was this big character, so that was the reason why we selected it for the collection.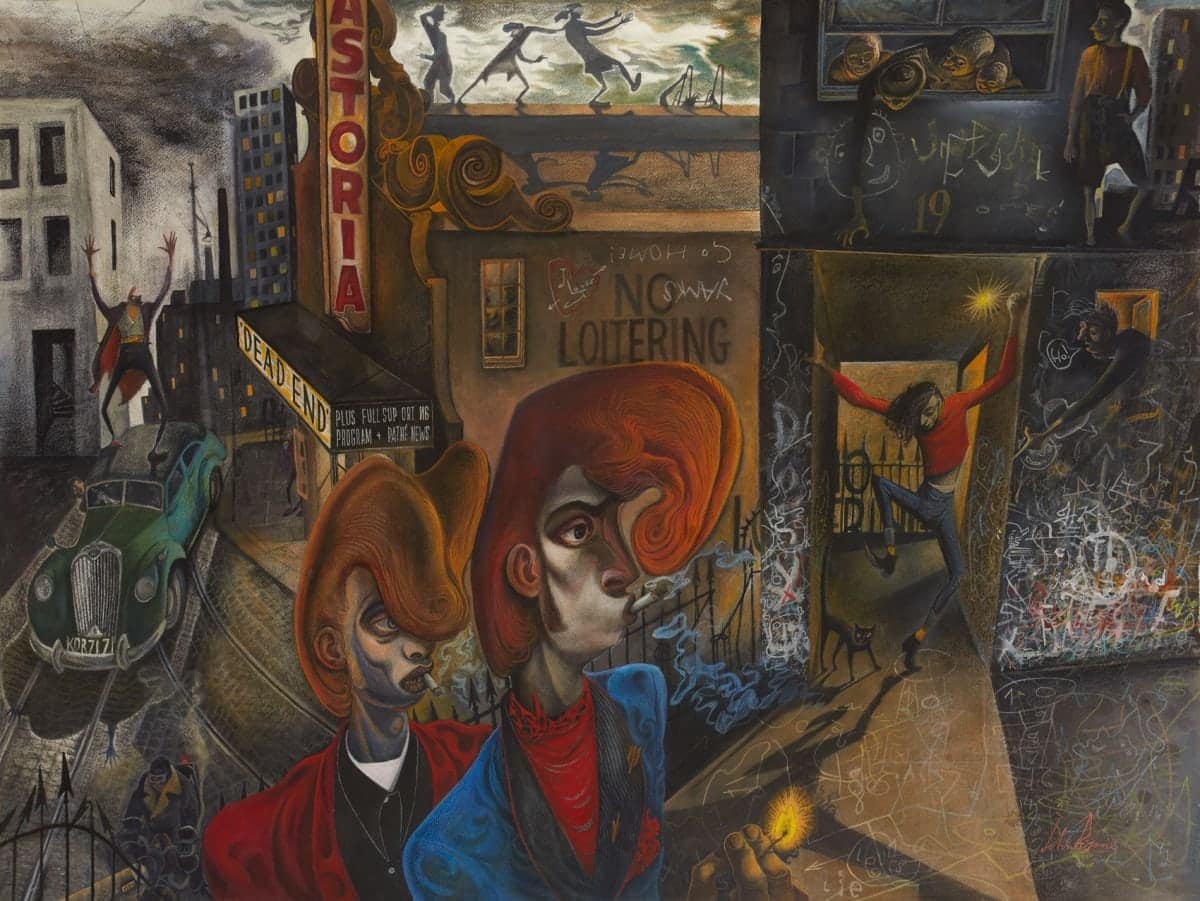 Angela Baidoo: Your focus on class and the disillusionment with industry is as relevant today as it was when 'The Slab Boys' play debuted in the 1950s, is your collection representative of a hopeful future as it got much brighter towards the final looks, or an indication that we haven't moved on as a society?
Charles Jeffrey: I think even though this was our debut, and it was very much insular as it was our moment, I find it's always important to have a comment on society. The last couple of months has seen me shift from someone who was quite insular to one who is really understanding a little bit more about the world. I listen to so many news podcasts every single morning – maybe to my detriment – but I am just more attuned to the news and everything that's going on with politics here, but then not just here, it just feels really prevalent. And I felt like it would be important to reflect on that in our own way and do it within our own sort of fantastical language. Even with the collection, when you're designing and creating it goes through so many different paradigms, you have to think about the sales, you have to think about sustainability, you have to think about the company, you have to think about so many things, but then with my role, thankfully, I can step away from some of that to a certain extent, and have some time to write and reflect about what do I want to say, as we are creating this weird, fantastical world, that is really about sub-cultures. It was quite interesting seeing it all together, as you have 'The Workers' that are a reflection of us, just trying to keep our heads above water, and then there are 'The Posers' who are definitely the celebrities, and there was something about the newspaper thing that I just wanted to play with, it was like propaganda, and of course newsprint has been done by everybody, it's like pinstripe.
So, is that a hopeful future? I think that when you can see all sides you can face it, and that's a step forward and progress from where we have been. Now that we're working quite deeply into June and it's a spring collection, and we'll be showing in Milan again. I'm considering, well what do we want to say now? I've got a lot of writing to do, as I've been doing that a lot now, just writing, and thinking. But I think it's important to radiate positivity, and joy.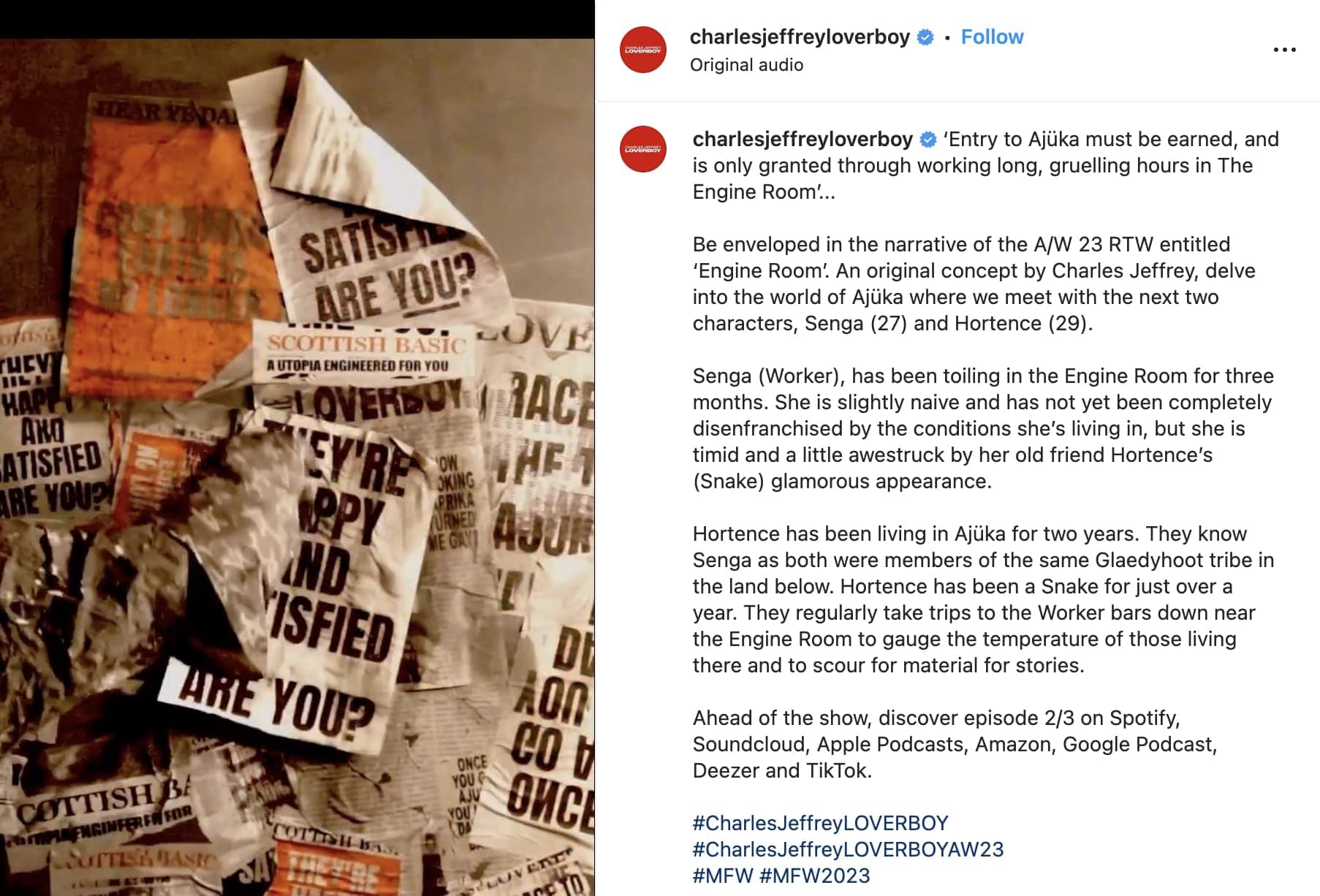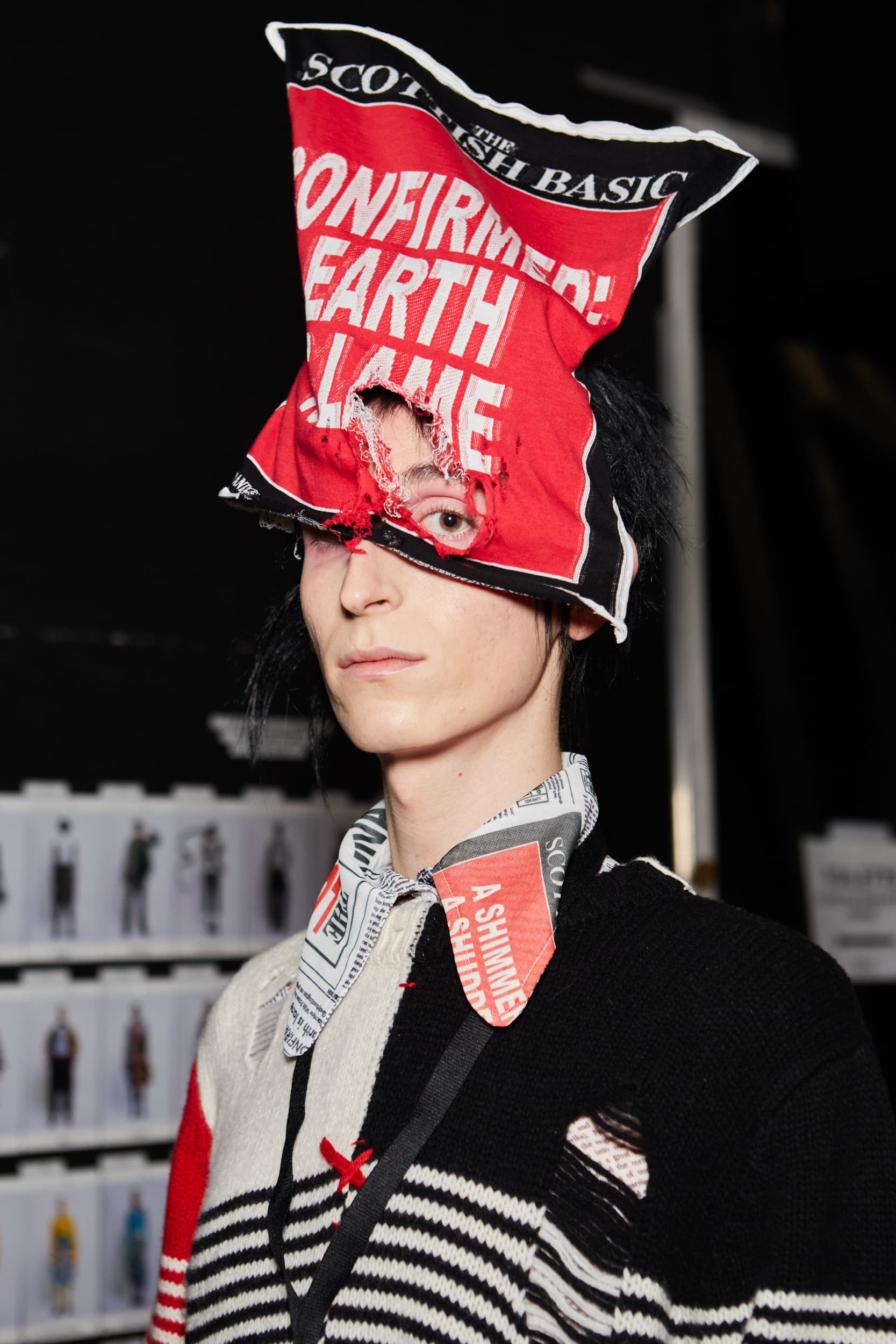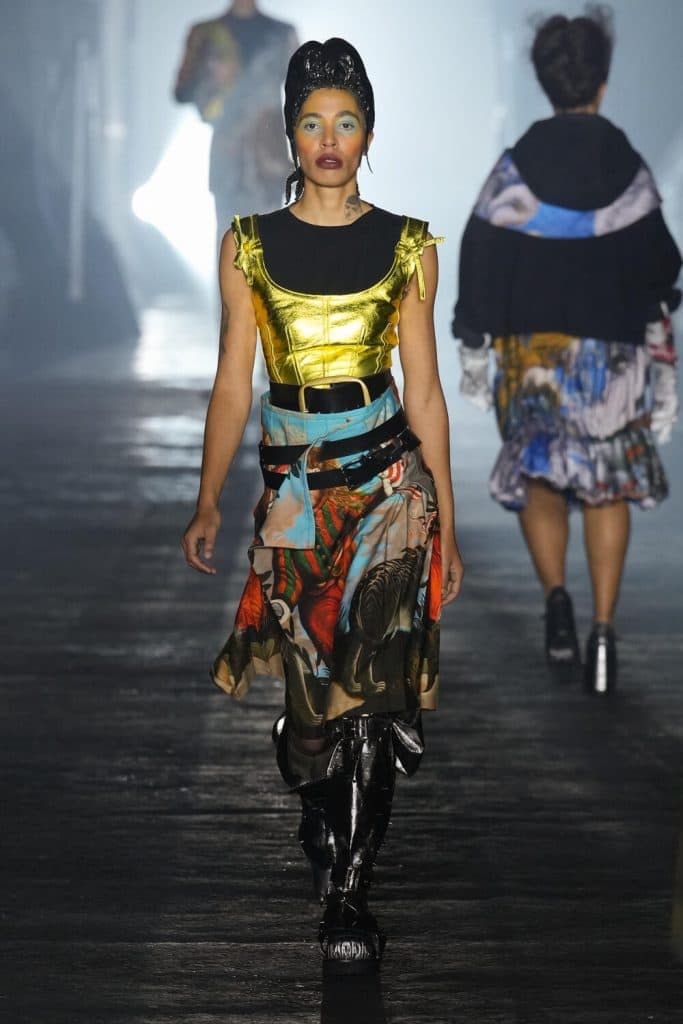 Angela Baidoo: I agree, and that definitely came through in some of the looks which featured the brighter prints, as well as your use of gold, so those sparks of joy came through in the storytelling.
Charles Jeffrey: I love that, because I find it interesting how different people react to and digest [my work], as there are so many things they can respond to.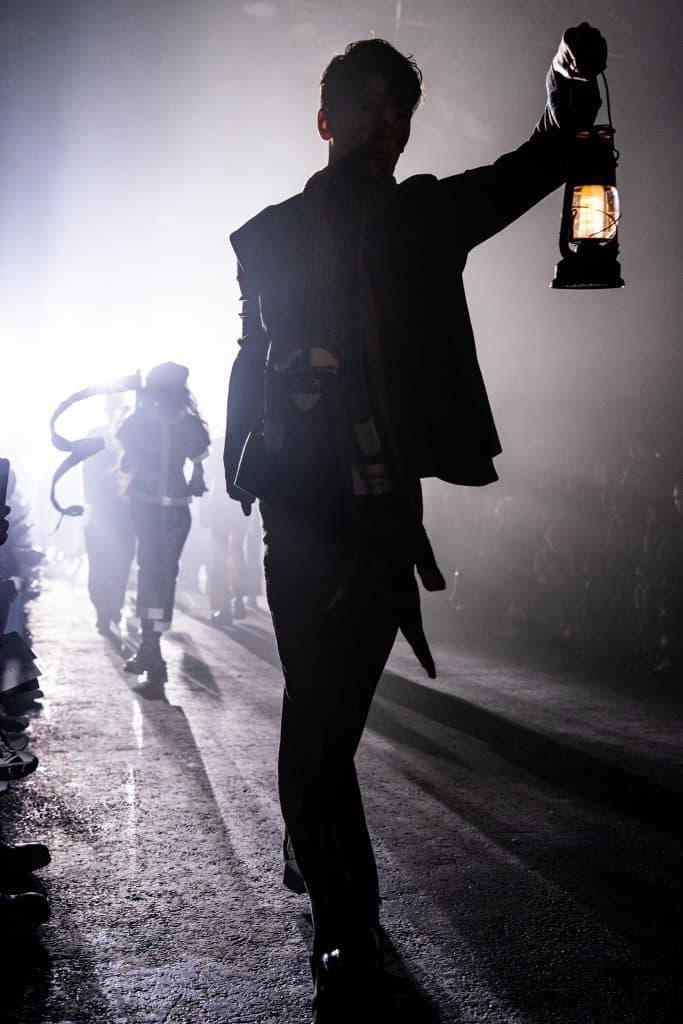 Angela Baidoo: As you mentioned, you have been doing a lot of writing lately, can you explain what compelled you to create the audio narrative concept the 'Engine Room' to accompany the show?
Charles Jeffrey: Last year, we had the luxury of working on an album called Art of Noise, so we created music in line with the collection that we released via a lookbook and a movie, that was autumn/winter 2022, and it was something that I've been wanting to do for a while as another creative outlet. Music and sound were always something that I had worked with really closely, for example, whenever we were working on the show soundtrack or scoring something, I always wanted to go really in-depth. So, through that process of making an album, I was able to build out a really great little team of people who were collaborators and old friends of mine, Tom Furse from The Horrors and Robert Fox who is an amazing wordsmith and is someone who I've worked with on a few different projects. So, I was able to harvest from that other pool that we have created for Loverboy. I thought with this one, because we spent so much time building out this whole world it would make more sense for people to also have a few insights into what the characters were like, and how they interacted with each other. I just find that type of work so fun to do, as I thankfully don't have to sit and do tech drawings all day or chase factories, as having worked with Tomorrow Ltd to build out a larger team, I now have the space to work on these other projects. That's what makes us quite unique, is that we also like all these other mediums.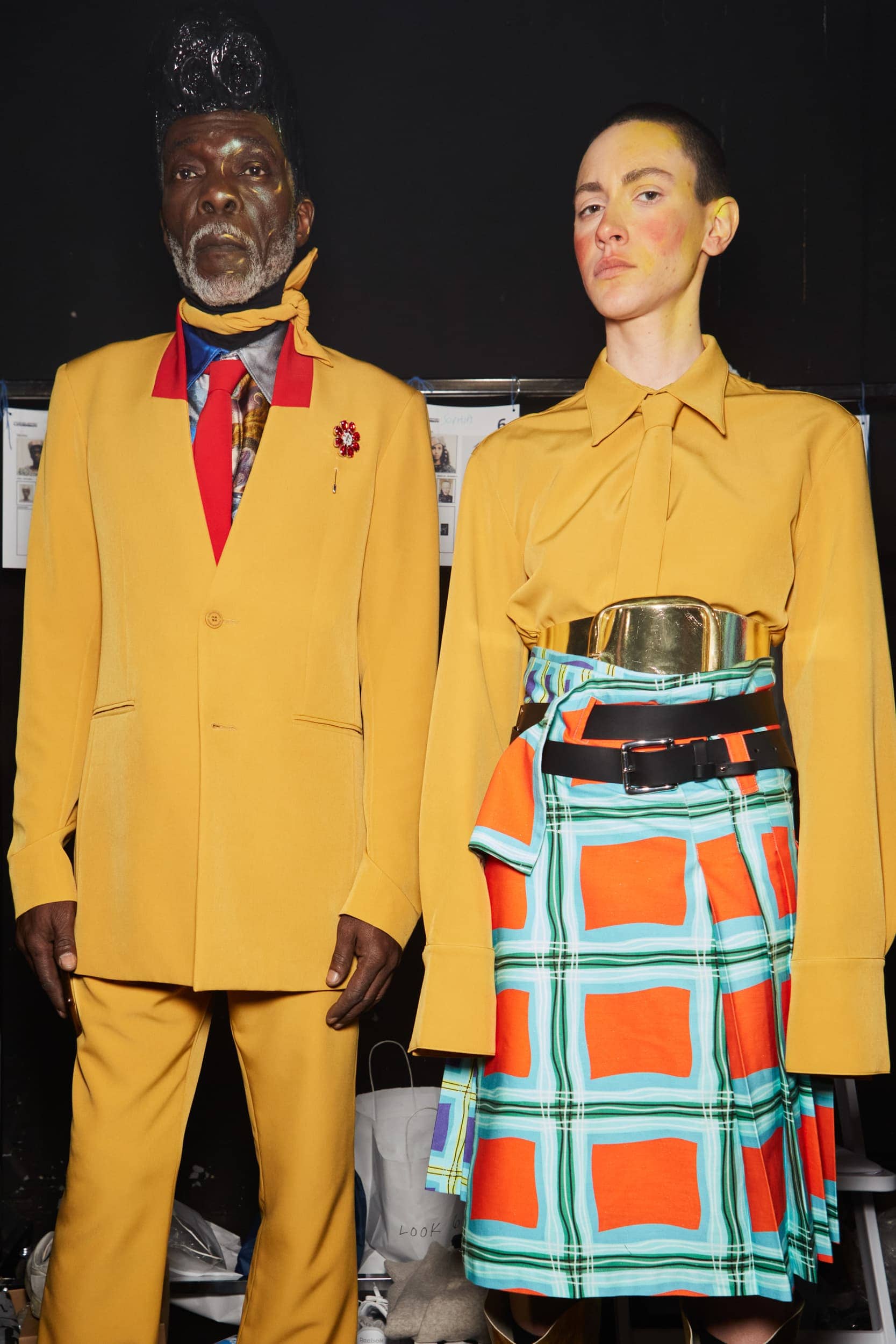 Angela Baidoo: I think it's great that other people can discover your brand in a new way. So, even if someone knows nothing about fashion, they can still discover your brand through your podcast as a new medium. And expanding on different mediums, what have you been watching or listening to lately that has had an influence on you or your work?
Charles Jeffrey: I have been watching a lot of American politics, which I know is bad. I need to watch all these shows like The White Lotus, but I never watch anything. Honestly, I'm single right now and I think I need a boyfriend to watch these shows with, otherwise I just won't get round to it. I also watch YouTube for things like The Daily Show, The Late Show, all these little satirical shows, and then I'll watch a range of different news channels, including Fox News, just to get a taste of what's going on, but it's honestly like watching The Real Housewives. Today, we've been in the studio so it's been quite calm, and we've been listening to lots of Honey Dijon mixes, so I would say I've been consuming a lot of news and techno lately.
Angela Baidoo: Having moved from Glasgow to London, and now to Milan, how would you describe the way in which the different energies between London and Milan have influenced you when creating your collections?
Charles Jeffrey: Well, Milan is just so supercharged. Going from London to Glasgow, you're so hopeful, and you really just want to be in London Fashion Week. And, then when the pandemic happened, and with men's week closing down we had to make a decision to move. Milan is just the same as Paris, so we felt these are the two main fashion spaces where it is a huge part of their culture. We knew that it was going to be different, but I didn't realize that it would be as supercharged as it was, with a reception as big as it was. We have a great team in place now, and it's been the best PR that we have had as a brand, and as we're also working with GM/PR in Milan, it feels like we now have everything in place, and we're here, we're back.
Angela Baidoo: And in terms of having always been a designer whose shows were a must-see, for the way in which they pushed boundaries, and represented London's reputation for producing some of the most radical designers, how important is the runway show for you as a platform to communicate your ideas?
Charles Jeffrey: I think having done a 360 on the whole thing since Covid, I do realize how powerful it is to do a show. In all honesty, this time last year, or maybe like two years ago, I felt like I didn't want to do a show anymore, like I don't need to do this, I've done my shows. It was all about trying different things out. I want to make music, I want to do film, I want to do this or that, and then we did all of that. And, thankfully, our sales still continued to grow. On the other hand, there's also just something really primitive and human about people gathering together to watch something different. Just watching something together, it's a very human act. Then there's the fact that you can get people sat down to just focus on the clothes. I think having not done it for a while, then doing a show which didn't work two years ago, and then now we've had a successful one again, I feel as if I've got the buzz back, I feel ready to do it again. So, yes, it's so important.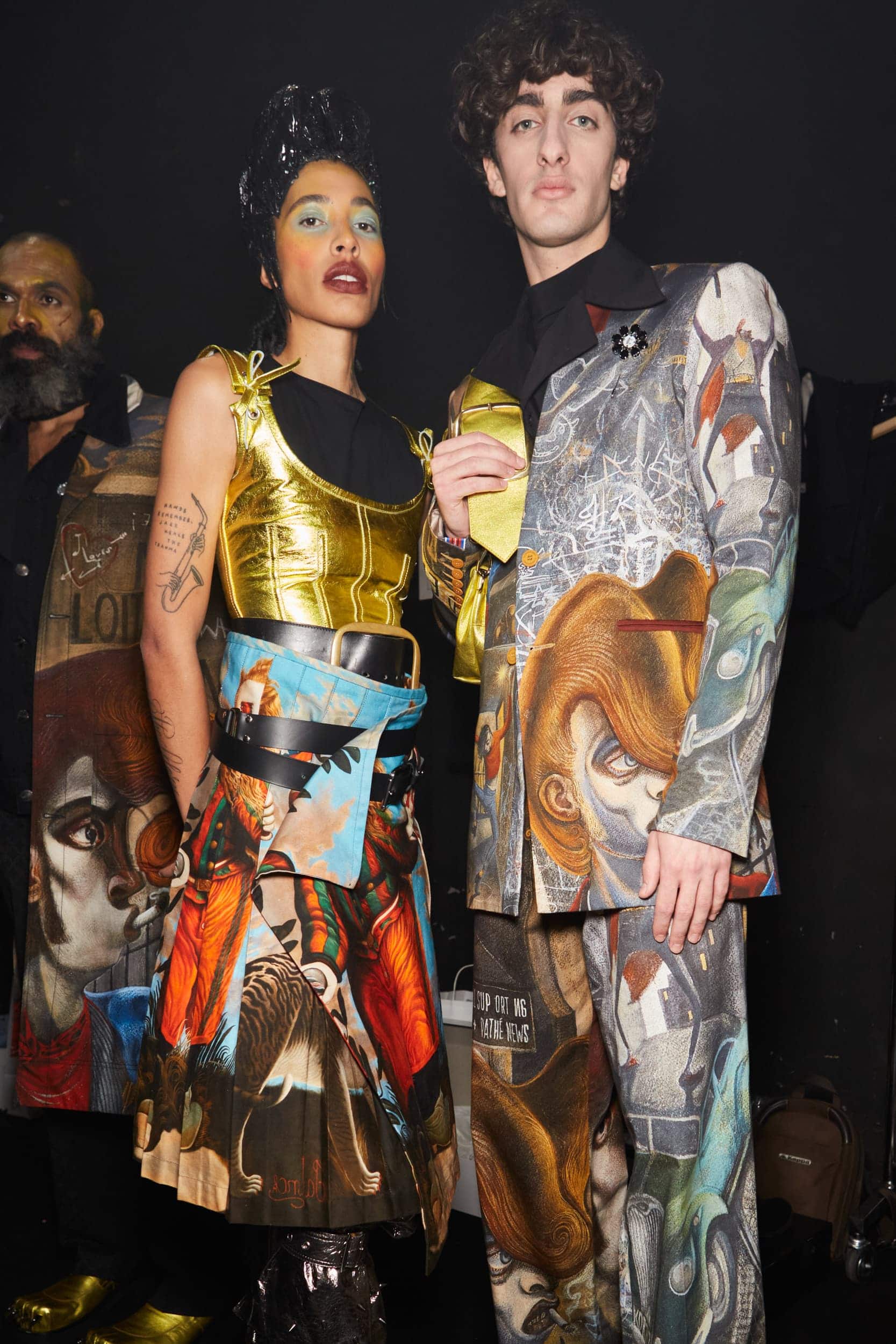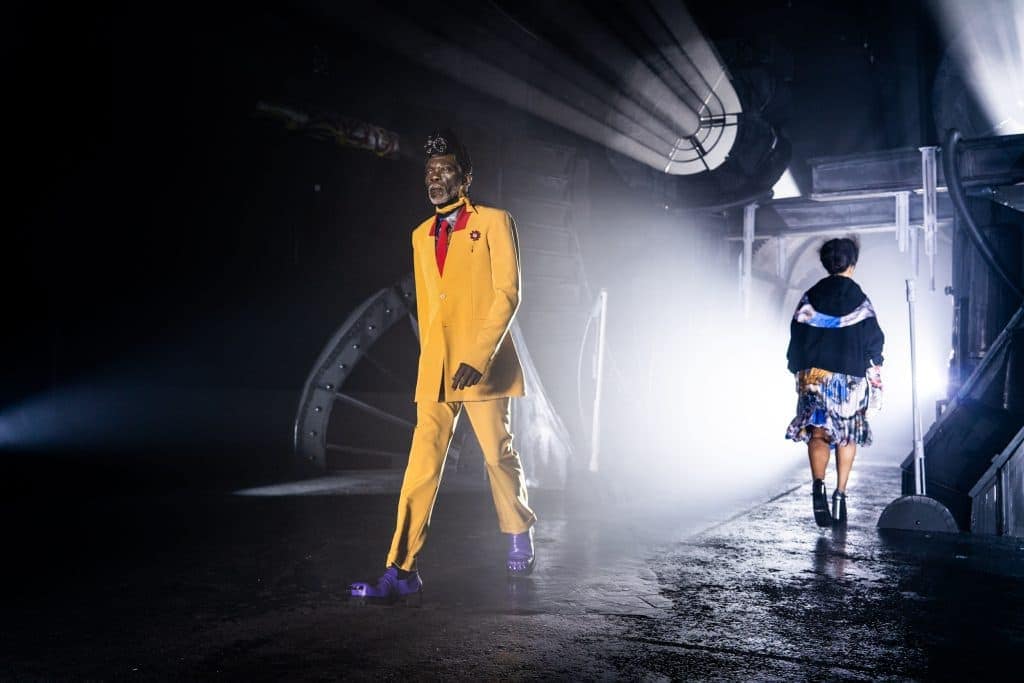 Angela Baidoo: The conversations around gender fluidity in fashion have been gaining ground with menswear designers getting more experimental, but reworking gender and identity codes is something that has always been a part of your brand DNA, what are your thoughts on the industry (in some respects) finally catching on?
Charles Jeffrey: I think it's really interesting seeing all these other voices come in and contribute to that narrative, because ultimately it's continuing the conversation, which I think is super important to have. Considering the fact that we as a society are weirdly unpacking and unraveling a lot of really great work in terms of our rights. But, actually, we are potentially at risk in a few places, just seeing how certain countries have completely twisted their rights for LGBT people, or even more recently, in terms of Scotland passing the Gender Recognition Reform Bill, and then the UK moving to block it, these things are never going to go away, and we always have to fight. We are in a bit of a crux in that we got a little bit too comfortable just peacocking, I think we as a group of designers need to really face some of these things and ask these questions in our work, what exactly is it about gender fluidity? What is it about subverting men's and women's wear? What does that actually say? Let's not be blasé about it, let's think of some provocative things to say. It goes in waves as well; we were not the first people to do this, thinking about Gaultier and Galliano and Westwood, these were the people that paved the way beforehand, and they were doing things during a really pivotal time for our rights. There was obviously the AIDS crisis and everything else, and people were really showing up for that. So it goes that these things come in echoes and waves, and when people do come together and what they're saying isn't just for the sake of it – and is actually saying something – it helps other groups of people, It helps the narrative, and I think that's when it's important.
These are all things that, as a Creative Director, you have to think about, I've never felt so compelled to really deeply think about things, but I can't then filter all these big questions into the decision of where a button goes, that's not what it's about. It's about the show, which we're going back to, the presentation and how things are curated. We're working on something now, which has a lot to do with animism and mythical beasts, with a slightly historic angle for June 1. I have to think, what does that mean? What does that say? This is my job, I have to keep absorbing and responding, so that's where I have arrived at now.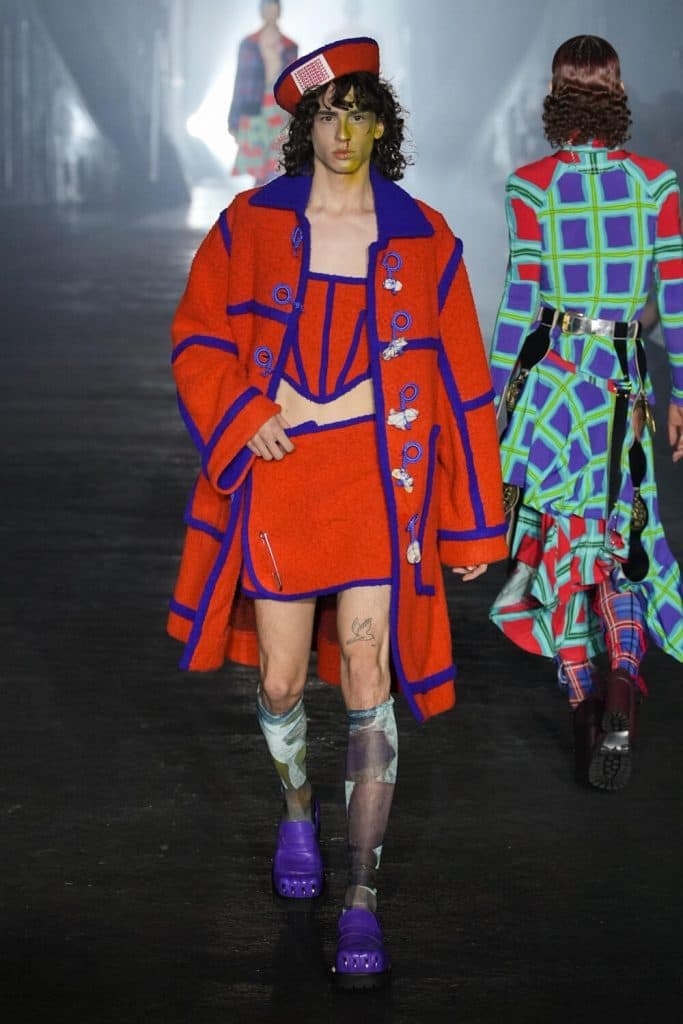 Angela Baidoo: The Scottish Basic Newspaper graphic, which we first saw in your debut spring summer 2018 show, made a reappearance this season, with the headline "They're happy and satisfied, are you?", is that an important question for today's society?
Charles Jeffrey: When we were creating the paper, it was a nice project. I did it with our team and our interns, and some of it was really balderdash, silly and funny. But then there were some that we kind of arrived at that had a double-edged meaning. Originally, the title was misspelt, we got sucked in with the 'They, They're Them' thing. And I was trying to do something about 'They, Them'. So, I was like, 'They're' happy and satisfied, as in the 'They, Thems' are happy and satisfied. Then flipping it around to ask, 'Are you happy and satisfied with your identity and your gender?' That was the original statement for it. And as a studio we're all much more visual, rather than language based, so we had put T-H-E-I-R, and had left it there for a while, and it didn't change as I was adamant that it was exactly what I wanted to say. Then our copy editor said 'No Charles, that's wrong', so we changed it and a completely new meaning came through, and when we were working on the final zines and copy for social it started to ring true, we found that it was where we were trying to arrive at, in that this statement does mean more. That's the great thing about the work too, is that you can leave something open to interpretation, it's all about everyone else's reaction and imagination. That's what our work is about, it's to allow everyone else to use their own little guides like tarot cards, they mean something different for everybody.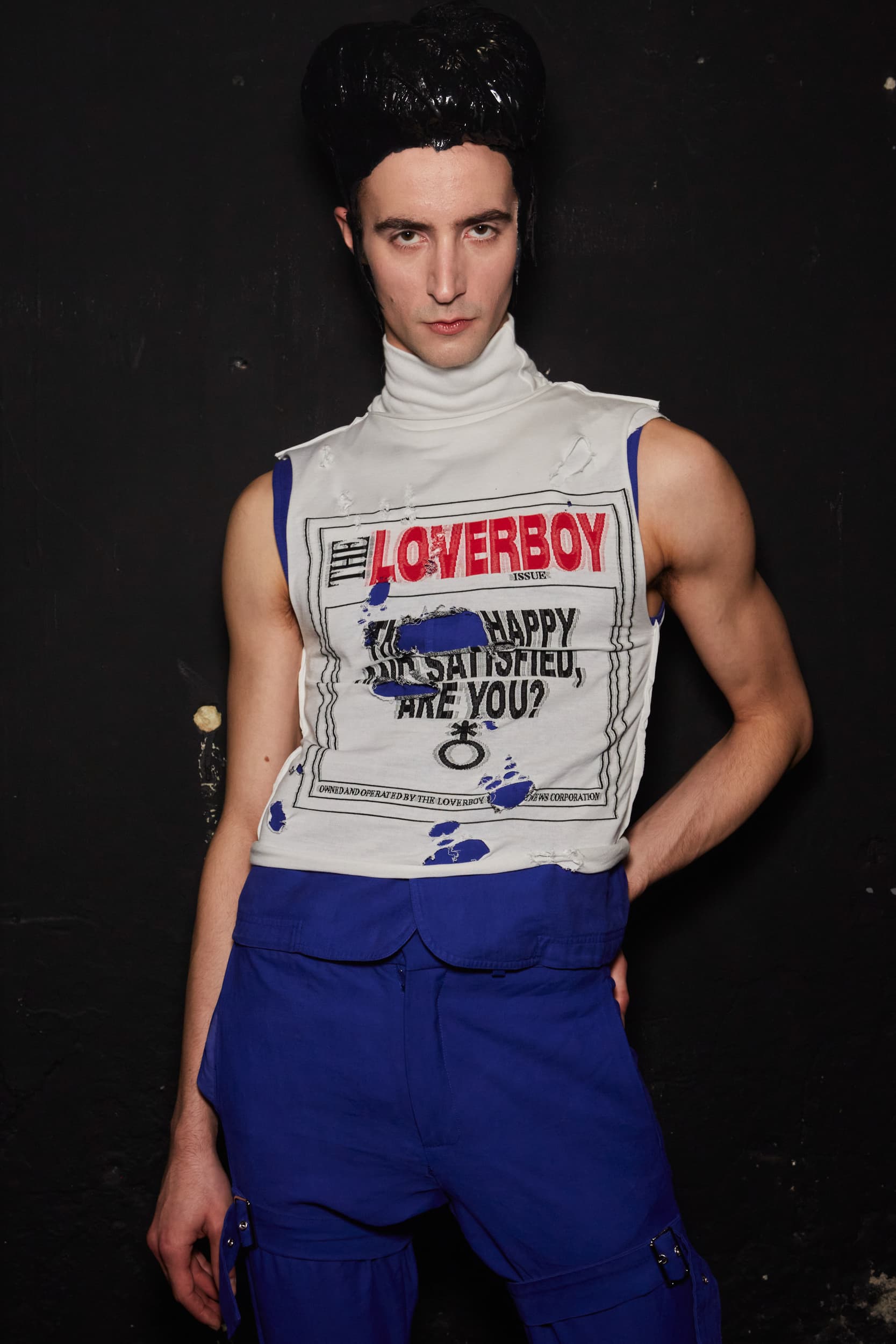 Angela Baidoo: Having recently got to work with Tilda Swinton, which is how you said your inspiration for the collection came about, are there any other creatives – who embody the Charles Jeffrey Loverboy brand – that you would love to dress in the future?
Charles Jeffrey: There are a lot of people from different paradigms that I would love to wear Loverboy, but we also want to make sure that we're not just flinging things at people, and it's done for a reason. I'm always really interested in musicians and people who are masters of their craft, but then I also want the Sugar Rush ones, for example, I love Holly Herndon, who is this fantastic musician and such a great thinker. And then you've got people like PJ Harvey, who is an amazing lyricist. If I was thinking about history, I'd love to dress people like Jean-Michel Basquiat or Warhol, who are all heroes of mine. At the same time, I just love seeing how the public wears Loverboy, seeing how people style our products and put things together. And having Tilda wear it would have been a goal for a lot of people, but the nice thing about that was the fact we were actually friends, and it just came about in a really serendipitous way, it wasn't forced. And I think that's when the best moments happen. It's interesting to watch people like Jonathan (Anderson), as I'm such a huge admirer of how he works, because he has a strategy for how he dresses people. He's working a lot with actors because that's his interest. So, when I'm reflecting, I think about what people do I want? What will work? And how can I also build the brand out? It's also about working with my PR team, which is a great collaboration, as that's their role, that's their art, to reflect on who you are, and then to propose the right people, to guide you. So that's where the team comes in.
There are a lot of people from different paradigms that I would love to wear Loverboy, but we also want to make sure that we're not just flinging things at people, and it's done for a reason. I'm always really interested in musicians and people who are masters of their craft, but then I also want the Sugar Rush ones.

– Charles Jeffrey
Angela Baidoo: How are you reimagining the future growth of the Charles Jeffrey Loverboy brand, now you have the right people in place with the investment from Tomorrow ltd?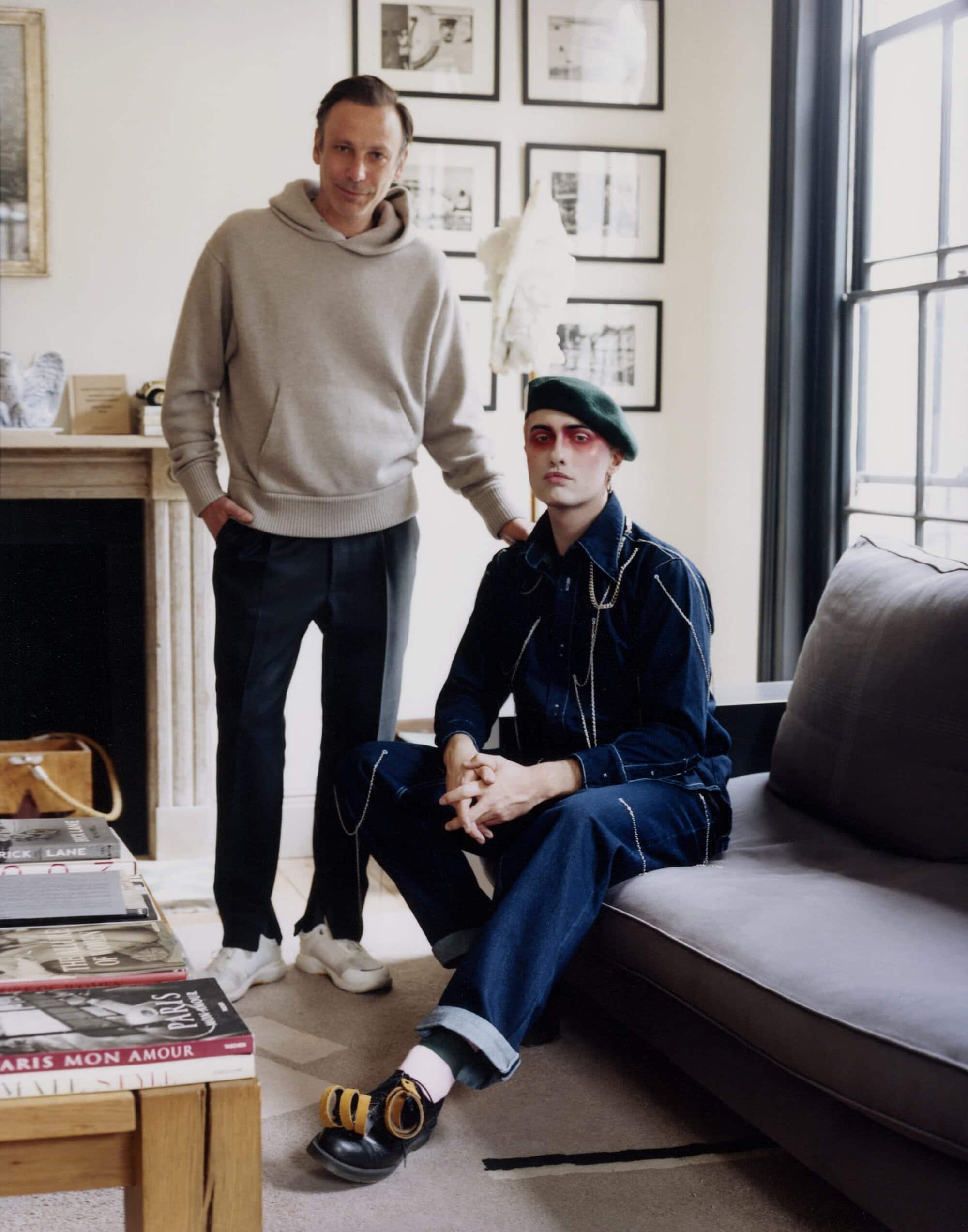 Charles Jeffrey: We're currently working on our yearly and five-year strategy for April, but with Tomorrow Ltd being there to help us, not only financially, but in also giving us a larger team – 10 internal appointed members, with 20 others that work across the account sporadically from customer service, to ecommerce, sales and production – you realize how many people it takes to build that out. In terms of where I want to take the brand, I think the two things that are front of mind are the role of a show, because you invest money into a show to hopefully make sales in terms of the clothing. But, just considering the sales can also be somewhat limiting, because what sales reveal people like isn't always what you want to put on the runway. It's this really interesting space, because we travel between being very artistic, creative, and abstract, and we also want to do something that's quite desirable as well. So, the role of the show as not just a marketing tool. And then meeting with the larger team at Tomorrow Ltd and posing these questions and asking what decisions can be made to make Loverboy have longevity. Fashion is so fickle, it's like a beast that you always have to keep an eye on, and I think a good Creative Director is always keeping a lot of eyes in different places, while also trying not to be too comparing and despairing. I want to make sure that we're not just this 10 to 15-year flash in the pan. So, there are two things, the role of the show, and how can we make Loverboy like a Paul Smith, a 50-year brand.
Angela Baidoo: How do you think designers of today can balance creativity and truly radical ideas with the need to have some level of commerciality embedded in their work?
Charles Jeffrey: First, It's about understanding what drew you to fashion? What lead you to what you do? I've always loved clothes, identity, sub-culture, and bands. So, I've always thought about product and styling, putting things together and looking different. So, in essence, it's quite easy to translate that into product design. But then I have also been trained at St. Martins, where I was given the opportunity to see fashion as a whole other art form that you can project and filter stories through. I feel like we have a good balance as I can put two heads on. In terms of advice to other designers, think about what you gravitate towards. Do you like to make big custom gowns for people? Do you like to interact with different clients? If so, then maybe you go down the Haute Couture route. Alternatively, do you like to think about products and the detail of the design, finish and function? Then maybe you're someone that's a bit more mass-market or product development focussed. Getting the balance right is just understanding what you like and what you gravitate towards, then looking at how that can sit within something that can then make you money, because there are a lot of businesses that have survived and thrived in all of these different spaces. You should also reach out to people and ask them things, that's why I like Marni so much, and Francesco Risso, because he is such a dreamer and a protector of things, he loves to draw and loves music and excess, but then Marni's very successful product wise, so it's been nice getting a closer to him and seeing his world as well.
---