---
Review of Dior Spring 2023 Fashion Show
Dior's History Lesson Finds the Light in the Dark
By Angela Baidoo
This season Maria Grazia Chiuri gave us a show which focussed on elevating natural materials, an inspired darker element, and meadow-florals in humble silhouettes that conveyed an intimacy and a yearning for simpler times, which still felt accessible and inherently Dior, because as always there was the depth of historical research which was woven throughout.
The comeback of the crinoline was an unexpected, yet timely addition to the collection, it's interpreted in mini and maxi lengths and paired with bralettes and simple tanks, exactly as the new-gen will style it on the streets.
Those in attendance got the first glimpse of a darker side in the form of a series of looks in inky black that served as a canvas for copious amounts of added texture. With the monarchy on Chiuri's mind, she looked to Catherine de Medici as muse, ascending to the throne as Queen of France in the mid-1500s, she was known for using poison and black magic to wield and retain her power. And with the first 14 looks, the descendants of this key figure in France's history have gained new relevance with the designers modern-day take on witchery and the potent power of women.
Following this bold start, darkness turned to light with a palette of countryside references – from wheat to whey – rustic textured embroidery, and humble gauzy knits spoke to a desire to look back, with the added incorporation of signature sports-trim elements that customers have come to expect from the luxury fashion house, which this season was very much there but didn't take away from the simplicity.
Maria Grazia Chiuri has never shied away from the classic Dior fit-and-flare shape, but surprisingly this season they became more structured as crinolines came into play, and in a world that is currently struggling with the push-pull of female bodily autonomy we are left asking whether we want to return to a time of such restrictive silhouettes? But if they come in the form of strapless lace minis and peek-a-boo patchwork maxi skirts, then the answer is yes, we do, if only as a fashion-forward device to keep away unwanted attention. Making this historical scaffolding modern is where clever styling incorporating sports-style bungee cords came into play, with one all-black look featuring panelled ruching controlled by tightening or loosening of said cords.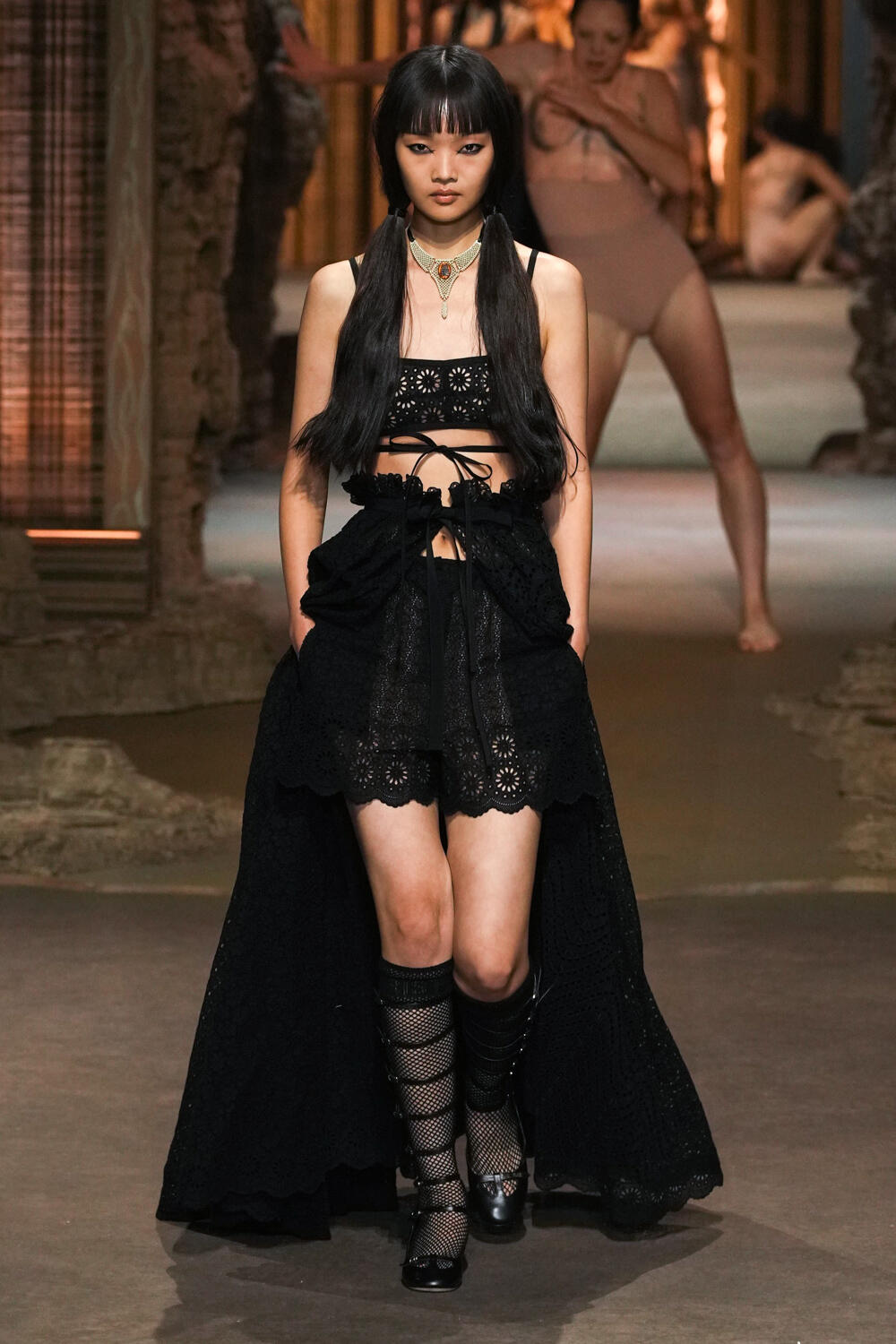 Categories such as outerwear were given time to shine and gain a new audience, especially among those who have never considered purchasing a trench through the brand. For spring summer 2023 there is the option of a relaxed style with elongated sleeves or a classic version with an extended collar that has been folded down to create a mini-cape – an accomplished feat of pattern cutting from the atelier. While the ubiquitous pleated skirt was updated with a panel of smocking to create a new hero item for the brand's fans.
The countryside was a key calling card, and even though it has had many evolutions, the simplicity of prairie dressing looked renewed here. Spliced prints on patchwork skirts, button-front shirt dresses worn with boxer-style shorts trimmed in lace, crisp cotton corsets (layered over the tank, still riding high as the basic du-jour), XXL belted shirts, and floral cargo pants revamp this trend.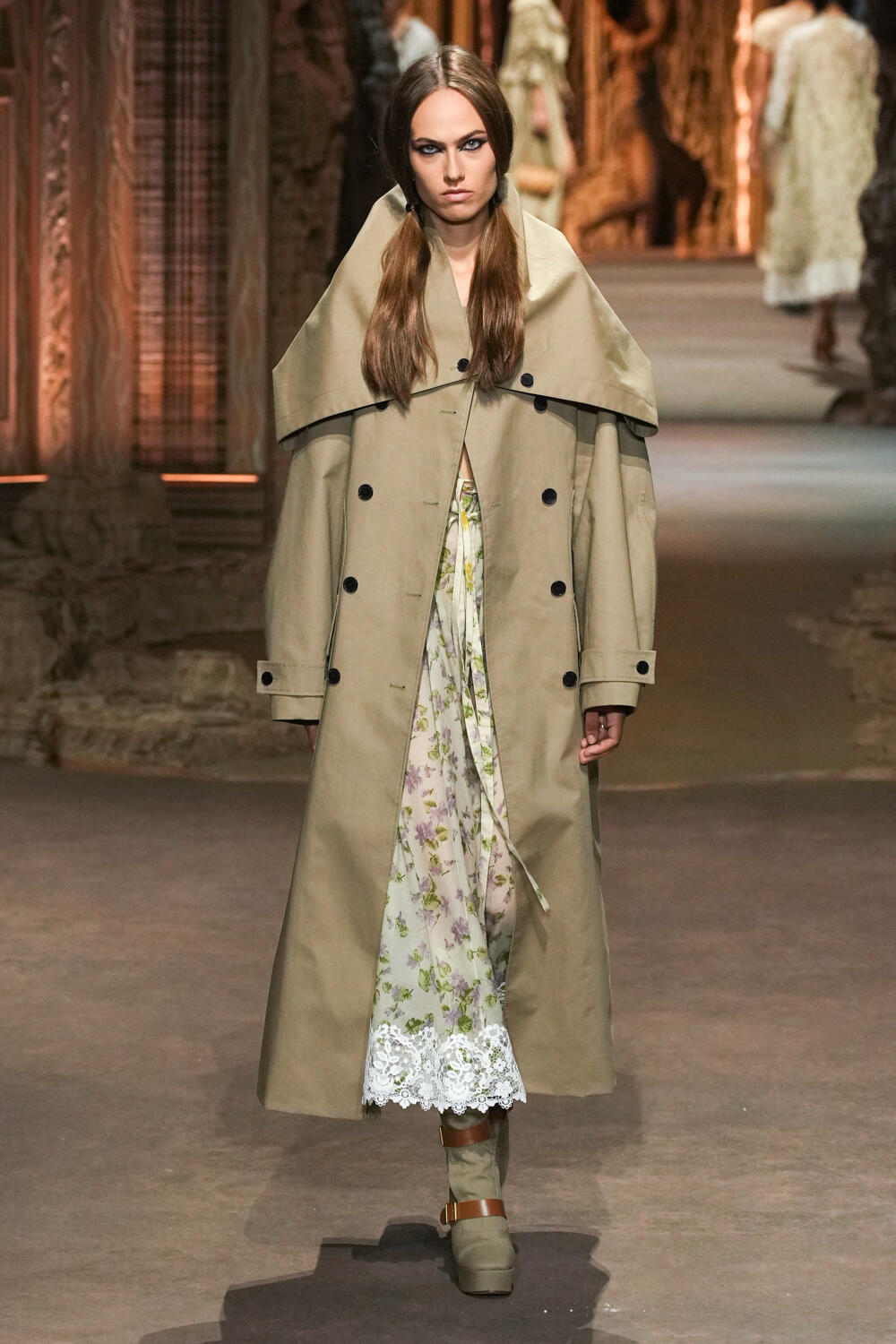 Social media teasers referenced the map prints, which covered sports-hybrid style dresses and a youth-led look of cropped bomber and a maxi/mini layered skirt. This superimposing of historical data onto modern shapes is what made this collection feel the most exciting from the house in a few seasons.  Outlined as a visual record of Paris in the Age of Enlightenment – when bold ideas that would shape the next century were shared in the 1700s by philosophers. Maps were a discipline that "existed to serve history," which runs in parallel to what the designer is developing as Creative Director, using her vision to tell the history of now, capturing this moment in time and the evolution of the Dior brand for generations to come. And with her firm stance on female empowerment and efforts to centre women in her design thinking, this moment will be remembered for its contrasting graphic impact alone, demonstrating the duality of women in the world today.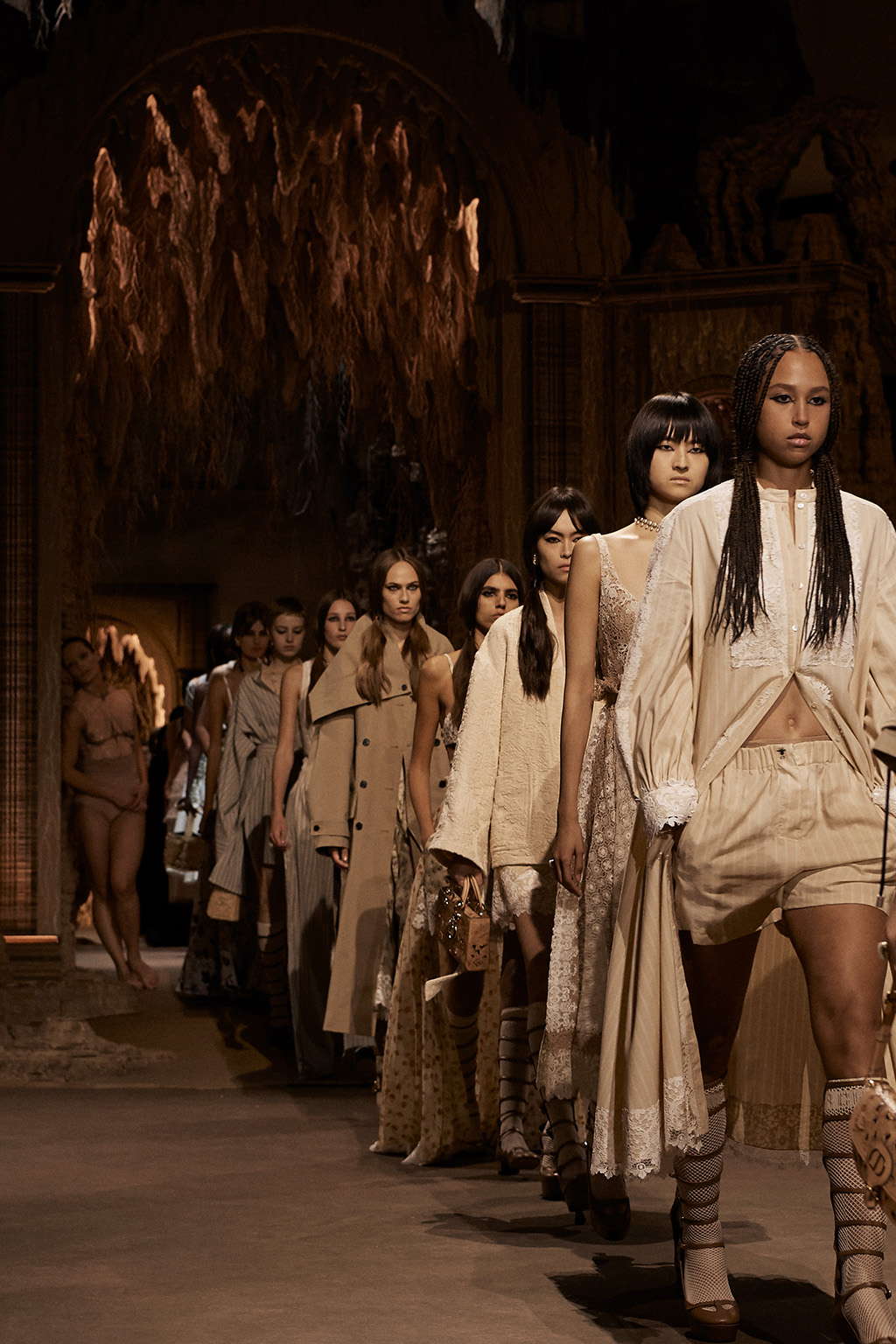 Maps were a discipline which "existed to serve history", which runs in parallel to what the designer is developing as Creative Director, using her vision to tell the history of now.
Another designer who fully comprehends the power of conveying emotion through set design – to create the right mood and space to unveil a collection – Chiuri partnered with Bureau Betak, who constructed a cavernous show space and catwalk tunnel for the models to walk through, which to the naked eye looked like rocks, but was in fact made from cardboard, developed by previous couture collaborator Eva Jospin.
Today's summer 2023 presentation was a strong outing for Maria Grazia Chiuri where her themes were expertly interspersed throughout, creating a fresh take on historical figures and giving an edge to florals for spring.
---