Review of Coach Pride Spring 2023 Ad Campaign by Photographer Jun Lu with models Fran Tirado, Ashley Lukashevsky, Jonah Almost, Alaska Riley, Oscar Nñ, Mohammed Iman, Adam R, Xunami Muse, members of HMI Youth
In honor of Pride 2023, Coach celebrates community by partnering with real queer communities in a campaign shot at Fire Island by photographer Jun Lu.
In addition to another return of Coach's long-established rainbow monogram, the capsule features graphic tee collaborations with two of Fire Island's most beloved institutions: the Belvedere Guest House, a legendary gay destination, and local community grocery Pines Pantry.
Decked out in these expressive threads, the campaign's eclectic cast takes to the locations iconic beaches. Coach dug deep to assemble the cast, inviting queer artists and models as well as local community leaders from its home of New York, like members of the HMI Youth program, which provides a safe space and support services for LGBTQ+ young people, and the leaders of Brooklyn-based queer art collective Papi Juice.
The brand also shared a few behind-the-scenes style videos that are very much in keeping with the spontaneous feel and lo-fi editing style of TikTok, where so many young queer artists – including many of the campaign's stars – have found a forum for community, support and expression.
A brand that has visibly demonstrated its commitment to championing queer voices year-round (see for example its ongoing partnership with queer icon Lil Nas X), Coach has done a good job to rise to the increasing demands for meaningful work both in and outside of Pride month that does more than just slap some rainbows on T-shirts. Their refreshed format of partnering with a broad spectrum of creators in a sincere and spontaneous fashion also nicely lends itself to creating a Pride campaign to be proud of. Listening to and uplifting the voices of figures who are putting in the work and imagination to support their communities, Coach demonstrates itself to be a meaningful part of that community.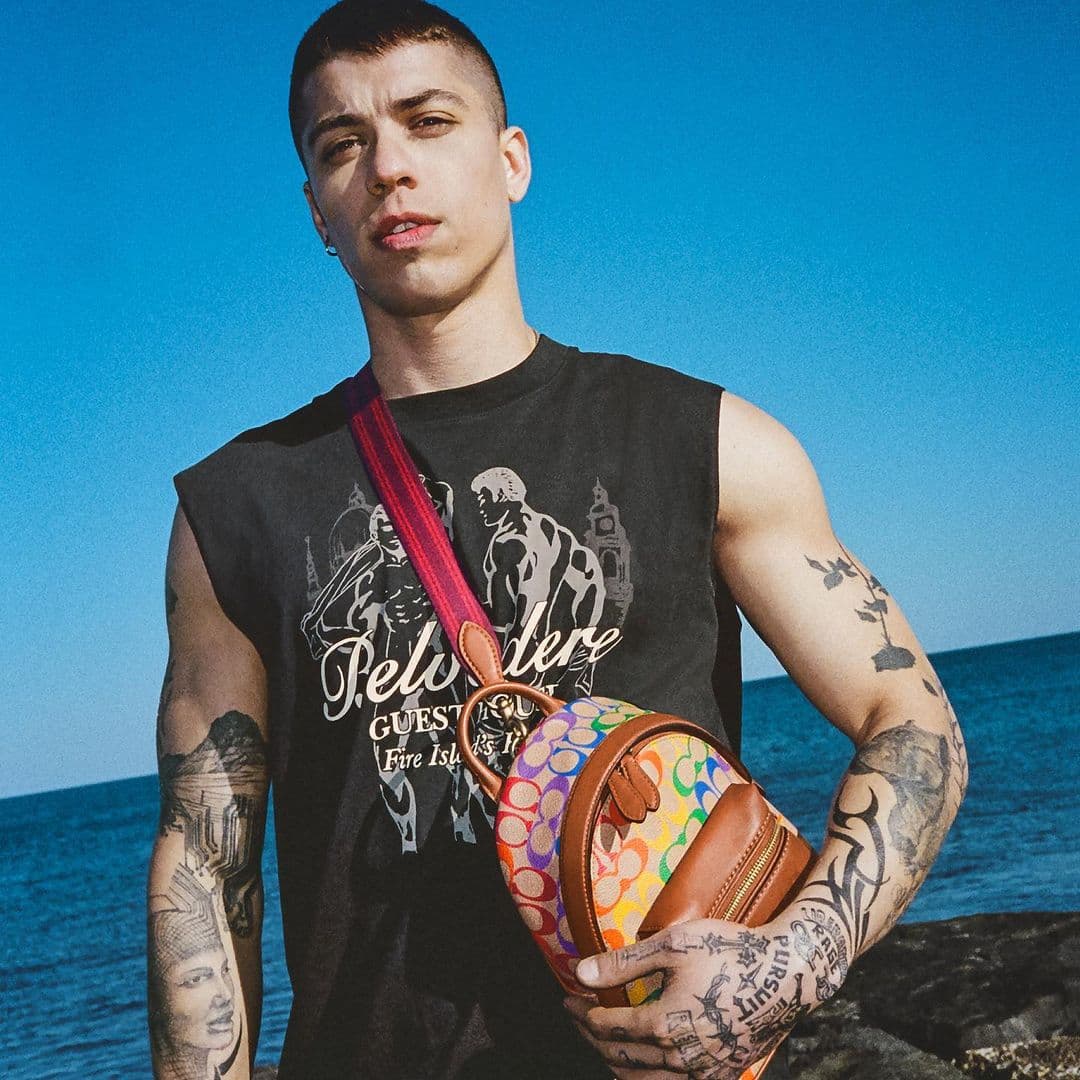 Coach Creative Director | Stuart Vevers
Photographer | Jun Lu
Videographer | Michael Della Polla
Models | Fran Tirado, Ashley Lukashevsky, Jonah Almost, Alaska Riley, Oscar Nñ, Mohammed Iman, Adam R, Xunami Muse, members of HMI Youth
Hair | Owen Gould
Makeup | Dotti
Set Designer | Jacob Burstein
Location | Fire Island, New York

---