---
Review of Comme des Garçons Homme Plus Spring 2022 Men's Fashion Show
Art Collages Botanicals and Human Parts, and Clothes Capture Emotion and Shapes of Flowers
By Long Nguyen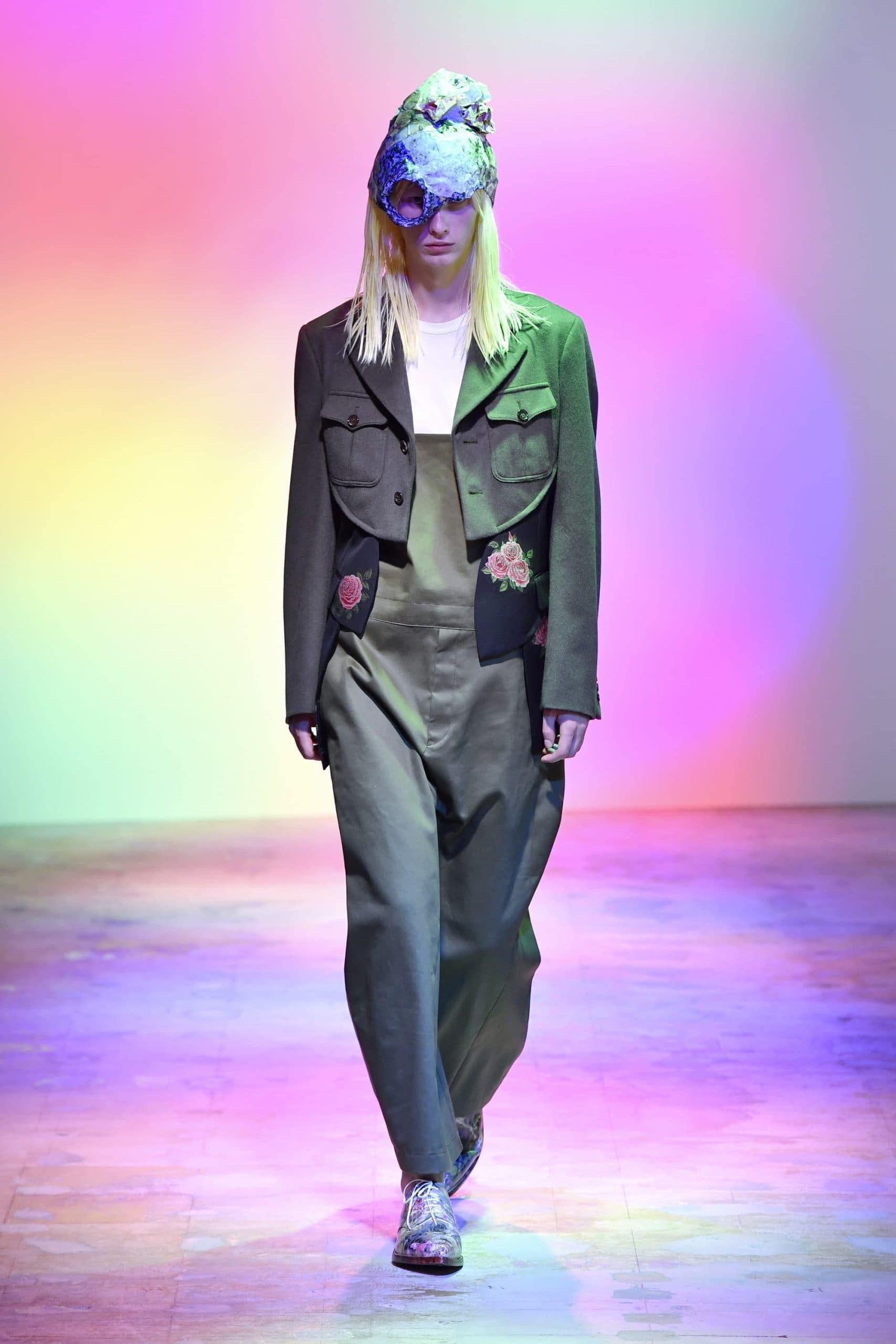 "Flowers are not there only for happy times. They also exist for tough, sorrowful, and painful times. Even a tiny roadside flower can heal our shredded heart," Rei Kawakubo said in an email statement on her stellar Spring 2022 Comme des Garçons Homme Plus collection.
Indeed, perhaps more important here, these flowers in all their varieties, shapes, and colors form not just a decorative motif printed vividly on the back of oversized white single breast jackets or the side of black leggings. The silhouettes of flowers and leaves guided the cuts of the front lapel in the curvy shape of an olive cotton military cargo jacket with multiple patch pockets with a navy white dotted insert lapel in the round form of a tip of the flower petals.
The quiet mini-show at the company's Tokyo headquarter, which seemed more of a corporate environment than the seat of a global influential brand, has much more of a powerful punch in delivering the fabulous inventive clothes.
Contrast this powerful show to the fanciful faux desert runway decorations at the live Dior Men show in Paris under a giant rectangle tent outside of the Hôtel des Invalides or the expensive Louis Vuitton cultural trotting short movie men's presentation featuring so many stars and so many references to count accurately.
The only decorations in this show were rainbow-colored lights serving as the backdrop casting their hues against white-painted walls. The clothes stand and speak for themselves.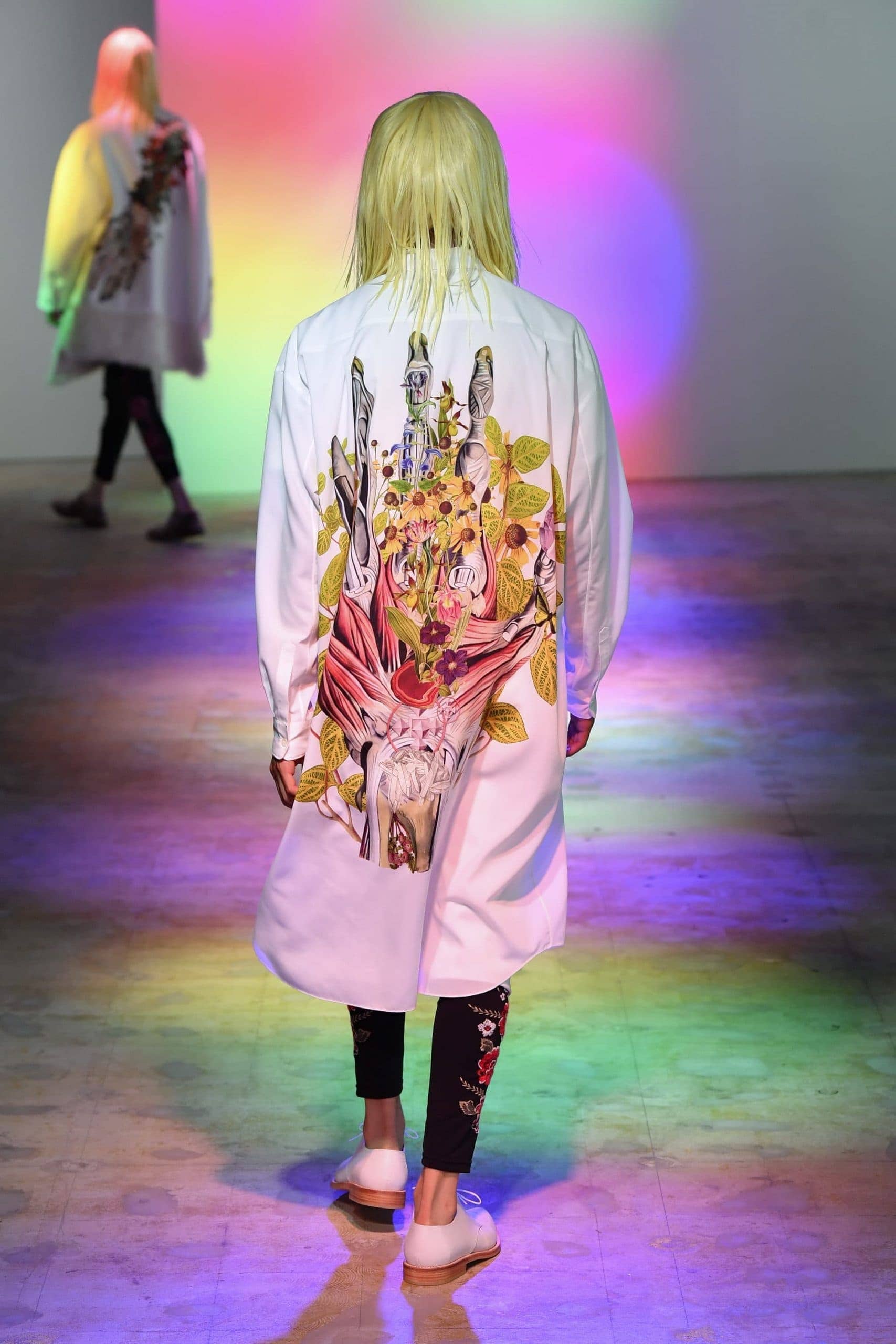 Rather than just merely decorated her clothes with artists as in the case of Kim Jones' work at Dior Men or significantly sampling and consolidating other men's silhouettes as in the case of Virgil Abloh at Louis Vuitton, Kawakubo figured out how to work within her signature men's garments and their shapes and introduced new elements as a way to advance the idea of design. You can see a bit of her past men's collection in this one, and you can also see how new elements are added and built on the known work.
Even in this fast-paced digital age where fashion images flipped through at rapid succession, there wasn't a sense of a reductive view for men's fashion here. Instead, the idea of flowers and collages is explored in designs seamlessly merging feminine structural forms, something Kawakubo has been doing for decades with her men's line and incorporating her men's signature looks with new fabrications.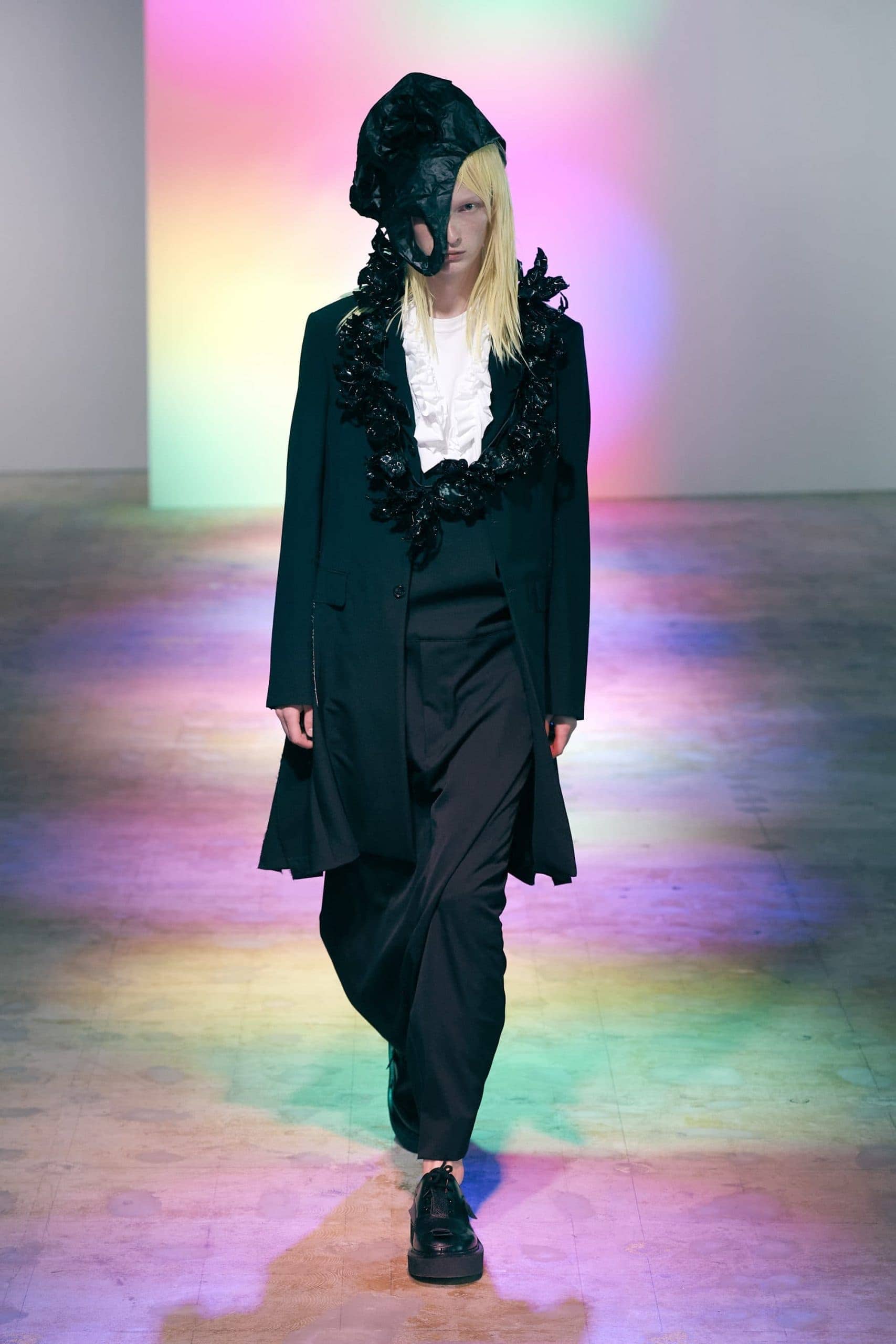 Kawakubo never uses any reference in a literal sense – the flowers here are not present to make a statement about the junction of happiness/sadness state of the world or comment about what will happen next. Working with the Phoenix, Arizona-based collage artist Travis Bedel, under the art name Bedelguese, the designer printed his colorful flowers/human body parts images on this all-white shirt-dress or an oversized white jacket.
"My artwork is cut paper collage. My tools are glue and razor blades. I cut out from printed vintage etchings and illustrations to recombine them into an amalgamation of anatomical, botanical, and other biological parts," is how Bedel described his work on his website.
Comme des Garçons was still missing from the Paris men's spring 2022 shows scheduled in late June. The pandemic still impacts the Paris men's season at this time, with many designers lacking the spirit of creativity.
So many designers are pondering what kind of party in the post-pandemic world to make the clothes that will fit into that new lifestyle. This kind of question isn't posed here in this truly outstanding creative menswear collection that offers exciting and wearable garments.
The ingenuity of this Comme des Garçons Homme Plus collection is its total commitment to real creativity in men's fashion and critically to designing new garments rather than merely another collaboration in search of fame and reach. This spring collection allows the arena of men's fashion to compete with its women's counterparts. That isn't an easy proposition, but one made easier with a double-layer bright pink jacket and half jacket atop long floral print shirt-dress and leggings.
Kawakubo took the essence of Bedel's collage techniques and merged different components of various garments into one. For example, a black leather blouson has a white print portion of a tailored coat attached from the hips, or the large collar trench is combined with a flower nylon bottom half to form a boxy trench coat.
"Most of my work represents love, loss, and letting go," Bedel emphasized in his artwork. But, there is no sense of loss and letting go in this collection where the blossoming flowers celebrate rather than mourn.
His sharp and colorful art was mixing images of human body parts and connect them to a range of flowers. A stark white spread lapel oversize single breast knee-length wool jacket with white faux fur trims at the bottom has a dissected wrist and a forearm of leaves and flower print. A long white asymmetrical shirt-coat has printed two palms holding a giant red rose in a prayer motion.
Bedel's cutout techniques as a base for his artwork and the contours of the curvy shapes of flower petals spawn new design elements in this collection with the cutout structures in jackets.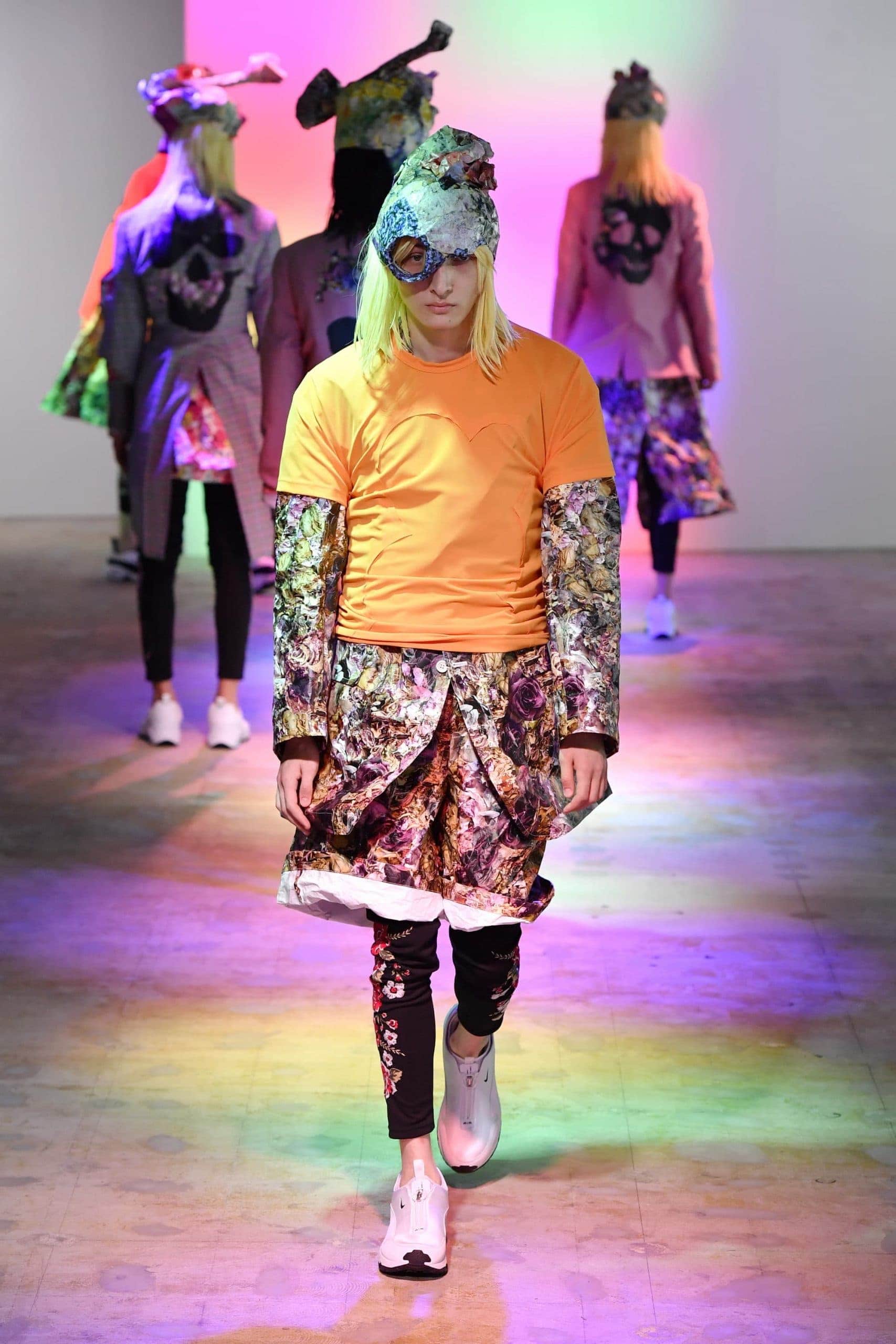 The inside front, a light pink pinstriped shawl lapel one button jacket paired with a rose motif long trench coat jacket cut out with the sides dangling like leaves. The wavy cutout on both sleeves of a light pink plaid one button classic Homme Plus tail jacket revealed a bright pink rose jacket underneath. A khaki jacket has the side taken out and replaced with an added slice of black silk fabrics from the shoulder paired with a floral shirt-dress. One of the standouts in this category is the pink petal lapel and jacket center front one-button jacket worn with a rose print jacket and black leggings.
Elsewhere, the Comme des Garçons Homme Plus signature silhouettes are omnipresent – a navy blue jacquard single breast knee-length coat with a white sweatshirt and cotton floral print boxy shorts or the black jacquard tailored knee-length single breast jacket with ruffle plastic embroideries in the front paired with black classic high waist pants and white shirt. The knee-length pantsuit now is a dark navy wool three-button straight line with a slight flare in the back, again with loose pants and ruffle front white cotton shirt. The oversized coats now have bottom panels with black floral prints.
The collaboration with Nike continues with the 1998 Air Sunder Max. Now in neoprene and Nubuck leather in three colors: all black, triple white, or black/white with front zippers for the mini-shows.
Wrapped within this spring collection is still the idea of the freedom to design and the clothes to match this ethos.
---