---
Review of Copenhagen Fashion Week Fall 2021 Fashion Show Shows
By Mark Wittmer
The phrase "modern luxury" gets tossed around a lot these days. Most often it is by fashion brands themselves, who use the term to describe their approach to design – which in turn becomes an idea they are trying to sell. But can anyone really say what these words mean? This humble reviewer, for one, is guilty of having used them without being able to tell you what he means. The phrase may even be paradoxical. On its own, the word "luxury" often conjures up antiquated images of status and wealth: gilt trim glittering under candlelight, pearls resting on bodices. And indeed, many current designers are plundering the past, looking for old design codes that can be incorporated into new works. Meanwhile, others are embracing the "modern" turn towards minimalism or looking to the future. With all this motion, it is difficult to assess where contemporary fashion actually stands with respect to the now and what luxury means today.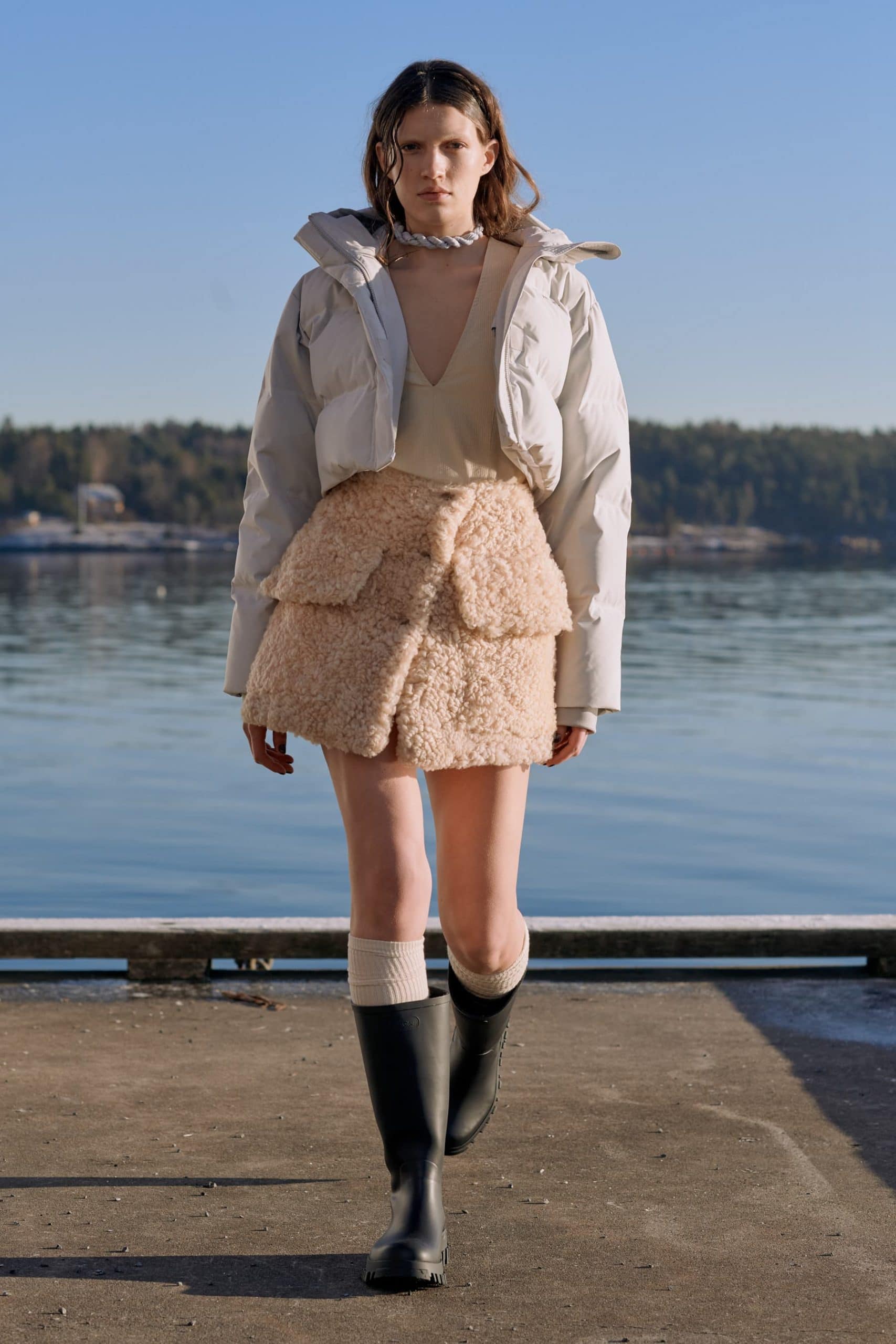 Copenhagen Fashion Week, which wrapped last Thursday, felt like a manifesto for the moment. Practically every designer evinced a clear vision of the present, a deft and humble ability to create collections that feel real and alive today. The digital format as well, brought on, of course, as a response to the global pandemic, meant that creators were feeling the presence of the present – and the contemporary interconnectivity of the world – like never before.
The Holzweiler & Rodebjer collections probably set the strongest examples of contemporary sophistication. The womenswear collection felt extremely classy without being ostentatious, practical while still being formally exquisite. The idea of womanhood and femininity presented by the collection felt not like something physical and restrictive but open and free. Strong casting choices helped the presentation to balance a feeling of sensitivity and strength, whimsicality, and groundedness. The collection is everyday and practical, yet ineffably poetic.
It should come as no surprise that at a celebration of Scandinavian fashion we saw some excellent work in knitwear. Henrik Vibskov, who for a while has shown in Paris but recently returned to his home country, expanded staples like knit sweaters and flannel shirts into the subtly surreal territory by playing with proportion, pattern, and cut. Mark Kenly Domino Tan, another Dane making the most of home-field advantage, created elegant, sculptural knit shapes that augment the body into a sublime form of softness. He also deserves to be commended for his effortlessly gender fluid and non-binary approach, as does the work from the exciting multi-designer initiative Designers' Nest.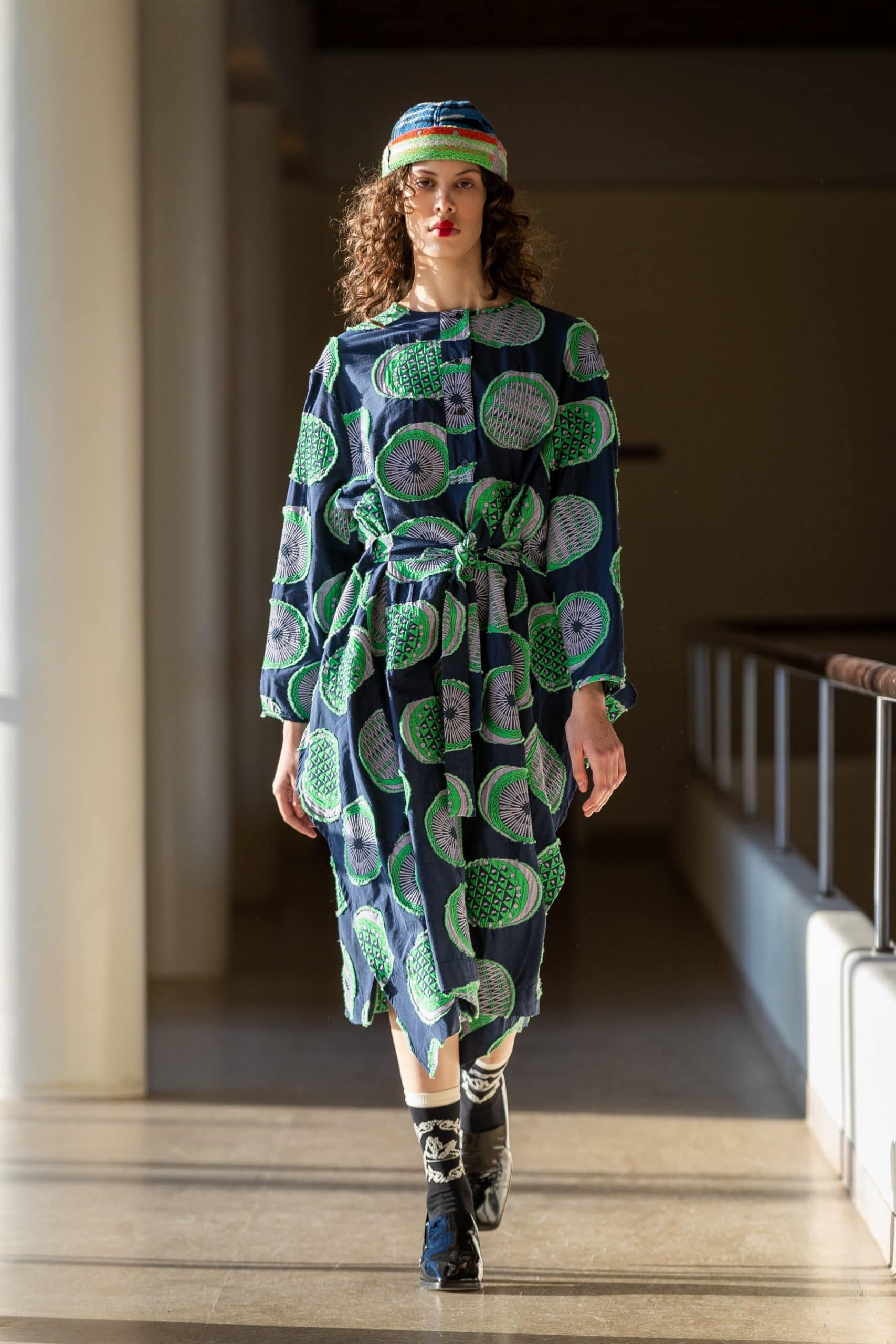 We are happy to see that brands are still finding innovative and exciting ways to make use of the digital format, transforming the restrictions into unseen possibilities.
Ganni blew us away with an intimate and excellently-produced live concert stream, which featured a fantastic lineup of female musicians – a great soundtrack for the whimsical world of their new capsule. Samsoe Samsoe used the opportunity to create a runway-like presentation that juxtaposed two striking settings. Schnayderman's went beautifully in the direction of visual storytelling, creating an emotional narrative through a film that seamlessly blended cinema and runway.
Finnish label Marimekko had one of the most unique and brilliant presentations we have ever seen. The pieces of the collection are all white, with simple shapes and silhouettes. Wearing these simple forms, almost becoming them, models stand in front of a white sheet across which colorful patterns are projected. The blankness of the pieces become a canvas for light and color; their strength and meaning is drawn from the possibility of the world and the personality of the one who wears them.
It is crucial that among this showcase of contemporary sensibility, sustainability is the main focus of the conversation.
Sustainability is the core tenet to our vision of Copenhagen Fashion Week as a forward-thinking representation of Nordic talent to our global community. Copenhagen Fashion Week is the cultural and commercial meeting place of the Scandinavian fashion industry. This gives us an enormous responsibility and the potential to create impactful change in the industry at large. By taking this direction, we go from being a traditional event to being a platform for industry change.

– Cecilie Thorsmark, CEO Copenhagen Fashion Week
By bringing sustainability to the forefront, the event's leadership has wisely made the conversation on contemporary artistry and design, and the conversation on how in the present to prepare for the future, into one. If this Copenhagen Fashion Week has been anything to go off of (which of course it is), we are happy to know that the present and future of fashion are in good hands.
---