---
Review of David Koma Spring 2023 Fashion Show
Pulse-racing, otherworldly toughness
By Lizzy Bowring
The Georgia-born designer is not afraid to bare all in this new climate, where the nuances of the world are constantly changing; today's outing proved just that.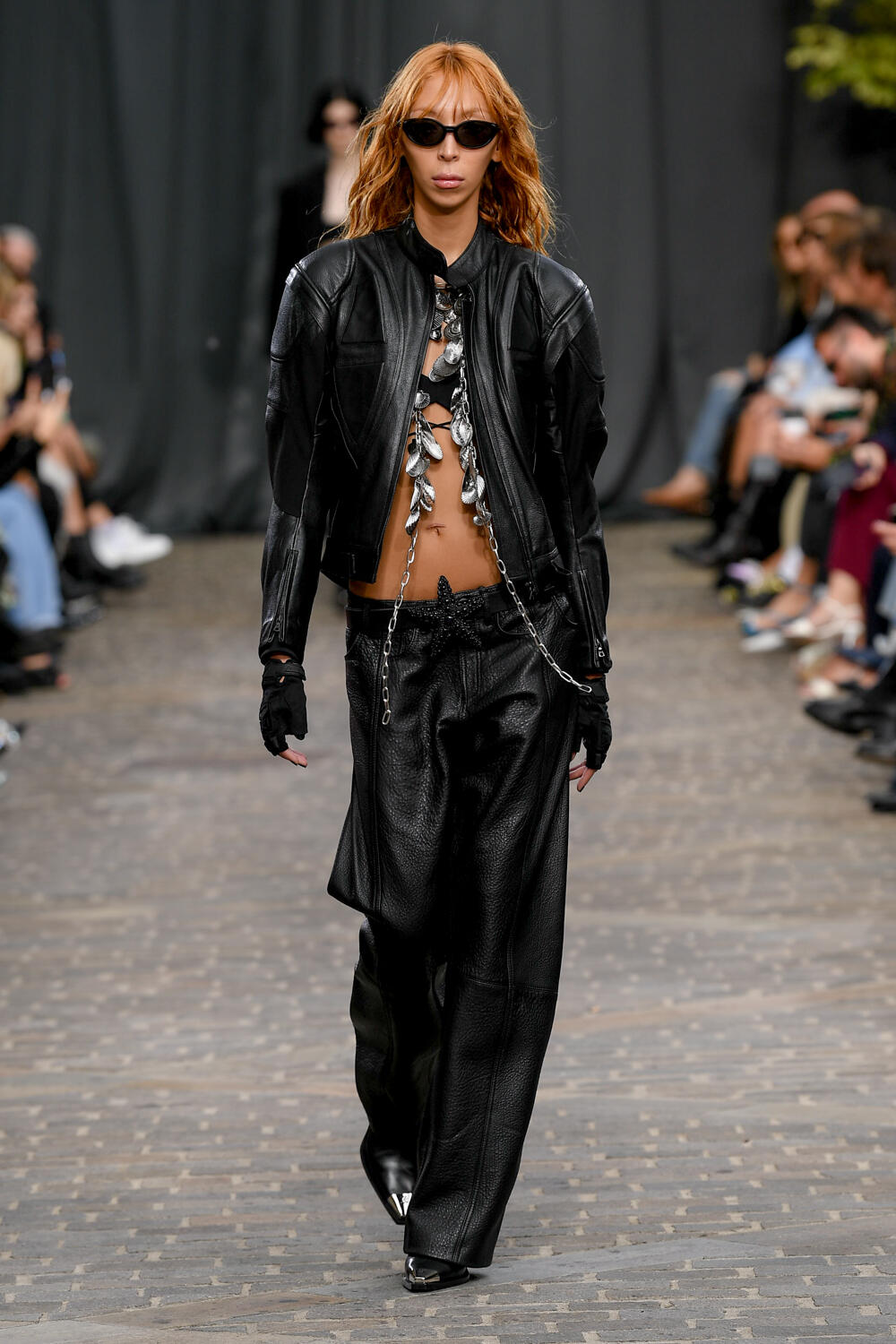 The colour palette underscored the brevity of the silhouettes – startling and almost blinding, the season's bright blue penetrated the collection like spears of shattered mirrors.
Koma is a designer who is true to his vision, infusing his aesthetics with a spirit that defies prudence! His signature aesthetic is overt seduction, and there was not a silhouette that did not embrace this mesmerizing nuance. However, one needs to have that kind of unabashed body confidence to complement his creative artistry.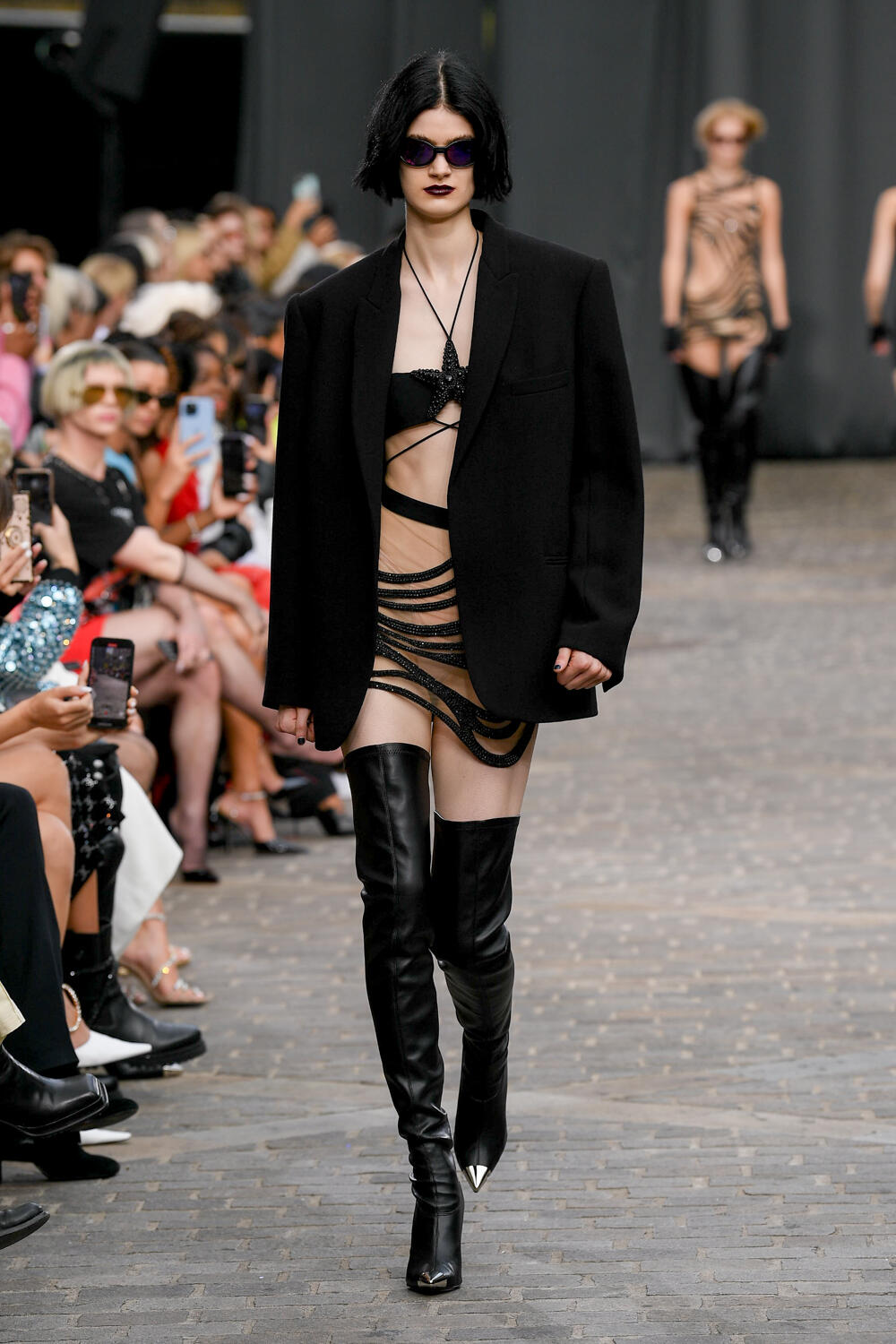 Koma's presentation is the second brand today to firmly acknowledge the ocean as it punctuates our lives with an ever-unfolding mystery from its depths. Here, Koma's designs' disposition demonstrated how firmly he is in control. Nuances of his pre-fall collection of pulse-racing motorsports silhouettes were the linchpin of his sinewy unapologetic shapes.
As the audience watched, 'Koma-tosed', (the term must have been used elsewhere!) seemingly perfect mermaids slipped out of their aquatic environs and donned leather biker girl/ ocean siren characteristics.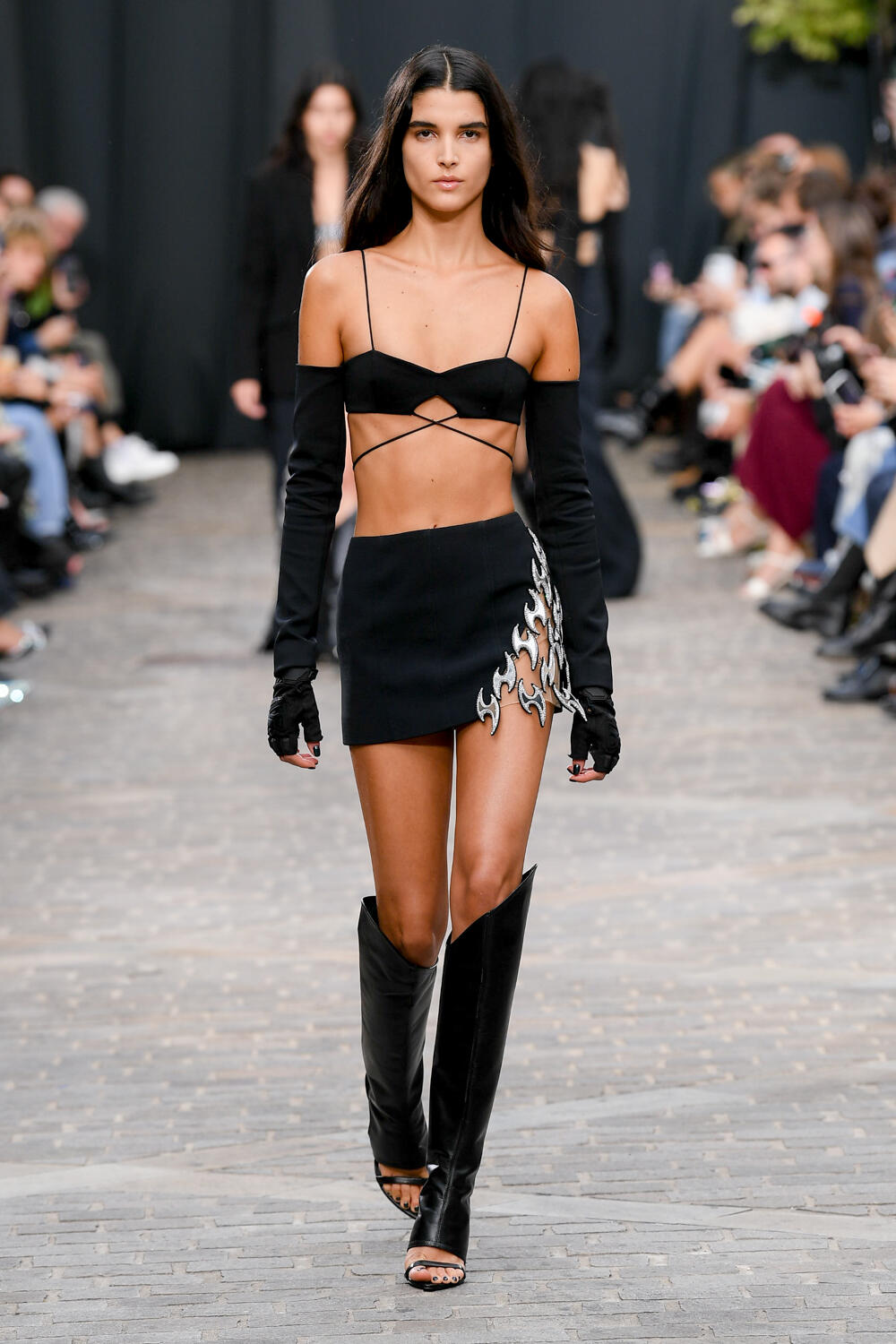 Skin-tight leggings were controlled in shape with sinew-following seems – the trend for sports attire and details is firmly embedded this season following the success of A/W 22, so every reason that this bright star should continue in reverence. Bralettes are also a must-have for S/S 23; in the hands of Koma, they were skilfully created and held with the most delicate straps that criss-crossed over the model's fine torso to meet a tiny skin-tight mini skirt, of which there were several. Thigh-high splits traversed upward with a modicum of alacrity – some not knowing where to end. Yet all was offset by fabulous black thigh-high boots, and a tough, must-have black embossed leather biker jacket.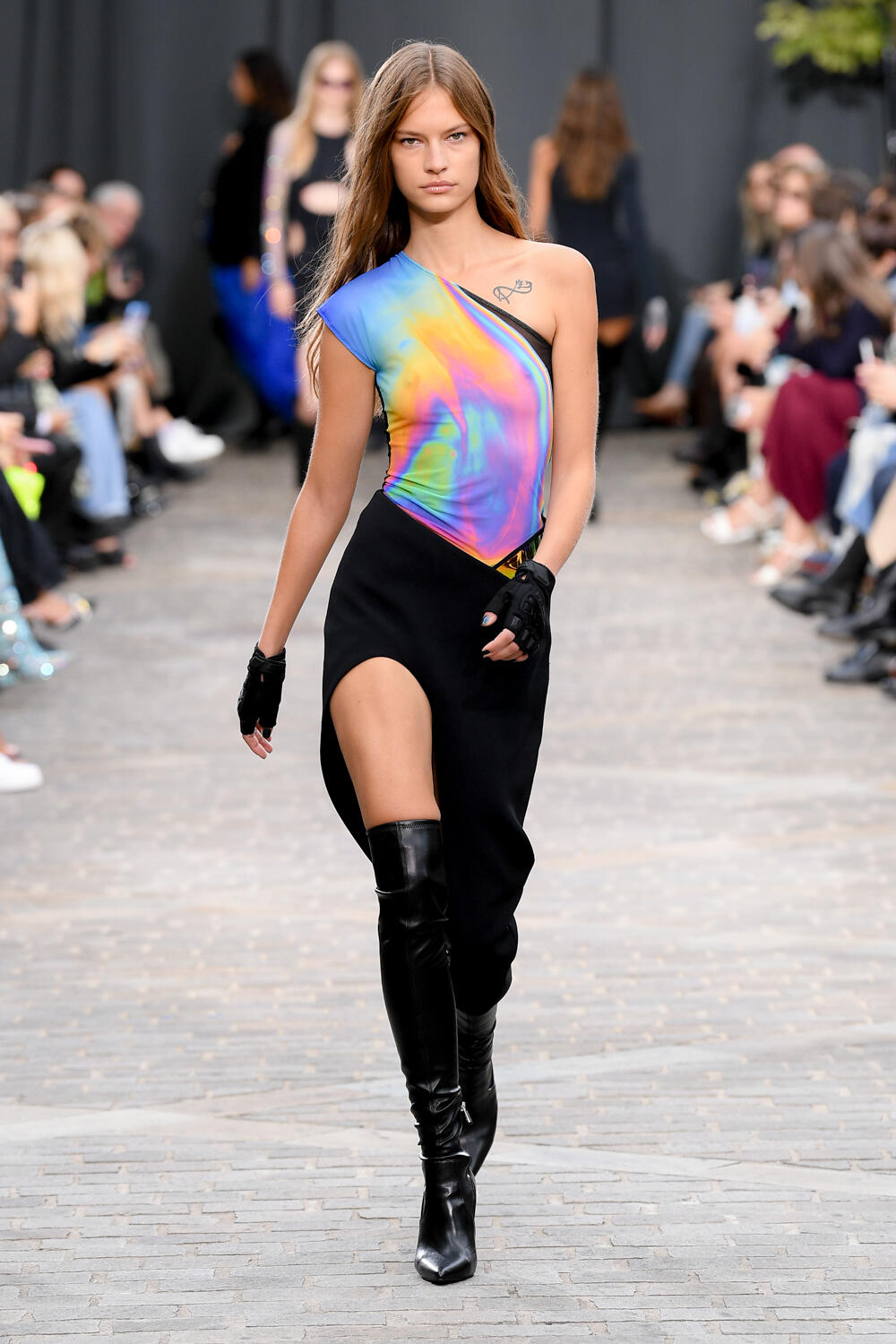 Koma's assymetrical cuts were perfectly aligned; take look 14 with a long side revealing slit paired with the halogenic digital print, reminding one of perhaps images from an otherworldly deep sea universe.
Sartorially cut jackets defined shoulders while at the same time covering the swathed pieces that wrapped around sylph-like bodies, which in turn, gave way to the obtuse baring of flesh. Shine was omnipresent in wet-look nylon, as if these mermaids had just emerged from the deep waters. And as for the jewelery, that came resplendent in shining cascades of silver shells and sea anemones, adding just that bit more to the glitz and glam. The sea theme also gave up patterns seen in golden embroidered swirls on the surface of shells while the tentacles of an octopus protectively curled around the throat of his mermaid.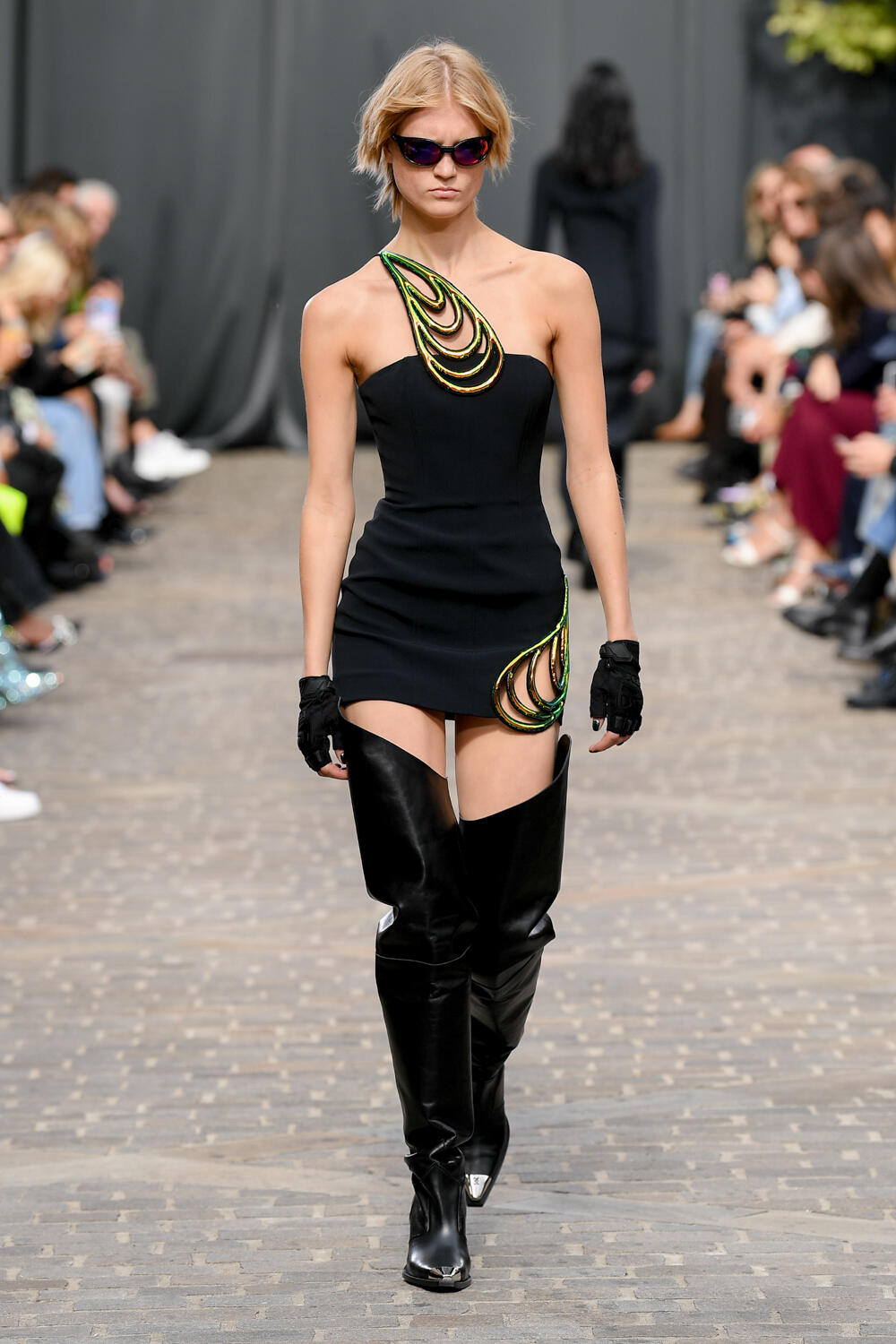 Water flows as our life source, and acknowledging it demonstrates how deep this artist thinks – it's not just the glitz, the intense drama, the toughness or the sheer unadulterated dangerous sexiness; Koma shows the power fashion has to make a statement, no matter how provocative it might be.
---