---
Interview & Editorial images taken from The Impression biannual magazine – The Film Issue, Vol. 3
Since the 90s, fashion's luxury ad space has seen its fair share of knock-out campaigns. The man behind many of these memorable moments is David Lipman of his namesake advertising agency, Lipman Studio. With fearlessness and drive, Lipman's work with A-list clients like David Yurman, Stuart Weitzman, Mario Testino and Kate Moss and brands like Hudson and Mercedes-Benz have left an indelible impression on us all. The Impression's Chief Impressionist, Kenneth Richard, caught up with Lipman to chat about films and what influences him.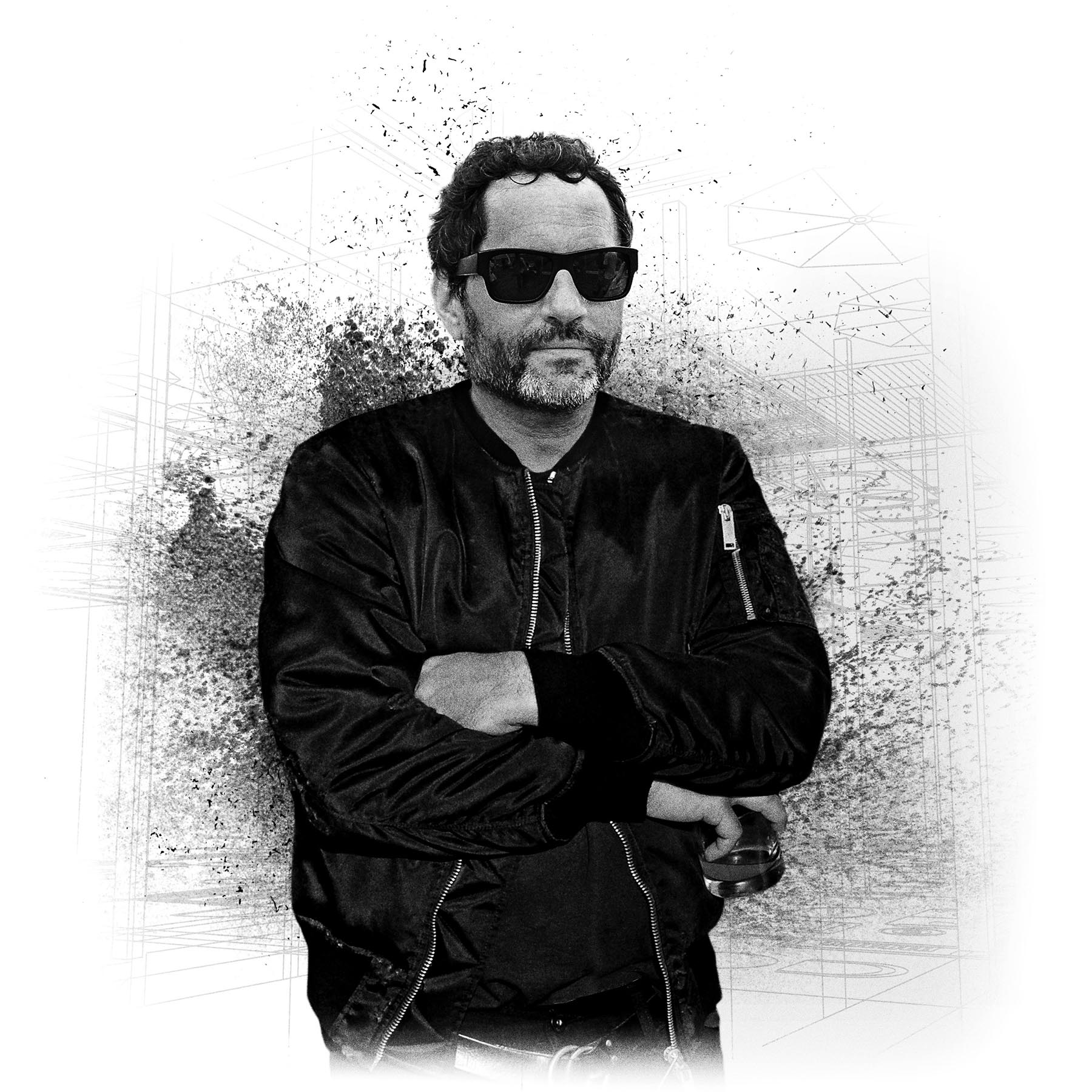 Kenneth Richard: Thanks for joining the issue! Before diving in about your piece, would love to hear about your introduction to film. What was the first film that made an impression on you?
David Lipman: Oh, it's two films, actually. I was young – single digits – and my folks took me to a matinee double feature of It's a Mad, Mad, Mad, Mad World. I never realized I could laugh so hard in just a few hours. The wackiness of that film with Buddy Hackett, Jonathan Winters, and cast goes on and on and on. It really touched me that I could laugh like that.
The next film was Goldfinger. I was so enriched with Sean Connery's James Bond, but truly frightened by Oddjob. I had nightmares for two weeks from that film, just the opposite of It's a Mad, Mad, Mad, Mad World. The night I came home from the theater, I was so torn by Oddjob that I actually went and got a knife from the kitchen; I slept with it under my mattress for fear that Oddjob was going to come in and paint me gold, and I was going to die that night. That was the beginning of recognizing the power of movies and how engrossed I would be.
To this day, going to the movie theater is very important to me. I go by myself quite often and I usually sit in the third or fourth row near the middle, captivated by the screen. It's like I'm enraptured by it as if I were five years old again; here we are some fifty light years later, the same emotions, the same feelings, and the same thing. Albeit I'm more critical; if I don't like a film, I'll walk out, I don't give it a chance like I would have when I was younger. I can go from a trashy film to an independent, simple film, and find satisfaction from all different genres. It can be a visual journey, or an emotional journey, or a story-telling journey; they all have their own intensity.
Being a kid born in the '50s, the '70s were a coming of age for me. That's when film really took hold of me and affected my life as I live today. It's when I became a man, so those early '70s movies are the most impactful to me.
Kenneth Richard: Are we talking The French Connection, The Parallax View? There was definitely a darker undertone that seeped into films in that era.
David Lipman: You're absolutely right. The French Connection in 1973 was so powerful. As a seventeen-year-old boy at that time, Popeye Doyle really affected me. I think it won an Oscar for best picture and Gene Hackman, too.
That year, there were two films that grabbed me. The French Connection, which I think I saw five times; then a film that a jock friend of mine was making fun of, Last Tango in Paris. I went to see it because of a scene he talked about, the rape scene. That film disturbed me more than any other film in my life. It haunted me in a deeper way because I was frightened by Brando emotionally, but I also felt for Brando, I felt his pain. To this day, I've never seen a performance that raw by an actor in any movie.
Then The Godfather came out and I fell madly in love with Al Pacino. That was a period of filmmaking where life and texture meant so much in a raw way. For me, photographically, that creative time has stuck with me in as far as driving me to always create a picture that feels like a picture versus something that's so overly retouched and futuristic looking. That period had grain and depth and performance; there were amazing dark undertones and overtones during that period, even before the sexual explosion happened.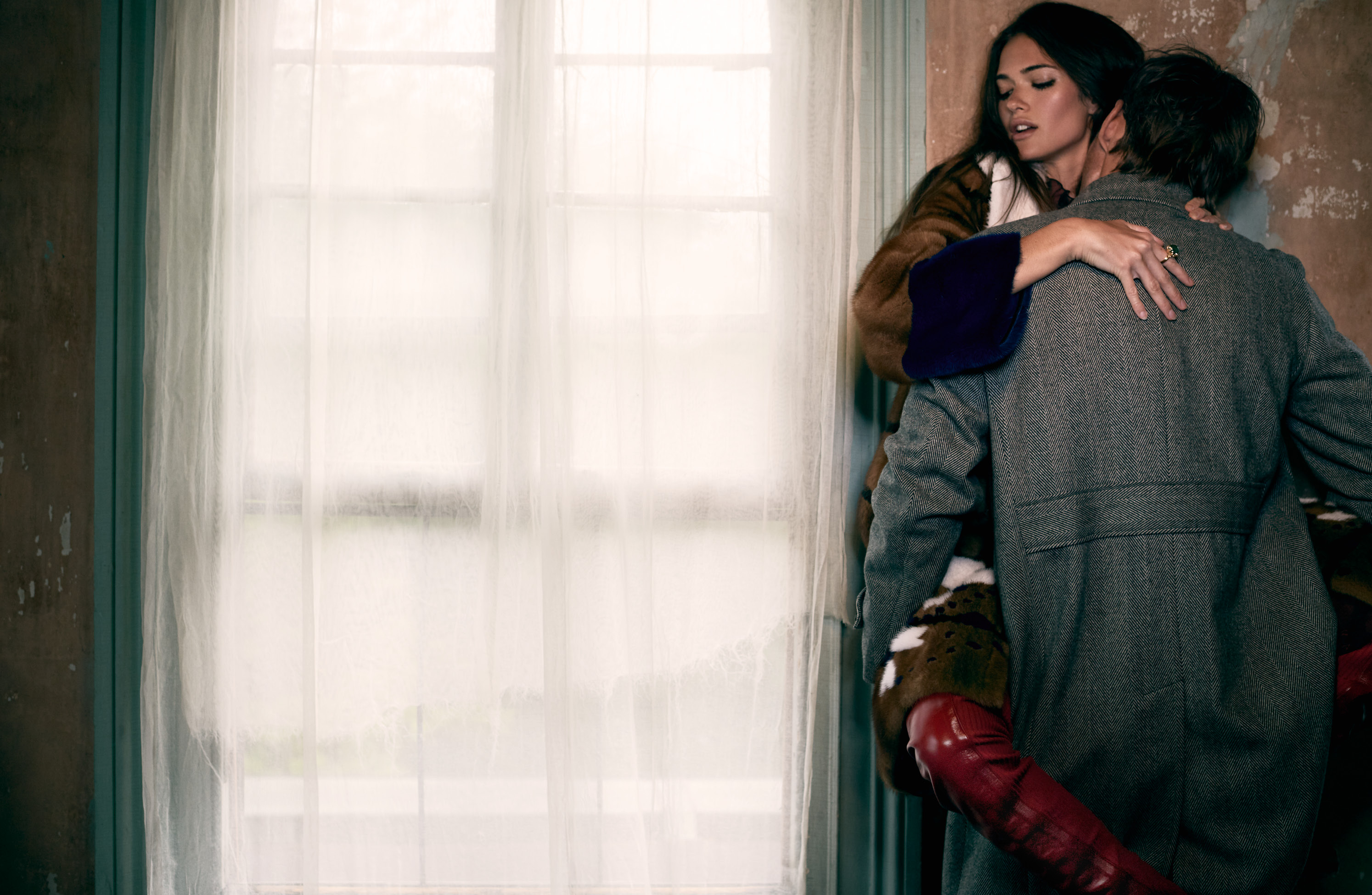 Kenneth Richard: You speak about grain and capturing an image that is cinematographic. Do you feel today that fashion stories have enough narrative and cinematography to them?
David Lipman: No. Not the way they used to. I think it's because we're in this world of speed, and a world of turning things around so fast.
I can't tell you the amount of hours I put into thinking about what I wanted do for The Impression and how to do it. I spent a great deal of time alone, looking, thinking, dreaming, taking a walk along the river and thinking about this project. Nowadays, our industry is in such a time crunch to develop creative. Today, we have to create constant images for Instagram or push out a magazine story; well thought-out concepts have been forgotten, in many ways.
Franca Sozzani – God bless her and may her soul rest in peace – believed in the long narrative of photographs. Dennis Freedman at W would give 40+ pages to Stephen Klein or Bruce Weber. These creative directors/editors believed in the narrative and really truly invested in it. I don't think we invest in the narrative now because advertising is down, so we can't afford as many pages. It's so different now and it's heartbreaking in many ways; one picture tells an amazing story, but when you start to thread that to a bigger story, each picture becomes iconic in telling the story. It's a remarkable moment when that happens. Unfortunately, the Instagram world we live in drives the need to develop constant content without more time to conceptualize and think about them.
Kenneth Richard: Do you think that as a creative director you watch movies differently than a traditional viewer?
David Lipman: I would imagine. I know that I absorb myself in them. Also, when I see a film that I really like, I will go back to see it again, and having children, they love seeing films more than once. I go on journeys with my kids quite often to the movie theater and I do look at various details. Sometimes I miss things because details are so important to me during films that I get wrapped up. Sometimes the cinematography will take me on a journey and I'll lose the story. It's a curse actually, not a blessing. I get caught up in how they did what, and I start looking at certain elements of set design, costume design, etc. and get caught up in the visual side of it versus the emotional storytelling side of it. So that's when I'll go back and see a film a second time, and see it through a completely new lens.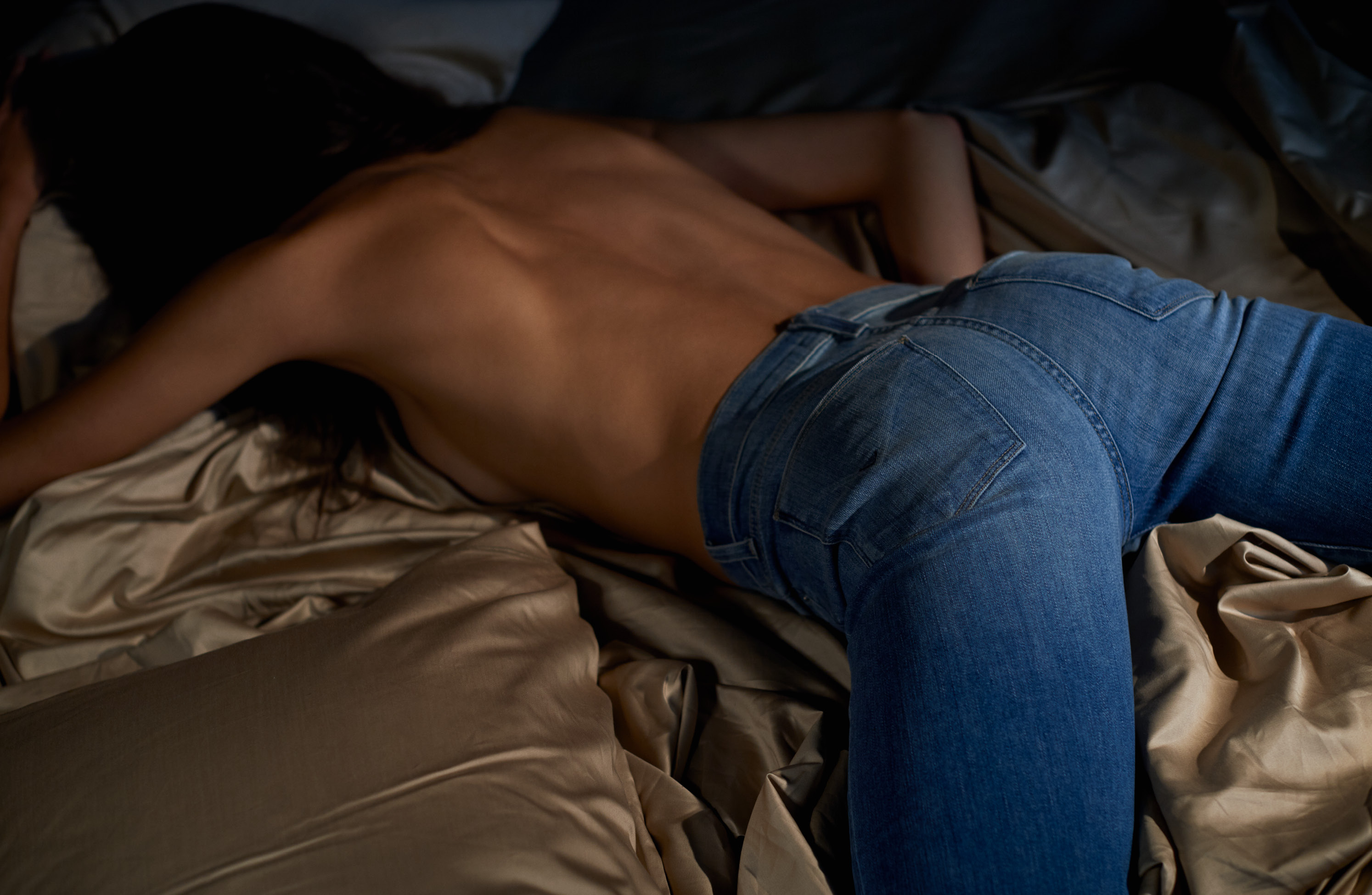 Get Out was like that for me. That film really affected me. Originally, I was going to do a story on that for this issue, but I don't think I'm ready for it. Maybe years from now I'll go back to it for you. I think it's such a futuristic story of where we are as a culture. It might not be a futuristic looking movie, but Jordan Peele is an amazing filmmaker and the story he was telling is a throwback story, in a way. We all want to be somebody we're not, you know, and it tells that story on so many different levels. The way he threaded it through the storytelling was so old-school – we don't really see movies like that very often anymore. He takes you on a journey in the film, questioning it all along. Hearing young people talk about the movie, they see it much differently than older people do, it's pretty amazing. I don't know what will happen with the awards this year, but that film, for me, is the ultimate modern film.
Kenneth Richard: It reminded me of John Frankenheimer's Seconds and was such a mash-up. On that note, where do you see the merger of fashion and film working well?
David Lipman: It's a good question. When you covered the fall Coach campaign on TheImpression.com, I felt a cinematic view of the images that Steven Meisel did with Fabien Baron and Karl Templer. I respect them incredibly because they're telling a story and have this emotional narrative that is powerful.
Kenneth Richard: Another '70s throwback, too.
David Lipman: Very much so – the coloring, the mood, everything. I also think what Glen Luchford is doing with Gucci and Alessandro [Michele] is phenomenal. They take us on a journey as well and I feel the storytelling. The way those two brands are telling stories with their advertising is really powerful. It's humbling to me to look at how great it is. It's no surprise that these brands are doing well.
Kenneth Richard: It all goes back to storytelling. How about your story here?
David Lipman: It's an ode to Last Tango in Paris. You know, I have pitched this as an ad campaign for multiple brands for the last two decades and have been rejected every time. The last time I pitched it to a jeans client, because in the film Maria Schneider is in jeans, topless, with a black scarf around her neck. I thought it was the ultimate reference for a jeans campaign. The client viscerally yelled at me and hated the idea. I was so dejected by it as I thought it was such a powerful moment that the brand could've had. We're becoming so conservative and afraid of things. So for me, this project is something I've been bantering with in my brain and my heart since you brought it up.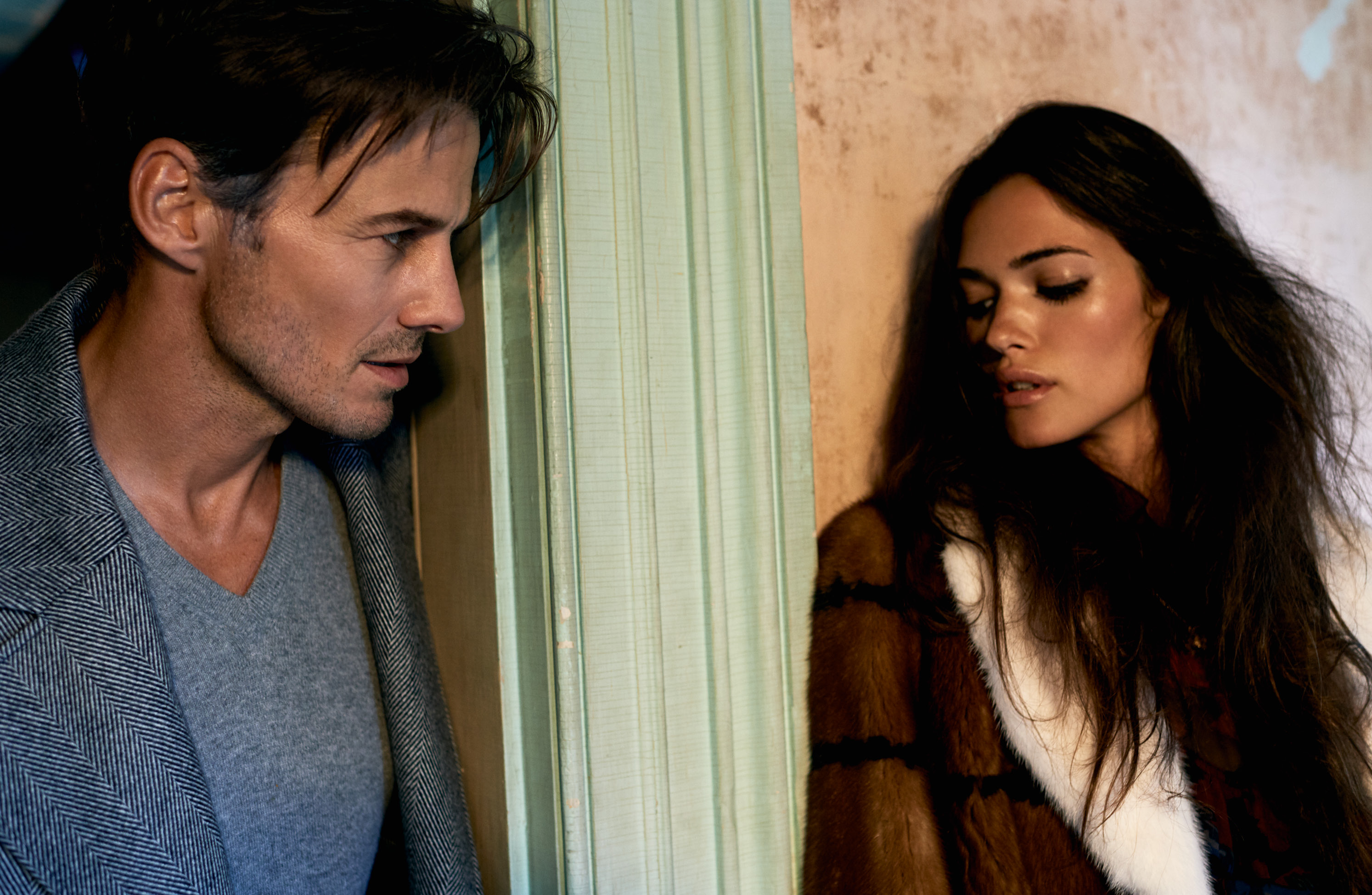 Kenneth Richard: Funny, as Calvin never shied away from controversy and that paved the way for his growth.
David Lipman: I mean, the great page to tear from was Picasso and his erotic work. The fearlessness. Conversation is everything and you can't create conversation by doing something in the middle. It doesn't create conversation, it just goes along and goes away, but controversy is really conversation.
Many moons ago, I did an ad for Mercedes-Benz where I had three girls that looked like they were from Connecticut next to the cars. The hint was if their daddies can buy them a Mercedes Benz, so could yours. The left-wingers were saying that's the most disgusting ad, it's over-conceptualized, then the right-wingers were saying it's about sugar daddies! The New York Times jumped on it and I got fired for it, but it was a great ad. It was really truly a great ad because I hit on a zone where the left went one way and the right went the other way and they both debated there, and it was talked about.
Kenneth Richard: So you got fired for it, but did you get hired for it?
David Lipman: No, I never got another car account! [laughter] Because people were afraid of it. You know, that's my career really in a nutshell: I'm not afraid of doing anything and yet clients will always tell me you can't do that, you can't do that, you can't do that. But I can do that.
Then I'll meet somebody in my life like Sybil Yurman and do this David Yurman black and white campaign with a naked Kate Moss. They embraced it and pushed it forward with me and that's the beauty of it. I remember we were facing this billboard of Kate Moss on Lafayette and Michael Gould of Bloomingdale's said to the Yurmans, 'If we get one complaint, I'm throwing you out of the store.' It was the biggest success that ever happened for David Yurman and the brand went up hundreds of millions of dollars, probably because of that single ad. Yet I was being yelled at by the retail community for it and that's a part of life.
People want to play the safe card and call it brand-centric. You know how many times I heard in the last few years, 'Is it on brand?' But is Gucci on brand? No way.
Our job is pushing the envelope to another place. If Fabien Baron looked at Coach to be on brand with Stuart [Vevers] and Steven [Meisel] and then Karl [Templer], it would be a dead brand in the middle of America. But they gave it a youthfulness. I'm talking about others because it's easier to talk about others than about yourself.
Alessandro said it with Gucci. 'We target millennials, we're getting the millennials and we get old people, too.' Truthfully, we old people go where the youth is. So the fact that Coach did what they did, the fact that Gucci did the last disco dancing campaign is what's brilliant. It opens the roof up for the brand to dream and to take people on journeys, and look at it in a completely different way.
Kenneth Richard: So let's talk about journeys and dreaming. Do you have any interest in making a future film?
David Lipman: It's always a big dream. I've been approached to do the David Lipman story as a movie about when I went bankrupt, but that's the last thing I want to do – a movie about myself. I wouldn't know where to begin.
But, yes, when you think about this film story I'm doing, Last Tango in Paris by Bernardo Bertolucci, it is about his fantasy and he did the film around his fantasy. It's a very personal film. Maria Schneider hated him for it and hated Brando for it. Brando hated Bertolucci for it, yet they talked years later. I believe making films should be personal, at some point, and I have personal tales to tell.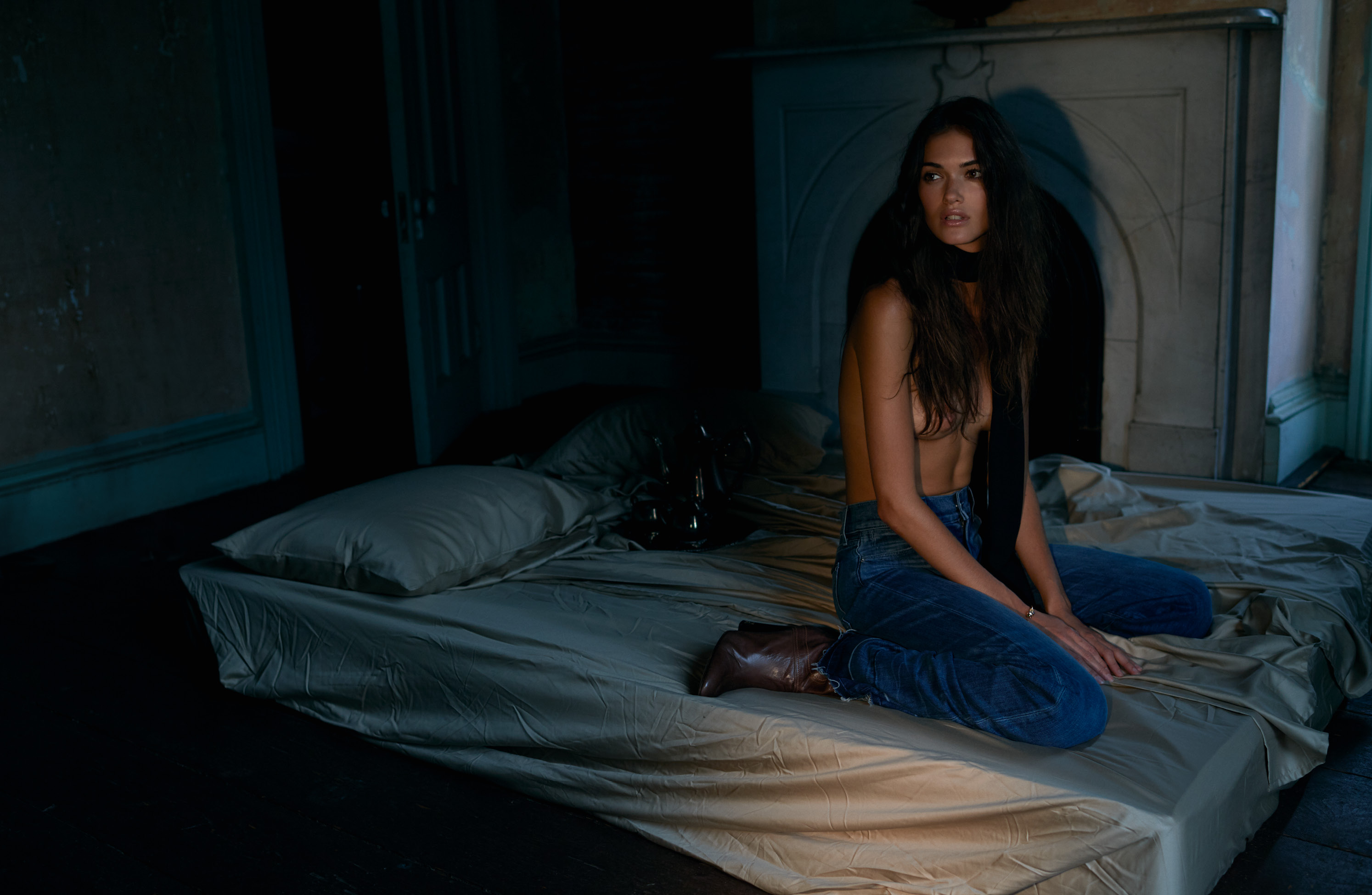 Creative Director / Photographer | DAVID LIPMAN
Fashion Editor | LISA NGUYEN
Model | SOFIA REYNAL | WOMEN
Model | ALEX LUNDQVIST | WILHELMINA
Hair | VASSILIS KOKKINIDIS | NEXT
>Makeup | RENEE GARNES | NEXT
Art Director | EARL CHON
Production Coordinator | DYLAN KENIG
Production Assistant | YULU SERAO
Fashion Assistant | AMANDA BERY
Digital Technician/Retouching | DEREK ZAHEDI
>Photo Assistant | WILLIAM WANG
Video | MAGNUS JONSSON AND MARTIN LANDGREVE
---