---
Review of Dolce & Gabbana Fall 2021 Fashion Show
A Step Back and a Leap Foward
By Long Nguyen
Domenico Dolce and Stefano Gabbana closed the fall Milano fall season with their youthful fall collection starring iCub and R1 multifunctional humanoid robots' who took to the runway at their theater space in central Milano. Simultaneously, their models wore vibrant clothes that paid tributes to the 1990s, the era of hyper creativity that saw the D&G brand come of age.
This collection is for us a new chapter because we have always been very inspired by what technology is. That is why we choose to cooperate with the Istituto Italiano di Tecnologia, one of the most esteemed scientific institutes globally, true Italian excellence in the sector. We wanted to explore something new, something that is contemporary. We wanted to draw a parallel between what we are: tradition and innovation.

– Domenico Dolce, via a meeting with journalists in Milano on Sunday
"When we first started in 1984, we were transported by innovation. Then we discovered that we still needed our roots, in the south, Sicily, everything you already know," Dolce spoke of the needs at the moment to find a better way to dialogue with the new digital generation. The designer spoke about their experiences, traditions, and the hand-made. "Tradition has no meaning if there is no innovation, and innovation has no meaning if there is no tradition."
As expected, the taped digital show started with these two robots emerging from beneath and a small group of models. The robots are controlled via a person in via virtual reality network. The designers even taught the robots some elementary fashion design skills like sketching dresses.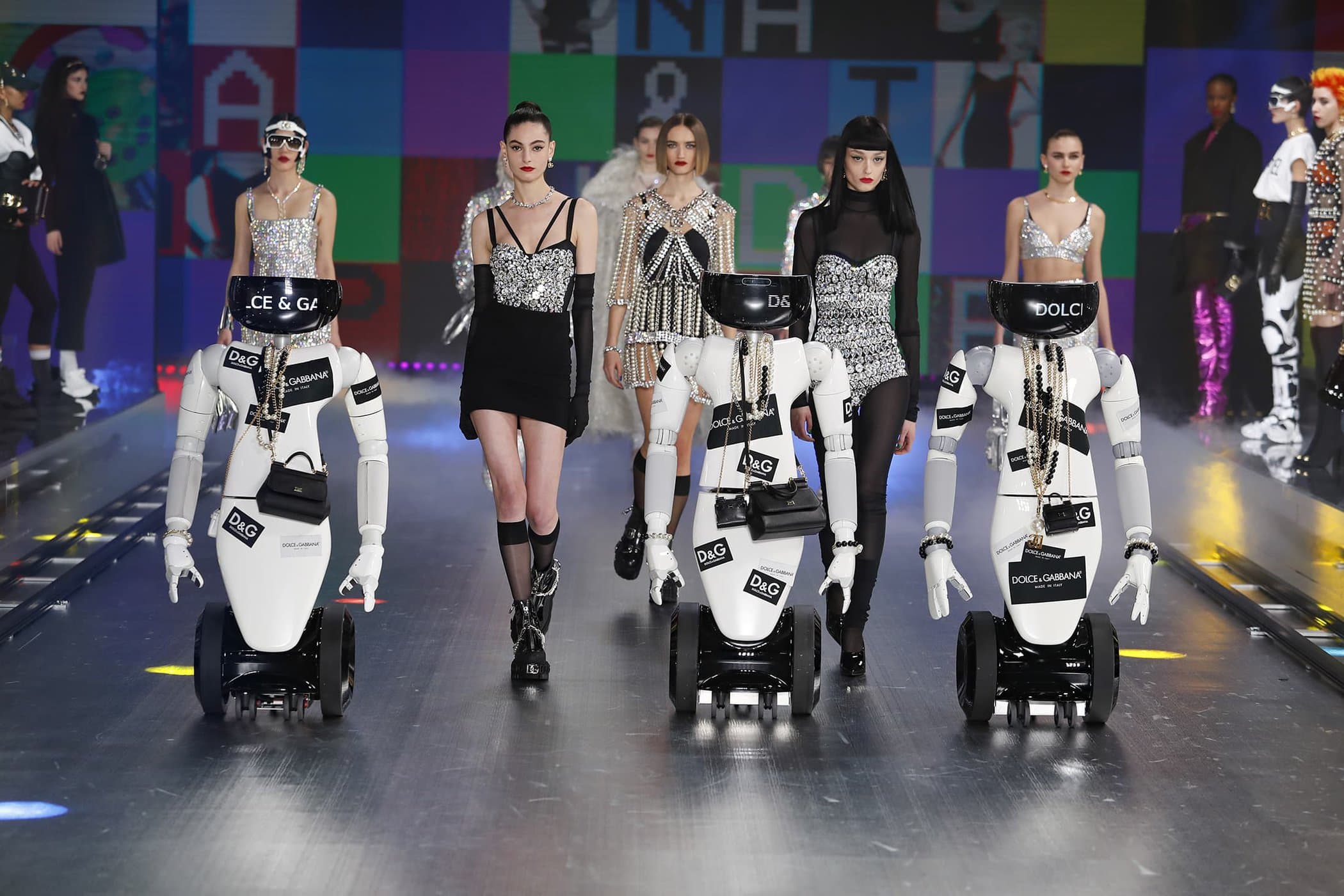 The craftsmanship of the past and the future merged seamlessly to create the surfaces of a mixed fabrics patchwork coat with the idea of artificial colors in these new wool-plastic mesh-ups. The patchwork of fabrics has been something that D&G has used since the very beginning and made famous in that Spring 1993 hippie show with Cindy Crawford and Marpesa in near-matching giant patchwork silk skirts, now with shiny surfaces.
Then, the young kids took over the stage. They paraded in their new '1990s' kind of clothes made with the mixtures of fabric textures – transparent nylon, plastic, high tech polyester prints – in a kaleidoscope of bright colors and buoyant shapes that recalled that last decade before the dawn of the twenty-first century.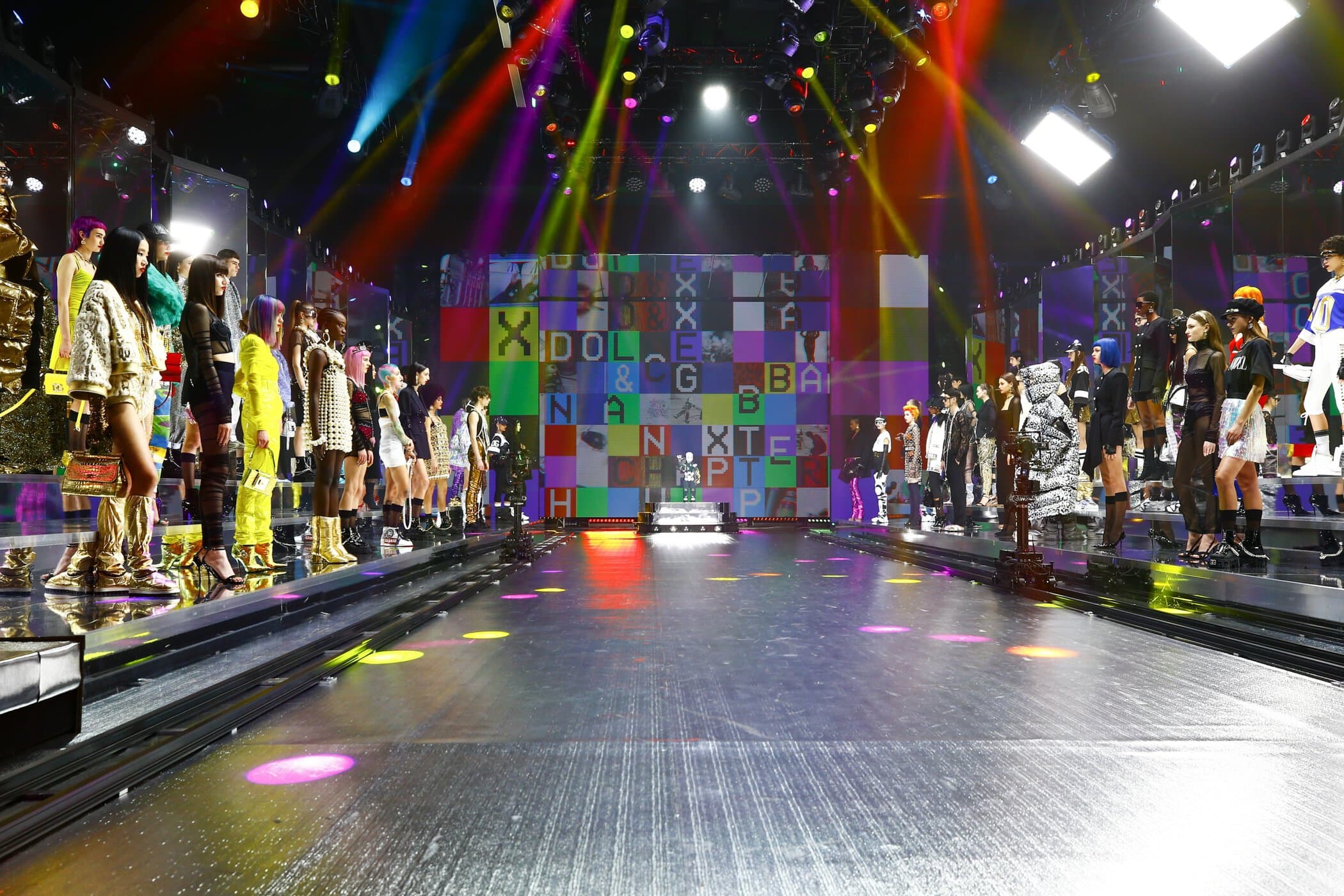 "We wanted to explore our experience of what we what seen and done. It is from 1984 until today. We have also fished out memories, things, original garments and mixed them with those newly presented. There is all the innovation of fabrics, mixed with classicism. Some patchworks are classic fabrics – polystyrene fabric, vegetable fabrics – we have also mixed everything possible and imaginable for us," Stefano Gabbana emphasized how the two sides merged to fathom this new collection.
The show has a feel of looking through the digital world's glass with its fast pacing and electronic music, but it isn't precisely a mimic of that nether world.
The digital world came through in the visual, but the clothes still have that hand-made quality even if the fabrics are not those of traditional silk or gabardine wool.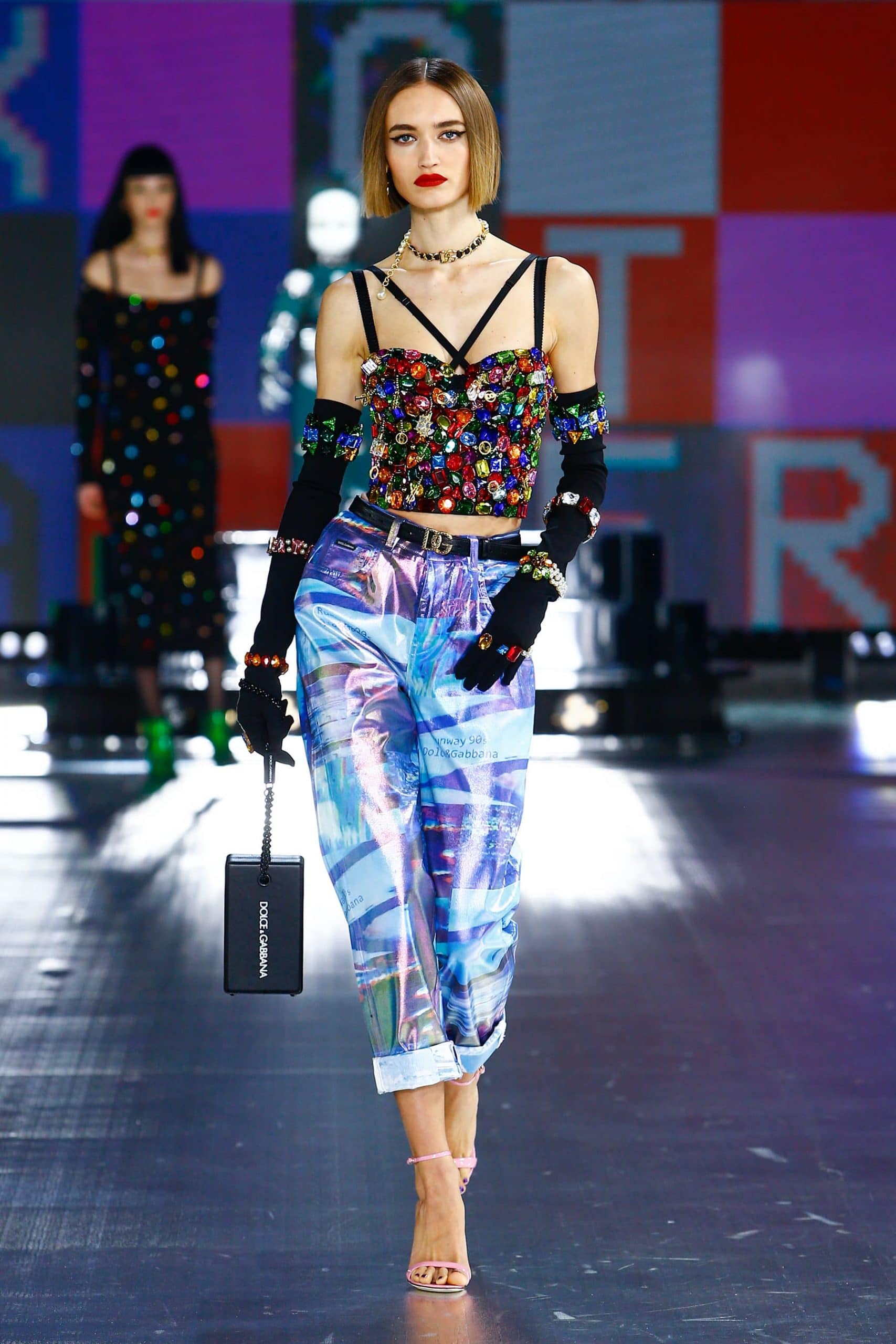 "In this new collection, you have seen the same garments of the 1990s: there are corsets that Prince used in Cream, there are the bodysuits by Madonna, there is the famous bodysuit with stones of Naomi, the bra with stones of Linda," Dolce said.
Leopard prints, a D&G special from thirty years ago, emerge here in acid yellow, blue, and red on nylon print reflective patterns in cropped puffer coats, polyester bodysuit, and as motifs on faux mohair sweaters.
In the smorgasbord of a collection that mingled giant and oversize shapes with faux and real fabrics, the remnants of the D&G 1990s signatures are there in plain sight. Here are a red bra and underpants underneath a long sleeve black sheer tulle dress or a black long-column dress with an attached cape covering over the shoulder and long sleeves that reminisced a campaign Isabella Rosselini in 1989. Naomi Campbell wears the diamond stone bodysuit in the Spring-Summer 1991 show.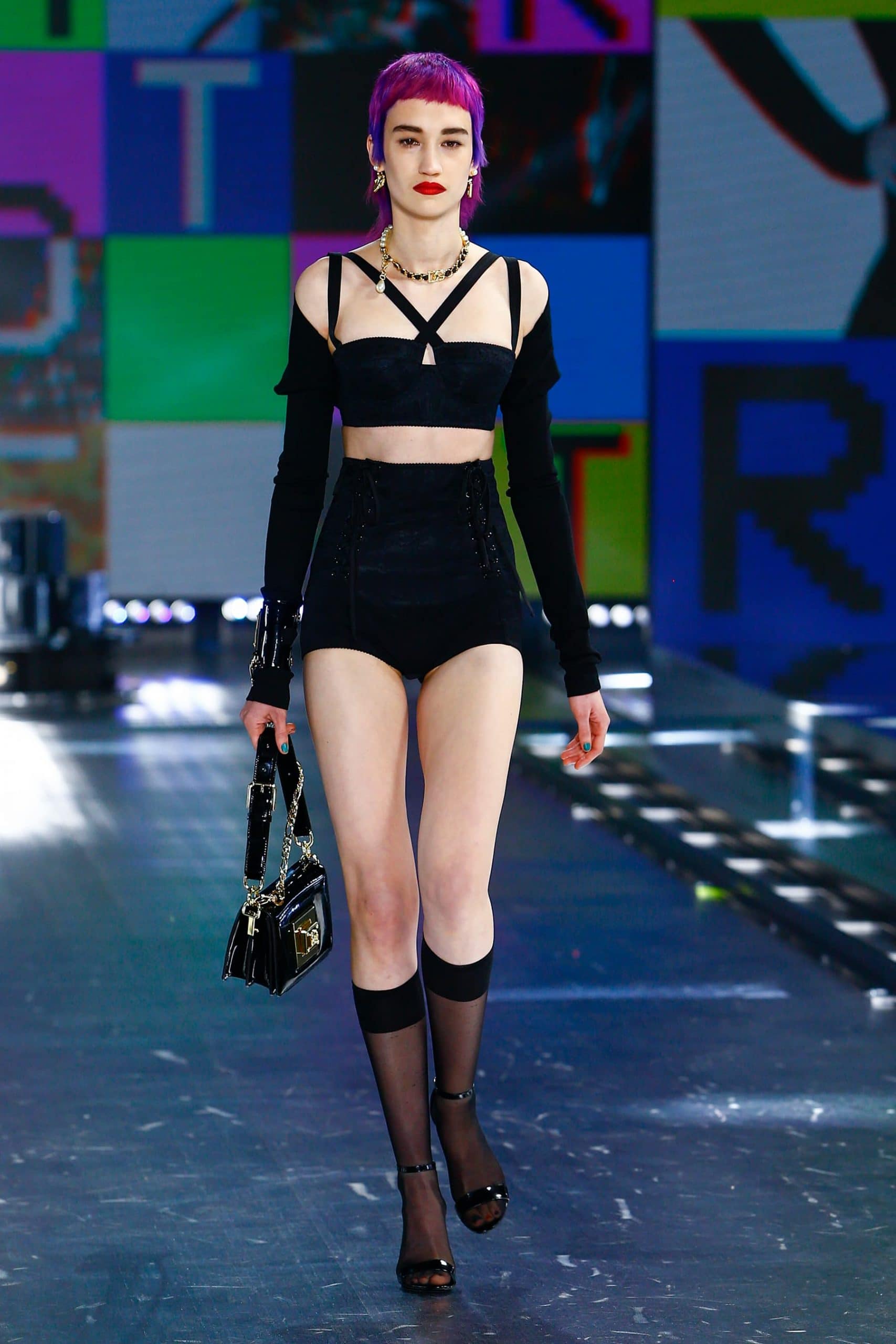 "This is an idea that comes from the market. Young people ask us 'we would like to wear the clothes of the 1990s!' Gabbana said of the genesis that initiated the idea of this new chapter. "It all seems obvious to us, we lived through that era, and this new generation hasn't seen that world and doesn't know it."
There are plenty of new clothes to pick from in this massive collection, some actual garments from the 1990s made anew, and others like tee shirts said supermodels are just phrases to recall that bygone era. Regardless though, the silhouettes are what young people are wearing now.
Like it or not, there is always a great deal of talk in fashion about moving forward, doing new things, or even adopting a new way. In the past year of the pandemic, the question of change and evolving ahead has never been so urgent, not just from the perspective of the business side of fashion, but more crucially on the creative side.
Changes are not just about a slight alteration of a jacket or the shortening of a skirt. Real evolution is a total reexamination of the process of creative fashion and seeing what the brand's consumers want now in terms of clothes and values.
Designers must speak the same language as the kids.
Here, it is as if D&G is focusing exclusively on the young generation across the globe. There isn't a single tailored suit here with pants or a skirt, not a single straight black dress – these kinds of clothes belong to the business's commercial side. At least, D&G is asking an honest question about where their brand should be heading and what elements to consider. And for any Dolce & Gabbana old-timers, most would not recognize these clothes. That's a good thing.
But this D&G show is a radical departure for any brand pushing forward and confronting what their intended audiences want now.
This fall show is not a collection of clothes for middle age or the menopause set. These clothes are for the kids but made with a reminder of who made them.
---