---
There is little doubt that to cut through the clutter of fashion, one needs to utilize both the right and left hemispheres of the brain to succeed, and Canadian fashion designers, and twin brothers Dean and Dan Caten got it right when they combined their affinity for flamboyance with their passion for tailoring. Over the years the dramatic has tended to draw attention away from the pragmatic, however Dsquared2 has never lost its footing knowing the house requires two legs to stand on with tailoring firmly being one of them. The Impression's Kenneth Richard sat with the dynamic duo to talk about their fondness for handstiching, teaming with Creative Director Giovanni Bianco, their own reality show, and having a good laugh along the way.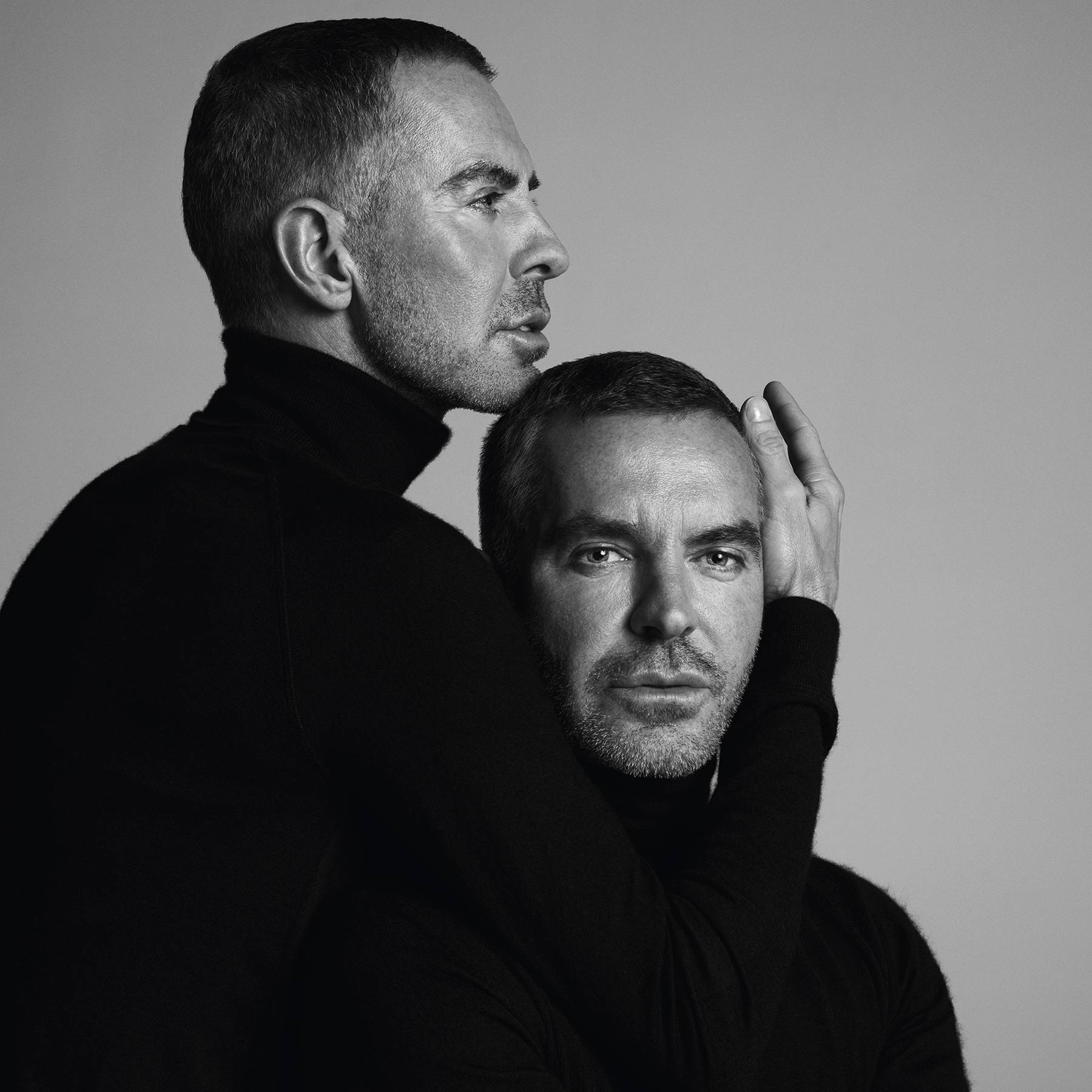 Kenneth Richard:Dean & Dan, thanks for carving out a little time to chat and catch up on all that you two have been doing from opening stores to all the collections.
Dan Caten: Of course, thank you for your time. We've just gotten back from Miami, we needed a little sun before we dive right into show mode. We can't believe it's just a few weeks away! It's been a busy but great year so far. Everything from the re-opening of our Milan flagship and guest house to the re-launch of our website. We feel very fortunate!
Kenneth Richard: So was perusing the collection and reviewing previous shows in prep for our chat. Your known for your theater and ability to mix things up, but one note that struck me was how strong you are at tailoring. I went back to your launch 'Homesick' collection over 20 years ago, and noticed that tailoring was right there at the beginning. Where did your foundation of tailoring come from?
Dan Caten: You've done your research! We like that!
You're right, we do like to mix, match and pair worlds that one wouldn't traditionally forge into a relationship, it keeps things interesting.
It's also interesting to examine tradition; craftsmanship has always been at the forefront of that, tailoring specifically allows us to dive into the fine details of cut and fit. It's something that is very important to us, which is why we launched this capsule. It's great to appreciate collections at face value based on visual aesthetic but the nuance of details and integrity is just as important.
We wanted it to have a stand alone moment and platform as a highlight for the brand. We've shown it in the past as part of our shows but it was key to bring it to centerstage. We started our careers in tailoring – simply put it's our foundation.
Kenneth Richard: So how has that foundation evolved over the years?
Dan Caten: The foundation and DNA of the brand has always remained the same but what we have shown on the runway has naturally evolved with what we're inspired and influenced by creatively.
Kenneth Richard: The last few years, your own stores have flourished. How many are you up to now?
Dean Caten: There are 81 now. With more to come. Even with a focus on digital they're still a very important part of our brand. They all give us the opportunity to allow everyone to immerse themselves in the brand.
Kenneth Richard: Curious about your stores, since they are a place for you to control the narrative. Is there a side of the story you lean more toward to course correct any misimpression's of what the brand is?
Dean Caten: Not so much correct but rather guide, which I think is the case for all brands' standalone stores. All spaces in general set a tone and mood which is very important, its all part of perception. Detail is very important to us, everything from light fixtures to scent of the space. All our collections from casual to formal are housed in the stores which, in a way, serve as an umbrella / common brand denominator – again it's about the tone we're able to create.
Kenneth Richard: You've also been strong storytellers in terms of marketing, with a long standing partnership with Giovanni Bianco. Before many others even knew who Giovanni Bianco was. How did you meet and what where those first campaigns like?
Dean Caten: We love GB and go way back! He just knows how to tap into what we're thinking creatively. Those type of relationships are rare and it's difficult to articulate. When we first started working with him, much of what you see were happy accidents and we just went with the flow. He knew the mood we wanted to create seasonally and it all materialized nicely with stunning, impactful and fun visuals.
Kenneth Richard: How have your campaigns evolved?
Dan Caten: They're always ironic and have an element of tongue and cheek. They're a bit more sharp and polished now – they've matured just like the brand has.
Kenneth Richard: You have a video series that I find really charming, 'Catens Uncut.' I love not only how your peel back the curtain, but how you are both so organically natural with a camera. How did that come about?
Dean Caten:We never thought it would turn into an entire series, we filmed some footage and posted it. It received a great response so we stuck with it. We wanted to let people into our lives and process, always good to provide context. We take our work seriously but cant help but have a laugh. Life's too short.
Kenneth Richard:You've recently merged the men's and women's shows into one, wise. You've taken a different path than everyone else as they have moved men's into the women's show calendar, but you've done the opposite. Thus you break women's earlier than everyone else. How fun has that move been?
Dan Caten: It's been great and we love it. Having one show has allowed to tell the seasonal story more cohesively. Typically I worked more on the men's side and Dean focused on the women's now we're working more closely – its made the collections stronger and more impactful. We love it!
Kenneth Richard: What are you two looking forward to this year?
Dan Caten: We're more involved in all aspects of the business now more then ever and it's great! We have a great team of people around us and we're very proud of all the work we're collectively doing. There are new stores opening with partners in South America, the Caribbean and several cities in Eastern Europe.
Kenneth Richard: Sounds like an amazing year, and good luck on the forthcoming showing in a few weeks.
Dan & Dean Caten: Thanks!
Dan Caten: Off to fittings!
---