Review of Dsquared2 Spring 2022 Ad Campaign by Creative Director Giovanni Bianco and Photographer Alasdair McLellan with models Alyda Grace, Aylah Peterson, Chloe Oh, Emily Miller, Fabio Silva, Maty Fall, Miriam Sanchez, and Rubuen Bilan-Carroll
Dsquared2 shares a new Spring 2022 campaign which welcomes the return of spring with a warm and relaxed mood of optimism.
With creative direction from Giovanni Bianco and film and photography by Alasdair McLellan – two frequent Dsquared2 collaborators – the campaign was captured at the same sprawling abandoned warehouse complex outside of Milan as Dsquared2's Spring 2022 runway film presentation. Beautifully overgrown, the space's concrete pillars, rusting railways, and cracked plaster have become the home of an abundant ecosystem of plant life. Human life has returned as well, and with an irrepressible urge to express through art: the walls have been adorned with layers of colorful graffiti.
This scene is a fitting backdrop for the Spring collection, which combines an irreverent sense of grunge destruction with flowing, floral delicacy – growth and decay in expressive harmony. Clad in this armor, the campaign's eclectic cast of young people take on the role of protagonists in a glam-grunge fairytale.
Despite this sparkling thread of fantasy, however, the imagery's mood is one of relaxed and luxuriant realism. Lying on the ground arm in arm or with heads in each other's lap, the characters bask in the warmth of the sun and their friendship, completely devoid of pretence or performance. They are palpably free to enjoy being in their own bodies and the pleasure of emotional and physical closeness.
Though flirtatious and familiar, the group compositions also feel open-ended in their narrative context, inviting the viewer to draw their own storytelling connections and emotional landscapes out of the imagery's lush sense of mood. The close-knit groups of bodies at once suggest the legendary free and fluid group erotics of Ancient Greece and Rome, yet also tap into the very present-day, post-pandemic yearning to simply be as close to one's friends as possible.
There is a power and freedom that arises from being able to let one's guard down and be vulnerably and unapologetically oneself before others, but most importantly among loved ones. Supported by its visual balance of strength and softness, the campaign is a reminder of this truth, a timely celebration of trust and togetherness.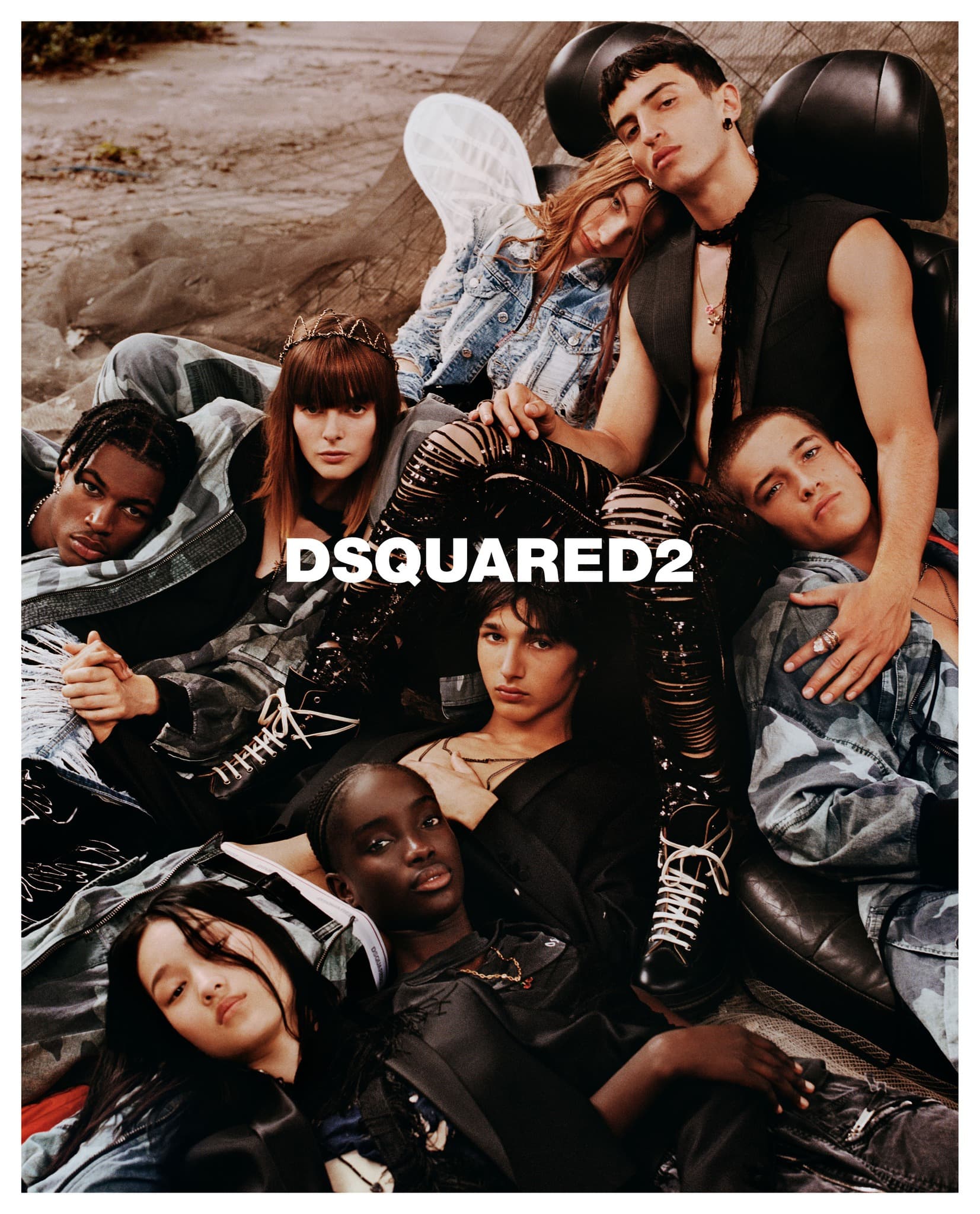 Dsquared2 Creative Directors | Dan & Dean Caten
Creative Director | Giovanni Bianco
Photographer | Alasdair McLellan
Models | Alyda Grace, Aylah Peterson, Chloe Oh, Emily Miller, Fabio Silva, Maty Fall, Miriam Sanchez, and Rubuen Bilan-Carroll
Stylist | Vanessa Reid
Hair | Cyndia Harvey
Makeup | Lynsey Alexander
Casting Director | Piergiorgio Del Moro
---