---
Review of Dundas X Revolve Spring 2022 Fashion Show
Glamor, Power, and Femininity Converge in an Ode to American Womanhood
By Mark Wittmer
Backstage after his show, Peter Dundas stands before an inspiration board filled with moody photos of the likes of Joan Jett, Debby Harry, Tupac Shakur, and Elvis Presley, alongside vintage Wrangler ads and stills from hip-hop girl group videos. The mood they conjure is powerful, but the horizons seem too broad; they encompass half a century of disparate cultural touchstones. Could a designer really synthesize these visual cultural themes into a cohesive collection?
Impressively, Dundas shows us that the answer is yes, and how. The Norwegian designer has delivered a collection that celebrates its historical references while maintaining a decisive personality that basks in the glamor of the moment.
The special collection is the result of a partnership between Dundas and Revolve, an online retailer geared towards Millennial and Gen-Z customers. But despite the commercial partnership, the initial inspiration behind the collection was the designer's most personal yet.
My collection is my ode to America. It's my first time showing in New York, and it's also the first time I've created a collection in America – I was designing in LA while I was waiting for my son to be born. My mother was American, so it's been a little bit of a homecoming and a little bit of an homage to her as well. I looked at traditional American wear, western wear, then evolved it to American rock stars like Debbie Harry, Joan Jett. From there it evolved to 80's supermodels – I do love a bodycon dress – and that became the whole starting point of the collection.

– Peter Dundas
The first, all-black looks down the reflective runway – a flowing cape over an embroidered bodysuit, a zebra-stripe catsuit, and a trench coat over short shorts with thigh-high boots – tap into a bit of the goth, punk-rock realm of Dundas' Americana inspiration, but seen through the lens of a nocturnal, glammed-out fairy tale. Animal print appears early as well (a holdover from his time at Roberto Cavalli, though, believe it or not, done here with a bit more subtlety), and is a steady presence throughout the collection.
While the specific American fashion influences can be easily detected in certain signifiers – western wear in the fringe and paisley, punk rock in the leather jackets and plaid, 80's supermodels in the bodycon dresses – nothing feels too obvious or derivative; each element is filtered through the designer's vision and made communicative and powerful on its own terms. This is especially evident through the tailoring, with sharp blazers and jackets expressing another common thread among Dundas' many American influences – a woman who is powerful and who owns her femininity.
Allowing for a unique design approach, the idiosyncratic timing of the collection (it's a Fall collection shown during Spring 2022 Fashion Week) also coincides with another unique move for the designer. Through the partnership with Revolve, the clothes will be available to buy the day after the show – a first for Dundas. "Tomorrow you can buy everything," he says excitedly. "As a designer I've never been able to have the possibility to do that. It's a real thrill and it's been a new experience for me."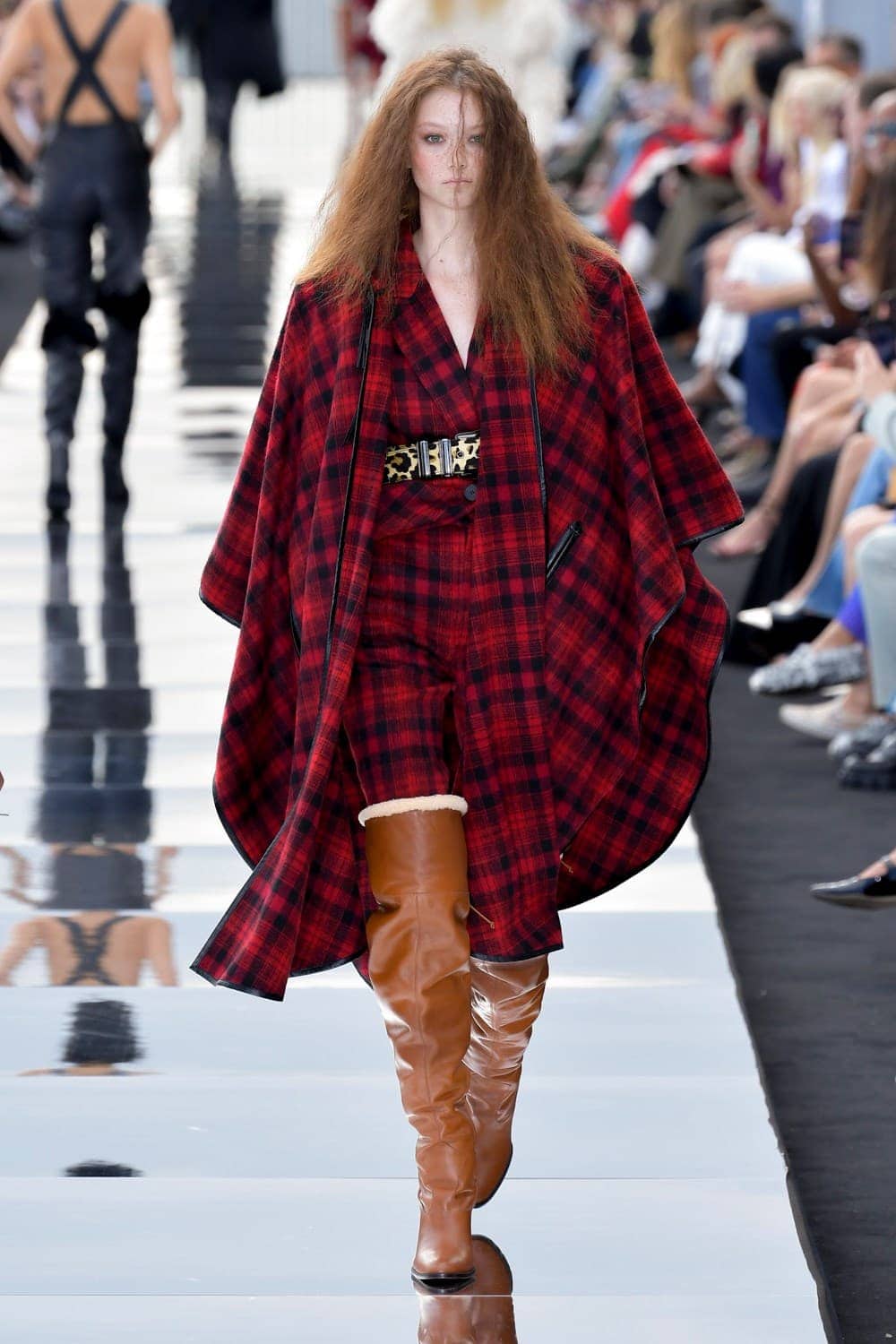 Though there are undoubtedly some extremely buyable pieces here – the fur-lined thigh boots feel like an especially must-have item – it doesn't seem like the designer is working to please a specific commercial audience. Instead, he gives us one of the strongest iterations we've seen yet of his signature ethos of unabashed glamor – perhaps because it's the most personal.
From an aesthetic point of view we have so many things in common. They bring something to the table that is new to me as well; they really know their client, what she likes to wear, sizes, things like that – and hopefully I bring something from the design point as well.

– Peter Dundas
The designer's humility at his own skill is gracious and charming, but the confidence and power of his designs speak for themselves.
---