---
Review of Duran Lantink Springsummerautumwinter 21 Fashion Show
A Master Class Designer Transforms Dead Stocks to High Fashion Live Stocks
By Long Nguyen
Late in the afternoon on this year's Earth Day, Duran Lantink, the Dutch fashion designer based in Amsterdam, presented his 2021 season-less collection. In a film taped at the 17th-century Dutch royal Paleis Soestdrijk, Lantink had guests as drones flying virtually around the hallways and rooms as models strolled about the palace ground under renovation. The clothes shown will be available via auction at the designer's website starting next week until the end of September with scheduled drops.
Lantink based his fashion work in 2013, and now in his first fashion show, around the idea of upcycling or commonly known as using dead stocks and old existing materials and garments to create new clothes. But, Lantink takes the concepts of upcycling beyond the perennial values of sustainability, ethical or innovative, in his provocative design that produce a new garment most creatively.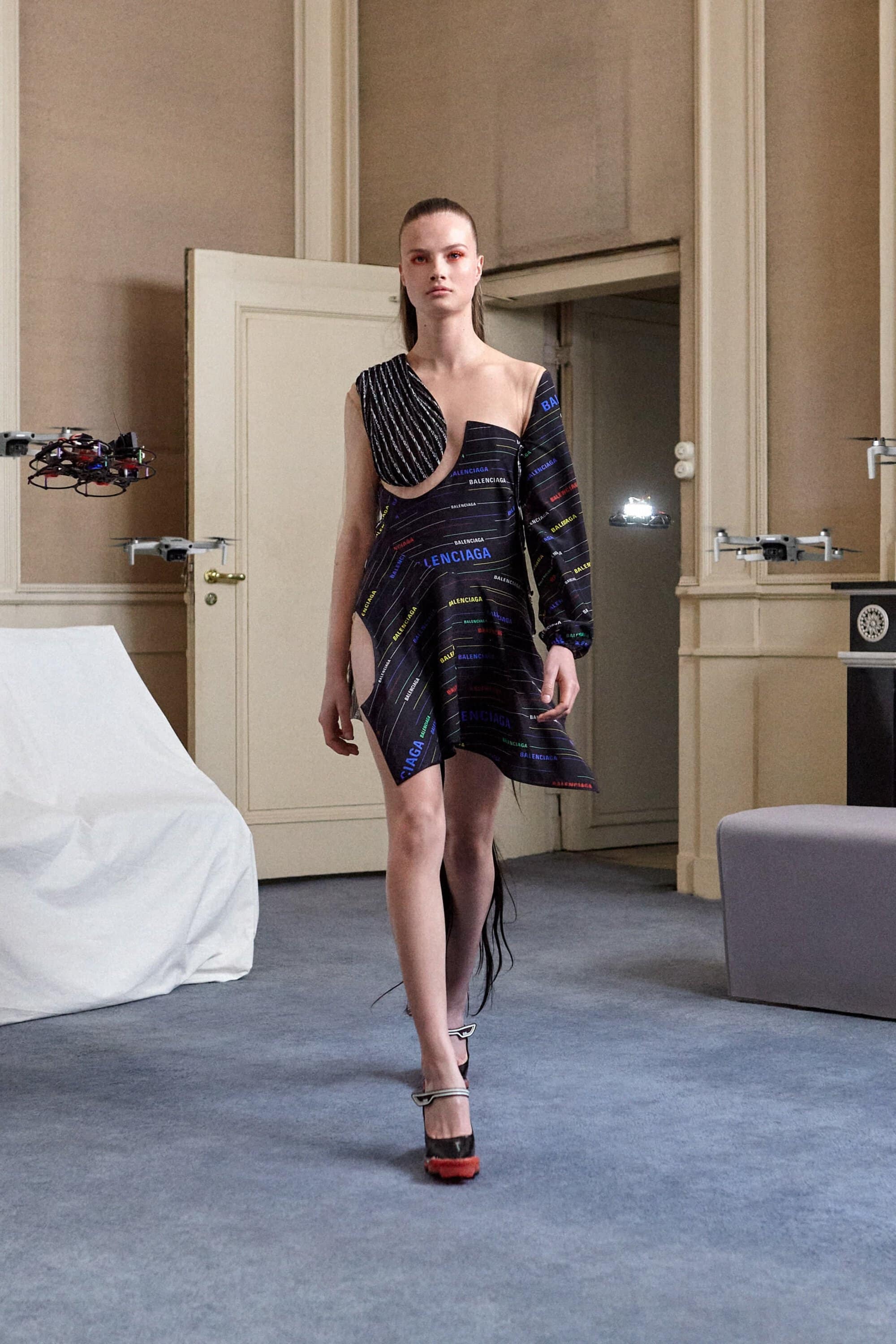 Lantink, a graduate of the Gerrit Rietveld Academie in Amsterdam, focused on using the resources of so many vintage shops around Amsterdam rather than just conventionally making new clothes. He found or received donations from friends and shops to create a new fashion with a unique product in mixing different labels.
The Dutch eco-conscious designer builds a new garment from vintage finds and dead stocks from Prada, Balenciaga, Gucci, Vetements, Valentino, Balmain, and Richard Quinn from stores in such masterful design reconstruction that the new garment sits between high streetwear and haute couture.
Upcycling or recycling is a central tenet of the now over hype sustainability in fashion movements started by Stella McCartney two decades ago when she launched her namesake brand with the inherent notion of less waste and less pollution. Now, brands like Balenciaga, Marni, JW Anderson Made in Britain, Miu Miu have all join the upcycling projects, further forwarding this momentum.
Young designers globally are adopting approaches to reduce harm. Priya Ahluwalia and Bettany Williams, Riad Trabelsi of BassCoutur, and Marine Serre all espoused the principle of upcycling as a standard for their business model. They question the fashion industry's overproduction, overconsumption, and over pollution.
The designers want their fashion sensibilities to mirror the values of their peers, today's young generation coming of age with ever more aware of fashion and climate change.
They are changing the conversation in the fashion industry about production and consumption in ways that alter how young people will perceive luxury fashion in the coming years.
Fashion is just about fabulous clothes or bags or sneakers: fashion for young people is about transforming the current industry into less prone to waste and less harmful to the environment. That starts with the result of a process – the actual product consumer can buy and manufacture these products.
Sustainability and climate change have been so saturated in fashion today that it is hard to assess how and to the achieved level of waste reduction through these programs. So often, luxury brands tout their sustainability credentials, but the reality remains murkier than the few pieces of apparel produced with, say, repurposed nylon or cotton from better cultivation methodology.
Lantink's seasonless 2021 collection has the wit, ingenuity, and charm often lacking with designers working with dead stocks. Above all, Lantink can cut and draping new shapes that lie at the center of this masterful collection.
In this respect, he indeed is a direct descendent of Martin Margiela, with regards specifically to the Belgian Paris based designer's Artisanal line, launched as an haute couture collection in January 2006, with reconstructed garments like a sheath tank made entirely from old suede gloves or even old vinyl records reworked into an evening vest.
Lantink paid attention to the structure of garments and the different possibilities to transform and combine other parts of various articles in the rework of these existing clothes. The dead stocks are used as raw materials, say like a new roll of fabrics rather than as finished products.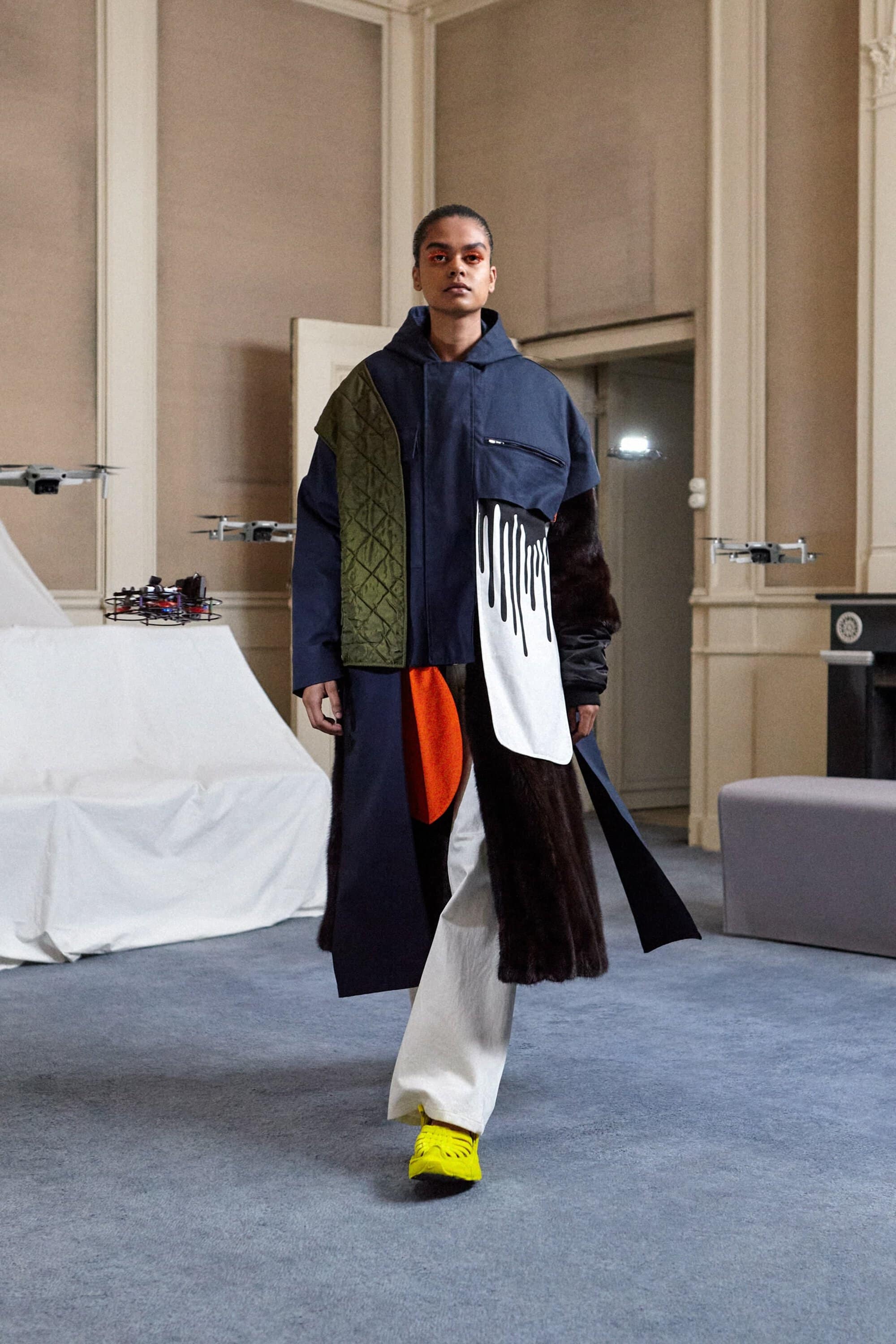 All the clothes, 31 looks in total, in this debut fashion show are created from leftover materials from his collaborations with stores and brands and made with an inventive master class design process by really dissecting elements of clothing construction and even altering them in small, subtle ways. The clothes range from more street sensibility – an olive military vest and navy coat combined coat, a military coat merging with a navy wool jacket, or a black leather pea coat with fur and nylon flight sleeves. The couture creations are a scarves dress in a black ribbed sweater and fur sleeve or a sheer geometric cut zig-zag pattern silver slit dress.
Foremost here is the idea of recontextualizing a garment using more traditional fashion design techniques. In fact, in terms of fashion design, Lantink created brand new shapes from the staches of old clothes; thus, the new jacket or coat or dress has nothing to do with the original save for the materials.
The designer deliberately reworks the functions of necklines and breast lines in a Fuschia slip dress sewn onto sheer tulle with ruched effects falling under the breast or a cut-out Balenciaga dress with no neckline. Then too, there is a bit of menswear and couture coming together in one outfit like the asymmetrical partly pleated dress with tailored half sleeve and sliced vest. A coat can be a dress, a coat can be a pair of pants, a dress can be a shirt, and a coat can be a sleeve.
The body-conscious clothes hint at the overt sex in the fashion era of the late 1990s, with each outfit containing perhaps a history within another history. The deliberate cutting and slicing give away the idea of sex as much as the subtlety of the bias draping of a gold silk pleated front slit long dress. The bright neon yellow puffer coat with mustard sleeves paired with a Fuschia string bikini and thigh-high color stripe boots indeed matches many of the current Instagram postings everywhere – think Kim Kardashian.
In addition, Lantink has worked with the singer Janelle Monáe, making the vagina pants for her 2018 Pynk video, and has made traditional costumes for Billie Eilish using some of her old clothes combining with his vintage sourcing.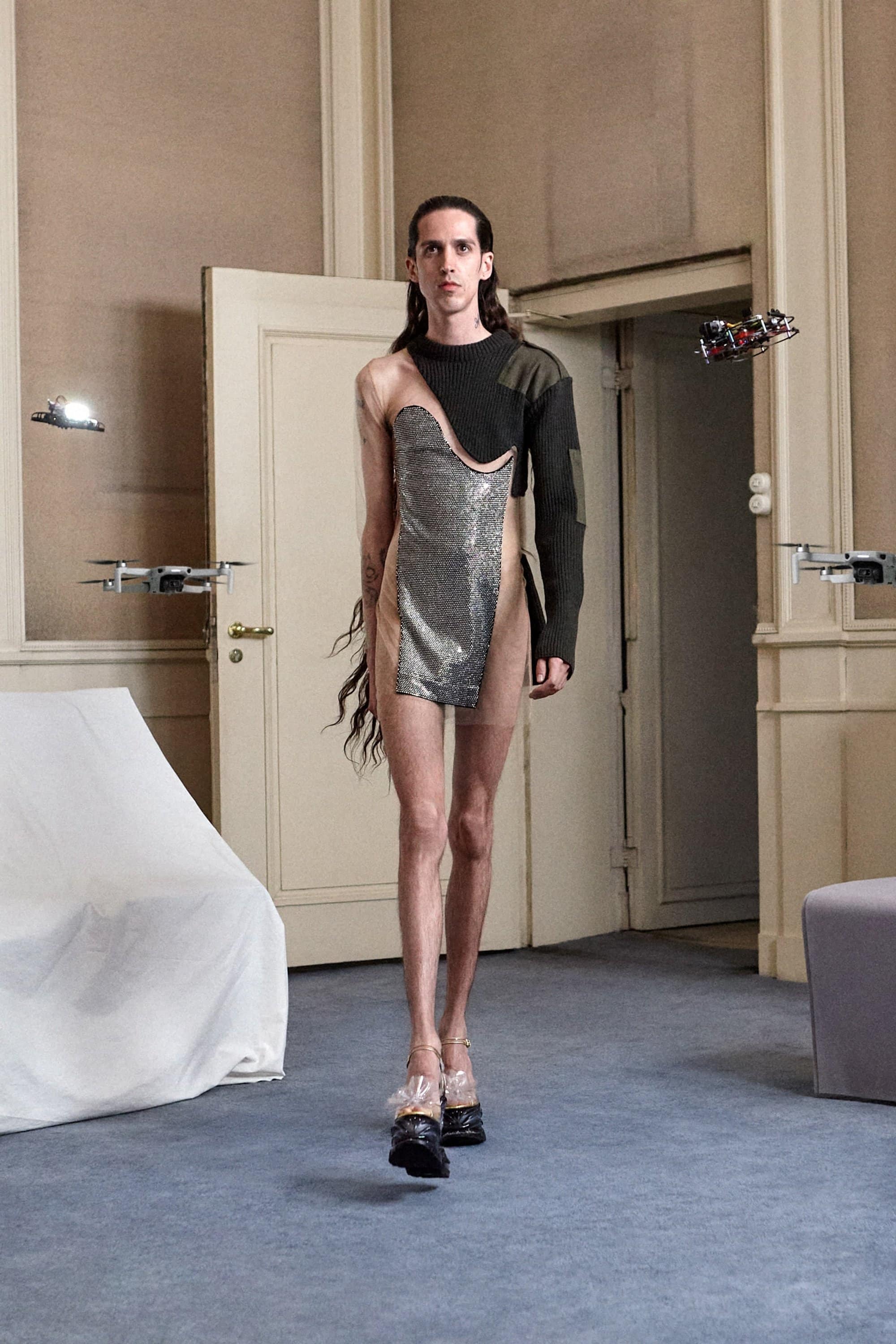 Lantink joined his Amsterdam peer Ronald van der Kemp, another specialist in upcycling methodology.
Looking at the show, I thought about the couple of Miguel Adrover shows two decades ago in New York. Then, the Spanish designer repurposed Burberry plaids, Hermès belts, Yankee baseball caps, Louis Vuitton monograms into coats and skirts to give voice to a new underground aesthetic in that era logomania. Lantink's collection is just as superior to those made by Miguel Adrover's brief moment in fashion, but perhaps now with a more significant impact than Adrover in his time.
Here too, is a new fashion business proposition. Lantink does not have any inventory; thus, there is no excess production. Consumers can purchase items from this collection via auction from next week until the end of September.
The Duran Lantink collection is luxury as each piece is unique – a definition of exclusivity. There is a possibility of creating a circular system, albeit on a much smaller and niche scale.
---