---
Review of Egonlab Fall 2022 Men's Fashion Show
A Darkly Moody Present Opens Doors for an Exciting Future
By Mark Wittmer
While the prevailing mood at the surface of Egonlab's strong Fall 2022 show from Paris was one of brooding darkness and drama – as embodied by the setting, an ominously lit and fog-filled historic church, as well as its complementary first look, a black cloak and censer – its design elements and conceptual themes attested to a positive survey of the present and a hopeful look to the future.
The darkness of the first batch of sharply cut suits soon expanded into a wider – but still restrained – palette of russet, red, blue, and beige. The sharp tailoring remained a strong point throughout the collection, including both more traditional suiting and a reconsideration of the language of suiting that injected ideas and materials from other sartorial realms: the windbreaker suit or the puffer-jacket trench coat.
Subtle hybrid ideas such as these point to a discerning consideration of the contemporary fashion design landscape on the part of the young designer duo of Florentin Glémarec and Kevin Nompeix. We can certainly see ideas gathered from their contemporaries: the sculptural panel of a dress that recalls Jonathan Anderson's Spring 2022 collection for Loewe; a dangling, sparkly nose ring that echoed Gucci's recent Aria collection; the black hoop dress that followed Yohji Yamamoto's most recent collection, and, looking further back, Alexander McQueen.
But despite some similarity, these pieces are unmistakably infused with the spirit of Egonlab, particularly in the context of the collection as a whole.
Far from deserving accusations of copying or ripping off other designers, Egonlab deserves commendation for creating with authenticity and originality without shying away from their moment in time and its inherent relationship with a whole cosmos of design."
It may be a braver and truer sort of artist who meets the present with beliefs about it and ideas on how to guide it, rather than seeking to create something completely avant-garde and detached from reality, or that is exclusively a rehashing of historical codes. A similar feeling of liberated yet pertinent perspective is apparent in the collection and casting's gender fluidity.
This insightful vision of the present is further embodied by two exciting new moves for the brand as a whole, which also position it on the forefront of fashion's move into the future. First, the collection debuted Egonlab's collection with Crocs. Crocs are back in a big way, and have celebrated their return to being loved by the kids with some exciting and/or strange collaborations, including the likes of Christopher Kane, Takashi Murakami, and… Hidden Valley Ranch.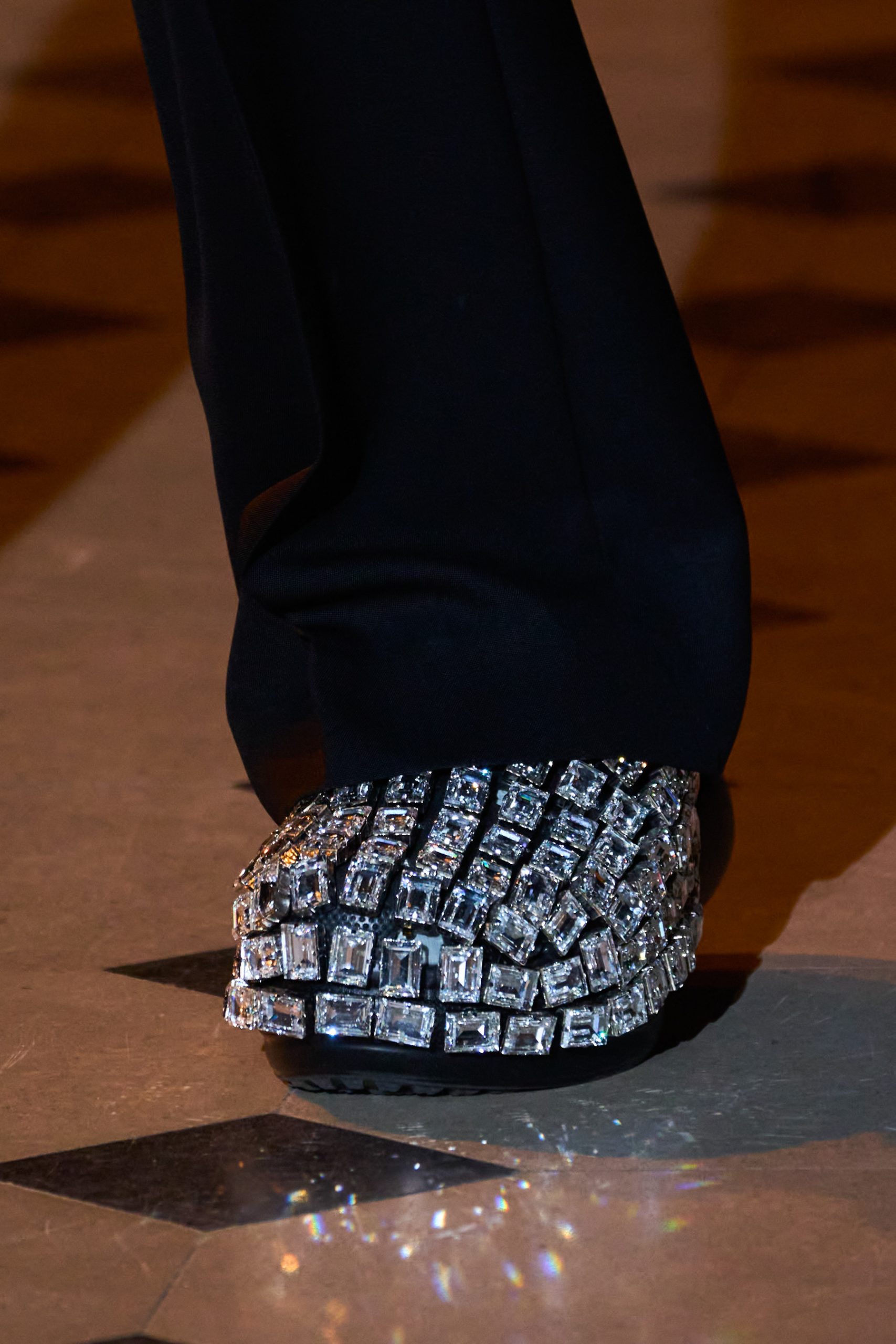 But rather than any shoehorned-in attempt to be cool and quirky, the Swarovski crystal jibbitz and thick soles of the clog fit seamlessly into the collection's mood of subversive cool, dark romance, and playful punk."
Guiding the brand into the cutting edge of digital marketing, the Crocs release is accompanied by a set of five NFT's, one for each of the styles showcased physically. Also part of the move to a hybrid physical/digital model is the launch of Egonlab's very own "metaverse," titled Egonimati – a virtual realm and secret society that expands the world of the collection and functions as a virtual gallery for the NFT artworks.
Emotionally powerful and excellently cut, the collection is a very strong on-schedule debut for the young house, while their embrace of digital possibilities shows a thoughtful consideration of how to expand their vision's interactivity and meaning. We are excited to see what the future holds for Egonlab.
---